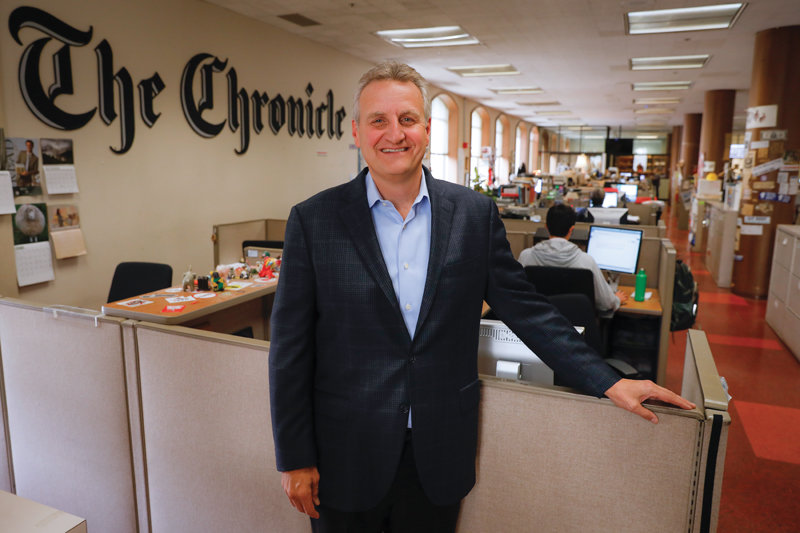 San Francisco Chronicle publisher Jeff Johnson
When you're in charge of a 152-year-old institution, you have to work on transformation in order to stay relevant. That's the case for our 2017 Publisher of the Year Jeff Johnson. As publisher of the San Francisco Chronicle, Johnson has been instrumental in making strong investments in people and products aimed at helping the publication grow and succeed in a world and industry that sees constant change.
Johnson became publisher of the Chronicle in 2013 after a 25-year career in publishing. The 58-year-old was born in Fargo, N.D. but grew up in Chicago. After graduating with a bachelor's degree in accounting from the University of Illinois and a master's degree in business administration from the University of Chicago, he joined Tribune Co. and served on senior management roles at the Chicago Tribune and Orlando Sentinel. Johnson also served as senior vice president and general manager of the Los Angeles Times from 2000-2004, and from 2005-2006, he served as Times president, publisher and chief executive officer. After that, he worked as an operating partner from 2007-2013 at the Yucaipa Companies in private equity with a focus on media investments.
In an industry where so many people are leaving for greener pastures, why did Johnson decide to return? He explained that although he enjoyed helping groups look at their business models and make financial projections at Yucaipa Companies, he missed being the one making the choices.
"I've always been more of an operational guy," Johnson said.
It was then during a chance phone call with Hearst Newspapers president Mark Aldam that conversations started about Johnson returning to the world of newspapers again.
"The timing was just right," Johnson said (he and his wife, Melissa, are "empty nesters," with three grown sons: Eric, Brent, and Zack). "And I wouldn't go back to any other company except for Hearst." He spoke highly about the Chronicle's privately-held parent company, stating the group is financially strong and known for supporting their people.
Since coming to San Francisco four years ago, Johnson said it has been some of the most enjoyable times for him in journalism, calling it a "privilege" to work for such an organization.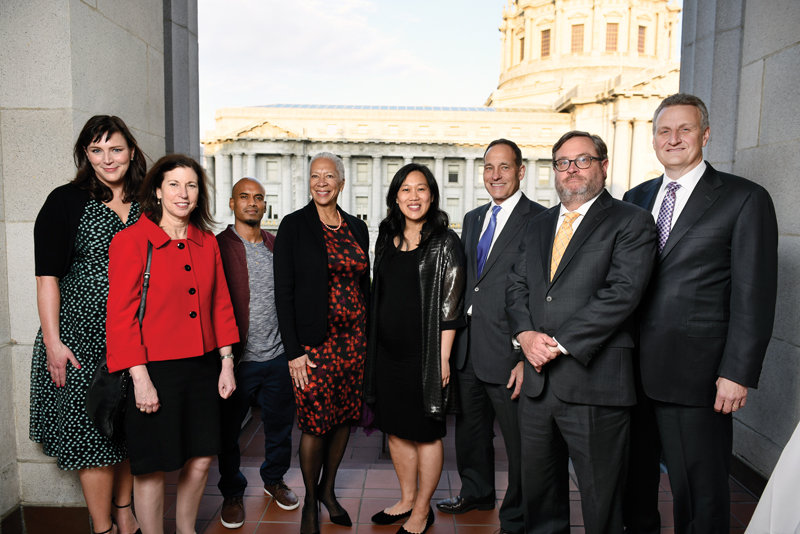 From left to right: Chronicle editor-in-chief Audrey Cooper, Visionary of the Year nominees Sarah Krevans, Raj Jayadev, Angela Glover Blackwell, Dr. Priscilla Chan, City National Bank Northern California executive vice president Michael Walker, Visionary of the Year nominee Eric Weaver, and Chronicle publisher Jeff Johnson.
Looking at the Big Picture
It was a Monday afternoon when I spoke with Johnson. When I asked him to describe a typical work day for him (he currently oversees a staff of 475 people), he chuckled and said, "I don't want to bore you with the details" citing that checking emails and attending meetings didn't sound very exciting. Instead, he painted me a big picture of what he's trying to accomplish at the Chronicle. Whether it's rolling out new ad products for clients or how to get more people to pay for subscriptions, Johnson said his work is to transform the paper into a new media company in order to "move the needle."
"It's easy to get caught up in the mechanisms of changing the business and letting it get away from us, but change is happening faster and faster," he said. "We can't just be talking about transformation. We're 152 years old; we have a lot of muscle memory of doing things the same way we've always done them. For example, we're not just selling ads anymore; we sell solutions to clients. We're changing our skill sets and that doesn't happen unless we try new things."
Before Johnson became publisher, the Chronicle was in a very different place. In 2009, Hearst announced they were going to make significant cuts after reporting the paper had lost $50 million the previous year. According to a report, if savings could not be accomplished "quickly," the company would seek a buyer or if none came forward, it would close the Chronicle.
In the end, Hearst did not sell off or close the paper. Instead, from 2009 to 2012, the company worked on turning the Chronicle around. It did make cuts at the paper, which included shutting down its printing facility and outsourcing its printing to presses operated by Canada's Transcontinental Inc. But by 2013, the paper was profitable.
When Johnson joined the paper, most of the groundwork had already been done. Now it's up to him and his team to maintain the company's growth and keep it operating as a healthy organization.
Editor-in-chief Audrey Cooper was named the paper's managing editor three weeks before Johnson started. Cooper, who has been with the Chronicle since 2006, said, "It's always disconcerting when a new executive comes on, but it was also exciting in a lot of ways. It was all brand new to us. We were all trying to figure each other out and figure out what to do next."
But it didn't take long for Cooper to realize they were all in this together (Cooper said she and Johnson "spoke the same language" due their Midwestern roots; Cooper is a native of Kansas City, Kan.), and after a stressful decade, she said it started to feel like they were finally "rowing instead of trying to keep from sinking."
That could be due to Johnson's mentality. "I always convey this message to my staff: our growth strategy should be our lead," he said.
That strategy includes taking chances on new products that aren't related to their print product. The Chronicle has greatly invested in two digital products and finding success with both of them. Digital agency 46Mile was created in 2014. The company provides marketing and advertising services, such as brand strategy, website services, SEO and analytics, and public relations. StoryStudio, the paper's content marketing strategy, was founded in 2015. To date, more than 800 stories have been created for clients in marketplaces like retail, health/medical, education, and food/beverage.
"We can't just say to clients 'We're from the Chronicle, and that's why you need to advertise with us. That doesn't work for us anymore," Johnson said. "It's now about understanding the clients and their needs and finding them the best solutions."
He continued, "Obviously we can't control how much brands like Macy's spends, but we can focus on things locally. We have to monetize our presence in the local marketplace and allow advertisers to tell their stories."
StoryStudio executive director Alison Pfaff said Johnson has been supportive and passionate of the project since it launched.
"He's able to think outside the box and look at different opportunities," she said. "It feels like a start-up…maybe ten years ago, this idea might have been silly to think about, but now we have to try all things and that's because (Johnson) is a forward thinker."
Overall, digital advertising revenue is up 16 percent over 2016 and now comprises 48 percent of total advertising revenue for the Chronicle, according to director of marketing Sarah Morse Cooney. In addition, SFChronicle.com, the Chronicle's premium subscription site, has seen traffic grow in 2017 to more than 4.5 million unique monthly visitors, an 87 percent increase over 2016.
When taking chances, you also are bound to make a few mistakes. Johnson said it's important to make mistakes. "The key thing is that you don't give up," he explained.
For example, in August, the Chronicle launched The Press, an online, interactive guide where visitors can read reviews and explore and create trips to wine country. With every new product, a lot of work was put into it, but Johnson said "lots of patience" is also required. The results might not come in as quickly as they would like, but they are still committed to the product, he said.
With Silicon Valley in their backyard, Johnson viewed it as a benefit. "Our consumers are highly engaged with technology," he said. "They can adapt better to it, so our market is different in that way."
The Chronicle has also partnered with Google with various events in the past. One event invited real estate clients to the Google campus to attend educational workshops, and afterward, the Chronicle was able to follow-up with them and let them know how their own digital services could help them. He viewed the paper's relationship with the neighboring tech companies as partnerships rather than competition.
On the editorial side, the content is also growing as the newsroom experiments with different storytelling techniques that have reached broader audiences.
When Cooper came to Johnson about a project idea that would tackle the city's homelessness problem, Johnson gave her an enthusiastic thumbs-up. The result was "The SF Homeless Project" that brought together 80 organizations in print, TV, radio, web and social media reporting on the issue of homelessness in San Francisco and the Bay Area on the same day. Its aim was to hold public officials accountable and shed more light on the issue to the community. The project produced more than 350 stories, TV reports and live events, reaching million of readers and viewers. Numerous other cities also replicated the project in their own communities.
In addition, the Chronicle produced "Last Man Standing," a report on San Francisco's aging survivors of the AIDS crisis of the 1980s and 1990s. It was presented in a 20-page newsprint section and published online with video, interactive graphics and slideshows. A feature-length documentary was also written, directed and produced by Chronicle staffers and was shown at film festivals throughout the country.
In 2016, Johnson also funded the creation of an investigative reporting team, something the paper had not done for at least a decade, said Cooney.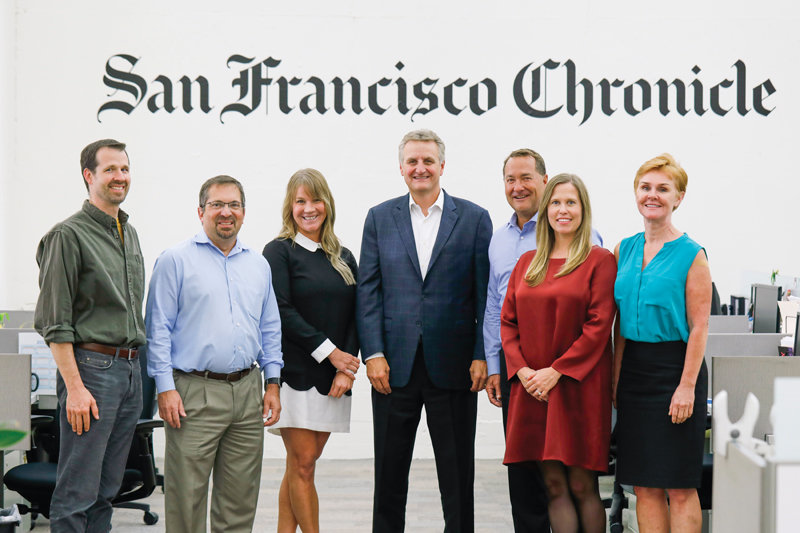 Chronicle publisher Jeff Johnson (center) is pictured with his revenue-driving team: (left to right) Brandon Mercer (executive producer, SFGATE), Mick Cohen (VP, consumer sales and distribution), Alison Pfaff (executive director, Hearst StoryStudio), Steve Bentz (SVP, sales), Sarah Morse Cooney (VP, marketing), and Ginger O'Neal (VP, digital sales and operations).
A Partner, Not a Boss
When I spoke with some of Johnson's colleagues, they were all quick to point out his mission to transform the work culture into a positive and encouraging environment. Cooper said Johnson has made a big investment in human resources, which is unusual since more and more papers are dealing with layoffs and buyouts instead of new hires. In 2015, Cooper was promoted to editor-in-chief becoming the first woman to hold that position. That same year, the Chronicle was recognized as one of E&P's 10 Newspapers That Do It Right.
Johnson puts in a lot of effort to cultivate an environment that encourages and lifts up its employees.
"Each new hire attends a luncheon with (Johnson) where transformation is discussed along with major initiatives being deployed so employees can immediately connect with a culture of change," said Cooney.
Johnson explained, "You don't want to create a tough culture. Our employees already have enough to deal with. You don't want an environment where they feel beat up whenever they come in to work…they need one where they can go grow constructively filled with highly-motivated people because a bad culture can zap motivation."
Since starting as senior vice president of sales two years ago, Steve Bentz said he's noticed a positive shift in his department, especially among the younger sales reps who now understand more than ever that they have a mission and a purpose—and that's to fund "great journalism."
"I don't see (Johnson) as a boss," Bentz said. "He's more like a partner and a collaborator…he's the perfect blend of a visionary and an executioner."
As a publisher, Johnson said the role has become less traditional and more transformational. Instead of him sitting in the big office designated for the publisher, the SFGate.com (the paper's free and breaking news site) staff currently occupies that space while Johnson sits in a smaller office located out in the newsroom.
"Publishers used to sit in giant rooms, where everyone would come to them, but that's now a thing of the past," Johnson said. "Now we want to be out there as part of the change."
There's a new sense of excitement in the air filtering through all the departments. Johnson called this time the most collaborative he's ever seen.
Bentz, who has been in the business for 36 years, agreed, stating in the past, the content and the advertising sides never sat together in the same room.  "Now we're all in the same room making decisions together," he said. "Jeff demands it."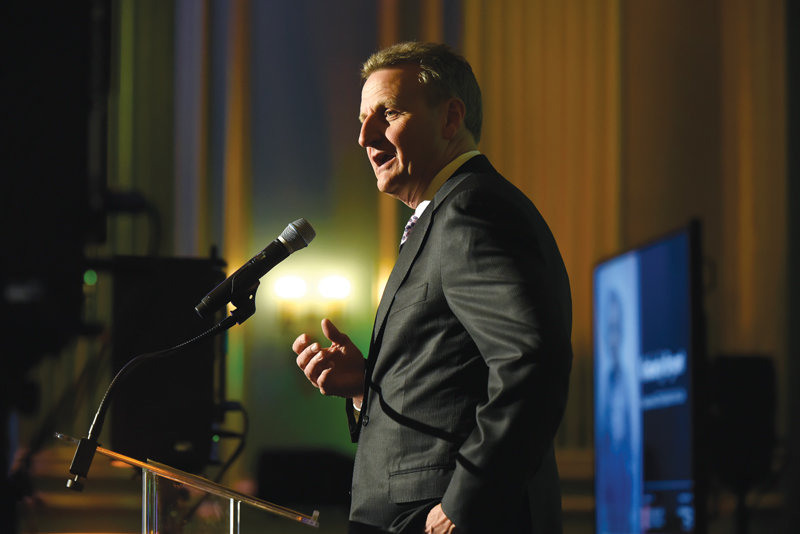 Chronicle publisher Jeff Johnson speaking at the newspaper's annual Visionary of the Year Awards Gala.
A Bright Future
Looking ahead, Johnson said he believes the Chronicle will be around for a long time. "We're the largest newsroom in our region. It's an old adage, but we want to be the voice for the powerless and hold the powerful accountable. We will rise up to that challenge and cut through the clutter. The Bay Area is a great market with a deep passion for what we deliver to them."
Cooper also believes the future is bright at the Chronicle "as long as we keep diversifying our business because we can't keep doing the same old thing…we constantly have to ask ourselves, 'What's next?' and 'What can do we better?'"
There will be more challenges, Bentz acknowledged, but the digital side will continue grow and that's the area where the Chronicle will continue to invest in.
"Jeff is a truth teller," Bentz said, referring to the decline of print. "He sees the trends, and he's getting ahead in the game by developing digital solutions, so we can do it quickly and do it right."