After a very successful event in 2022, on behalf of Editor & Publisher, Pennsylvania News Media Association and the 360 Media Alliance, the 2023 "News Media Business Summit" is firmly scheduled for Nov. 1-3, once again in Harrisburg, Pennsylvania. 
The 2023 summit theme will focus on "Innovation & New Revenue." It will comprise innovation and new revenue ideas from A-Z. From advertising and audience innovations, to operational new revenue initiatives from every and all departments. More importantly, it will concentrate on the need to be Truly-Local and the market opportunities that abound in nearly every market when you think, act and become more local.
Wednesday, Nov. 1, will be devoted to the PNA Luncheon and table set-up. The actual summit begins bright and early on Thursday, Nov. 2.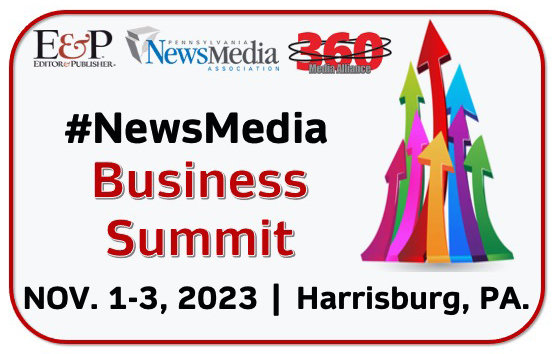 We thank our many business partners that provided us with excellent feedback after the Summit in 2022. We simply couldn't do it without you.  With your suggestions, we are ready to do more than ever before to connect our business partners with perspective clients. Here are a few changes:  
 Feature #1 - NO PRICE INCREASES IN 2023
We have always operated on very narrow margins, some years a little ahead and some years a little behind. That said, we have always held the line on our pricing over the past 12 years without on increase. 2023 will be no different, in fact, in some areas, we have decrease prices.
 Feature #2 - BUSINESS PARTNER CHANGES
We are limiting the number of booths to the number of general sessions (14-18) we have. This provides each business partner with an opportunity to be on stage prior to one of our sessions. They can utilize this time as they see fit to introduce themselves, their products or even share an innovative idea.  We have four or five spots remaining on a first-come, first-serve basis.
 Feature #3 - EVEN MORE POWERFUL PROGRAM LINEUP
We have already had many speakers and potential speakers step up to become part of the 2023 program. Each year, we attempt to improve upon the previous year, 2023 will be no different. Watch for exciting details relating to the program in 2023.
For information: please contact John Newby at 815-326-9061 or john@360mediaalliance.net.