Union membership in the United States has been in steady decline for years, largely reflecting the decline in manufacturing and other trade jobs. However, while news organizations continue their decades-long struggle to survive, union organizing efforts among their employees have been on the rise.
The National Labor Relations Board (NLRB) lists 15 successful news media union drives this year, including employees of The Dallas Morning News, the Austin American-Statesman, more than a dozen Gannett newspapers and digital news producers at three dozen websites. Since 2015, there have been at least 120 successful media union organizing efforts in the United States, according to the NLRB and Culture Workers Organize, a Canadian research project. Half of those are digital-only media companies.
Some cite the successful 2015 campaign by Gawker Media employees to join the East Coast branch of the Writers Guild of America as the beginning of the new surge in unionization efforts by journalists. One of 20 union drives that year, the Gawker campaign resulted in the first union contract involving a major digital media company.
The first actual digital news union was created in 2009 when the staff of Truthout, a small non-profit online news site, joined NewsGuild /Communications Workers of America.
A study by Pew Research found that the number of newspaper newsroom jobs fell from approximately 71,000 in 2008 to 31,000 in 2020, a decline of 57%. However, the Pew study found that the number of journalists working at digital news sites not affiliated with a print publication actually increased by 144%, from 7,400 in 2008 to 18,000 in 2020.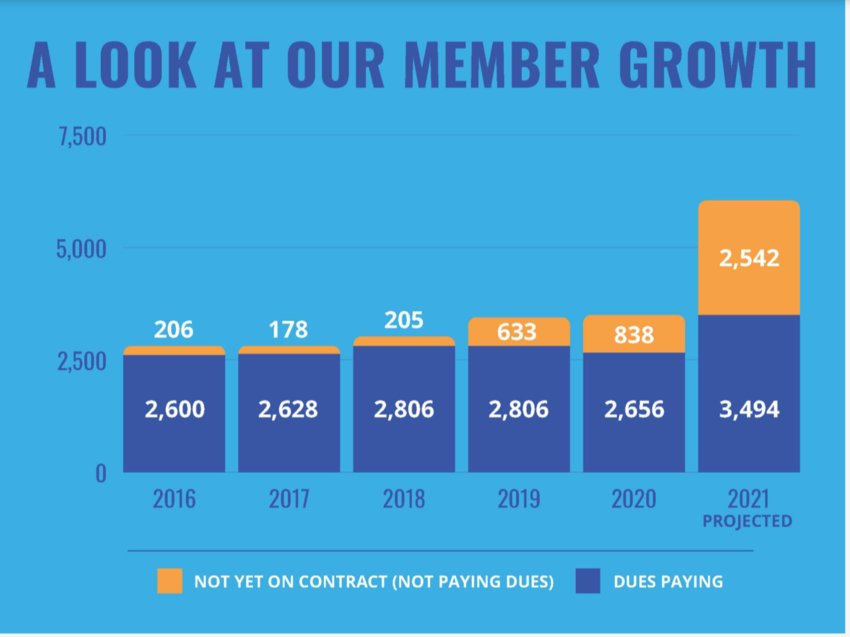 The growth of news media unions has been a challenge for owners of newspapers and digital news sites; some have aggressively opposed union organization efforts. Gannett has been accused of trying to prevent journalists from organizing at three of its New Jersey publications — The Record (and NorthJersey.com), the Daily Record and New Jersey Herald — by forcing them to attend anti-union meetings. Despite the opposition, journalists at the three papers formed a union with NewsGuild of New York in February.
Gannett refused to recognize other unions voluntarily and opposed mail ballot elections for NewsGuild's chapters in Delaware (representing employees of the News Journal), Palm Beach (representing the Palm Beach Daily News and Palm Beach Post), and Southwest Florida (representing Naples Daily News, the News-Press, and the Marco Eagle). Those unions were ultimately certified.
Advance Publications took a different route in dealing with Northeast Ohio Newspaper Guild Local 1, which represented the Cleveland Plain Dealer staff. In April of 2020, Advance laid off 22 journalists represented by the union. It announced that employees of its non-union website, Cleveland.com, would cover the news of Cleveland and Ohio for the newspaper. The Plain Dealer still prints a daily newspaper, with content provided by the non-union staff of Advance's Cleveland.com and delivers it four days a week. Cleveland, where the American Newspaper Guild was born in 1933, no longer has a journalists' union.
While some publishers of digital news sites have embraced unions, others have not. For example, Joe Ricketts, the billionaire founder of TD Ameritrade, also founded DNAinfo in 2009, and in 2017 acquired Gothamist, which then published eight city-focused websites. He shut down both sites a week after their New York City employees voted to join Writers Guild East. "It is my observation that unions exert efforts that tend to destroy the Free Enterprise System," Ricketts wrote in an online post explaining his decision.
In 2018, public radio stations WNYC, KPCC and WAMU jointly acquired Gothamist and its related sites, LAist and DCist. The Screen Actors Guild and American Federation of Television and Radio Artists (SAG-AFTRA), which traditionally has represented actors, radio personalities, recording artists and singers, represented employees of WNYC and thus took Gothamist under its wing.
Robert Allbritton, the publisher of Politico, was critical of its employees' campaign to join NewsGuild's Baltimore-Washington affiliate. "If you're working in a warehouse, it makes sense," he said in a statement to Ben Smith, a media columnist at The New York Times. "But when you're talking about smart folks using their minds for a very creative project, I don't get it."
Allbritton sold POLITICO to Axel Springer, the German media company, in a deal that closed in October 2021. In November, under Axel Springer's ownership, POLITICO agreed to recognize its employees' effort to form a union with NewsGuild's Washington-Baltimore affiliate.
The increased unionization efforts by NewsGuild and Writers Guild of America East also have gotten pushback from some existing union members, many of whom work at the traditional media organizations that have been the core of the unions' membership. In July, the WGAE's governing council announced that it would pause its efforts to unionize workers at digital organizations, an apparent response to objections from the TV and film screenwriters it traditionally has represented who felt they would end up being a minority among union members and that the focus on digital-only workers would hurt the union's finances. In the September 2021 election of the WGAE's governing council, some candidates running on the Inclusion & Experience slate suggested that WGAE's digital units should be spun off into a separate union. However, candidates on the Solidarity slate argued that unionizing more digital news workers would strengthen the union's influence and impact. That argument got the support of union members, with all seven of the Solidarity candidates winning in the September election.
In June, 107 New York Times staffers and five working for Reuters signed a letter stating their opposition to NewGuild-New York's proposal to raise their weekly union dues. The proposal was for a temporary increase (lasting three years) from 1.3846% to 1.75% and the elimination of the cap that barred the union from collecting dues on compensation over $140,140 a year. Signers included well-known journalists, such as Reed Abelson, Maggie Haberman and Nick Confessore.
"Five years ago, Guild leaders began a strikingly successful effort to organize new shops and expand our membership," the letter read. "That spoke to a broad hunger among those in our business for union protections, and we salute that. But the Guild never figured out how to fund this ambitious expansion. Instead, it has run ever-larger deficits and depleted our union's reserves by more than half. Payroll at the Guild has doubled as we've added organizers and as spending on contract negotiations has grown ever faster as the number of our new members has grown four-fold, to nearly 1,200."
Despite the opposition, NewsGuild New York members voted overwhelmingly in favor of the dues increase, the first in 88 years.
Jon Schleuss, president of NewsGuild of America, said the union has benefitted from reaching out to employees of digital-only news platforms and not just those of print publications.
"The continued number of journalists joining the NewsGuild has expanded our collective power as we push for pay equity, living wages, regular raises, better benefits and better journalism," Schleuss said. "We don't classify workers by platform; instead, we see this as a struggle for all journalists to improve conditions."
He said that NewsGuild of America has added more than 7,300 members since 2015. The biggest growth came in 2021 when 2,128 members joined. In 2015, NewsGuild got a $500,000 grant from Communications Workers of America, its parent union, to support the digital organizing efforts. Schleuss said that in Q4 2021, it received a $750,000 grant from CWA.
NewsGuild was somewhat late to the game when organizing digital-only news organizations. In 2015 it had only four union organizers focused on digital (three of whom were in New York City). At the same time, Writers Guild East had six people focused on organizing unions of digital journalists, all of them based in New York City. NewsGuild increased its digital-only media membership slowly, adding Law360 in August 2016, People's World in February 2017, the Raw Story in July 2017, Real News Network in August 2017, and then a wave of digital news sites after that.
As those opposed to the dues increase noted, increased organizing efforts have strained the finances of NewsGuild-New York, which is by far the largest local in NewsGuild-CWA, representing 30 print publications, including The New York Times and 16 digital-only news publications, such as Daily Beast and Quartz. Filings with the federal Department of Labor show that assets of NewsGuild-New York had declined from $10.3 million in 2015, when it had 2,566 active members and nine paid employees, to $5.5 million in 2020 when it had 4,007 active members. (Its website currently lists 16 paid employees.) Moreover, while more members mean increased revenue for the union, revenue from members of new chapters doesn't start flowing until after their contracts are signed, which can take many months of negotiations with their employers.
In contrast to NewsGuild-New York, Writers Guild East has improved its financial situation with its focus on digital media. It currently represents 18 digital-only news organizations employees, including well-known ones like HuffPost, Salon, Slate, Vice Media and Vox Media. (Some of those organizations publish multiple sites). WGAE has $15.7 million in assets and 6,372 voting members, according to its 2021 NLRB report. In 2015 it had $9 million in assets and 3,841 voting members. The NLRB reports show WGAE had 25 paid employees in 2015 and 37 in 2021.
Before its work to unionize Gawker, Writers Guild of America had been known primarily for its work organizing those in the television and film industries. Lowell Peterson, executive director of Writers Guild East, said it now works in multiple sectors, such as CBSN and MSNBC in the news, Jigsaw Productions and Vox Entertainment and others in nonfiction TV/video, and some comedy/variety shows.
"The enthusiasm for unionization in digital was particularly powerful," he said. "We added staff to represent the many new digital shops we organized, but also to keep pace with the growth in membership on the entertainment side."
Where once publishers of newspapers only had to worry about dealing with NewsGuild of America, now those publishers and those of digital news sites might find themselves dealing with NewsGuild, WritersGuild East or SAG-AFTRA.
Other organizations have worked to unionize journalists who work as freelancers, a growing trend as financially troubled news organizations have reduced journalists' pay and cut their staffing. The Industrial Workers of the World Freelance Journalists Union (IWW-FJU), organized in 2018 to represent freelance journalists, photographers and illustrators in news media. It represented freelancers and journalists fired by Current Affairs magazine after they began a campaign to organize the magazine as a workers co-op. In 2020, IWW-FJU represented freelancers in a successful push to get Outside magazine to pay more than $150,000 in overdue invoices to freelance writers. In 2019 it filed a complaint with the National Labor Relations Board when Dave Portnoy, owner of the Barstool Sports digital news publication, threatened to fire any employees if they interacted with someone attempting to unionize them.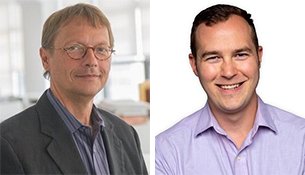 Lowell Peterson of WGAE and Jon Schleuss of NewsGuild of America don't see their organizations as competitors. "It's true that TNG has been organizing digital, especially in recent years, although I think a lot of their growth has still been in newspapers," Peterson said. "I'd say we have a productive relationship. Some shops develop their own preferences between WGAE and TNG, and both unions respect that."
"I think WGAE's organizing has been great. Every labor union should be organizing and teaching workers how to build their collective power," Schleuss said. "We've coordinated with WGAE and SAG-AFTRA on journalism-specific issues, like calling on the Biden administration to help journalists fleeing Afghanistan and pushing for the Local Journalism Sustainability Act. SAG-AFTRA has also done a great job organizing journalists at NPR affiliates, which is why I think they also represent the folks at Gothamist."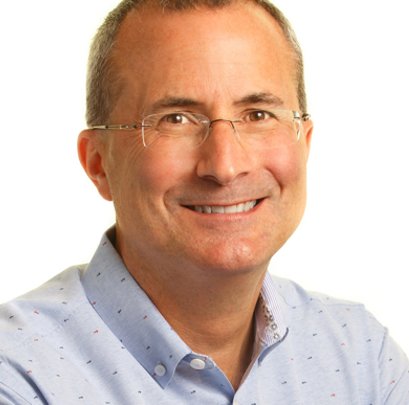 David Chavern, president and CEO of News Media Alliance (NMA), the trade association representing 2,000 newspapers in the United States and Canada, said he hoped owners of print and digital news media and the organizations and employees trying to unionize can find a way to work together because theirs is a common issue for a common cause.
Chavern said NMA is working on legislation similar to what Australia adopted earlier this year, which will require Facebook and Google and other digital platforms to compensate news publishers.
"News publishing was incredibly lucrative for a long time — a 30% margin," Chavern said. "Then, the issue was how was this big and growing pie being shared. Now, when we're going through this period of a shrinking pie, I've always thought that the workers' interests and publisher interests should be aligned to deal with this."
"In an environment of uncertainty, it's not surprising to me that some journalists want to band together to minimize the uncertainty," Chavern concluded.
Henry (Hank) Scott is a journalist and media business executive whose Media-Maven LLC (www.Media-Maven.com) provides a variety of services to media startups and existing publishers.