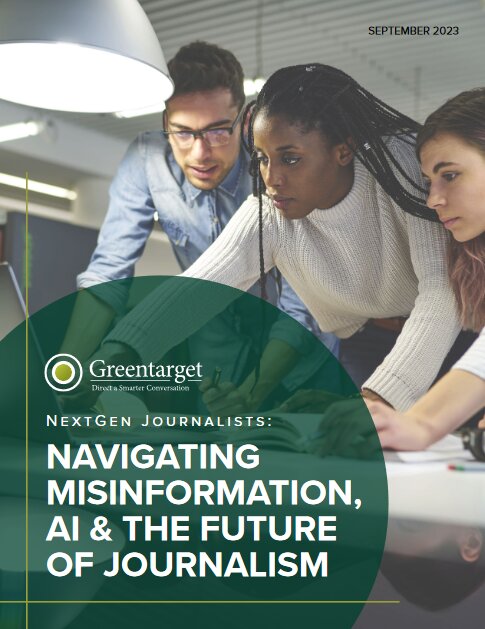 Despite newsroom layoffs, declining public trust in the media and concerns about the impact of technology, the next generation of journalists is optimistic about the future of their profession, with 72% holding a positive outlook for journalism, according to a new study released Sept. 27 by strategic communications firm Greentarget.
The findings from "NextGen Journalists: Navigating Misinformation, AI & The Future of Journalism" come as the industry confronts challenges from misinformation and disinformation to fears that generative AI could undermine journalism jobs. Notably, future journalists are split when it comes to AI:
Nearly three-quarters (74%) expect AI to have a significant impact on the industry.
Only half believe the technology poses a threat.
The majority already use AI tools in their reporting.
The report surveyed 100 journalism students and new professionals to uncover their perspectives on debates currently dividing the field and their outlook on where the profession is heading. This latest research follows Greentarget's reports in 2020 and 2021 on the toll that so-called "fake news" has taken on seasoned journalists. This year, we found that while next-gen journalists are largely clear-eyed about the professional challenges ahead, they are also passionate about their work and see it as a way to serve the public and hold power to account.
"The perspectives of the next generation are critical, as these journalists will be the ones shaping the industry's response to existential crises — from plummeting trust to struggling business models — that are already taking a toll on the media," said Lisa Seidenberg, Greentarget's director of media relations. "It's heartening to see that they're not only thinking about these challenges now, but are also enthusiastic about finding solutions."
Among the report's other key findings:
Traditional journalistic methods still outweigh social media for reporting. Reporting in the field (94%), drawing from primary-source networks (92%) and looking to experts and think tanks (92%) were the most widely-used resources for young journalists, outweighing social platforms when it comes to generating story ideas and sourcing and/or verifying information.
DEI is a priority. Nearly six in 10 are concerned about the current level of racial, gender and economic representation in journalism and 85% are taught the importance of having diverse sources in their journalism education.
Many expect misinformation and disinformation to worsen. While nearly half expect the prevalence of fake news to grow in the next year, nine in 10 also plan to do what they can to combat its spread.
Next generation journalists are purpose-driven. Among the top motivations for pursuing journalism are providing information to the public for informed decisions (62%), exposing injustice (58%) and fighting misinformation and disinformation (45%).
Download a copy of NextGen Journalists: Navigating Misinformation, AI & The Future of Journalism.
About Greentarget:
Greentarget is a strategic public relations firm that helps leading law, accounting, management consulting, real estate and financial services organizations create unique positions of authority through skillful participation in the conversations that matter most to their key stakeholders. With 60 professionals in Chicago, New York, Los Angeles, San Francisco and London, Greentarget combines earned media, research and market intelligence, content and publishing, digital strategy and amplification, and special situations counsel to help clients grow market share, attract leading talent and achieve a higher purpose. For more information, visit www.greentarget.com.