A surge of charitable dollars to help save and grow local news coverage is exciting but raises many questions.
For instance, what can local outlets and foundations do to participate in the $500 million Press Forward program announced Sept. 7?
"The inquiries are coming from everybody," including several entities interested in joining the 22 initial funders, said Jim Brady, vice president of journalism at the Miami-based John S. and James L. Knight Foundation.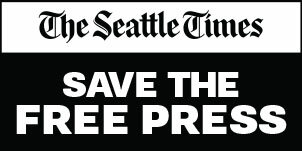 After donating more than $632 since 2005 to support journalism, including work by The Seattle Times, Knight is providing $150 million as the co-lead of Press Forward, alongside the Chicago-based MacArthur Foundation.
Brady joined Knight in 2021 after working for national and regional newspapers and starting online news ventures in Pennsylvania and Colorado.
From Brady's vantage, it's actually a hopeful time for local news.
"Everybody's got their challenges," he said. "But I do think that there's a general sense in the industry these days that we're starting to come to some level of agreement as to what's required to build a viable business in local journalism and we're all sort of moving toward that goal — better audience engagement, diversified revenue, with philanthropy being part of it but not all."
In an interview, he answered my questions and pledged to answer more as they come from organizations looking to support and produce local journalism. Here are edited excerpts of our conversation.
Q: What is your advice to publishers doing civic journalism who see this opportunity to support their work?
A: The first thing is to look at the priorities of Press Forward and make sure that what you're doing fits squarely into one of those. It seems like an obvious first step but we get an awful lot of inquiries here at Knight that don't fit anywhere close to the strategy on our website. The second piece of advice is there's no need to rush. This is a five-year commitment, the money is allocated equally over five years. There's really no need for people to try to get in front of some imaginary line where the money's going to be given out really quickly. It's not going to be.
It's also probably useful for people to look at the individual foundations … to know which of the foundations might be most likely candidates to put in, and then that foundation can help get others in, potentially.
Q: Will grant decisions be made by Press Forward, individual members or a mix?
A: Maybe I'll be proven wrong but I don't think there will be a single grant done in five years in which all 20-whatever funders are in on it together. I think there's going to be a lot where some — three, four, five — coalesce about a certain idea that fits into the Press Forward strategy and piques their interest.
Q: Like United Way? There's a pooled fund but you can also choose where your donation goes.
A: There will also be a significant chunk of money in the pooled fund. How exactly that will be utilized is something we're still talking through. I think people will be very pleasantly surprised by how many of these grants involve a lot of funders working together and talking to each other a lot more and sharing materials and opinions.
Q: How much will be pooled?
A: Not fully known yet. But it'll be a minority of the money, not more than 50%.
Q: MacArthur President John Palfrey told me he'd like to see local versions, like a Press Forward Charlotte or Press Forward Chicago. How would that work?
A: If there's a local funder who wants to start a chapter in their own market they would take the lead in putting that money in. That money would be targeted just to that market. If anybody anywhere in the country is interested in a Press Forward in their market, I'd be happy to talk and explain the program. But that's the idea: Hopefully to inspire local community foundations to participate more in funding journalism.
Q: What would be the advantage of joining Press Forward versus doing it themselves?
A: They could do it themselves, too. There are benefits to being part of Press Forward in terms of the integration and ability to tap into that broader network of funders but the truth is, if somebody who wants to fund local journalism calls and they're not part of Press Forward, I'm happy to take that call too. More funding for local journalism is the ultimate goal we all have.
Q: You talk about supporting entrepreneurialism, which is great and we need new ideas. How much of that can be within the existing ecosystem versus building something new?
A: It can absolutely be within the existing ecosystem. Press Forward doesn't have an opinion on whether the money goes to an existing publisher or a new publisher. It does say strengthening newsrooms. There can be struggles at times with funding large, hedge-fund owned companies but you're talking independent newspapers or longstanding family-owned weeklies; there's all sorts of people in that space who with the right idea are certainly eligible to be funded out of Press Forward and we'd be happy to fund if they come with that idea.
Q: So entrepreneurs in this case aren't just digital or nonprofit startups?
A: I think a lot of us believe, or I believe, that the future of local news can't be all nonprofits. There's just not enough money available via philanthropy to have it carry the weight all by itself. So I think the existence of a healthy, for-profit industry is important too. It's a lot of what Knight supported over the years.
Q: How do you keep the sustenance proportionate to the amount of service that's provided to communities?
A: That's why I think the local Press Forwards will be really important, because local funders have a much keener sense of what the news organizations are that move a community and know a lot better than we do.
Q: Will Knight fold more of your operation into Press Forward, or continue at the same pace and scale?
A: Well, we doubled our budget for the next five years so we'll be a lot more active. You'll see us do a little bit more direct funding of newsrooms.
Q: Will that limit the foundation's duration or was there capacity to double spending without breaking the bank?
A: The endowment is pretty significant. It will not have a significant effect on the long-term value of the endowment.
Q: That's incredible. Thank you very much.
Brier Dudley on Twitter: @BrierDudley is editor of The Seattle Times Save the Free Press Initiative. Its weekly newsletter: https://st.news/FreePressNewsletter. Reach him at bdudley@seattletimes.com.