Editor & Publisher and the International Newspaper Group (ING) are looking to recognize "All-Stars" that work in the fast-paced news publishing Operations field.
The pros working in Operations not only understand the mechanics of every department, but their expertise goes beyond knowing presses and inserting equipment and capital expenditures. These pros contribute new thinking, concepts, and sometimes unconventional methods of finding profitable solutions.
So, do you have an "Operations All-Star" on your team?
Help us recognize these leaders by nominating a colleague today so that we can acknowledge their contributions in this demanding field to the global news publishing industry. E&P will be profiling the finalists to its news industry audience over the next few months.
E&P Publisher Mike Blinder said, "We are honored to partner with ING in saluting the most exemplary employees in Operations in the news publishing industry. Often overlooked are the significant contributions they make in getting the paper out the door. We will proudly profile the "All-Star" runners-up and winners this year in our October issue of E&P and on our website."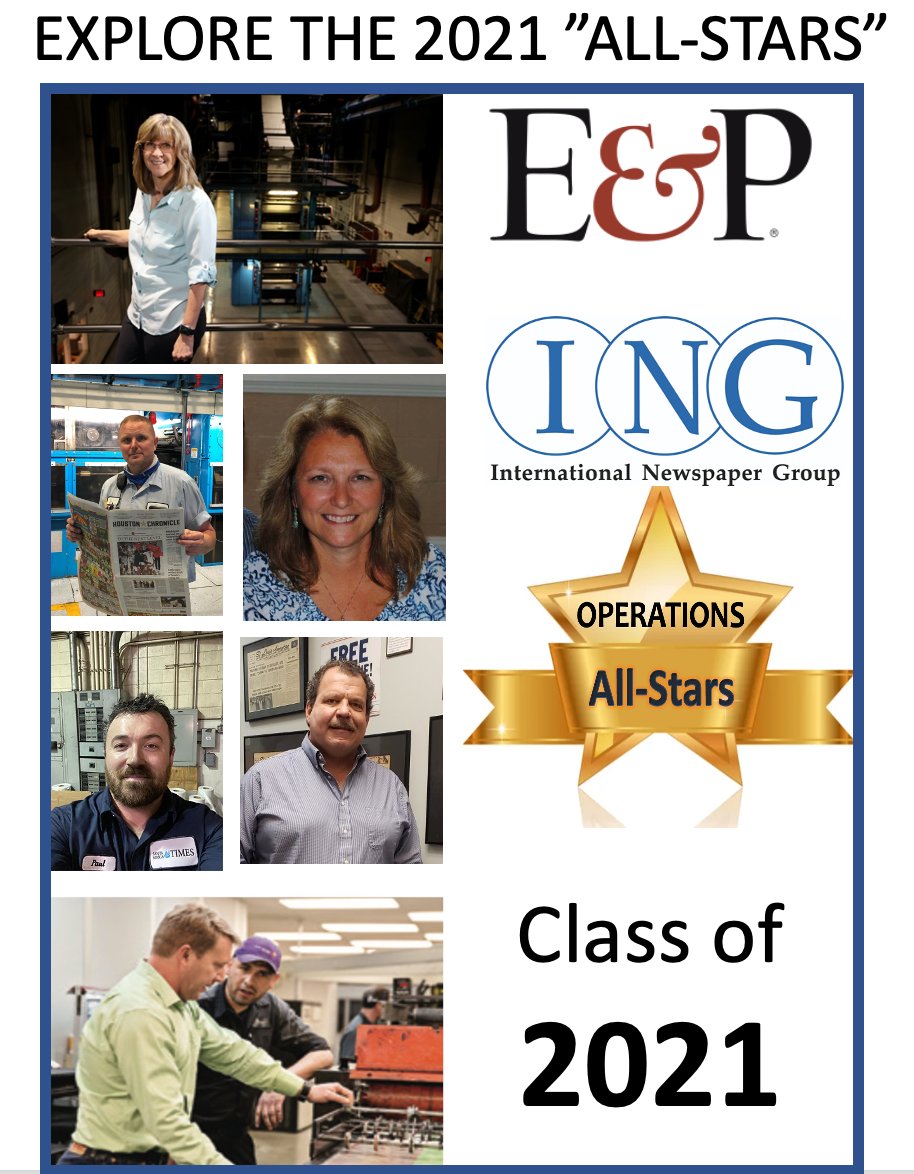 WINNERS TO RECEIVE $2,000 CASH PRIZE!
This year E&P and ING will honor winners in three categories. The winners will receive
$2,000 each from ING in addition to imPRESSions Worldwide paying their airfare to the ING Conference, Sept. 17-18 in Newport, R.I.
The three categories are:
National Operations All-Star
Regional Operations All-Star
Pre-Production Operations All-Star
Tom Lesch, an officer on the ING Board and the owner of imPRESSions Worldwide said, "imPRESSions Worldwide has been a sponsor of the ING conference for many years, and now we have a seat on the board. We feel it is particularly important to recognize Operations experts in our industry and show our appreciation for the demanding work they do. This year we are providing airfare for each of the three "Operations All-Star" winners so they can attend the ING Conference in Newport, R.I. and be recognized in person. These people are often spread thin and work long hours and late evenings. Some of them watch over multiple sites and spend a lot of time traveling. We're looking forward to seeing the winners in September!"
Wayne D. Pelland, ING president and the SVP of Operations at Gannett said, "ING is proud to sponsor the "Operations All-Stars" winners at our annual conference this year along with Editor & Publisher. We will also be awarding past winners from 2020. These awards acknowledge the outstanding work of these individuals to keep operations flowing and we look forward to honoring them."
Don't delay, nominate your "Operations All-Star" now! Nominations close September 1, 2022.