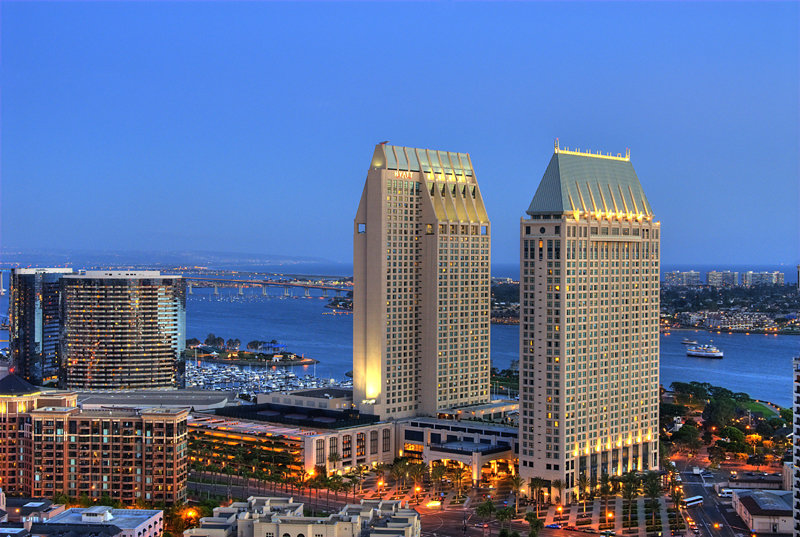 The 2018 Key Executives Mega-Conference will take place at the Manchester Grand Hyatt San Diego.
More than 700 newspaper professionals are expected to attend this year's Key Executives Mega-Conference in San Diego Feb. 26-28. Now in its eighth year, the show is hosted by the Inland Press Association, Local Media Association, Southern Newspaper Publishers Association and News Media Alliance. The California News Publishers Association is also a partner this year.
"This year's Mega-Conference is stacked with new content and new voices," said Jay Horton, the show's executive producer. "For example, attendees will learn about how (supermarket chain) Kroger has transformed their business to compete with Amazon, giving us a roadmap for our industry to follow to grow our relationship with one of our top customers. And we'll have more from Google on some of their locally focused efforts and the value that can drive for newspapers."
Also on the program agenda: an opening keynote address from media analyst Ken Doctor, a panel focused on combating fake news, subscription strategies, and much more.
"Our focus is core value creation, transformation, as well as entrepreneurship and business diversification," Horton said. "Learn about how our focus and best practices with subscriptions unlocks a new paradigm for local publishers to deploy data driven solutions that can transform marketing effort for local advertisers.  And this year will be the first opportunity for our industry to hear from Alex Hardiman, head of news products at Facebook, on the latest developments and vision from the social media juggernaut."
The 2018 Mega-Conference will be the first one with the News Media Alliance as a partner. When the partnership was announced last June, the Alliance reported that it would raise the total membership across the four organizations to more than 5,000.
"Partnering with the News Media Alliance has been a great experience," Horton said. "Working with leaders like David Chavern (Alliance president and CEO) and their entire team has been an asset to this year's Mega-Conference. Their great industry experience and insight into key topics—as well as the considerable value of the work of the American Press Institute will be very well received by the attendees."
Chavern added, "Working with the other publisher groups has been easy. Actually, much easier than I expected. We are all coming from the perspective of wanting to have a great event and doing everything we can do to help the news media."
The tradeshow floor will also be filled with vendors and companies looking to help the industry succeed. According to Horton, last year's show in Orlando saw 84 exhibitors and there is "even more interest this year."
When asked what he hopes Mega-Conference will accomplish this year, Horton said,"Our shared vision is of an industry, true to its core values, grows, transforms and diversifies, to continue to serve our communities and our nation for the generations to come."
For more information, visit mega-conference.com.
Editor's note: The story has been updated to add Ken Doctor as the keynote address.