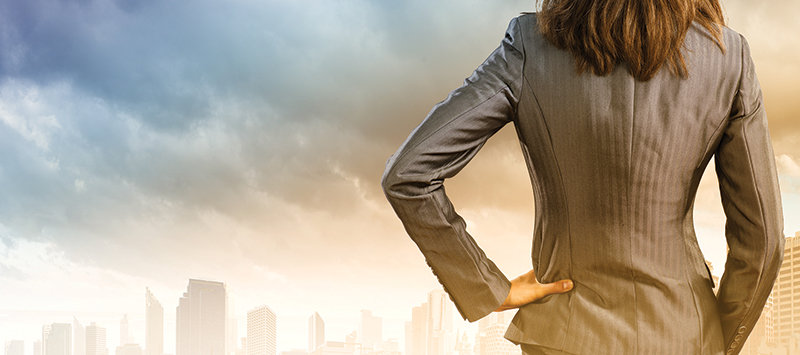 Two Arizona State University (ASU) journalism professors, Kristin Gilger and Julia Wallace, record the achievements and challenges that women have faced in America's newsrooms in their new book, "There's No Crying in Newsrooms: What Women Have Learned About What It Takes to Lead." 
Both Gilger and Wallace have served in various leadership roles throughout their news careers. It was Gilger who said she had been thinking for a long time about writing a book regarding women leaders in news, but it was a project she could not tackle alone. Because Gilger had previously worked with Wallace, Gilger thought she would make a great writing partner. Wallace was quick to accept.
Although it was a tremendous amount work—or rather a "labor of love," as the authors put it—Gilger said that ultimately there were two big motivators driving them. "Number one, we came into newsrooms at a time where there was fundamental change. A lawsuit and the Civil Rights Act opened up these (opportunities) to women and people of color. All of a sudden there's this whole generation of women who grew into leadership roles, but their stories have not been told."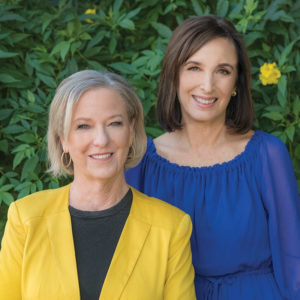 Authors Kristin Gilger (left) and Julia Wallace
"The second motivator was our students," Gilger continued. "We looked at these young women and frankly, our own daughters…and we wanted to take the stories of these women and (let) them be able to share their wisdom and their lessons so that young women entering the workforce today are better prepared."
Gilger and Wallace selected themes for each chapter. For example, one theme explores how things are different when women are in control and how that impacts the product. Another chapter takes a look at the specific issues that women of color have in the newsroom.
They ended up interviewing about 120 people for the project, 100 of which were women. Men were also included in the book in an effort to open the conversation up. Among the women interviewed were CNN correspondent Christiane Amanpour; Vox publisher Melissa Bell; HuffPost founder Arianna Huffington; and Jill Abramson, the first female executive editor of the New York Times.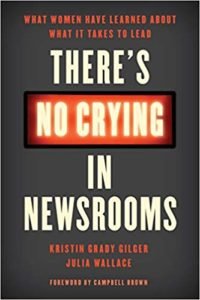 Find this book on Amazon (As an Amazon Associate we earn from qualifying purchases)
Gilger and Wallace preface each chapter with their own experiences, and at the end, there is a lesson segment, where readers can reflect and ask themselves what they learned.
Ultimately, it was the book's title that provided the biggest challenge. While it was inspired by the 1992 all-female baseball film, "A League of Their Own," Wallace said, "For a certain generation of women, every one of us has a story about crying in the newsroom, and an older woman taking us aside and saying 'Don't ever do that again.'"
Selected excerpt, reprinted with permission:
Mother Jones was in search of yet another editor, and Monika Bauerlein and Clara Jeffery had a decision to make: Should they compete against each other for the magazine's top job or bow out and let an outsider take over?
They had both applied for the position just a year earlier, in 2005, and it had gone to a man—Russ Rymer, whose credentials included two well- regarded books, dozens of articles for major magazines, and a reputation as an "evolved male," thanks at least in part to his marriage to feminist writer Susan Faludi.
But Rymer had little interest in developing the magazine's web presence, and the magazine was veering off track, according to Jay Harris, the publisher and CEO at the time. Subscriptions and newsstand sales were falling, the staff was in turmoil, and the liberal-leaning political magazine was struggling to find relevance as a six-time-a-year print publication. In August 2006, the Mother Jones board decided Rymer had to go. He was the second editor— both of them men—to be forced out in just two years.1
Mother Jones had a history of colorful, if somewhat erratic, leaders. Ten years earlier, Michael Moore had served as editor for all of four months be- fore getting fired in a dispute over editorial decisions. He sued for wrongful termination, reportedly settling for $58,000 and using the money to fund his first film, Roger and Me, about his hometown of Flint, Michigan.2
The magazine had "been through some tumult over the years and sort of had a rap," Jeffery said. She and Bauerlein, the highest-ranking women in the newsroom, were tired of it, and they were worried about the magazine's future.
The two were confident that either of them could run the publication, but the board had already turned them down once before. So they came up with a novel idea: What if they both got the job? They could be co-editors, pooling their talents and managing the magazine as equal partners.
They pitched the plan to Harris, who was intrigued. That night he went home and asked his wife, Marcia Cohen, an associate dean at the Stanford University School of Medicine, what she thought of the idea. "Of course they can do it," Cohen told him. "They're women."
Madeleine Buckingham, the magazine's chief financial officer who would go on to succeed Harris as CEO, said she was at first "a big skeptic." She worried about whether two people could really lead in unison, who would make the final decisions, and if the staff would be confused about who was in charge. But the idea of doing something so different, so "open-minded," appealed to her, and she had been around Bauerlein and Jeffery long enough to know they worked well together. She told Harris, "Let's give it a shot."
The reaction was swift, with bloggers and media critics lampooning Mother Jones for its benighted optimism in pairing two women to do any- thing. The celebrity and media blog Jossip sniped, "Of course it takes two women to do the job of a man."3
"It was galling," Bauerlein said. "There's a power vacuum, so cue the cat-fights." Beyond the catfight jokes was an even more hurtful assumption—that neither of them was "good enough or strong enough," as Bauerlein put it, to do the job on her own.
They also were annoyed by people who assumed they would be working part-time in order to spend more time with their families. "People would go, 'Oh, you're so cute; you job share,'" Jeffery said. "We both work really long hours; this is not a job share. Nobody says to the founders of Google, 'Oh, this is cute; you're job sharing. What an unusual situation that you could work so well together.' If you're a woman, there's an assumption that it's both easier to do and yet harder to do—like you're going to rip each other's eyes out or something."
The women knew that almost no one believed the arrangement would work. They set out to prove the doubters wrong.