Does your news organization publish local editorial cartoons? Chances are really good the answer is no.
According to a study done by The Herb Block Foundation released in 2012, there were about 2,000 full-time editorial cartoonists employed by newspapers in the U.S. at the start of the 20th century. As recently as 2000, there were upwards of 250. Today, by my count, there are less than 20.
Obviously, a lot of that attrition has been caused by the same forces that have ravaged every newsroom department over the last 15 years. After all, how many staff movie critics remain employed by newspapers?
But editorial cartoonists are different. It's an art form and type of commentary birthed by newspapers, from Ben Franklin's famed "Join or die" cartoon decades before the Revolutionary War to Thomas Nast's famed takedown of corrupt New York City political boss William M. Tweed. While about every newspaper in the country still publishes nationally syndicated cartoons (as they do with movie reviews), engaging local visual commentary is hard to come by these days.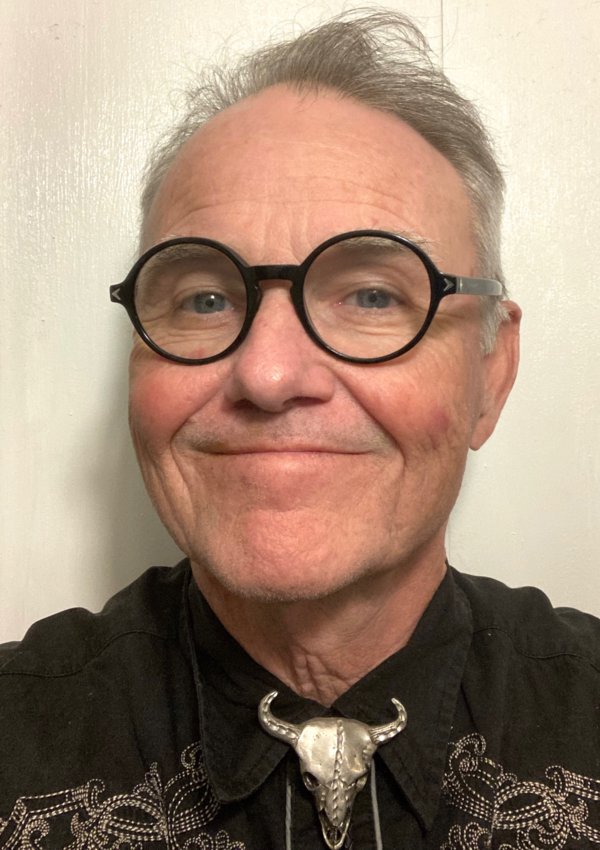 That takes us to Tucson, where one-time Pulitzer Prize finalist David Fitzsimmons has been drawing six cartoons a week about his sun-soaked corner of the country for the Arizona Daily Star since 1986. Avoiding the fate of many of his contemporaries, Fitzsimmons has managed to remain a vital part of his newspaper and the community for the past 35 years and only recently decided at the age of 66 to begin to slow things down and go part-time.
"My pen just got heavy as a boulder," Fitzsimmons said. "I started to feel really ancient in the newsroom because I'd draw a cartoon and go, 'Hey, I think this is maybe the 40th cartoon I've drawn about our looney legislature this year.'"
The Star is owned by Lee Enterprises and Gannett in a complicated arrangement that stems back to a joint-operating agreement after the closure of the Tucson Citizen. As a result, the newspaper has faced the same economic headwinds and corporate demands as other chain-owned newspapers, resulting in waves of layoffs and furloughs. But Fitzsimmons, whose work is also syndicated by Cagle Cartoons, survived all the cutbacks and remains an important voice and reason Star readers renew their subscriptions.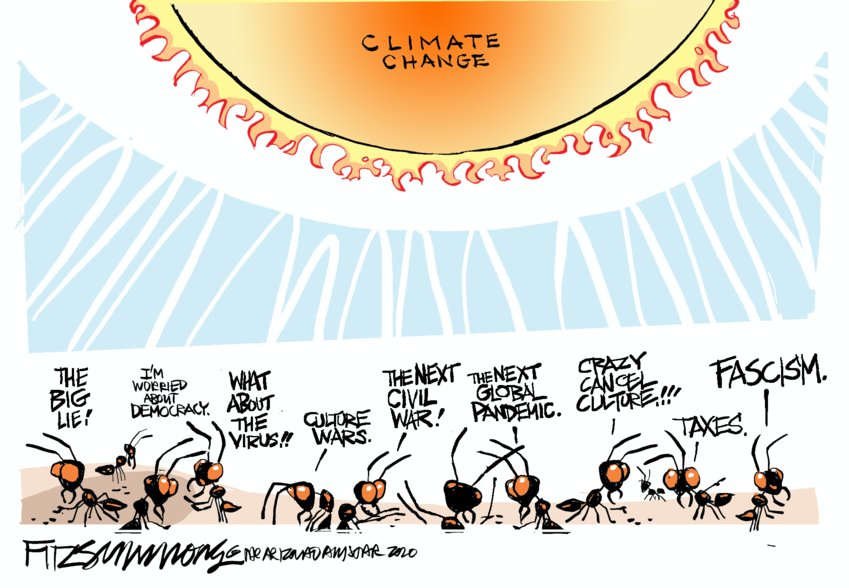 In addition to drawing a daily cartoon that places more focus on local events than national politics, Fitzsimmons took it upon himself to engage directly with the community. He does a lot of public speaking appearances around Tucson, a mix of events at schools and local clubs like Rotary and Kiwanis with cartoons and jokes — all while promoting the newspaper.
"I just endeared myself to the community as a public figure, which I have to admit really made me feel uncomfortable at first because I was a shy, normal human being," Fitzsimmons said. "But then when I saw how it endeared me in the community as sort-of a mascot for the newspaper, I was grateful for that gift."
Fitzsimmons also drew a local comic strip called Arroyo Cafe, which he turned into a fundraiser and annual radio show in the spirit of A Prairie Home Companion. He also writes a popular weekly humor column for the newspaper that began roughly 10 years ago when the editorial page had a hole on a Saturday that needed to be filled. And he regularly interacts with fans on Facebook, including videos where he films himself listening to angry voicemails left by readers who disagreed with the day's cartoon.
All that to say, Fitzsimmons has been able to connect with and retain the interest of generations of readers just because he took the time to engage with them off the printed page. In fact, when he announced his semi-retirement in March, readers flooded his Facebook page with caricatures he had drawn of them over the years.
"A person would walk up to me with gray hair and say, 'Hey, you came to my school and drew a caricature of me.' Were you a teacher? 'No, I was in kindergarten,'" Fitzsimmons recalled. "People also send me pictures of their children I had drawn who died later in life. Widows, that sort of thing. It's very touching."
Despite a devoted and supportive readership, Fitzsimmons has also generated his fair share of controversy during his 35-year tenure in Tucson. In 2020, a cartoon he drew comparing Derek Chauvin, the police officer who murdered George Floyd, to slaveholders and Klu Klux Klan members was used in a local high school assignment. The National Fraternal Order of Police criticized the cartoon, and Texas Gov. Greg Abbott called for the teacher to be fired.
"This cartoon was my response to the cold-blooded murder of George Floyd by the Minneapolis police officer, diagramming the historic roots of our systemic racism," Fitzsimmons explained at the time. "Perhaps it requires too much moral courage or honest clear-eyed reflection for the National Fraternal Order of the Police to funnel their fury at the few racist police officers who disgrace their oath and their badges by disproportionally murdering African Americans."
While a cartoon like this is designed to touch a nerve and call out injustice, Fitzsimmons said sometimes he was surprised by the reaction a cartoon with no connection to politics could garner. After legendary singer Frank Sinatra died back in 1988, Fitzsimmons drew the beloved crooner in hell because "it's the only place you get a hooker and a martini."
Readers certainly engaged with the cartoon, but they didn't see the humor.
"I had drawings made of myself being hung, lynched and shot," Fitzsimmons recalled. "The hate mail was just a flood."
Fitzsimmons said his suggestion for aspiring cartoonists and editors interested in running local cartoons is to focus less on political commentary and more on topics that resonate with the immediate lives of people in your community.
"The pothole on Bronze St., or the beautiful spring weather — the kind of cartoons that I hated doing when I was young," Fitzsimmons said. "For me, it was in the form of a quail and a javelina eating jalapeños and talking about snowbird tourists… People will want to turn to the page or click to find the cartoon because they might see a little bit of themselves there."
Rob Tornoe is a cartoonist and columnist for Editor and Publisher, where he writes about trends in digital media. He is also a digital editor and writer for the Philadelphia Inquirer. Reach him at robtornoe@gmail.com.