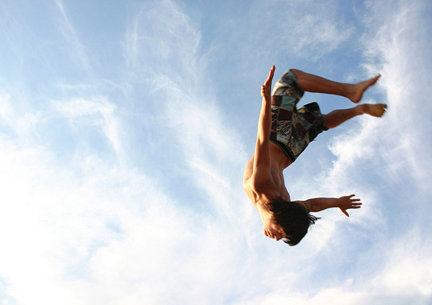 Twitter, Facebook, Instagram, Tumblr...with so many social media platforms being hurled towards editors these days, it might not come as a surprise that many haven't heard of Flipboard, the popular mobile news aggregation app that bills itself as "your social magazine."
Back in March, Flipboard made a major upgrade, letting users create and edit their own curate magazines that could be read by the companies' millions of users. Now, Flipboard is taking its first step away from mobile, announcing in July that it had launched a new web-based service that lets its popular user-edited magazines to be read by anyone with a computer and an internet connection. Why should editors care?
According to Flipboard spokeswoman Christel van der Boom, nearly 3 million magazines have been created and consumed by 75 million active users, all sharing content created by someone else. When thinking about Flipboard, think Facebook, but with a niftier interface and a better rendering experience. Excerpts are formatted and presented in a magazine format, and users can click through to the creator's web site to read the full article.
So, Flipboard is becoming a player in a social media environment that has become an important source of traffic for most news organizations' websites. Flipboard's user experience is so intuitive, it has partnered with large media partners, like the U.K.'s The Guardian, the Los Angeles Times and the Chicago Tribune, in arrangements that allow Flipboard to share its full content in exchange for a spit in ad revenue.
That's the key. Due to Flipboard's unique mobile interface, instead of being limited to thin, small mobile ads that users ignores, readers are presented full-screen ads that really showcase the potential of monetizing the growth in readers on mobile devices. By doing this, Flipboard has been able to go beyond the traditional call-to-action ads and grow sales to both luxury brands and branding campaigns, generally tough sells for non-print publishers.
According to New York Times spokesperson Linda Zebian, Flipoard is appealing in the same vein as sites such as Instagram and Tumblr, which allow Times content to be exposed to new readers in demographics that don't usually visit the Times' website. The Times allows Flipboard to use full stories, but users can only read three a day before they are forced to sign up for the Times subscription plan.
The Times wouldn't provide specific subscription numbers, but Zebian did say its Flipboard partnership has successfully moved the needle in terms of acquiring new paying subscribers, an enticing prospect for other media organizations with a paywall looking for ways to grow revenue.
Smaller media organizations without the staff or resources to develop their own mobile app might also see many advantages in partnering with Flipboard. But while this approach has worked out well for the New York Times, several media properties, like Wired and The New Yorker, have pulled their content off of Flipboard. Others, like the Los Angeles Times, might be starting to reassess the scope of its content partnership in lieu of Flipboard's push towards the Web.
"The L.A. Times believes in reaching readers through a breadth of platforms and provides Flipboard users with a selection of our editorial content," said Nancy Sullivan, vice president of communication for the L.A. Times. "We continually evaluate what the best mix and number of stories should be and how best to work with the service."
Other media companies, like the U.K. Telegraph, have taken to Flipboard's service to curate their own magazines. Every day, the staff of the Telegraph gather about 40 stories from the day's news and produce a Flipboard magazine called Telegraph PM, a modern-day version of the afternoon paper, which is updated every day at 4 p.m. and targeted at commuters just leaving work.
Judging by the numbers, the magazine is popular, enjoying nearly 24,000 daily readers after just a couple of months in production. The magazine features photos and excerpts of stories, and links back to the Telegraph's website if readers want to read the full story. The magazine doesn't feature any ads (content is monetized when users click through to stories) but van der Boom insists they have the ability to be flexible with publishers looking for different options.
"There's not a one-size-fits-all approach at Flipboard, and we have the ability to be flexible and work with individual publishers to create unique solutions and experiences," van der Boom said. "For instance, we haven't done much in the way of local content, but I could see us doing that for sure."
Editors looking to get involved in Flipboard might consider curating a magazine based around a niche or subject area where they have a particular expertise or breadth of content. For instance, the staff at the Guardian curate three popular magazines on Flipboard's service: The Royals, which features the best of their coverage of the British monarchy; Space: Mars, Meteors and Monkeys, a selection of the newspaper's coverage of space and science news; The Death Penalty in America, which collects the Guardian's coverage of capital punishment in the U.S.
"We're thrilled to be part of Flipboard's elegantly designed user experience to bring the Guardian's distinctive journalism to a new and growing community of readers," said Guardian U.S. VEO Michael Bloom.
Rob Tornoe is a cartoonist and reporter for Editor & Publisher, and can be reached at robtornoe@gmail.com.