Jennifer Bertetto inherited a deadline the day she became the leader of Trib Total Media. She had two years to save the company.
Bertetto was named Editor & Publisher's 2022 Publisher of the Year at the #NewsMedia Business Summit in Harrisburg on Oct. 13, in part, for rescuing the southwestern Pennsylvania newspaper company from its swift plunge toward bankruptcy. In the process, she retained her commitment to her employees, community and journalism.
"Never in my wildest dreams did I imagine a day when I would be named Publisher of the Year, but it is an incredible honor," she said. "It is one I do not carry alone. You can only get such recognition when you have incredible people working around you, and I have that in every corner of the company."
E&P gives its highest award each year to a publisher "who has risen above the rest and accomplished what seems like the impossible, outmaneuvering the competition, outthinking the future and maintaining profitability."
Some of Bertetto's closest colleagues joined her at the Summit, and dozens more were watching over a live feed. When her picture appeared on the presentation as Publisher of the Year, "It was an absolute shock," she said.
Her colleagues already knew she deserved it.
"I was so thrilled for her, but I was not surprised because she is such a natural leader. She has been able to really navigate with a lot of confidence and to push our company through otherwise difficult times," said Executive Editor Luis Fabregas.
Her husband, Keith Bertetto, has seen her receive enough honors to accurately predict how she would respond.
"She says it's a team effort. 'It's not me. It's us,'" he said. "No one is more deserving. She lives and breathes for her job."
Community roots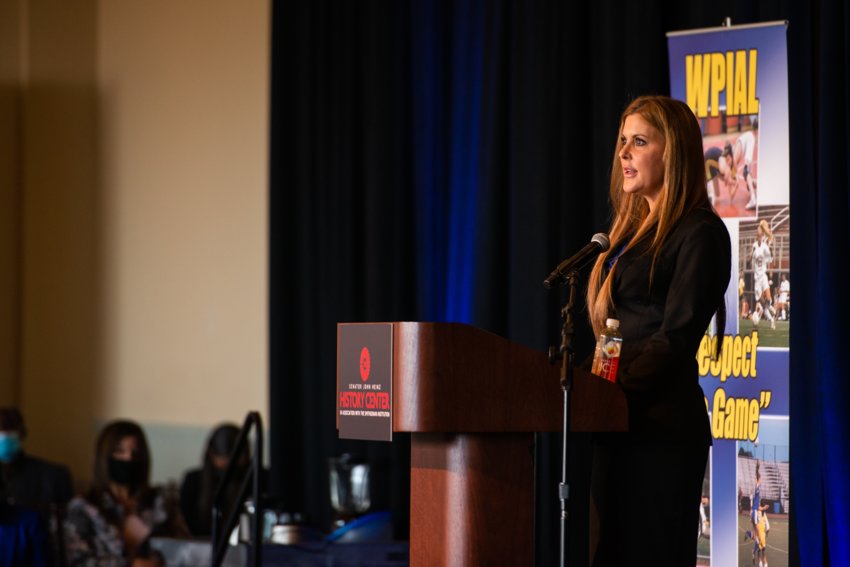 Bertetto, of Lower Burrell, was born and raised in the Alle-Kiske Valley, the home of Trib Total Media's largest newsroom and one of its two daily newspapers. She got her first Trib Total Media job at her local newspaper when she was in high school.
"I have been going to the building that I go to every day since I was 16 years old," she said.
She was a student-athlete who knew many of the newspaper's sports writers and got a job as a contractor recording sports scores.
"I just remember falling in love with the energy," she said. "I felt like I was at home that first day."
For six years, she would often return to work at the newspaper for a summer job, on evenings after work and during college breaks. Still, she had no plans to make it her career. She studied psychology at the University of Pittsburgh and planned to become a licensed psychologist.
But then, a sales job opened, and one of her contacts through the sports department said she would be a great fit. She was 21, and sales was not a part of her plan. But she thought it would help pay the bills while she pursued her career as a psychologist.
"I got there, and I fell in love, literally from my first day on the job. It was the only place I ever wanted to be," she said.
Today, Trib Total Media includes two dailies printed seven days a week, 11 weeklies and five monthlies. It serves 31 communities through hyperlocal news sites in the Neighborhood News Network. Digital revenue is growing, and Trib Total Media receives 300 million annual page views.
Bertetto said her roots in the community and background at the newspaper deepen her responsibility to her readers. She has known many of them all her life.
"I do have that deep knowledge of what our company looked like in the early '90s vs. today. It had to evolve so much over the last two decades. So many of our customers want it to be what it was," she said. "I have the unique perspective of knowing what that looked like, so I wanted to honor that past while still remembering that we have to be viable for generations to come."
Fix it or die trying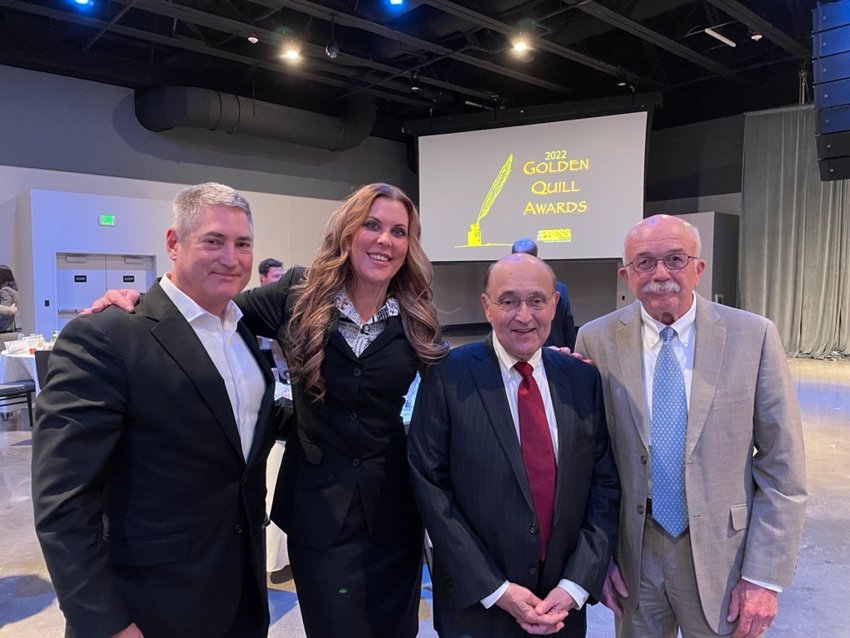 Joe Lawrence, Trib Total Media's chief legal officer, remembers with clarity the day he became Bertetto's "No. 1 fan." Bertetto was named president and CEO at age 38 in January 2015 after the death of Richard Mellon Scaife, a billionaire who had owned the company since 1970. Trib Total Media was losing $65 million annually and was on track to run out of money in May 2017.
To save the company, she had to convince the board of trustees that drastic changes were necessary.
"There had to be some way to maintain journalism, so she showed them the way. She showed them the future," he said.
She charted and graphed that future for presentations to the trustees, calling repeated board meetings and detailing her plan to keep the paper afloat. The board was heavily resistant.
"She just stayed persistent. She just kept at it. She wouldn't let them divert their eyes. Most people would have quit. I would have quit," Lawrence said. "They just kept telling her, 'No, no, no. That's ridiculous.' She faced a lot of sexism. There was a lot of, 'You're too young.' She was young and she was female in an industry that was a lot of men."
At about the third board meeting, she recalled that the resistance finally began to crack. She told the board that only major metro areas would soon have daily newspapers, and small cities like Pittsburgh would have weeklies driven by hyperlocal content.
"They all looked at her aghast. Back then, it was like heresy. Every member of the board, a bunch of men, kind of leaned back in their chairs and said, 'I don't want to be associated with a bunch of weekly products,'" Lawrence said.
She asked them how their role would be devalued by covering the readers' communities.
"None of them had a good answer for her, and so they totally folded because they had no good response," he said. "And that's when I became her No. 1 fan."
At that time, Lawrence was a law firm partner representing Trib Total Media and Scaife. Not long after that meeting, he joined forces with Bertetto in a full-time role.
Bertetto said she recalled the board meeting and posing the question that finally caused the board to relent. Ultimately, the board agreed to a phased approach, which resulted in the Neighborhood News Network serving Pittsburgh's metro neighborhoods and underserved communities.
It also involved turning the Pittsburgh Tribune-Review, Trib Total Media's metro paper, into a digital-only product.
Bertetto said many of the decisions were "gut-wrenching," but she knew they were necessary.
She recalled telling her family, "I'm going to fix it, or I'm going to die trying to fix it. I can't let this company die on my watch."
Her husband recalled that time as difficult for his wife but said she was resolved.
"She was very bullheaded and determined because she knew what she was doing was the right thing. She knows that she has 300 employees who wouldn't have a job otherwise," he said.
"I know that was a long, hard-fought battle, but she stuck to her guns and won it."
Lawrence said he has encountered droves of business leaders through his decades of work in commercial law.
"Jennifer is the single best leader I've ever met," he said.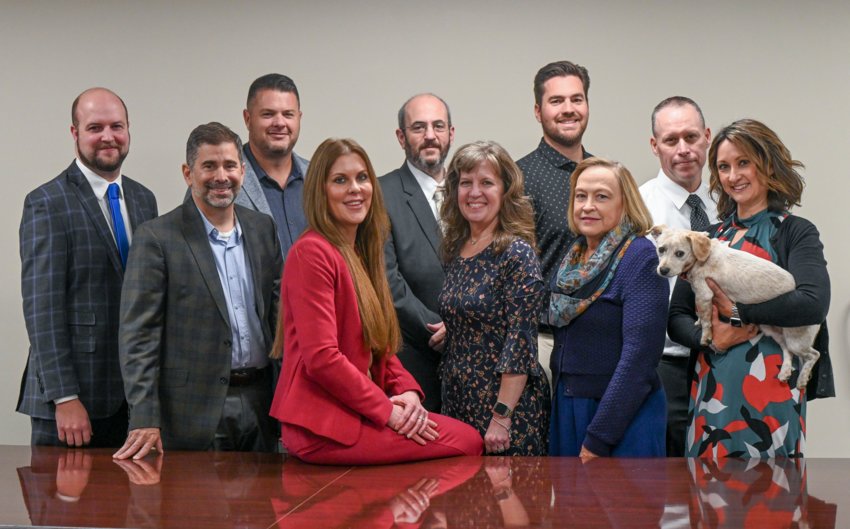 Under Bertetto's leadership, Trib Total Media also launched the digital marketing agency 535media and began investing in tech companies. Among those is the artificial intelligence company MeSearch. MeSearch helps to automate the process of sharing Trib Total Media content on its neighborhood websites. The AI finds location keywords to identify which neighborhoods are served by the content instead of burdening reporters with a task that could be automated.
"She's literally one of the first people transforming the industry into something sustainable. She was first to recognize that the traditional print metro model was failing in its legacy format," said Lawrence, the CEO of MeSearch and 535media's general counsel and general manager.
Sue McFarland was named executive editor in the early days of the transition in 2016 and worked closely with Bertetto through the process. Bertetto remained steadfast in her commitment to her employees, readers and journalism, McFarland said.
"Her goal was to give our readers important news and information about their communities that, in many cases, they could not find anywhere else in our market. She is committed to this mission and to making that news accessible to everyone, everywhere, in whatever format they want," McFarland said.
McFarland retired in September 2021 and now holds a part-time advisory position.
Committed to the craft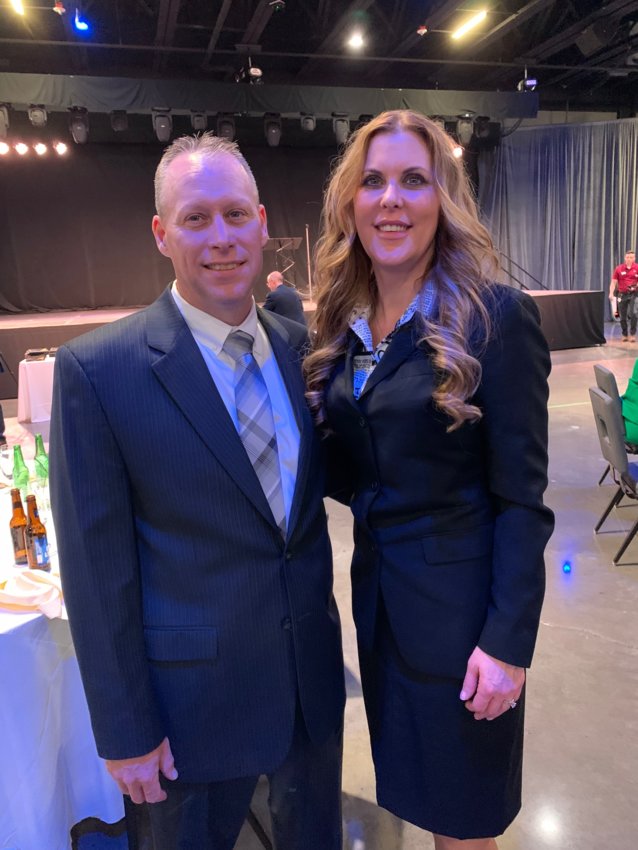 Trib Total Media journalists have published award-winning projects under Bertetto's leadership. McFarland and Fabregas said she is committed to supporting the editorial department in their endeavors, giving them the space to create and innovate.
Trib Total Media received national awards, including three Emmys, the Sigma Delta Chi and Edward R. Murrow awards.
The award-winning projects included a documentary on the anti-Semitic attack on the Tree of Life synagogue in Pittsburgh's Squirrel Hill neighborhood. A gunman opened fire during religious ceremonies on Oct. 27, 2018, killing 11 worshippers and injuring others, including responding police officers. Trib Total Media was also nationally recognized for its investigation into one of the nation's deadliest COVID-19 nursing home outbreaks at the Brighton Rehabilitation and Wellness Center.
"She is deeply committed to fulfilling our fundamental role as watchdogs in the community, to righting wrongs and serving as advocates for those unable to advocate for themselves," McFarland said.
Trib Total Media journalists recently published a multimedia project, including a documentary, examining the legacy of Pittsburgh Pirates legend Roberto Clemente. A team of journalists traveled to Clemente's hometown of San Juan, Puerto Rico, for the project.
"Jennifer understands and respects the craft of journalism. She understands the value of a story, and she understands that we, as a society, are better with local journalism," Fabregas said.
Fabregas said he and Bertetto both started at Trib Total Media around the same time and "grew up in the industry together." McFarland also spent her entire career at the company.
She said Bertetto helps to support the next generation of journalists and loves to share the story of her first job with young people who are interested in the field. She mentors students at the University of Pittsburgh, where she serves on the advisory board of The Pitt News. She also established scholarship programs through Trib Total Media, including the Scholarship for Diversity in Media, which includes a summer internship and an offer of full-time employment after graduation.
Bertetto said she is committed to keeping its online news paywall free.
"Regardless of socioeconomic status, you should be able to access the work that we do because it makes a difference in your life," she said.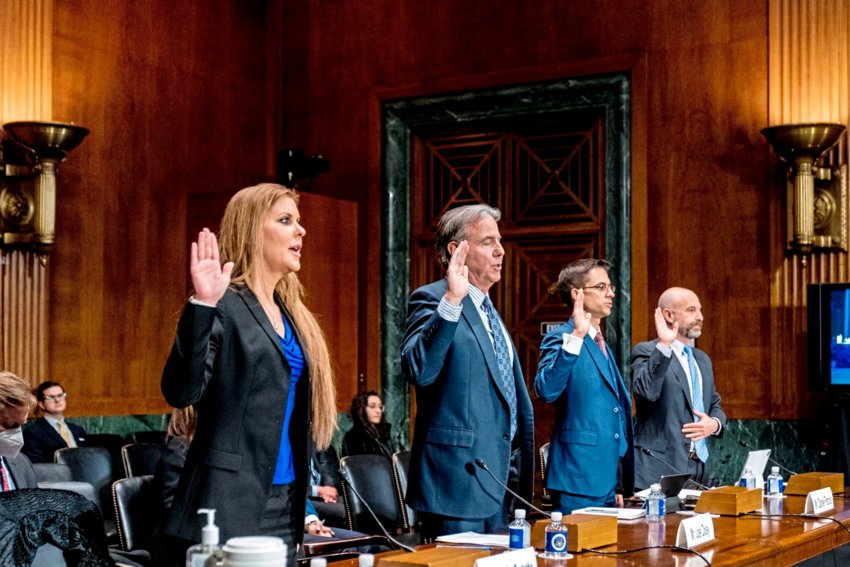 Her fight for journalism goes far beyond Trib Total Media's coverage area. She fought for newspapers before the U.S. Senate Judiciary subcommittee in February, speaking in favor of the Journalism Competition and Preservation Act (JCPA) that would allow small, local news outlets to negotiate for a cut of the profits generated when their content is distributed on social media and search engines.
Bertetto told the subcommittee about the tough choices she had to make to keep the business afloat.
"Our readers rely on us for the information they are literally not going to get anywhere else," she told the subcommittee. "That is covering school board meetings. That is covering city government. That is letting them know when the bridge is out in their community. That is letting them know when the senior citizen center is going to be open during the winter months as a warming station."
McFarland said Bertetto's commitment to journalism was evident through her words in Washington.
"During that hearing, Jennifer's passion for her work was palpable, and her message loud and clear. If the playing field is not leveled, newspapers will continue to close, and vast news deserts will continue to grow, leaving our nation with no one to hold those in power accountable, to educate and facilitate informed public debate and to battle the constant flow of misinformation that threatens our world," McFarland said.
Bertetto said she spoke to the subcommittee because saving one news company is just the start.
"We realize saving ourselves is not enough. We have to keep trying until we save everyone," Bertetto said.
She also launched an international campaign to save Afghanistan journalists — as a board member of WAN-IFRA. Afghan journalists faced grave danger after U.S. troops were rapidly removed in 2021. Bertetto suggested to the WAN-IFRA board that they try to bring some of Afghanistan's journalists to Pittsburgh.
It led to an international campaign to raise funds to bring Afghanistan journalists into U.S. newsrooms. Trib Total Media hosted one journalist over the summer, who received a scholarship to Harvard, and they will be hosting another soon.
"The idea that was born in Pittsburgh led to an international movement," she said.
She is also a board member of the News/Media Alliance and the Pennsylvania NewsMedia Association.
"I come to work for them."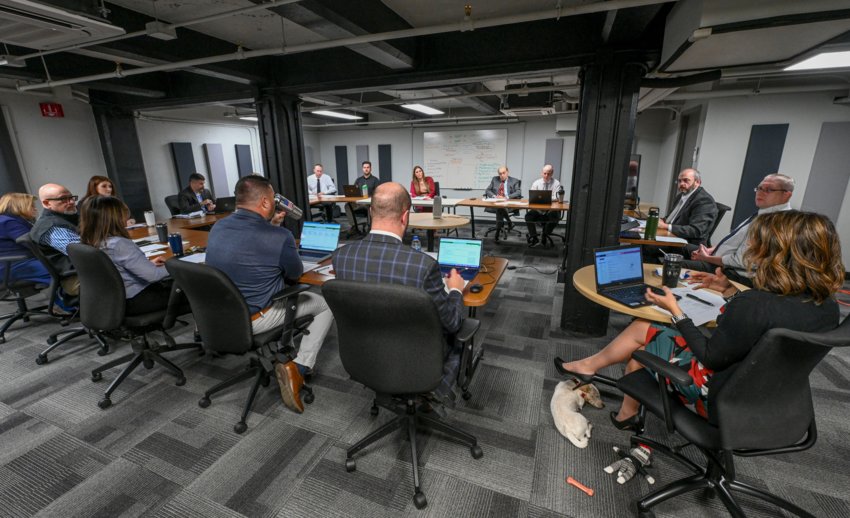 Each of Bertetto's colleagues said she maintains an uncommon commitment toward everyone who works for the company. McFarland said Bertetto's nature sparks a sense of loyalty.
"She has incredible business vision and tremendous instincts and works incredibly hard. There is a level of kindness with her and a level of concern which has caused the people in the company to be very loyal to her," McFarland said.
McFarland remembered the early days of vaccine availability during the COVID-19 pandemic.
"During the time when everyone was scrambling to find access to those first COVID vaccines, she spent days and weeks in front of her computer helping employees and their families find appointments to get the life-saving shots," McFarland said.
Bertetto also worked to establish connectedness among the employees while everyone was working remotely.
Beyond navigating ways to keep her own company on solid financial ground, she also offered assistance to local businesses. She launched the Shop Local Marketing Grant program, initially offering $250,000 in matching grants for advertising.
"However, just seven hours after the application portal opened, requests for matching grants exceeded the $250,0000 initially earmarked for the program," said Trib Total Media Chief Revenue Officer Matt Miller. "Jenn didn't blink an eye in raising our contribution to $1 million. We blew by $1 million as well."
Miller said the program will remain active through the end of 2022, with grants nearing $3 million.
"Jennifer is a visionary and inspiring leader in news media. I cannot think of someone in our industry more deserving of the E&P Publisher of the Year Award than Jenn. She is a fantastic boss, colleague, friend, and, most importantly, human," Miller said.
Trib Total Media Chief Financial Officer Jennifer Walters, who has been Bertetto's friend and colleague for about 20 years, said she cried when she learned Bertetto would be named Publisher of the Year.
"There is no one on this earth better suited to have gotten us from where we were to where we are," Walters said. "I literally am impressed with her every day that I work with her. I couldn't have more respect or admiration. She's a force, and she truly cares about every single person that we employ."
Bertetto said she is committed to her employees above everything else.
"That is why I come to work. I come to work for them. I, of course, am committed to journalism, but my first commitment every day is to my employees," she said. "They need someone fighting for them, caring for them, and working with them."
The drive to make a difference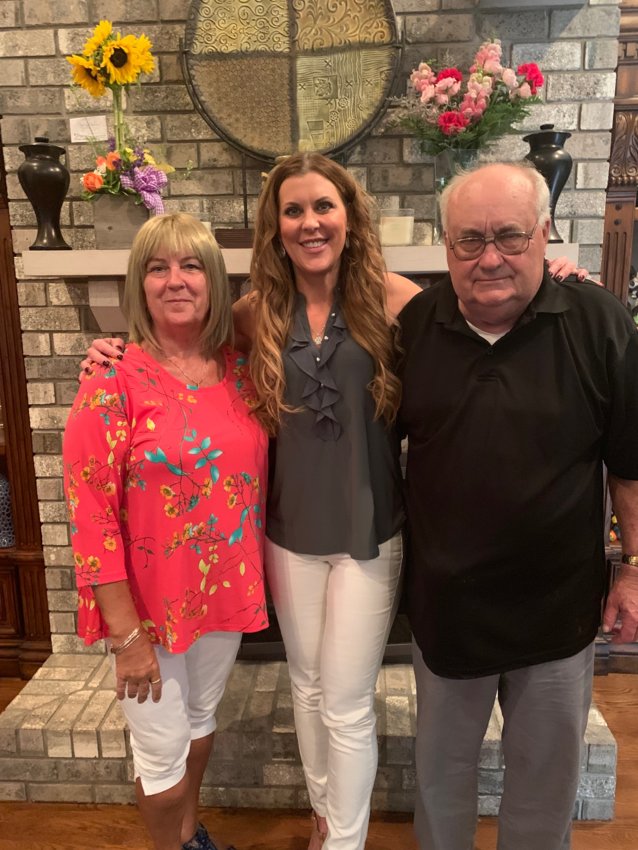 Bertetto, 46, is the daughter of Dennis and Peggy Wolfe, who she talks to nearly every day. Her dad was a high school principal, shop teacher and township supervisor, and her mother was a stay-at-home mom. Her older brother, Denny Wolfe, works for ESPN.
Bertetto was a state champion softball player in high school and met her future husband shortly after graduation. Keith Bertetto lived in a neighboring town. They met through mutual friends. Her drive and dedication were already obvious, he said.
"I knew she would be something," Keith Bertetto said. "She's probably the smartest person I've ever met in my life."
He is the executive director of production at Trib Total Media. They have been married for 23 years.
Bertetto said she starts her workdays before her feet hit the floor. She sets her alarm for 5 a.m. but is usually already awake. After resolving any timely business issues, she exercises.
"I have not missed a workout in 12 years," she said.
She needs that time so she can be "centered and balanced," she said.
Bertetto goes into the office Tuesday, Wednesday and Thursday and works remotely on Monday and Friday. She said she schedules her time to make the most of both in-person and remote days. When she is in the office, she meets with her team.
"That's our time to collaborate, so that really is like gold to me," she said.
She saves report analysis and other individual tasks for remote days.
"Monday and Friday, I'm in my own little silo," she said.
She encourages her employees to also make the most of the hybrid model.
"They can focus on their staff when they're sitting in front of them," she said.
The Bertettos spend their free time with their pets, going to concerts and Broadway shows and talking about work.
"We usually talk about work until I go to bed," she said with a laugh. "But I love it."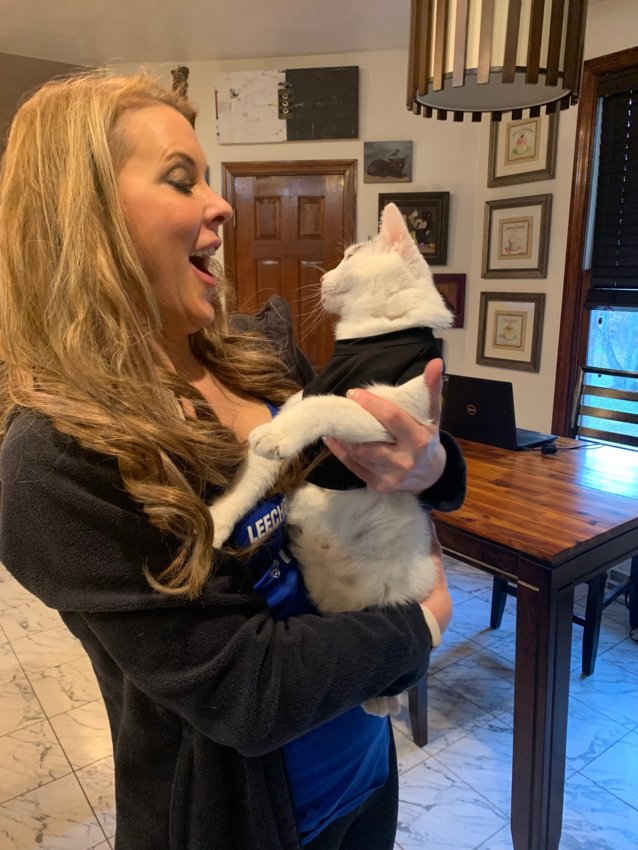 She also loves cats. She and her husband have six. Last year, when her cat, Max, was diagnosed with a typically fatal disease called Feline infectious peritonitis (FIP), she worked to find a cure and gave him an experimental drug treatment. Max, who is seven, is now cured and assists families facing the same diagnosis in finding treatment.
Outside of the journalism boards she serves on, Bertetto is also a board member for the National Aviary and Westminster College.
"Every single moment of my day is pretty much filled up," she said.
Bertetto said she thrives on the fast-paced schedule.
"I need to make a difference. I need to move an organization forward or help a family save a cat. I have that internal need to make a difference, so I need that fast pace."
Walters said Bertetto is a person who is in perpetual motion.
"She doesn't ever quit. She doesn't ever stop. She's just the kind of leader, the kind of person, that doesn't stop until she's done — until she's satisfied with the outcome," Walters said.
"The best little company in the world"
Shortly after Bertetto was named Publisher of the Year, she reflected on a morning about four years ago. It was playing out much like every other morning. She was driving to work early in the morning, stuck in Pittsburgh traffic. But on this morning, she paused, struck by the city skyline.
"A wave of emotion came over me," she said.
Trib Total Media had prevailed through a flood of changes, and the force of that understanding hit her.
"Looking back, I don't know how I got through it," she said. "You have to take it seriously when you make decisions that affect people. People were counting on me."
She said it was thanks to her team and those who supported her in her mission — a long list of friends, family and colleagues. Many of them were on her side from the beginning due to their history and established relationships. She remembers Lawrence as the first new recruit.
"Joe was the first person to believe in me," she said.
They would talk at the end of every workday, and he became a "bright spot" through a tough time.
"He would tell me every day that Trib Total Media will be the best little company in the world," she said. "And I hope today that we are one step closer to getting there."
The best is yet to come
McFarland and Bertetto have matching plaques in their offices with one of Bertetto's favorite sayings: "The best is yet to come."
"I can't wait to see the things that are ahead for her," McFarland said. "The best is yet to come. I really believe that's true."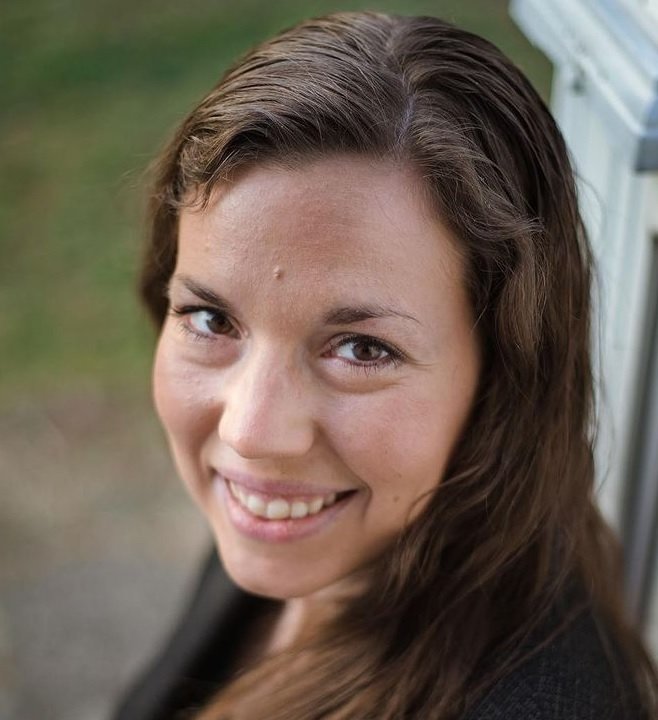 Alyssa Choiniere is an Editor & Publisher contributor. She is a journalist based in southwestern Pennsylvania covering a variety of topics including industry news and criminal justice.