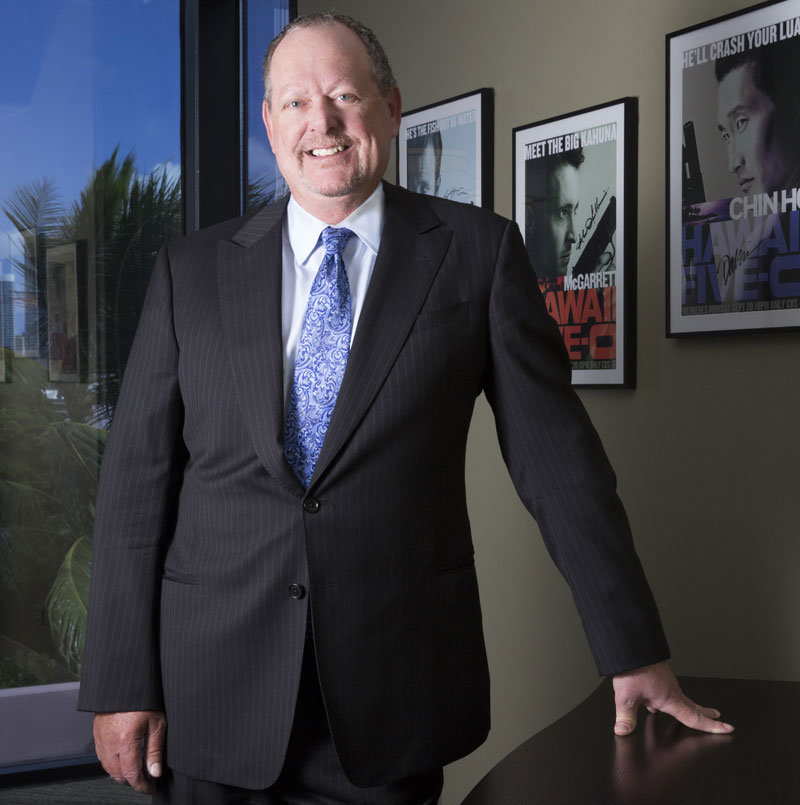 As he looks out on spectacular palm tree-lined fairways bordered by crashing waves on any number of golf courses he regularly frequents in his beloved home state of Hawaii, Dennis Francis often thinks about how his favorite pastime is so much like the newspaper business he leads. "In golf you're competing against others, but really, you're competing against yourself," says Francis, president and publisher of the
Honolulu Star-Advertiser.
"That's what I tell my staff. Yes, you're always competing against other newspapers and other media, but all you want to do is your best. We want to win for ourselves. That's the ultimate goal." Ever since 2010, when Francis, 55, merged Hawaii's two rival and heretofore struggling newspapers into one now thriving one, he has made himself and all those who work with him winners. For that,
E&P
selected Francis as Publisher of the Year. Not surprisingly, Francis was golfing on the big island of Hawaii when he received the news that he had been so honored from David Kennedy, the
Star-Advertiser's
senior vice president of marketing. "We were both so ecstatic," Kennedy said. "I don't know how Dennis could put his attention back on golf after I spoke with him, but knowing him, he went right back to being that intense competitor he is. He loves any kind of challenge and his focus is unreal." It's that focus that led Francis to revive the newspaper business in Hawaii. According to Kennedy, the
Star-Advertiser
was born as a result of Francis' response to a "mortal challenge". When Honolulu's two then daily newspapers—Gannett's
The Honolulu Advertiser
and Liberty Newspapers'
Honolulu Star-Bulletin
—ended a longtime joint operating agreement in 2001 with the intent of closing the
Star-Bulletin
, Black Press Ltd. in Canada stepped in to buy the smaller paper, the afternoon
Star-Bulletin.
Black Press also bought
MidWeek
—a free weekly newspaper distributed to every household on the island of Oahu—from the Newhouse family to acquire its publishing infrastructure: printing press, distribution, advertising and accounting. A nine-year Honolulu newspaper war ensued.  
A bold idea
David Black lured away Francis, then
Advertiser
general manager, in 2004 to be the
Star-Bulletin's
publisher. Francis was a veteran of the newspaper industry, having directed circulation departments at papers and agencies in Ohio, South Carolina, Washington D.C., Vermont and Hawaii, and he knew the Hawaii market. The
Star-Bulletin
still faced challenges, but Francis not only kept it going, he also launched a new glossy magazine division to provide an additional revenue stream. In early 2010, Francis pursued a bold idea: The
Star-Bulletin's
parent company, Oahu Publications Inc. (OPI), would buy the
Advertiser
from Gannett, combine the staffs and create a new paper, the
Honolulu Star-Advertiser.
The move was considered incredibly daring; most thought the much larger
Advertiser
would eventually be the sole surviving daily paper in Hawaii. Instead, Gannett left the islands and the new newspaper Francis envisioned was born in June 2010. Today, Francis heads a profitable company that includes the
Honolulu Star-Advertiser;
The Garden Island
on Kauai, published Sunday-Friday;
MidWeek
, which publishes separate editions on two islands with total distribution of 300,422 and combined readership of 350,804;
USA Today Hawaii Edition
(circulation 8,209); four zoned weekly community newspapers; three official military weekly newspapers with OPI employees working on military bases side-by-side with active-duty personnel; a magazine division that produces nine glossy publications; and a special sections department that produces four weekly publications, nine special-occasion publications, and weekly in-season programs for University of Hawaii athletic events.
Dining Out,
an insert in the Sunday
Star-Advertiser,
was running about 40 ads per week in June 2010. Today it averages more than 100 ads. Likewise, another Sunday
Star-Advertiser
insert,
Hawaii Renovations,
a home-improvement section, started with about 25 ads weekly and today is running an average of more than 60.  Kennedy said one of Francis' other notable achievements was to launch a paywall for the
Star-Advertiser's
online digital content in August 2011. Francis decided that print subscribers would receive digital access for free. They still do. "Our revenue comes mostly from the print side," Francis said. "We did our research on how many of our print subscribers were accessing their news online. We found that 33 percent of online readers also read the print edition. We wanted to give added value to our print subscribers, too." The move paid off. In the first year, digital circulation revenue exceeded $187,000, a revenue stream that had previously been non-existent. It has now grown to more than $232,000.  
Leading the way to big numbers
Under Francis' leadership, the Star-Advertiser has also brought forth the following initiatives over the past three years:
Introduced a free "breaking news" app for smart phones and tablets to encourage and build the digital habit.
Developed a TV ad campaign that gives viewers a sense of how the newspaper relates to their life and the journalistic experience that puts it all together.
Created a digital pricing structure that, according to Kennedy, is perhaps the only such model in the country. It's based on Hawaii's unique geography. Since news relevance diminishes the farther the reader is from Oahu, the digital subscription rates for those who live away from Honolulu are lower—neighbor island readers pay less, and mainland readers pay the least. As a result, 46 percent of the Star-Advertiser's print subscriber base has activated its premium digital account. What's more, 18,260 new subscriptions have been placed online (including monthly/annual digital-only, annual print and digital, and 1 day/14-day passes). Less than .5 percent of print subscribers downgraded or stopped their subscription following the digital launch. And, because Francis wouldn't compromise the customer experience, said Kennedy, Francis challenged the in-house digital team to build a system instead of working with a vendor to develop the paywall. The result was the seamless integration of the newspaper's circulation systems with a content management system.
The
Star-Advertiser's
numbers are up across the board under Francis. According to the Audit Bureau of Circulations/Alliance for Audited Media, between December 2011 and December 2012, Sunday circulation (print and digital replica/non-replica) grew 25.3 percent, and daily circulation over that time grew 29 percent. Francis estimated the print daily circulation last month to be about 126,000, and 138,000 Sundays. Over the past year, StarAdvertiser.com has received a monthly average of 15,236,163 page impressions/views. Even advertising revenue is up at the
Star-Advertiser
—five percent in the year ended February 2013. Francis says that as the state's largest and strongest media organization, he feels the
Star-Advertiser
has an obligation to promote open and transparent government. Thus, the paper filed suit against the state's governor because he reversed previous governors' practice of making public the names of candidates for judicial appointments. The paper won the suit and along the way, a judicial selection committee decided to make the names public. The paper also sued the Honolulu Police Department in an effort to get copies of emergency 911 audio tapes involving a shooting spree, which were being withheld from the public, released. The paper was able to get five of the nine tapes released. But more importantly, said Kennedy, what had been the HPD's pattern of withholding 911 tapes has changed markedly since then. The police are now much quicker to offer 911 tapes than before the suit.
A charitable man
Without fanfare, Francis is noted for his charitable work and for giving back to the community. In addition to being on several boards, including chairman of the local Boy Scouts of America chapter and the Chamber of Commerce of Hawaii, he sits on boards of the American Red Cross, the United Way, and others. Francis has applied his charitable work to his business, too. At his suggestion, each week
MidWeek
gives away a full page to Hawaii nonprofit organizations so they can highlight their activities, such as featuring a community volunteer or profiling a local charity. He also allows free advertising for charities to publicize upcoming fundraisers. Over the course of a year, that's equivalent to a $338,000 contribution to local charities. Last year the
Star-Advertiser
gave more than $1.6 million to charities, organizations, initiatives and the arts to benefit the Hawaiian islands. Recently, Francis created the "Subscriber Donation Program," which provides subscribers an opportunity to donate the value of undelivered copies of the newspaper when they are away on vacation to a designated charity. Since its inception 18 months ago, the program has raised more than $250,000. Thanks to this program, which at the time raised money for the Red Cross Japan Disaster Relief fund in response to the devastating earthquake and tsunami that struck Japan in March 2011, Editor & Publisher honored the
Star-Advertiser
as one of "10 Newspapers That Do It Right" in 2012. Turnover at the
Star-Advertiser
has been practically non-existent over the last three years because Francis believes in treating his employees right, and making their work environment the best it can be. He negotiated new labor contracts for both Newspaper Guild and the press and packaging departments, providing some of the best pay and benefits in the industry and ensuring a highly productive and efficient operation. In 2012, this led to the composing and imaging employees decertifying their union, the Graphic Communications Conference/International Brotherhood of Teamsters Local 501-M. This was a show of trust that Francis would treat them fairly and give them a better deal than the union could. He oversaw the investment of $250,000 for mailing equipment to grow the company's direct mail efforts, which also involved hiring key personnel for sales and operation–just in time for start of the 2012 election mailing cycle. He evaluated and approved the transition of newsprint from 43 to 40 gsm weight, as well as oversaw innovative options for odd-size paper rolls–a decision that would save the company approximately $300,000 annually without compromising quality. And the improvements Francis has made, both editorially and on the production side, go on and on.
Star-Advertiser
vice president and editor Frank Bridgewater, who joined the
Star-Bulletin
in 1985, lived through Hawaii's newspaper war and praises Francis for producing the best outcome imaginable. "The thing that I admire about Dennis is that he's so supportive of the newsroom," Bridgewater said. "He's not only held the headcount but we've added news people. He's very quick and decisive, while very good at allowing me to run the newsroom. He picks people who are extremely competent and then let's them do their jobs. He believes that a newspaper has to have an independent voice to make it stronger. And, today, this newspaper is stronger. "It was evident in 2001 that this town wasn't big enough for two newspapers and there was a lot of uncertainty in the newsroom. But Dennis led us through the dark time with a confidence and belief you rarely see."
Always have a strategy
As for his personal life, Francis has been married to Marjorie, a native of Hawaii, for 17 years. He has no children. "Golf is my child," he said, and one wonders how Francis would have time for children, anyway. Francis said that part of the reason he's been able to realize his success is that he has strayed from the corporate structure in making decisions.   "We completed the entire merger in 45 days and I thought it would take 3-6 months," Francis said. "I don't have to go through various levels to get approvals. I can make decisions on the fly." Francis summed up the
Star-Advertiser's
approach to marketplace strategy: "We believe very strongly that having scale (large circulation base and high readership) is the best approach to our financial health. Scale provides our advertisers with the best possible results and ROI for their ad spend. Retaining and growing our advertising revenues are essential to fund a high-quality newsroom that can produce a news product our readers expect while prompting potential new readers to respond to our external marketing efforts. It's working." It certainly is working.