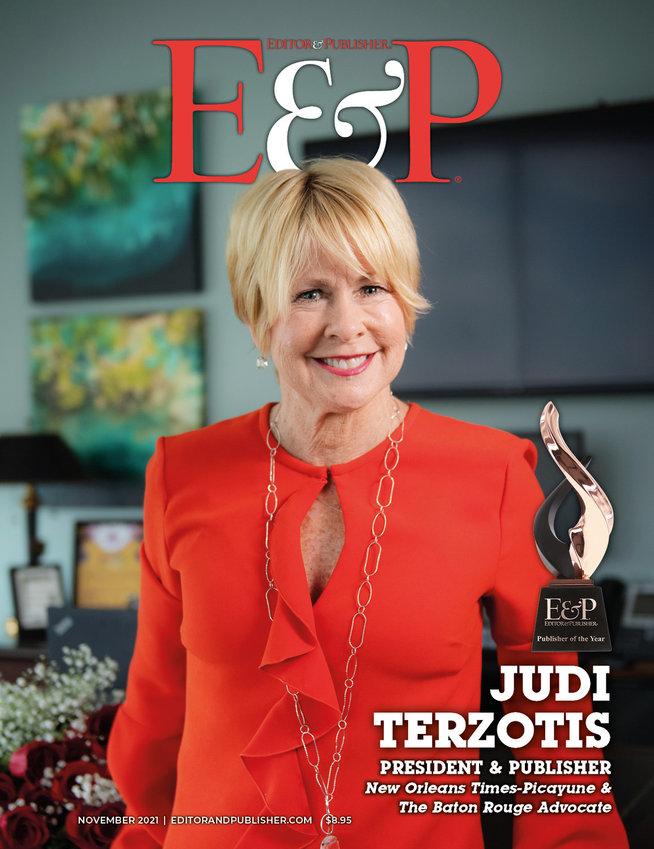 Finding growth opportunities is one of the newspaper industry's biggest challenges. Still, Judi Terzotis, president and publisher of The Times-Picayune of New Orleans and The Advocate, published in Baton Rouge and Lafayette, has already established herself as a growth leader — and it's why she has been chosen as Editor & Publisher's 2021 Publisher of the Year.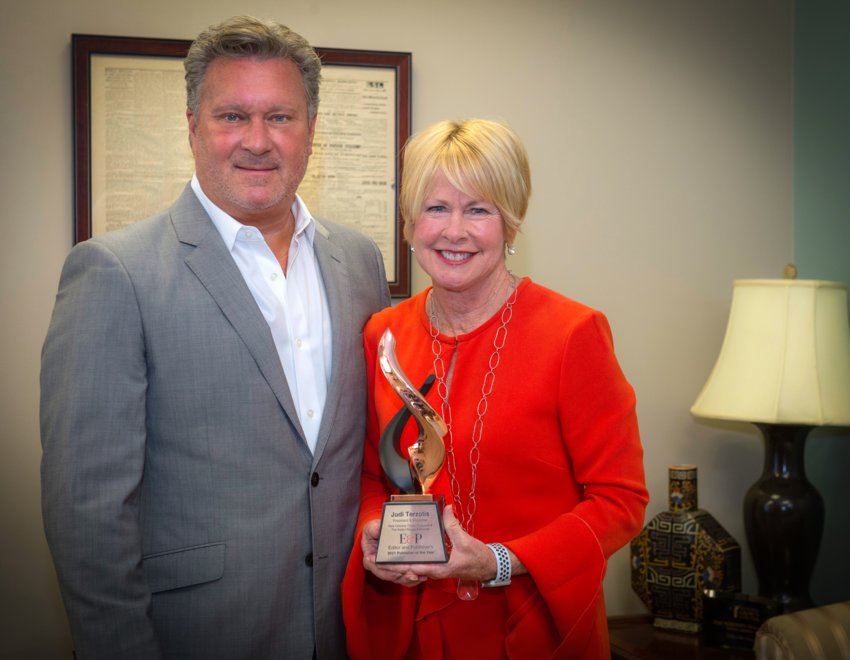 "The announcement and celebration here at the paper was a big surprise and a humbling experience for me. My husband, Bob, was with me, and we had a video call with almost my entire family, including my sister and brother and their children, my brother-in-law and our children," said Terzotis. "So many people, from ownership to our entire staff, have been singularly focused on giving the people of Louisiana a quality newspaper with the highest standards of journalism. I am thankful for their support. I am also grateful to Mike Blinder, owner of Editor & Publisher, and his team for selecting me for this award."
All who know her agree that Terzotis' relentless effort to grow The Advocate is her greatest achievement since being named publisher of the paper and its other entities during August 2019.
Dathel and John Georges, owners of Georges Media and owners of The Advocate, hired Terzotis in 2018 with the intent to have her succeed Dan Shea, the publisher of The Advocate at the time. As the publisher of The Acadiana Advocate, she was quickly hiring veteran editors and reporters to boost local reporting.
Terzotis was then named the publisher of The Advocate in 2019. Her first big challenge was merging The New Orleans Times-Picayune and The Advocate. With Terzotis named as his successor, Shea became the chairman of Georges Media.
"Judi wasn't only a natural fit, but the timing was right," said Georges. "After six years of extraordinary leadership, Dan was ready to welcome his successor and become the chairman of our media company. During his tenure, The Advocate became the largest circulation newspaper in Louisiana, and our overall digital traffic tripled, culminating in the paper's first Pulitzer during May 2019."
With its quality journalism recognized by the Pulitzer committee and its financial stability secured by Shea, Terzotis was chosen to "takeover without turnover," in the words of Georges. "Judi understood there was no reason to change a staff that had just won a Pulitzer, allowing her to concentrate on revenue growth," said Georges.
"Judi understands relationships here in the South are more important than transactions," he added. "She is quite comfortable focusing on corporate/ownership needs as well as the people she leads and welcomes constant feedback from Dan and me."
A competitive force
A competitive spirit is another of Terzotis' leadership qualities that Shea recognized quickly. Before becoming the publisher of The Advocate, Terzotis worked for 25 years at Gannett, the largest newspaper company in the U.S. During her four years as president of Gannett Louisiana and two years as president of its Gulf Region, she and Shea competed to hire editors and journalists.
"Judi was successful at blocking my efforts in Lafayette, and she didn't make any mistakes to give me an advantage," said Shea. "It was clear to me she was relentless about growth, while so many others are just trying to remain viable. I knew she was the one to succeed me."
"Switching from the corporate model at Gannett to the family-owned model at Georges Media wouldn't have been easy for most newspaper professionals," added Shea. "I planned to retire, but Judi asked me to remain as an adviser and help her make the transition from one model to another easier. I was very impressed when she immediately visited all of our facilities, from newsrooms to pressrooms. She quickly won the confidence of our best people so they would remain with the paper and also began to hire more of the best people."
Shea added that Terzotis wasted no time putting her stamp on The Advocate with several initiatives. First, she introduced a digital paywall for the paper's online site for long-term financial strength and led the effort to increase subscribers to more than 20,000 during the next two years. The paywall was just one of her projects to generate more digital revenue. Then, she and Georges boldly decided the legalization of sports betting in Louisiana was a good fit for the paper.
Although a somewhat new strategy for the newspaper industry, fundraising was another revenue stream Terzotis didn't hesitate to tackle with her relentless, competitive spirit. Being very visible and involved in community activities in New Orleans, Baton Rouge, Lafayette and other towns in the region, she discovered how important The Advocate was to many people and how much they wanted it to succeed.
With that support, she led a fundraising campaign that raised approximately $600,000 in the area and, combined with a $1 million grant from The Ford Foundation, the paper was able to double the size of its investigative team and provide more journalists with new career opportunities.
A leadership style that connects with people
Peter Kovacs, editor-in-chief of The Advocate, also mentioned another of Terzotis' significant achievements: the introduction of video content. This was particularly timely when Mardi Gras was canceled.
"Judi rallied the team, and together we were able to create a three-day virtual production of the annual celebration online," said Kovacs. "Not only was it psychologically important for the citizens of New Orleans, but also many advertisers were eager to sponsor the production."
Kovacs, who works very closely with Terzotis every day, has had the opportunity to observe her professional and personal character, citing both her fearlessness and how easily she meets people and creates beneficial relationships. Kovacs also added that the calmness with which she handles challenges helps to elevate everyone's confidence.
"When Hurricane Ida roared through Louisiana during late August 2021, we had to move the newsroom four times, but Judi was undeterred," said Kovacs. "She understood the difficulties of publishing a newspaper during such a crisis and helped to organize food delivery to the staff. She even arranged for two tankers of gasoline to be delivered from Shreveport and Texas so the staff could fuel their vehicles and travel to the office."
Kovacs also noticed how important it was for Terzotis to develop a relationship with the staff from her very first day. Almost none of them knew her and were understandably unsure of how her leadership would affect their jobs and work.
"In our New Orleans office, the executive offices are upstairs, above most of the staff offices, but she didn't use an office there for herself," said Kovacs. "Instead, she used the conference room on the same floor as most of the staff so she could observe them through the glass wall. She was more interested in being visible than micro-managing the staff."
Kovacs added that Terzotis and the staff had a joint learning experience when she insisted new projects would start according to the schedule she set and everyone would be seated and ready for meetings.
According to Kovacs, Terzotis made a similar effort in Baton Rouge's offices. She had the door removed from her office and placed a bowl of chocolates just outside to entice staff members to her open-door policy.
"I wanted everyone to know I was very accessible," said Terzotis. "I walk through the various newsrooms regularly and have coffee chats with the staff once a quarter. I know many were fearful of a downsizing move as has had occurred at many papers, but my management approach is to remove obstacles and help my people succeed."
Standing on the shoulders of giants
No one achieves a recognizable level of success in any industry or position without the examples and guidance of others during childhood, years of education and the start of a career.
Terzotis' life was no different. She was born into a military family and credits her parents, Bill and Mary Lou Sharp, for helping to develop her leadership skills. Her father, a retired U.S. Army colonel, had high expectations for all his children, focusing on the importance of family life and advancement. He also always talked about working and supporting his troops instead of his achievements. A lesson Terzotis applies as the publisher of The Advocate.
"My grandfather, Walter Hart, was a newspaperman in Morgantown, West Virginia, and certainly inspired me to consider journalism as an educational and career choice," said Terzotis. "I pursued and achieved that goal with a bachelor of science in communications from the University of Tennessee-Knoxville. I also served as an intern under Pat Summit, the legendary Tennessee women's basketball coach."
Terzotis acknowledged that being a woman was challenging during her early career. Still, Gannett promoted women, invested in its female leaders and advocated more diversity at the company and the newspaper industry. After 25 years in the industry, she is encouraged by the improvements in opportunities for women and people of diverse backgrounds.
Family is a constant strength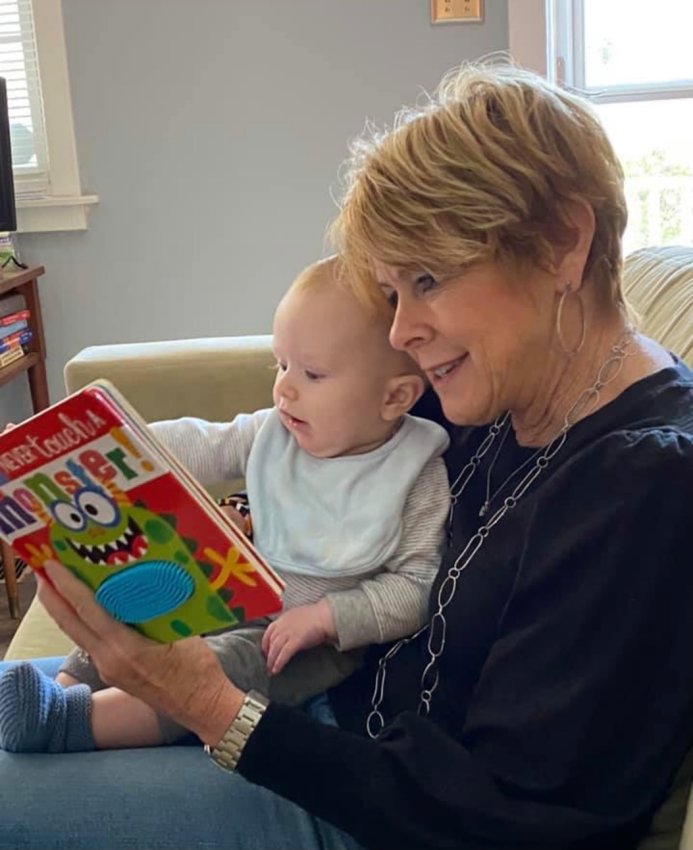 Having been raised in a strong and loving family environment, Terzotis and her husband have cherished the family life they were able to create for their children. Their son, Trey McMinn, and his wife, Kate, recently welcomed their first child and the Terzotis' first grandchild, Wade Henry. Their other son, John, is attending grad school and their daughter, Sarah, is a senior at the University of Louisville.
Bob Terzotis said Judi's competitive nature extends to when they are jogging together and playing rummy.
"Having run in a half-marathon, Judi has a much faster, regular pace than me, so after a few minutes jogging together, she accelerates," said Terzotis. "I can't seem to win at rummy either; she beats me almost every time."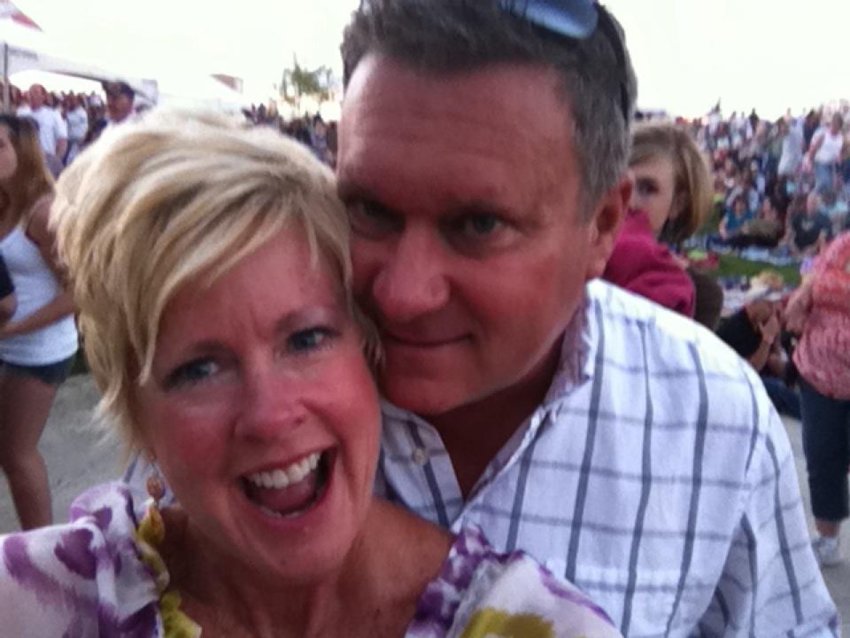 According to Terzotis, his wife can unplug from work, cooking together and immersing herself in a book. They also love to travel and are big football fans.
"Despite her responsibilities at The Advocate and to her family, Judi mentors many of her previous colleagues and schedules calls with them regularly to discuss their careers," said Terzotis. "She also understands the importance of community involvement, serving as the chairman of the Boys and Girls Clubs, board member of the Public Affairs Research Council of Louisiana, America's Newspapers and One Acadiana. Judi has incredible energy, and I'm her biggest fan."
Always looking ahead
Terzotis knows she and her team have accomplished much since being named publisher of The Advocate. Still, she is focused on the future and driven to improve the newspaper's journalism and its digital presence and add more revenue streams.
"My goals for the next two years are increasing our digital subscriptions and advertising revenues, maximizing the retention of our print subscribers and hiring more digital specialists," said Terzotis. "We are already producing more video content following our experience with the virtual Mardi Gras production. This may lead to adding a video-editing company as well as exploring other business models and markets."
Terzotis is convinced that the future of the newspaper industry is emphasizing local reporting, even though too many newspapers have had to limit community coverage.
"My commitment to local reporting is why working with John Georges, Dan Shea and the entire Georges Media organization is so rewarding for me," added Terzotis. "Local newspaper ownership is rare today, which makes The Advocate and all the Georges Media entities worth nurturing and growing. It's a big challenge, but I wouldn't have it any other way."
Bob Sillick has held many senior positions and served a myriad of clients during his 47 years in marketing and advertising. He has been a freelance/contract content researcher, writer, editor and manager since 2010. He can be reached at bobsillick@gmail.com.