In Massachusetts and throughout New England, The Boston Globe has been the great revolving world of news for 150 years. Its 26 Pulitzer Prizes are clear evidence of its journalistic excellence. Readers and leaders recognize it as the prime source of whatever is occurring in the city and across the region.
During the summer of 2019, it launched Globe Rhode Island in Providence, not to be a satellite office but to become a separate world of news for the state. It's part of a strategic initiative by the Globe to recognize and serve distinct New England audiences with the news that is important to them.
The Globe's move south was discussed during a recent E&P Reports vodcast hosted by Mike Blinder, publisher of Editor & Publisher. His guests were Michelle Micone, vice president of Innovation and Strategic Initiatives at The Boston Globe; Lylah Alphonse, editor of Globe Rhode Island; and Dan McGowan, host and producer of Globe Rhode Island's morning newsletter, Rhode Map.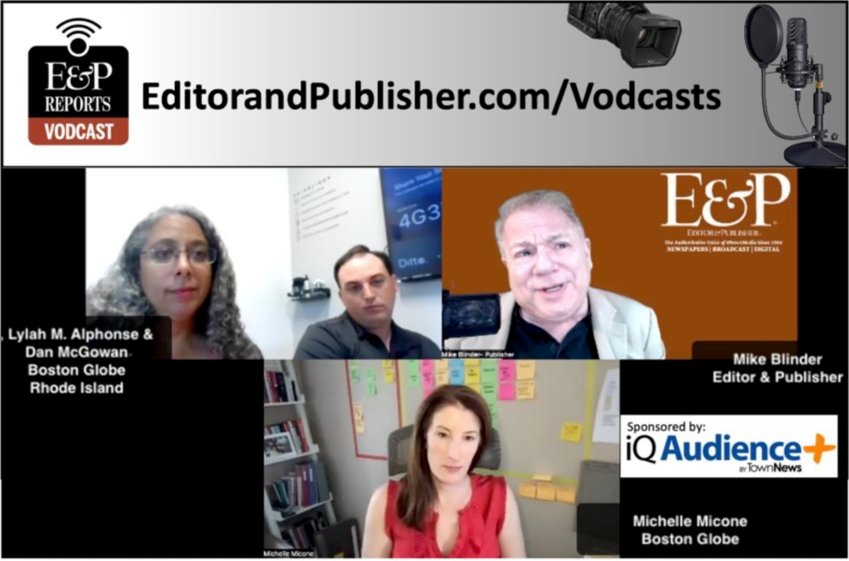 "Our goal with Globe Rhode Island was to create a separate brand with which people of the state could identify. We also rely on the well-known Globe brand to establish credibility that the Globe Rhode Island reporting would deliver the same level of excellence," Micone said.
The recent purchase of Rhode Island's largest news publication, the Providence Journal, by a hedge fund certainly influenced the Globe's strategy. The acquisition resulted in the reduction of the staff from more than 200 journalists and various bureaus to 14. The Globe Rhode Island staff includes several former journalists from the Journal, also known as ProJo.
"Our focus is to cover many of the local stories that are not being covered as well as providing more investigative reporting, which is what people in the state want," Alphonse said. "We want to shine a light in the dark corners and use in-depth reporting to answer the question 'why' for readers."
Alphonse added it's just as important to feature the Rhode Island lifestyle, and the pending launch of a RI Food & Dining section is an example. She said introducing a series of newsletters, including the highly successful Rhode Map, has quickly established Globe Rhode Island's value to the community. It's an essential first step before the possible future launch of a print edition.
"During my interview to join Global Rhode Island, I emphasized what I thought it could do differently and not necessarily replace the previous reporting. My two recommendations were a morning newsletter and sponsoring and hosting live events," McGowan said.
McGowan also emphasized that Globe ownership is strongly invested in the Globe Rhode Island, and its staff receives strong editorial support from the Globe staff. Within three years, that support has helped Globe Rhode Island show that it deeply cares about the community.
Micone said Globe Rhode Island has proven its value, first, as a respected news organization with the 27 reporting awards it recently received from the Rhode Island Press Association and second, as a revenue generator with 100 percent of the advertising on Rhode Map sold for the remainder of 2022.
Micone invites news organizations to contact her at michellemicone@globe.com to learn more about the Globe Rhode Island strategy and its application in other markets.
Bob Sillick has held many senior positions and served a myriad of clients during his 47 years in marketing and advertising. He has been a freelance/contract content researcher, writer, editor and manager since 2010. He can be reached at bobsillick@gmail.com.