As 2022 reaches its conclusion and our news family prepares to usher in a new year, E&P felt it was important to recognize the accomplishments and commitment of our friends and coworkers around the country, who remain dedicated to informing the public and creating community — even and especially during the holidays. We wanted to know what it's like to work the newsroom on Thanksgiving, Christmas and New Year's; whether newsrooms around the nation have any special holiday traditions of their own; and about the stories reported on holidays, which still resonate today.
Holidays on-air
If you tuned in to National Public Radio (NPR) last Christmas Eve and Christmas Day, one of the voices you heard was Elissa Nadworny, who was working the holiday. She's a higher-education correspondent for NPR and guest host of flagship programs like "All Things Considered" and "Weekend Edition." Her work in journalism has earned her numerous awards, including a 2017 Edward R. Murrow Award for Excellence in innovation, a 2020 Gracie Award and a 2018 James Beard Award. Before NPR, she reported on the White House for Bloomberg News.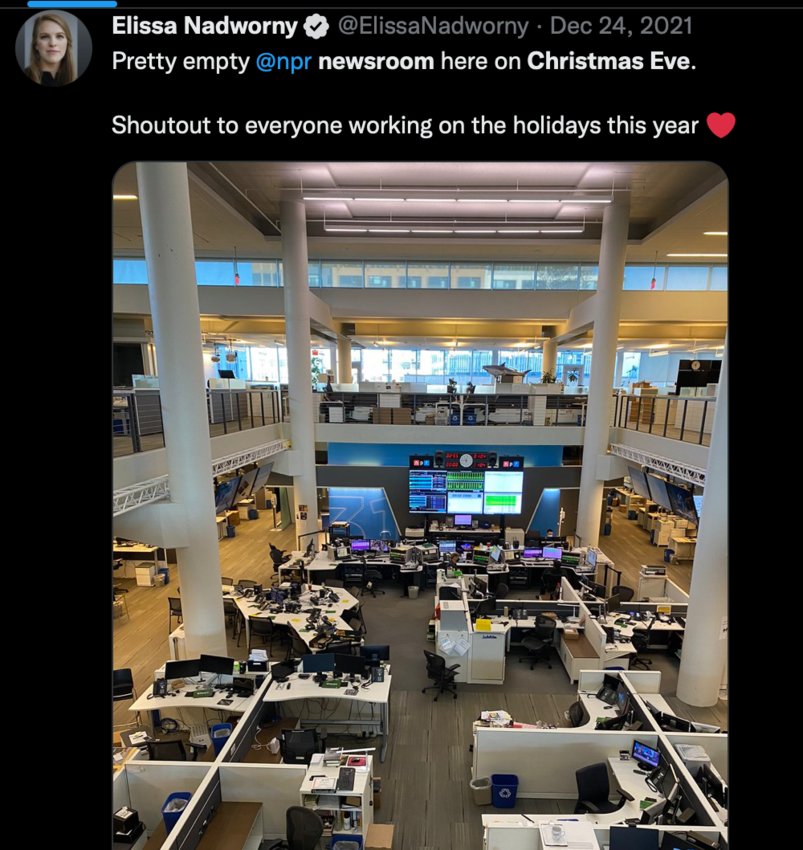 Last year was the first time she worked one of the major year-end holidays. "It was amazing. I don't know how I've missed out on it for so long, just because there's a sense of camaraderie," she said. "Traditionally, they tend to be slower news days ... and the staff, of course, is much thinner."
There is a sort of kinship that forms on holiday duty, Nadworny explained. "Everyone really bought into the idea of working but also spending the holiday with each other. I was struck by how different the newsroom felt — far more familiar," she told E&P.
In audio news, it's wise to amass as much pre-produced content as possible for holiday broadcasts.
"We do a lot of pre-tapes," she said. "Usually, the show is quite live, but not so many people want to do a live interview with you at 5 p.m. on Christmas Eve. Right? So, we tend to tape a lot of stuff, but then, of course, any [breaking] news you have will blow up your show."
That was the case last year when news came that Archbishop Desmond Tutu's health had gravely declined, so the newsroom pivoted to telling the story, which was of sweeping international interest. Tutu died the day after Christmas.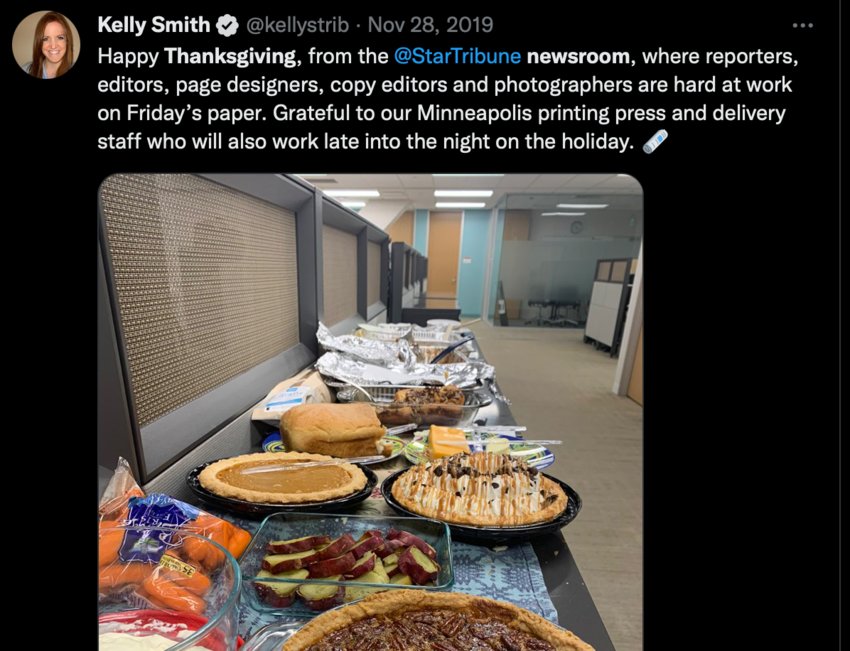 Perhaps unknowingly at the time, a new NPR holiday tradition may have begun, thanks to Nadworny's uncle, who lives in California.
"He gets lemons all year round, and he sent a box of Meyer lemons to the office as kind of a celebration for working the holidays," she recalled. "So, before we went live on Christmas Eve and Christmas Day, we all did a 'shot' of lemon. You cut them into slices and bite into the lemon, and it was like, 'Alright, we're going on air!'"
Asked if her uncle plans to gift the newsroom with lemons this year, she said, "I hope so!"
Nadworny has such fond memories of working on the holiday that she volunteered again this year. "I'm going to host on New Year's Eve," she reported.
Capturing the holidays in Iowa
Thomas Geyer works the crime beat and other assignments for the Quad-City Times in Davenport, Iowa. Today, owned by Lee Enterprises, the daily was founded in 1848 as The Democratic Banner. Geyer has been a member of its newsroom for nearly 25 years.
A pragmatic sort, Geyer thinks of "holiday duty" as just part of a journalist's job — a profession that inherently requires adaptation, continual professional development, and showing up when there's a story to tell, even on major holidays. He prides himself on being a lifelong learner and relished opportunities to learn new skills, like photography, videography and leveraging social media. He marvels at the technologies available to journalists today. "I can get so much more done in a day. It's not uncommon to write two or three stories a day. If not, I feel like I've failed, and generally, I can easily have four or five or six."
Geyer is a guy who is always on the job. He said he almost never worked from home, even during the pandemic, because he felt he needed to be in the office or out in the community. One time, in 2019, Geyer didn't make it into the newsroom. He had a good reason; the temperature plunged to -33 degrees that day, and his car wouldn't start.
He credits his Jesuit-school education and his upbringing for his work ethic. "My daddy was in the funeral and casket business. There were days, even on Christmas Day, when someone needed a casket," he recalled.
"None of us went into the funeral and casket business," he accounted for his siblings. "None of us followed my dad into that business. Yeah, no chance, no way. It didn't fit our personality."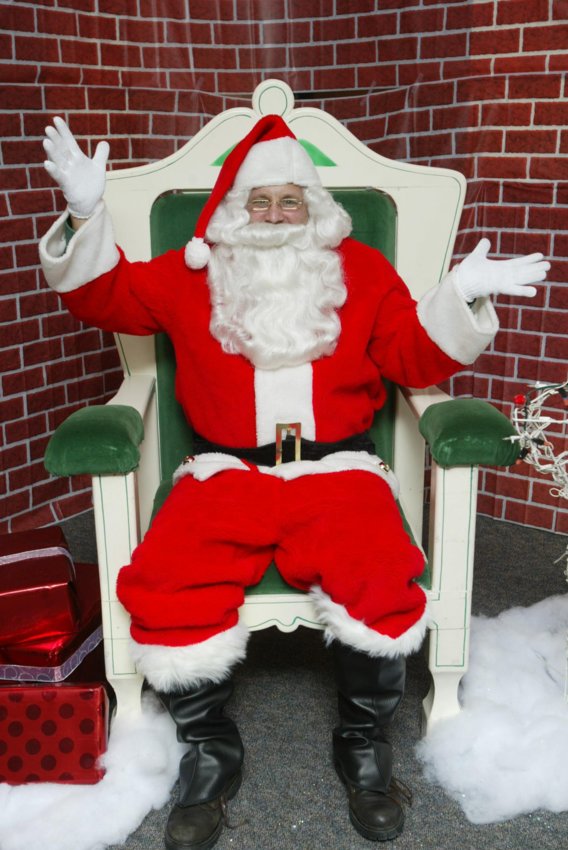 Geyer perhaps got his affinity for news from other family members. His maternal grandfather was a newspaper publisher and editor in the early 1900s, and a beloved uncle was an eloquent columnist with the Southwest Times Record in Ft. Smith, Arkansas.
Working during the holidays is sometimes a practical matter. "We don't have half the journalists that we had when I first started," Geyer said.
To celebrate the holidays as a newsroom, they have an annual Secret Santa party. The Quad-Cities' holiday season officially begins the Saturday before Thanksgiving with a Festival of Trees at the Davenport River Center. It's Geyer's assignment again this year.
"I love working the holidays because it's overtime, and generally, it's quiet," Geyer said. He's written about an annual toy drive hosted by the Davenport Police Department. The event began 20 years ago after a thief broke into a shelter for survivors of domestic violence and stole donated holiday toys for the children in residence. Geyer is on the scene to tell stories of community members who turn out to donate toys. They're distributed to children for the holidays and used as comfort toys for children who must testify in court throughout the rest of the year — holiday spirit, year 'round.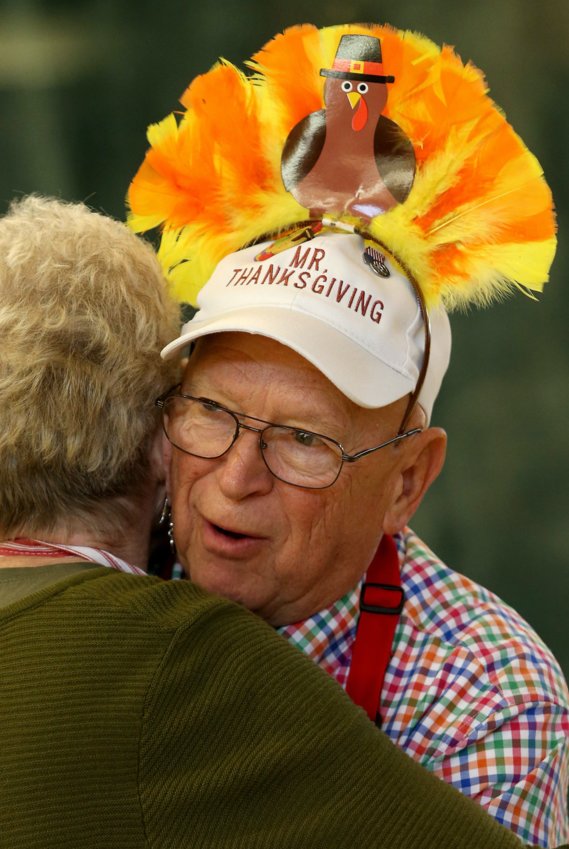 Geyer especially looks forward to working Thanksgiving. This year, he'll once again report on "Mr. Thanksgiving," Bob Vogelbaugh, a local businessman who, 52 years ago, started a charitable event that feeds thousands on Thanksgiving. All the food is donated, and volunteers staff it. For the past few years, as the community contended with COVID-19, it's been a drive-thru operation.
"And there's Bob out there in the cold, all bundled up, waving at people and shaking hands, wishing them a happy Thanksgiving. He's just one guy who cared enough about people to say, 'What can we do to make people not feel lonely on the holiday?' … Last year, I spoke with a lady who'd just become a widow. Her husband had passed away, and it was how she was able to spend Thanksgiving with people. Another man, also a widower, said he'd been feeling lonely after his wife passed away. For many lonely people, having somebody hand them a Thanksgiving dinner, even if it's the car, is five minutes spent talking to somebody. Somebody has paid attention to them, and for that day, they don't feel so lonely," Geyer said.
Reporting from Rochester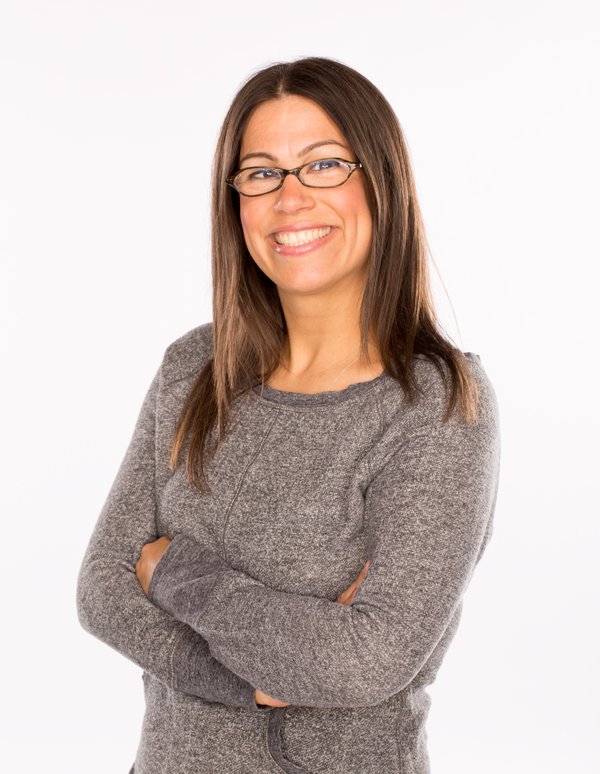 Victoria Freile estimates that she's worked 10 Christmases throughout her career in journalism. Freile is a breaking news reporter for the Democrat & Chronicle in Rochester, New York, a daily that traces its roots to 1833 and has been owned by Gannett since 1928.
Freile began her career in 1999, working for a Gannett paper in Ithaca, New York. In addition to breaking news, she also writes about crime, recreation and parenting.
"I never minded working Christmas, and my holiday usually ends up being New Year's Day because I really don't stay out late," she said.
She'd spent the week before Christmas 2012 celebrating with family out of town and returned just in time to volunteer for Christmas Eve duty at the paper. "Just because I didn't have an obligation elsewhere, and I knew other people did," she told E&P.
On Christmas Eve, word came that there was a fire in a residential neighborhood, and Freile went to work. There was little information at first, including from city officials, about the precise location of the blaze and what was transpiring behind barriers they'd established far from the site. Confusion abounded among the public, which was relying on their local news source to inform them about what was happening.
People were dialing into the newsroom from the surrounding neighborhood, asking why there were S.W.A.T. teams on their streets and what was ablaze.
Several of her colleagues who'd been scheduled to have the holiday off came into the newsroom without complaint, eager to help get the story and get it out to the public.
"We didn't know for hours what happened, why it happened, how it happened or just how many people were injured," Freile recalled.
"It was multiple briefings later that they finally told us that people had died and that they were first responders," she added.
A local man had murdered his sister in their home on Lake Road. Then, he'd started a vehicle fire and waited for first responders to arrive before opening fire on them.
Two firefighters died as a result of the ambush — Michael Chiapperini and Tomasz Kaczowka.
Freile knew Michael Chiapperini. Their professional paths often crossed, and she'd seen and joked with him just the week before.
The shooter ultimately took his own life. The fire destroyed seven other homes and displaced those families on the cold Christmas Eve.
Freile had spent most of the day reporting from a nearby school, where city officials would periodically report out what they knew, and residents came in search of information. Seeing that the school was closed for the holiday, so too were its bathrooms — locked up tight before the holiday break. Freile recalled one glimmer of levity that day — sharing clever suggestions about where to "take care of business" in the absence of restrooms.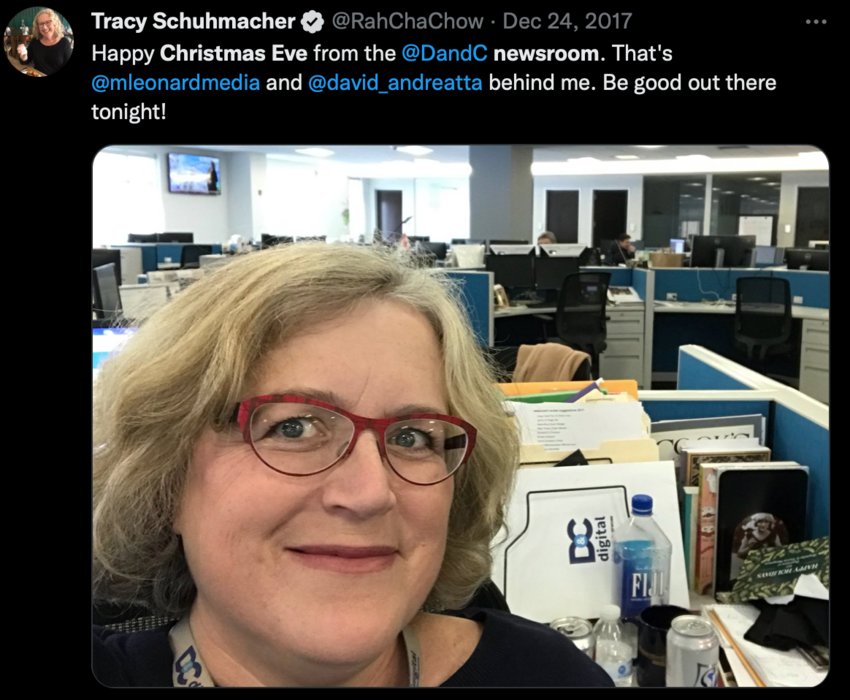 From her position at the school, she got official updates and spoke with people from the community, some of who had ties to the fire department. As she gained insight, she reported back to the newsroom.
"I remember getting back to the newsroom after sunset and seeing my colleague, Gary Craig, [public safety watchdog reporter], who'd been out of town and came back to help. And he'd crafted this beautiful masterpiece when I felt I'd given him just bits and pieces throughout the day. He'd written the story and said, 'Let me check this with you.' I remember thinking, he can take any story and make it into something excellent."
It was a story that no journalist wanted to tell. She recalled feeling disheartened and confused; it shook her to think that a person could be capable of such a crime.
While the community gathered days later for the funerals, Freile chose not to attend. It was simply too painful and too personal to cover as a journalist. Other members of the staff picked up the story.
"We did get quite a bit of feedback, thanking us for sharing the stories of these incredible people who'd put their lives on the line — and later, for telling the stories of the two firefighters who'd survived and a police officer from a nearby police department, who happened to be driving on his way to work when it happened, witnessed the whole thing, and pulled the firefighters to safety. Bless him," Freile said, choking back tears. "I obviously still get emotional."
"Without our reporting that day, the public wouldn't have had the slightest idea of what was happening," she reflected.
The following year, she took Christmas off and got out of town for the holiday. She also penned an editorial for the Democrat & Chronicle, sharing her memories of the traumatic event in hopes of healing the community — of healing herself.
"I haven't worked Christmas since we had kids," she said.
But she has fond memories of past holidays, pre-COVID, when the entire staff and their families would gather for year-end parties: "The publisher at the time had young kids, so he was very cognizant about making sure to include families. We even had visits from Santa. It was really nice."
The gift of a new newsroom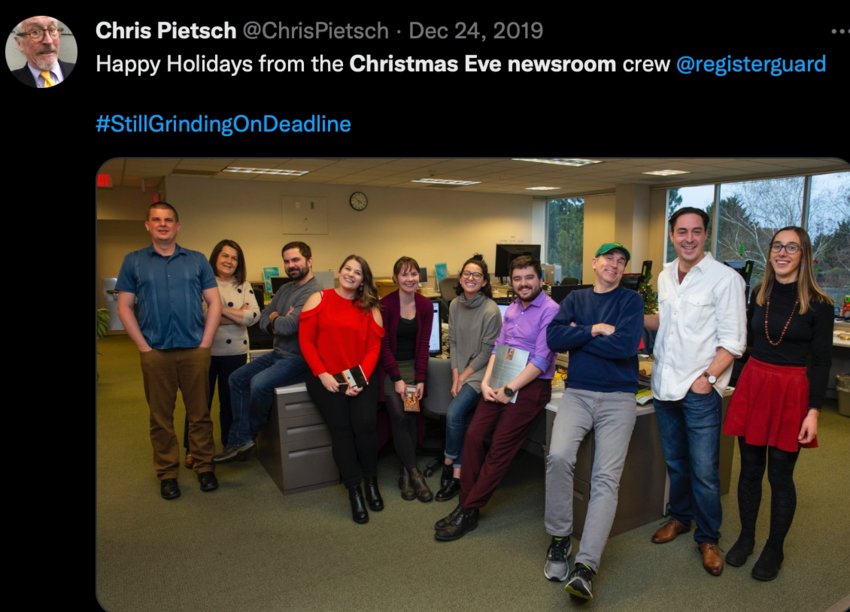 "Your email sort of prompted me to think I might have an opportunity to reset a little bit this year. I've been thinking about morale," Christopher Pietsch told E&P.
Pietsch is the director of photography and multimedia at The Register-Guard in Eugene, Oregon. For 91 years, the news business was privately owned by generations of the Baker family. In 2018, it was sold to GateHouse Media and, by the course of the company's merger, is now a Gannett-owned business.
When the company was still family-owned, they'd celebrate the holidays with off-site parties, "with food, drinks, the whole bit," Pietsch recalled. By 2008 and given the economic climate, the celebrations were pared down to coffee and doughnuts in the office atrium.
"It's always bittersweet to work on a holiday, especially when my kids were little. I would very often work either Christmas Eve or Christmas Day, Thanksgiving or New Year's Eve," Pietsch said.
"It was quite typical for me to get up in the morning on Christmas Day. We'd spend some time with the kids, opening their presents, and then while they were sitting there playing with their toys, I would bust out and go to a dinner or event and take photos. Then I'd be back with my family again in the evening," he recalled.
Reporting on a holiday is often humbling. "I feel very privileged to have that time with my family and then pivot to being with people who are less privileged. It's always emotional," he said. "I see ways in which the community is trying to help people in need, and it's easy for me to rationalize giving up part of my holiday."
Pietsch has covered his share of grave stories, too, including one Christmas spent reporting on a horrific case of abuse in which the parents had starved and beaten their child to death. "Not only did I end up covering the crime in real time over the holidays, but later, I ended up reporting from the courtroom as the criminal trial unfolded," he recalled.
Last year, Eugene had a white Christmas, so Pietsch took to the streets the next day to capture images of neighbors digging out and children delighting in their toys and a fresh blanket of snow.
On Christmas Eve 2019, Pietsch tweeted a photo of 10 newsroom staff members working on the holiday with the hashtag #StillGrindingOnDeadline.
"It was our first or second Christmas under GateHouse," Pietsch said. "There's only one person in that picture who still works with me." By virtue of layoffs, the allure of another job or profession, or buyouts, those colleagues are now gone, along with their talent and institutional knowledge.
Two of his coworkers opted for Gannett-dangled buyouts in November, mere weeks before Thanksgiving.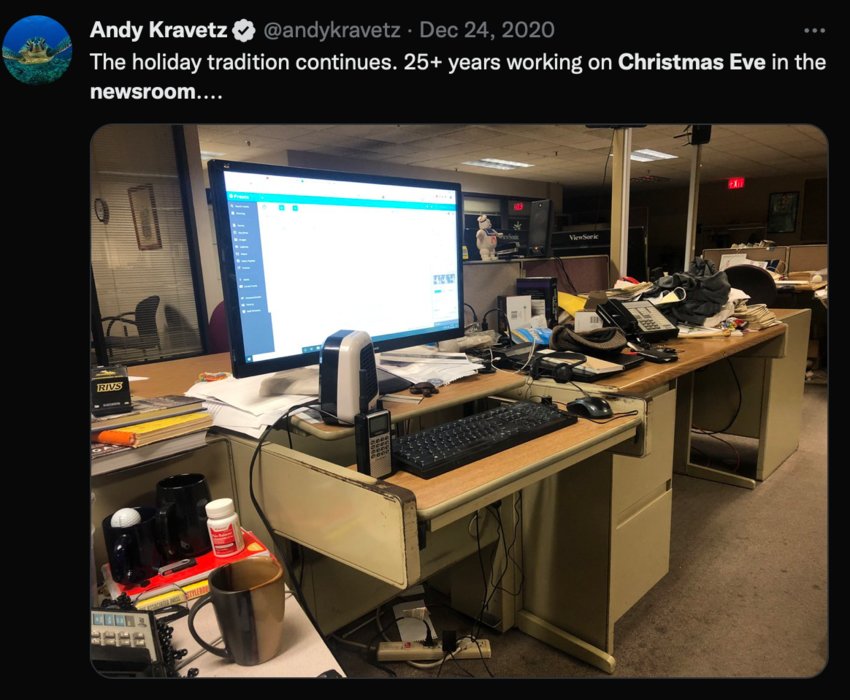 "I joke around that I'm like that old cowboy saying: I'm too nervous to steal, and I'm too lazy to work, so here I am," Pietsch joked about his remarkably long career in news. He started at the paper in 1988. "The challenges abound, but surely my job — going out to take photos of our community — it's not like working for a living,"
They don't currently have an office, let alone a well-staffed newsroom. The former Register-Guard Building remained an asset of the Baker family after they sold the paper. Gannett rented space for a time, but a telecom company wanted the space just as the pandemic forced everyone to work remotely. The newsroom team began to work from their homes, cars and local coffee shops. The printing press was dismantled, and the lease expired.
"This year, we've tried to get together once a month. We will try to have lunch. That's been important because we have reporters working for us now who have never worked in a newsroom," he said. "Several were hired in the middle of the pandemic."
As a holiday gift this year, Pietsch hopes to unveil a new office for the newsroom and operations. He may be the director of photography at the Register-Guard, but he's also self-appointing himself "Head of Morale" this holiday season. He's got a modest budget for a holiday celebration and is busy making plans. "I feel like, as I approach the tail end of my career, I have an obligation to young people — to help them, coach them a little, and cut through some of the adversity. In spite of it all, we have to get back to having some fun while doing good work."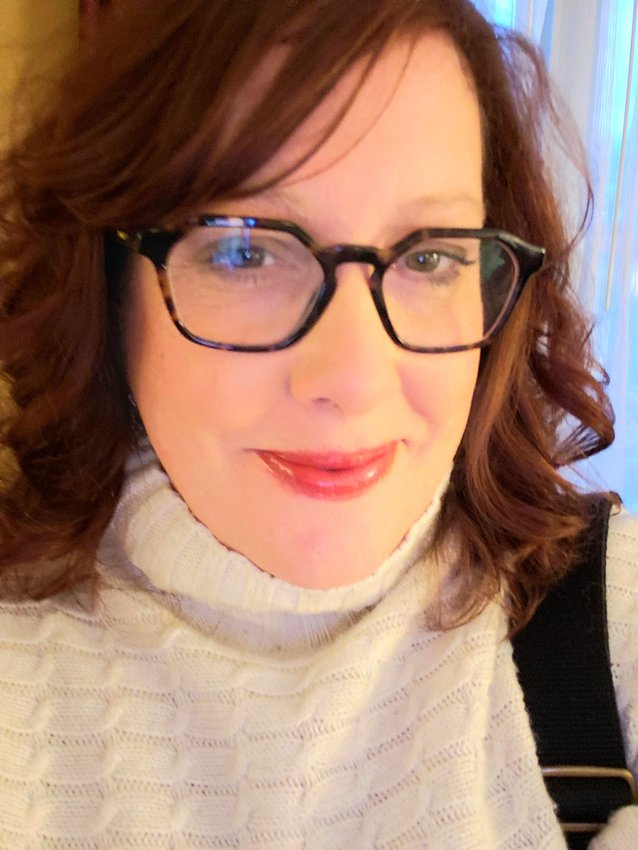 Gretchen A. Peck is a contributing editor to Editor & Publisher. She's reported for E&P since 2010 and welcomes comments at gretchenapeck@gmail.com.