American cities and towns today struggle to deal with the loss of newspapers, whose reporting is key to holding their local governments accountable.
But for the residents of many of the country's 574 sovereign American Indian tribes and Alaska Native villages, a bigger issue is whether their local newspapers, radio stations and digital news sites are even allowed to report news that might upset the government bodies funding them. Unfortunately, that's a problem that has gotten little to no coverage by major news organizations in the United States. Nevertheless, it is a problem that Indigenous journalists have been struggling to solve.
More than 300 print and digital publications serve the federally recognized Indigenous nations in the United States. But, as is the case in the rest of the country, the number of local news publications has been in sharp decline. Most of the tribal news organizations — an estimated 72% of newspapers, news sites and radio stations — are owned or funded to some degree by tribal governments. That gives those governments unusual control over local news media.
In a 2019 survey by the Native American Journalists Association's (NAJA) Red Press Initiative, 51% of the editors and reporters surveyed said stories about tribal affairs and officials sometimes aren't reported because of censorship by tribal officials who fund their news organizations. A third of those surveyed said that always or most of the time, they must have their stories approved by government officials before they can be published. Even the independent Indigenous news organizations and those located outside tribal nations can face restrictions on their coverage from tribal governments.
Some tribal governments deny journalists access to information that the federal government must make public under the Freedom of Information Act, and American state and local governments must make available under their law. There also are tribal governments that have restricted journalists' access to tribal governing council meetings and tribal court hearings.
Tribal nations also have the right to deny access to their land to those who aren't recognized as citizens, which can be used to restrict coverage by non-tribal journalists.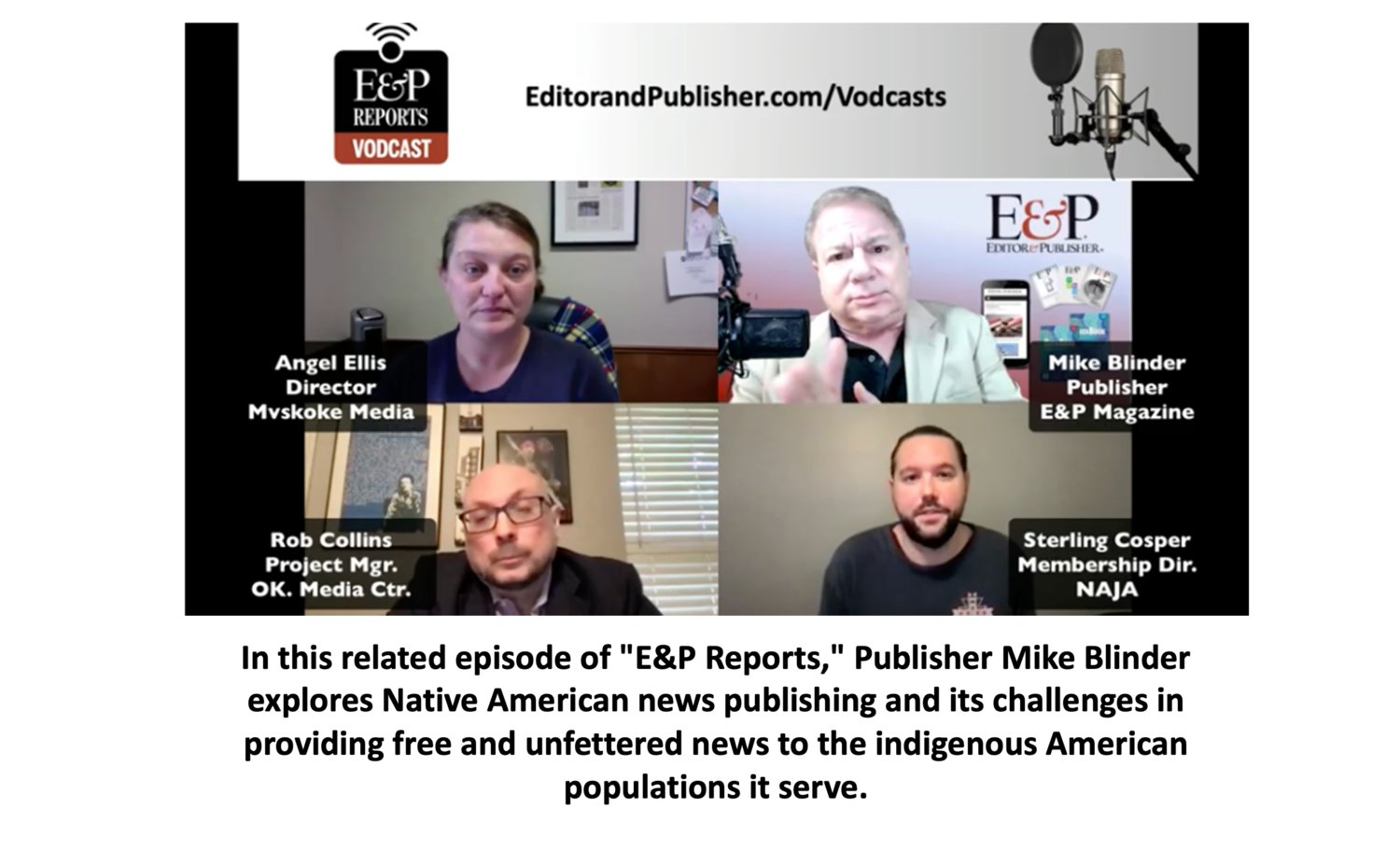 Even Indigenous journalists have been banned from areas where newsworthy events are happening. One of the most controversial examples of that was the Red Lake school shooting in Minnesota in 2005, in which five high school students, a security guard and a teacher were shot and killed by a 16-year-old student, who then killed himself. Police officers of the Ojibwe (aka Chippewa) Tribe at the Red Lake Indian Reservation confined local and outside journalists in a jail parking lot and seized the cameras of two photographers covering the massacre.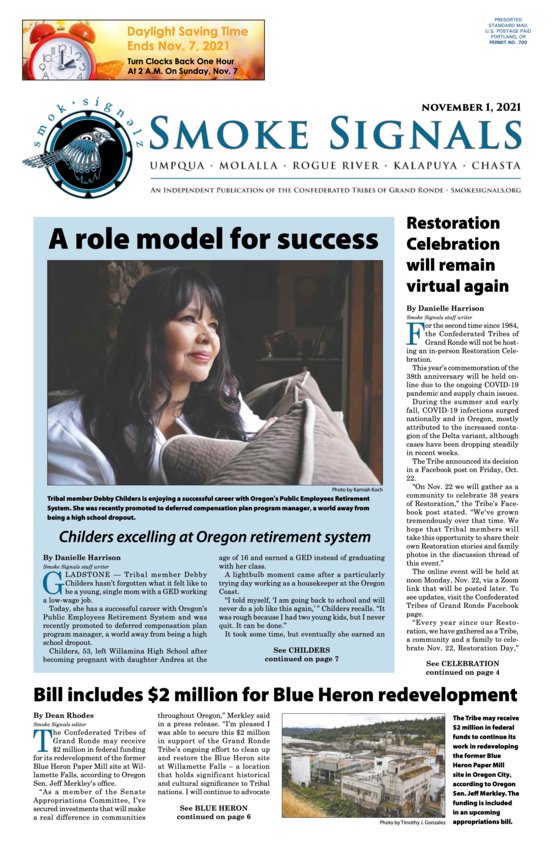 Smok Signelz — smokesignals.org — the newspaper that covers the Confederated Tribes of Grand Ronde in Oregon, was barred from reporting aspects of a controversial decision by the tribal council in 2014 to "disenroll" more than 80 members of the tribe (denying them membership benefits of between $3,500 and $5,000 per year and health care coverage).
Among those disenrolled was Mia Prickett, whose objections to the decision made the news on Oregon Public Radio and Indigenous news sites like Indianz.com. Years later, after a tribal appeals court reversed the decision, the newspaper's editor, Dean Rhodes, was quoted as saying that he probably would have been fired "if we had written any story that would have even been close to being viewed as sympathetic to the cause of Mia's family."
The difficulties encountered by Indigenous journalists might seem odd given the passage in 1969 of the federal Indian Civil Rights Act (ICRA). That law states that many of those rights included in the U.S. Constitution's Bill of Rights, including freedom of speech and the press, apply to citizens of sovereign tribes and cannot be denied by any tribal government. More than 400 of the 574 federally recognized tribes have their own laws either explicitly or implicitly protecting freedom of expression, which isn't always applied to the press.
"The million-dollar question, of course, is whether those protections are enforced," said Kevin Kemper, a former journalist, in a speech delivered to the NAJA convention. As Kemper noted, sovereign tribes have the right to create their own laws and government institutions and interpret and enforce the laws according to tribal traditions. Federal courts have actually ruled that tribal customs, traditions and culture must be considered when interpreting the ICRA. In enforcing the First Amendment, tribal courts aren't required to follow federal court precedents and definitions of things, such as "free speech."
The Navajo Times, headquartered in Window Rock, Arizona, offers an example of the threats faced over the years by Indigenous media. The Times was founded in 1959 by the Navajo Tribal Council, and in 1982 became the first daily newspaper owned and published by a Native American nation. In the late 1970s, the paper's general manager was fired and then re-hired after the Times published editorials criticizing the tribal government.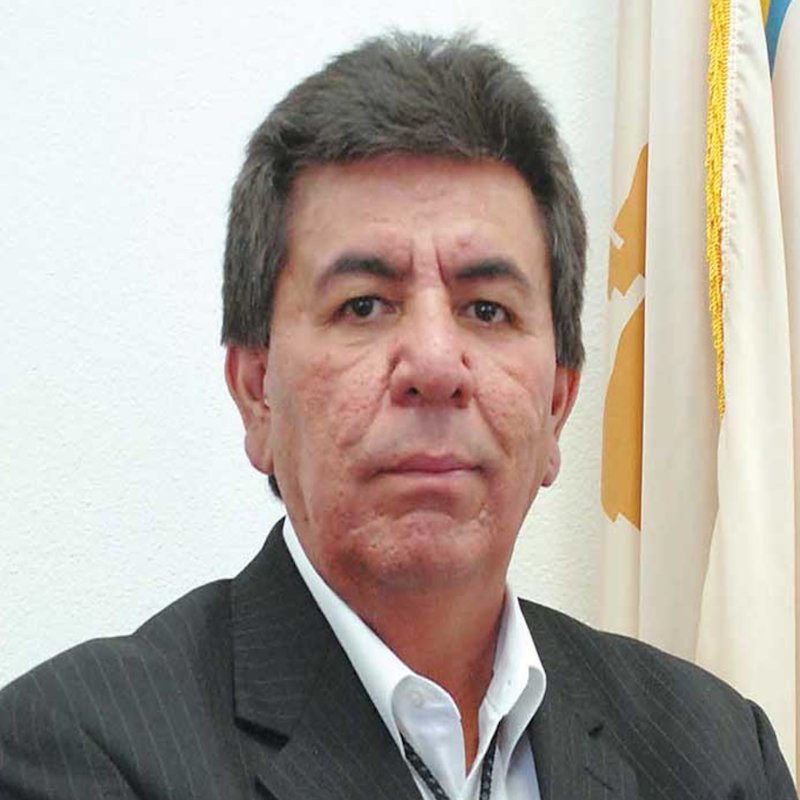 In 1987, the tribal chairman shut down the newspaper and fired its staff, claiming the paper was financially unstable, after the Times endorsed his opponent in a tribal election. The Times was relaunched as a weekly four months later. Tom Arviso Jr., who is now CEO of the Navajo Times Publishing Company, said that after the paper criticized the tribal chairman in the late 1980s, he received bomb threats and hate mail, and his car was vandalized, with its tires slashed.
Arviso is one of a number of Native American journalists who, in recent years, have stepped up the fight against tribal restrictions on freedom of the press. In 2003, he convinced the Tribal Council to allow the Navajo Times to incorporate as a for-profit, independent news organization.
"It passed 66 to 1," Arviso said. "It was one of the biggest days in the history of the Navajo Times. "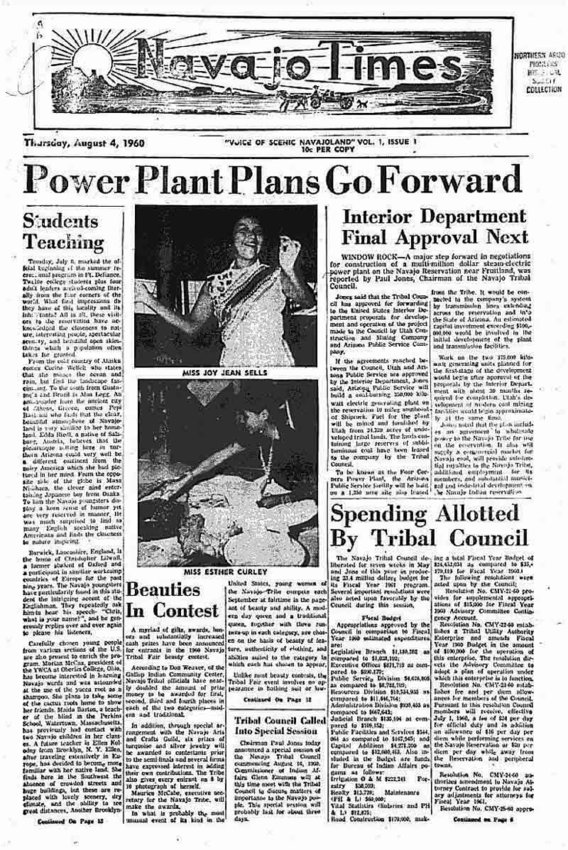 NAJA advocates for a free Indigenous press. It was formed in 1983 by journalists representing Indigenous newspapers, like the Indian Finance Digest, Indian Times, Jicarilla Chieftain, Lakota Times, Navajo Times, Smok Signelz, Southern Ute Drum, Spilyay Tymoo, Talking Leaf and Wotanin Wowapi.
In addition to demanding that tribal councils enact laws guaranteeing press freedom, NAJA says tribes should help fund their news organizations "without using this financial power to influence policy or content." It also says that the person appointed to head a tribal media organization should be granted tenure and thus protected from firing without a formal process. And it argues that the offices of a tribal media organization should be independent of the government.
In 2018, NAJA launched the Red Press Initiative, surveying tribal media editors, reporters, and consumers about America's Indigenous tribes. In that survey released in 2019, 46% of respondents said tribal media staffers had been subjected to intimidation and harassment when covering tribal affairs, with most of that coming from tribal elected leaders or senior officials. Sixteen percent of the editors and reporters said they didn't have adequate access to government records, and 14% said they didn't have access to government budget information.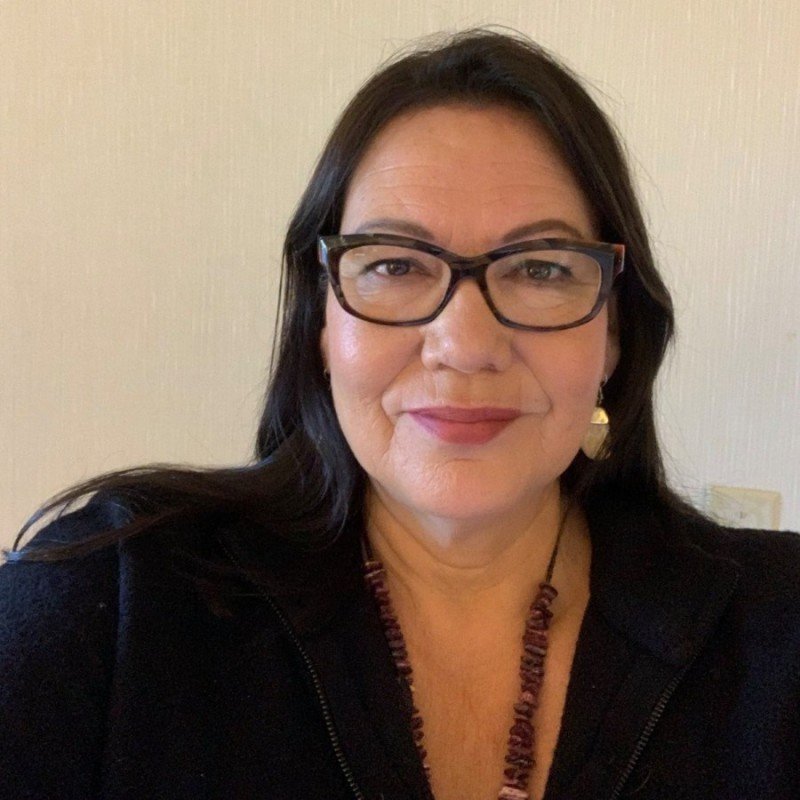 Another one leading the fight is Jodi Rave Spotted Bear, a citizen of the Three Affiliated Tribes who lives on the Fort Berthold Indian Reservation in North Dakota. In September 2015, Spotted Bear, then publisher of the MHA Times, the newspaper of the Mandan, Hidatsa and Arikara Nation on the Berthold Reservation, was fired for insubordination by an oversight board appointed by the tribal governing council. The firing came after she published a column calling out tribal leaders for criticizing her reporting on the tribal budget. After her firing, Spotted Bear formed the Indigenous Media Freedom Alliance, a non-profit organization to advocate for independent native news coverage and promote American Indian journalism. She also now publishes Buffalo's Fire, an independent digital news site associated with the Alliance.
"Everyone I know across Indian Country wants a transparent tribal government," Spotted Bear said. "They want to know how their elected leaders are spending money. They want to know what is being done to create a thriving community for their children and future generations. They want to know what they can do to help. They want to be heard. And they are willing to listen, but most of the time, our tribal leaders will only talk to the puff reporter, the journalist who won't ask the tough questions."
There has been some progress. A significant step forward was the vote in September by citizens of Muscogee Nation to amend the tribal constitution to include press protections and guaranteed funding for Mvskoke Media, a newspaper, broadcast and radio organization funded by the tribe. The constitutional amendment on the September ballot, which required support from 66% of voters, was supported by 76.25% of voters and can't be altered by the tribal council.
"The Muscogee Creek Nation shall have an Independent Press that shall be free from political interest or undue influences, harassment, censorship, control or restrictions from any department of the government of the Muscogee (Creek) Nation in order to provide unbiased news and reports objectively to the Muscogee (Creek) citizens," the amendment states.
That vote came after a 2018 decision by the tribal council to repeal a 2015 free press act intended to protect Mvskoke Media from political and financial influence. As Tristan Ahtone reported in Columbia Journalism Review, the repeal bill put the tribe's department of commerce in charge of approving content. In addition, it classified Mvskoke reporters as tribal nation employees, giving government officials the right to monitor employees' computer systems, chat groups and emails.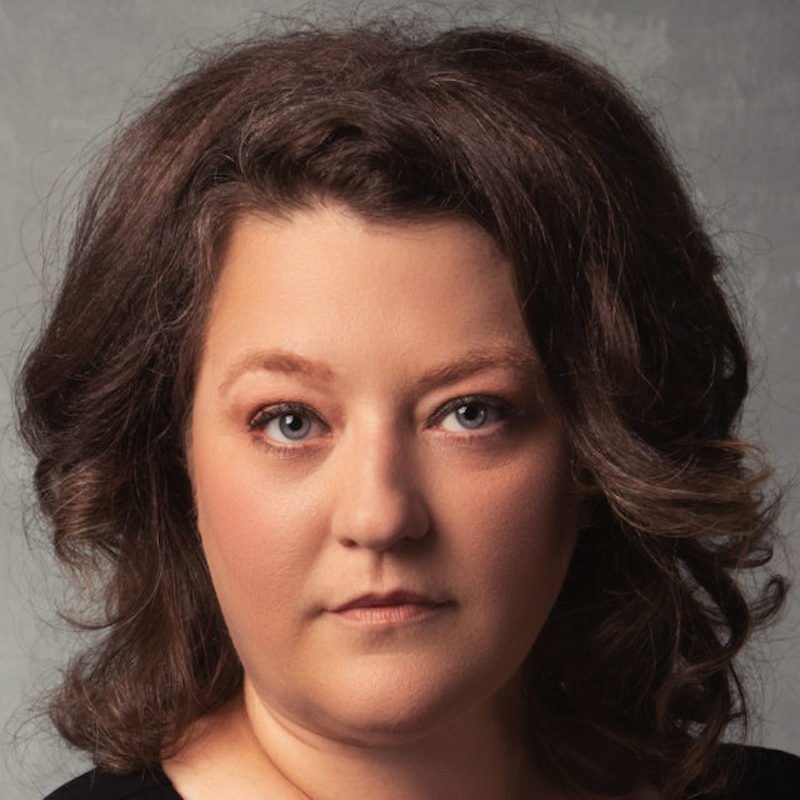 Angel Ellis, director of Mvskoke Media, said the battle for independence has been a long one. She attributed its success to the fact that tribal citizens had begun to feel disenfranchised without access to information about critical issues being considered by the tribal council.
"A lot of people started feeling really empowered to question authority, and they did it," she said. "They came to our newsroom and said, 'You need to ask these questions,' and we did that …. There's this energy in our communities, trying to reclaim their own voice."
A handful of other tribes nationwide have independent press statutes in effect, including the Osage and Cherokee nations, although they are vulnerable to repeal by tribal governments. In December 2016, the Grand Ronde tribal council responded to complaints about its censorship of the Smok Signelz by passing an independent press ordinance saying Smok Signelz must be "free from any undue influence, and free from any particular political interest."
Arviso's successful effort to get the Navajo Nation to grant independence to the Navajo Times is another example. "When we established our articles of incorporation, we wrote it so the people of the Navajo Nation are the true owners of the Navajo Times," he said.
While she acknowledges the importance of the press freedom laws adopted by the Cherokee, Navajo and Osage nations, Spotted Bear says the next step must be to enshrine press freedom in tribal constitutions, as citizens of the Muskogee Tribe did.
"The First Amendment to the U.S. Constitution has served this nation well," she said. "Right now, no such constitutional press freedoms exist for most of Native America. I imagine the social and economic state of our tribal communities would be faring much better if we had an informed citizenry."
In addition to freedom from government control, Indigenous news organizations also need dependable revenue sources. Spotted Bear and others are concerned that tribal governments get to decide the budget for most tribal news organizations — budgets that can be cut if tribal readers aren't happy about the news coverage. Some independent news publications are at least partially dependent on tribal government advertising, and they share the problem that mainstream news organizations face as other advertising spending continues to decline. Those organized as non-profits must solicit donations from individuals and foundations.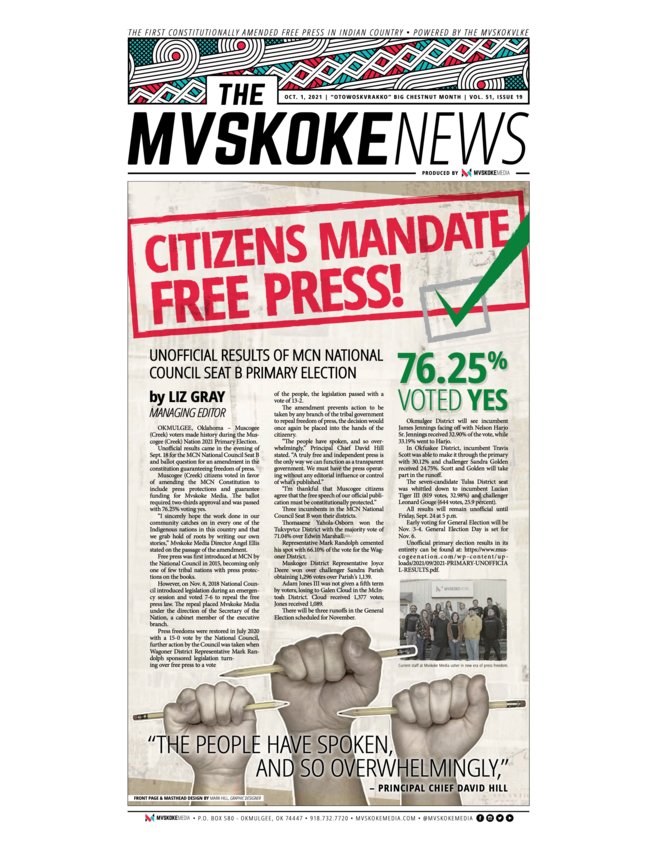 Angel Ellis acknowledged that funding by the tribal council is essential to the survival of Mvskoke Media, which has 15 staffers, with seven of those working on the news side. "I don't anticipate that we'll ever make a lot of advertising dollars," she said, noting the competition for advertising dollars from other non-Indigenous publications that cover the 11 Oklahoma counties that the Muscogee Nation spans. However, Ellis says the September vote by tribal citizens for the free press constitutional amendment makes it unlikely government leaders will respond to negative news stories by cutting Mvskoke Media's budget.
"Funding will be the place where we agree or disagree," Ellis said.
Arviso said that the Navajo Times' own ability to generate revenue helped it break away from tribal government control. "We already were making our own money to cover our operational costs — advertising, subscriptions," he said. "A lot of tribal leaders say they have a right to control because they fund the media. That argument didn't work for us because we were already standing on our own two feet."
Spotted Bear is exploring ways to ensure financial independence for Indigenous media organizations. "A good example of honest government funding is Norway," Spotted Bear said. The Norwegian government provides a subsidy to the news organizations focused on the country's Sámi people.
Keeping Indigenous media alive and thriving is essential to inform members of the tribe, advocate for Indigenous communities and inform the public beyond their tribal lands.
An NAJA study found that more than half of news articles or op-eds about Indigenous people published in The New York Times from 2015 to 2021 used stereotypes and contained five or more of 24 words that NAJA has labeled "bingo-card words." Those words include addiction, alcohol, casino, dancing, drugs, drumming, poor education, poverty, and spirits or ghosts.
"A big part of the mission is to try to educate those who are ignorant about native people," said the Navajo Times' Arivso. "A lot of that is perpetuated by the outside media. There was a real ignorance factor. Before, they didn't know — but now it's just biased. It's done deliberately. It's done with malice."
Mvskoke Media's Ellis agreed, saying Indigenous people are routinely described as poor and unhealthy, and reporters don't spend time trying to understand the culture. "We see it all the time where a journalist has a deadline, and they just fly in and fly out."
Henry (Hank) Scott is a journalist and media business executive whose Media-Maven LLC (www.Media-Maven.com) provides a variety of services to media startups and existing publishers.