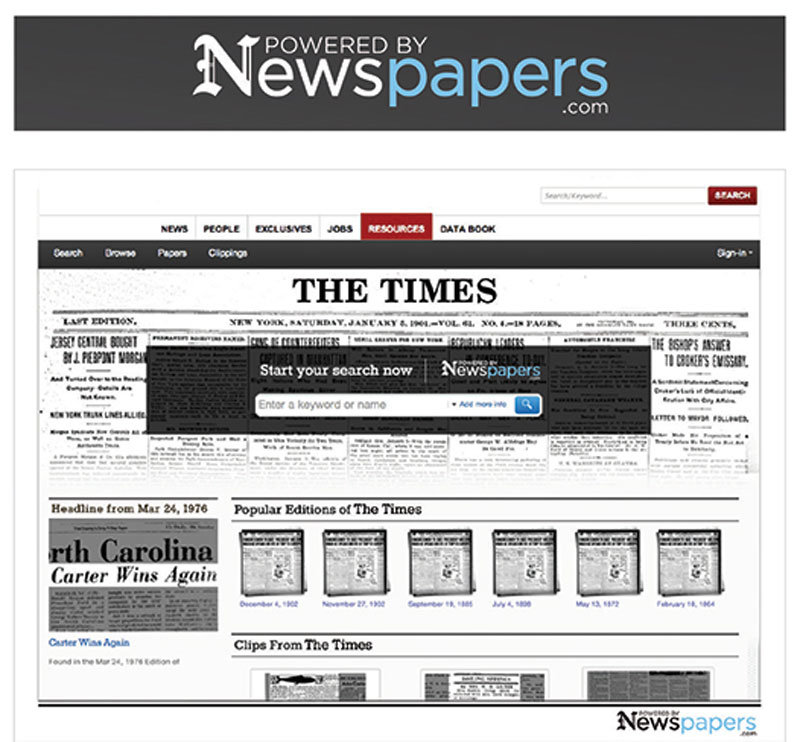 History buffs and genealogists have always turned to newspapers for their research. Now, any consumer can travel back in time with Newspapers.com. Based in Lindon, Utah, Newspapers.com launched in November 2012 as a business unit of Ancestry.com. The company has recently started reaching out directly to publishers to form partnerships.
According to director of business development Brent Carter, Newspapers.com delivers searchable digital images of historical newspapers created from microfilm through their digitization process. Most of the content comes from small newspaper publishers and archives that store public domain newspaper microfilm.
"For many years, we've offered our digitalization services to newspaper publishers," Carter said. "We offer them at a discounted price and sometimes even for free based on a value exchange." He called their services a "turnkey solution" that gives publishers an opportunity to not only digitize their archives, but to also monetize their content.
Product manager Peter Drinkwater said there are currently 1,787 newspaper titles from the 1700s to 2000s in their database. The titles are primarily from the U.S. with a handful of Canadian and British publications.
Carter said the company has a team dedicated to working on the metadata collected on the pages, creating a "feature-rich" and interactive experience. Website visitors can browse and search for free, although there are annual and monthly subscription packages available. Users can narrow down their search by typing in a certain newspaper's name, a specific city and even the exact date. Keyword searches are highlighted, and users can zoom in pages, adjust its brightness and share articles on social media. Registered users can even print, save and clip their articles.
Newspapers.com also offers a separate hosted solution for a newspaper's archive. Publishers can design the layout to match their paper's site and price their own user access.
"We've seen very high interest from publishers," Carter said. "We're learning that publishers are not doing a whole lot with their archives, but now they can use it as an asset. It's an inexpensive way to go digital. Publishers are already selling their archive to libraries; now, they can sell it to consumers, too."
Drinkwater said the archive is also helpful in the newsroom. "On the editorial side, reporters can search through the 49 million pages on the site while they are working on a story."
Carter said the company's goal is to "find the right paper for that right person" by signing on more newspapers and growing their content.
"There are users out there who want to look at these archives," Carter said. "There is a demand for it and people are willing to pay.