The audio revolution is upon us, and it's changing the way news organizations approach their content. Podcasts and text-to-audio solutions are about more than just providing interesting stories for your audience. These little audio stories can attract a younger demographic, steadily increasing user retention and loyalty.
Newspapers are experimenting with text-to-audio software that allows readers to listen to stories and articles instead of reading them. Neighbor-to-Neighbor News is one such newspaper publisher. This group of newspapers focuses on hyperlocal coverage and has about 4,000 subscribers. Grant Hamilton, the publisher, says it's a budget-friendly step to enter the audio space.
"If it were a whole lot more costly to do this, then we would have to figure out quickly whether it works or not do it. At a reasonable cost that we sometimes get sponsorships for … we could break even or get close to it; that's all I'm asking of it," Hamilton said.
Their service is called Our Hometown, a newspaper-focused company that offers website design, content management and digital subscription software services. Hamilton pays $75 a month for translating a limited number of words to audio.
Hamilton wasn't sold on the audio solution immediately. The first time the developer pitched their product to Neighbor-to-Neighbor News, Hamilton passed on it because he believed the quality wasn't good enough. The second time they came around, Hamilton saw the improvements and decided to take a chance.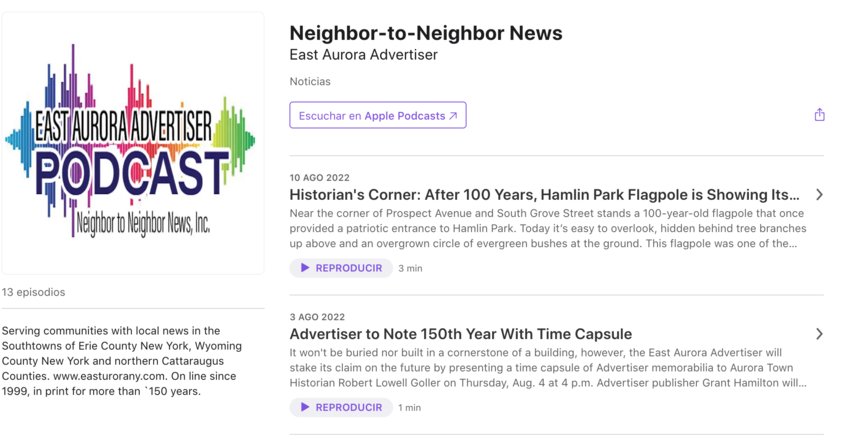 "We basically have tried to test any new concept that we can. We want to deliver our content to people in whatever format they want to gather, whether it's print, a newsletter or online with audio," he said.
Online audio appears to be a smart bet. According to The Spoken Word Audio Report produced by Edison Research and NPR, spoken word audio listening is up 40% in the past seven years and up 8% year-over-year. The report shows that spoken word audio may appeal to a more diverse audience, as 55% of multicultural listeners said spoken word audio is becoming more important to them.
Hamilton says it's been especially helpful in reaching their community.
"Fifty percent of our website users come from a smartphone device. I think the small screen has more applications there than it does on my laptop or on a larger screen," Hamilton reported.
Currently, Neighbor-to-Neighbor News has only limited investment in podcasts and videos.
"We're still experimenting with it, but this still seems to be an efficient way to present audio right now for us," said Hamilton.
The publisher added that text-to-audio is more convenient for them to experiment with because of their limited budget. When producing podcasts, time is one of the significant hurdles because it takes two or three staff members to record, produce and edit.
"We don't have to do anything beyond putting it on the website. It doesn't take a second effort to put it out," he explained.
That's because the software from Our Hometown automatically takes the text and uses an artificial intelligence (A.I.)-generated voice to articulate what's written. That audio is then distributed to podcast platforms, such as Apple Podcasts and Spotify, as well as a playlist tab on the publisher's website.
"It's one more place where people can get the content," said Hamilton.
He hasn't ruled out podcasting. "We might look at something that's local but produced by someone else and put it on our website. I wouldn't rule out using our staff again," said Hamilton.
He said the audience is the ultimate decision-maker whether or not he would be more aggressive in the audio space.
Articulating The Voice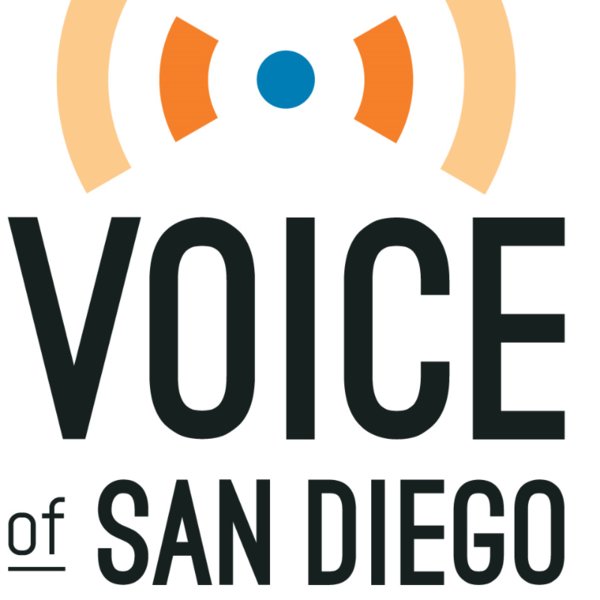 The Voice of San Diego is a digital-only nonprofit newsroom that sees success from its podcasts.
"Podcasts have been running in some form for about eight or nine years and first started as an association with the local radio station," said Nate John, the newsroom's digital manager.
The Voice produces several podcasts, one that is cut down for radio programming. Originally, the newsroom put everything online without having a monetization strategy because revenue was coming through terrestrial radio. Over the years, they've been more strategic with their ad placements, such as placing them in their podcasts and newsletters.
The audience comprises people who care about the news and like going in-depth about public policy and what's happening in the city. The Voice has several novel advertisers, with products like cannabis and beer, but also advertisers offering professional grade services, such as information technology consulting and career services.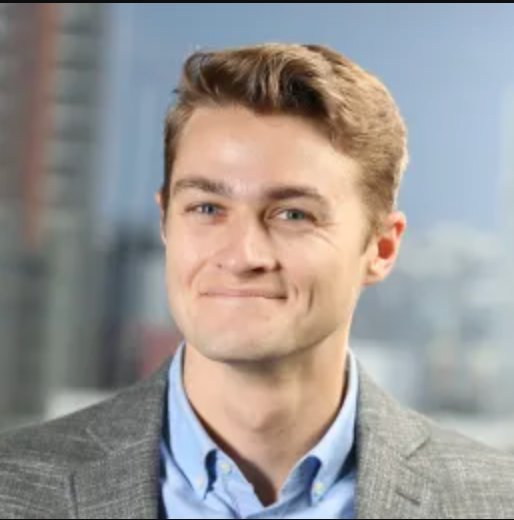 As for costs, John says there's initially a big investment a newsroom has to make. Their distribution platform is called Omni, which runs at $20 a month. It also acts as their ad platform, where the team uploads ads and inserts them dynamically.
John estimated it was a few thousand dollars for the computer, and the hardware was about $5,000. He wants to invest in more than just three microphones, which would add about another $1,000. The audio-editing software they use is Adobe Audition, which costs about $50 per month.
"On an ongoing basis, it's not so expensive — so, a few hours of reporters' time, and updating and maintaining things like microphones, and the distribution costs," he said.
And they're happy with the results.
"So, for podcasts specifically, if any episode that we put out gets less than 1,500 downloads over its lifetime, just as a baseline, I would say, 'Oh, people didn't really like that episode, or it didn't perform well, or it didn't appeal to multiple people,'" he explained.
"Generally, our weekly episodes may get anywhere from 2,000 to 3,500 downloads over a few months period. For some of our more evergreen content that focuses on transportation or education policy, those may do a lot better over a lifetime because they are less time-sensitive," he added.
He has more confidence in audio over video as an investment. "For video, it really runs the spectrum. We consider something successful if we like it, think it's a good product and get at least a couple hundred views. We are like, 'Okay, that's a great get,'" he concluded.
Video and text-to-audio outperform podcasts.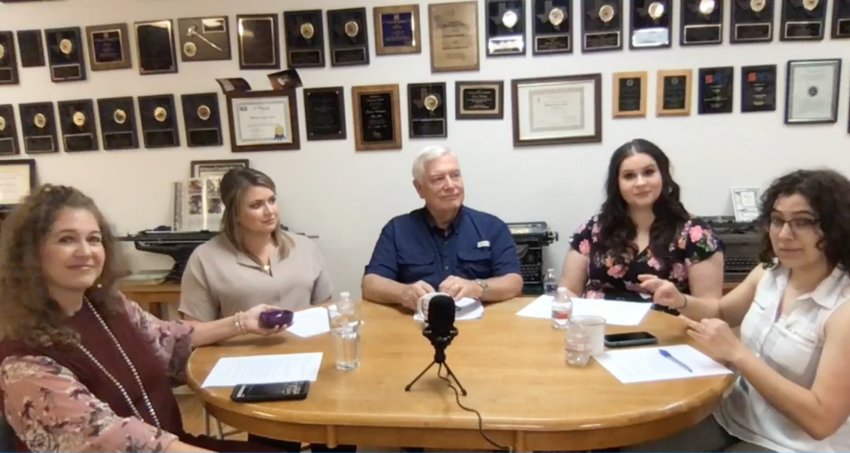 "We've tried to start a few podcast series, but they never really caught on, so what we've turned to instead is video versus podcast," said Julia Weaver, a marketing and social media specialist at Wilson County News in Floresville, Texas.
Kristen Weaver, the director of operations, said videos work better for the algorithm on Facebook, and they have invested time creating a weekly series called WCN Live. "On those videos, we always bring someone from the community; they're an interview, a live conversation that we're having," she said.
The series is so successful that the staff decided to create another one called the Press Room. The set-up is cost-friendly.
"We use a mic, and we put it on the table. When we've recorded podcast episodes in the past, we literally use one of our laptops, which tends to be a MacBook Pro, and a microphone, and we set it between the two people who are talking," Julia Weaver described the simplicity of the setup.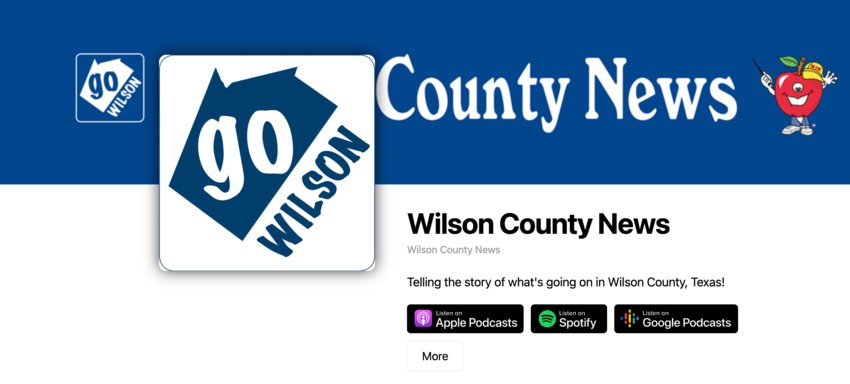 Although video performs well and podcasts less so, Kristen Weaver said their text-to-audio articles are taking off. The newspaper also uses Our Hometown as their solution.
"We did a few podcasts in the past, and they just have not taken off. The success we have is in the audio articles," according to Julia Weaver.
Kristen Weaver said the staff is currently trying to see if they have a podcast audience in their small community. When asked about turning the video files into MP3 and using that as a podcast, Kristen says she believes that might not work because of audience demographics. On Facebook, they have about 18,900 followers.
"That's where we're at. … We're trying to really figure out and capture our audience, and don't feel like we really have this podcast audience," Kristen Weaver said.
Kristen Weaver noted that the text-to-audio articles are popular and believe it's because they produce much more engaging content.
According to data provided by Our Hometown, the number of plays for Wilson County Times in July 2022 totaled 5,921. There were 43,688 unique visitors to their site, and the plays per unique visitor averaged about 13%.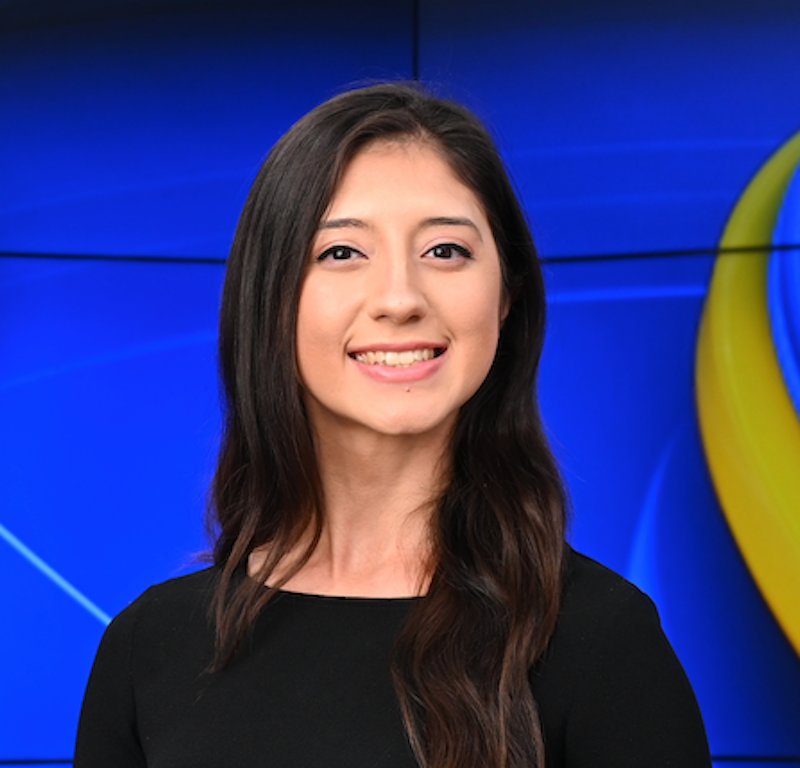 Victoria Holmes is a freelance journalist and writer based out of Dallas, Texas. Previously, Holmes worked as a TV news reporter and political podcast host at WNCT-TV in Greenville, North Carolina. Reach out to her on Twitter.