During their growth, Stacker has seen the impact of high-quality data journalism on news organizations. It can contextualize complex topics and engage readers through intuitive storytelling formats, all while filling coverage gaps for audiences expecting a comprehensive range of stories from publishers.
During Stacker's first three years, they focused on national-level storytelling, transforming data from sources like the Bureau of Labor Statistics (BLS), Centers for Disease Control and Prevention (CDC) and the National Oceanic and Atmospheric Association (NOAA) into feature stories that can be syndicated across their entire network. As they began to work with more local news organizations across the country, Stacker saw an emerging opportunity to deliver localized data reporting for the communities.
After a year of building this idea, Stacker is officially announcing their newest story offering — Stacker Local, which turns data storytelling into a local series available across all 50 states, 384 U.S. metropolitan statistical areas and other more granular geographic cuts.
That means that when Stacker published their piece on What Michigan's immigrant population looked like in 1900 to their Michigan hub, they also released 49 stories built off the same data framework for every other state in America. A story mapping out the closest national parks to Boston is not only available on Stacker's Boston hub — it can also be accessed for Portland, Boise, New Orleans and every other U.S. metro area. They have taken this approach across a range of topics, including rural hospital access, real estate, poverty, employment, COVID-19, elections and more — with a focus on tackling stories that can supplement the original reporting of their partners or serve as a basis for their journalists to build their own stories.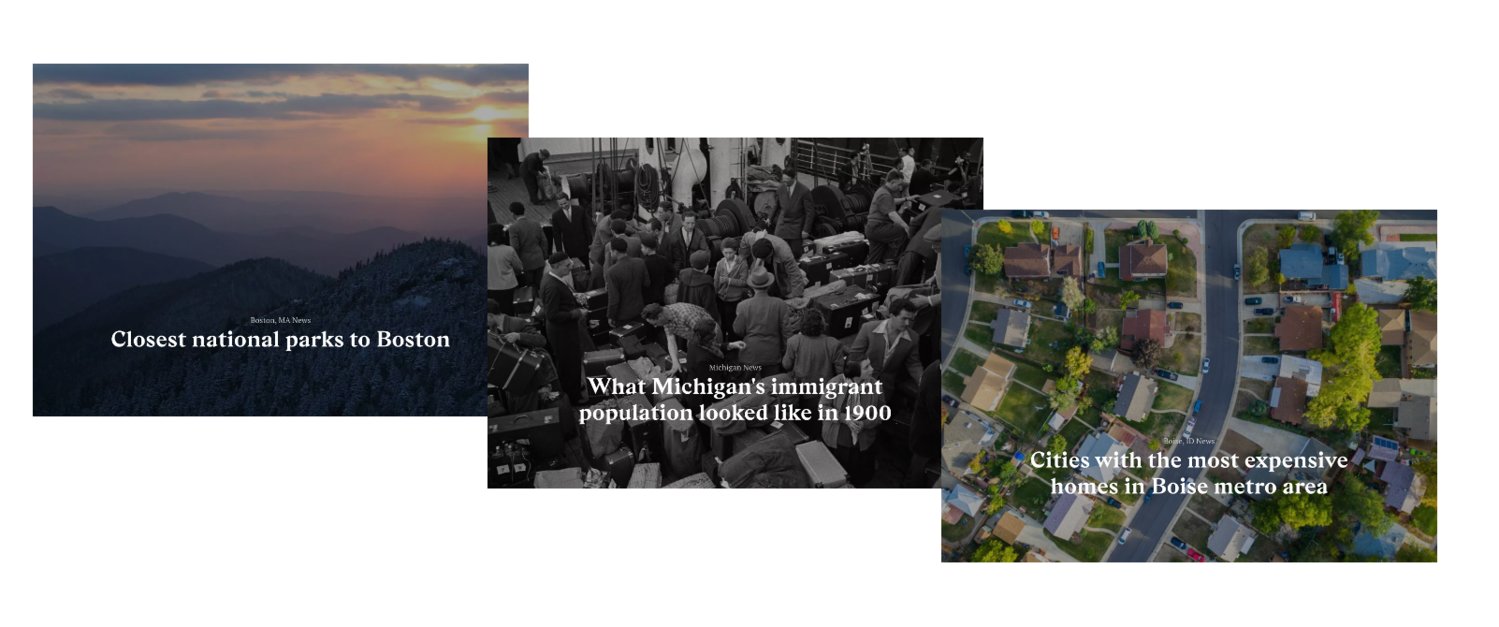 How they do it
Stacker's newsroom tackles data-rich topics to produce and distribute stories to their news network, built on a partnership model similar to how local news organizations work with AP and Reuters for wire content. They invest dozens of hours in data projects so that they can be shared as stories and data assets for journalists and Stacker partners, allowing newsrooms of all sizes to tap into data reporting for their area.
Every Stacker story starts with research. They scout rich data sources and image libraries that can drive local storytelling at scale, leveraging data pipelines and bespoke story frameworks that can be mapped to the geographic areas most important to their local news partners. Once they've produced the underlying data analysis, their writers and editors step in to contextualize the data and tell the whole story — bringing in historical perspectives, key explanations of terms and concepts and news pegs to drive home the relevance of each series.
This blend of computer-assisted reporting and editorial expertise allows Stacker to turn complex datasets into hyper-localized storytelling at scale — whether it's stories analyzing Census data or a monthly series on animals available for adoption or the highest-rated restaurants in an area. Their newsroom efforts are supported by the Story Tech Stack they've built over the last four years, which combines data pipelines, locational taxonomy, proprietary CMS and an integrated distribution network to streamline the production and delivery of stories to their news partners (read more about our Story Tech Stack here).
Getting involved
Stacker now has over 1,000 news partners with access to their local storytelling, and their partners have already seen success publishing Stacker's local reporting in their own publications. Many partners run full stories to complement their coverage, while others build on data insights to craft their own stories.
Once Stacker has created a local story series, they push the story out through their distribution network through integrated RSS feeds, story alerts or republishing buttons on their site — allowing journalists and publishers of all technical capabilities to grab stories with ease.
They know the headwinds facing local newsrooms are stronger than ever, which is why Stacker is so committed to creating tools that enable local publishers to do their jobs more effectively and engage audiences of all sizes. With Stacker Local officially launched, they are ramping up coverage across new locales and reporting beats. In the coming months, they plan to tell deeper stories in the local space — across beats including economics, real estate, transportation, weather and more — making it easier than ever for all of their publishing partners to find hyperlocal content that resonates with their audiences.
Learn More
If you'd like to learn more about what Stacker is building or discuss syndicating Stacker's content on your site, reach out to the Head of Local, Rob Powell, at rpowell@stacker.com (or check out Stacker's job board for open roles!).