The first step in building a connection with the next generation is entering their space.
Dave Jorgenson, The Washington Post senior video reporter who leads the newspaper's TikTok team, said the connection between followers and the newspaper created through the video-sharing app leads young people to look to the newspaper as a trusted information source.
"A big part of that larger picture is just establishing trust with the audience," he said. "You have to make sure that we are there to help when misinformation spreads, and so people now know to go to The Washington Post when they're not sure what's going on with a story."
More than half of the 18- to 29-year-olds in the United States are on TikTok, according to Statista reports from December. Global TikTok user data shows that 21.5% of TikTok users are 18 to 24, and nearly half of TikTok users are 29 or younger, according to Statista data from January. Forty-five percent of U.S. 30- to 39-year-olds use the platform.
TikTok users, especially among the younger groups, use TikTok as a search engine to find information, said Northwestern Medill Professor Craig Duff.
"And so, in that case, I think we need to be in that space even more urgently because if there's not legitimate news being presented on TikTok, then who is filling that role in the searches? Who will pop up, and are they rigorously checking facts?" Duff said.
Young people are deeply concerned about the world and passionate about news in politics, social justice and human rights but rarely consume legacy media.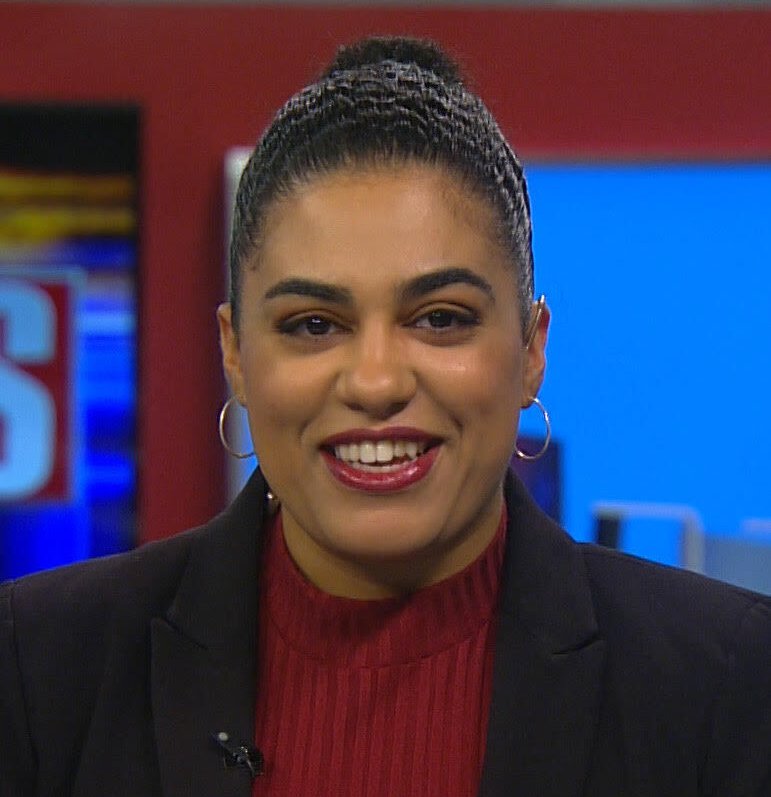 Washington Post Associate Producer Carmella Boykin is the newest addition to the newspaper's three-person TikTok team. She was hired at the end of 2021 after working as a local TV news reporter in Rochester, New York, and graduating from Syracuse University in 2021. 
"A lot of people, of course, aren't sitting down to read a newspaper, watch television, or even watch YouTube full streaming broadcasts. It's really in small, bite-sized bits on social media," she said. "So a goal of mine is really just to create news that I would want to consume regularly."
Washington Post Associate Producer Chris Vazquez was hired onto The Washington Post TikTok team in 2021 after working for the newspaper as a video intern and graduating from Northwestern University the same year.
He said he has seen first-hand how TikTok provides a direct line between journalists and their audience. The team can see what people are searching for on TikTok and offer factual answers with their posts in addition to answering direct questions from their followers.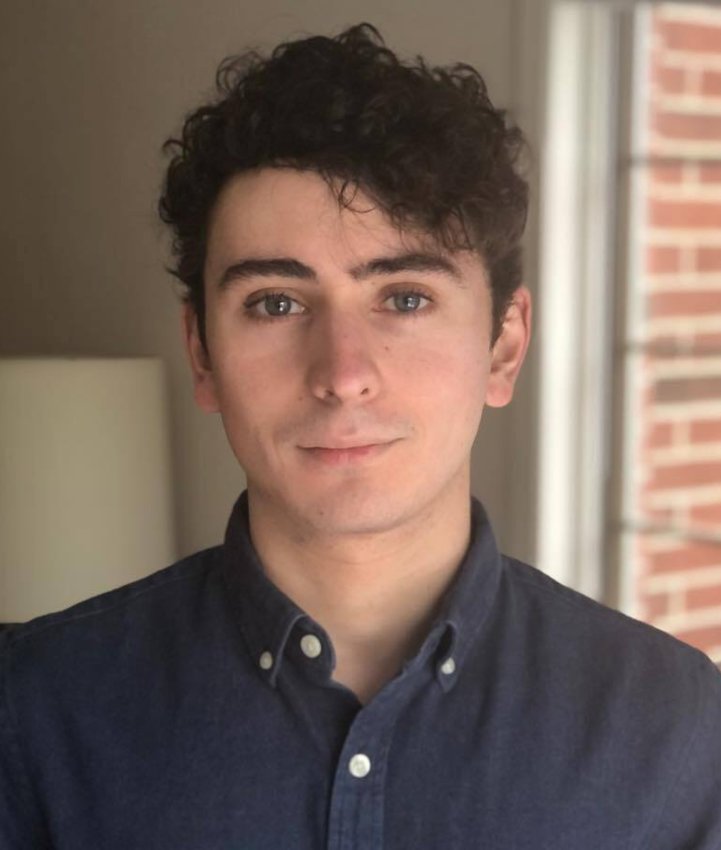 "One thing that I really like about TikTok too is that, because of how personality-based it is, I feel like our audience does kind of have a close relationship with us to the point where they'll comment and ask us questions about news stories, or they'll directly email us and say, 'Hey, can you clarify this point in a Washington Post story I saw?'" he said. "That's a really nice thing about TikTok is that there's a clear sense of what our audience wants or needs to know on any given day and how we can deliver on that."
Boykin said the team can also educate their audience about the journalistic process when followers ask how they got their information.
"We can explain to them where it's coming from and how we're not just saying it and we're not just making it up. It's through vetted research," she said.
Jorgenson said some TikTok users initially thought the account was created by a person named Washington and did not know what The Washington Post was. So their account profile makes it clear with the bio line: "We are a newspaper."
TikTok's immersive experience
Duff said the composition of TikTok's videos creates a more personal connection between posters and followers.
"It really is very much about a face-to-face personality and talking to a camera," he said. "It is about engaging in that vertical video space, which is taller and longer like the body — as opposed to a talking head," he said. "You're sort of breathing life into ideas and engaging with people, and that's a great opportunity. It's like having a conversation, which will be more valued by that audience."
Duff is an Emmy-winning video journalist and documentary filmmaker who worked for TIME, CNN, Discovery Channel, The New York Times and others before joining Northwestern University. Among the visual journalism classes he teaches is a social media video reporting class. He sees TikTok as a way for video journalists to break the mold of traditional video storytelling.
"I think it is a more personalized way of storytelling that can be a different approach than what we have in conventional broadcast journalism, for instance — the conventional stand-up, one step removed from the issues of the story," he said. "But [TikTok] is a great way to kind of engage at the scene and to speak at the scene."
The vertical plane is the most apparent difference between TikTok and many other online video platforms. Traditionally, videos were shot on the horizontal plane because of the shape of the eye. Apps like Instagram began using square videos because they were easy to watch regardless of how a person had their phone positioned, Duff said.
TikTok videos have a vertical composition native to phones. TikToks are designed to be shot by a phone and watched on a phone.
"This is more native to how we watch our phones. It's driven completely by the use of the phone," Duff said. "You're speaking to someone from their hand. They're watching you, and they're holding you at the same time."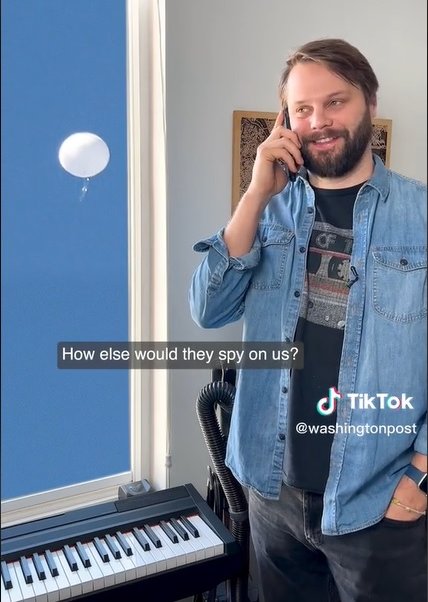 Jorgenson noted TikTok wasn't the first platform to use vertical video, but the platform perfected it.
"They're the first ones to do it really well in an immersive experience," he said.
TikTok grew faster than other social media platforms and has seen steady growth since its launch in September 2016. Teens embraced the app in its early days. In 2020, the number of users jumped, the app's content evolved and users in their 20s and 30s signed up. TikTok finished 2022 with 1.53 billion global users. Facebook remained the most popular social media platform, with 2.96 billion users worldwide. Instagram had more than 2 billion users each month in 2022.
Despite TikTok's rapid growth, many news publications were slow to join. A boom of news accounts hit TikTok in 2022, but their follower lists compared to their Instagram accounts indicated they are still finding their voice on the video-sharing app. Many major news outlets already have teams dedicated to specific social channels and recently started hiring team members specifically for TikTok.
BBC News was the first major news publication to top 20 million views on Instagram but remained off TikTok until March 2022. Major news publications like CNN have a strong following of 18.8 million on Instagram and only 1.4 million on TikTok. ABC News has 4.2 million TikTok followers, and NBC News has 4 million. Individual journalists who work for those companies sometimes have accounts that match or exceed the followers on company accounts.
The vast majority of news content on TikTok is repurposed news segments and other visuals. 
NBC's State of the Union coverage included a 90-second TikTok recap and a "State of the Folks" video that counted how many times President Joe Biden addressed the audience as "folks." (The count reached 21.)
Vice News had 439,700 followers on Feb. 11 and posts content including explainers on important news stories and segments like "Weirdest Headlines of the Week." Most videos use a voiceover along with visuals posted on its website.
HuffPost had 144,200 TikTok followers on Feb. 11. One of its most-watched videos was a heartwarming piece with 1.4 million views to accompany the article, "My Dad Never Wanted Me To Be One Of 'Those Gays.' Then He Asked Me To Put Him In Drag." Contributor Blake Mitchell explained in the video that their dad, Bobby, grew up in a conservative, religious home in the South. When Mitchell started doing drag, their dad was very critical at first but then asked for a drag transformation, saying he wanted to understand it better. The end of the video shows Bobby light up while looking in the mirror. "She is a southern belle!" Bobby says.
The Wall Street Journal joined TikTok in the fall of 2022 and had 74,600 followers on Feb. 10. The account posts original content, like humorous takes on what happens when companies track their employees' screen activity, a lighthearted explainer on accountants leaving the industry and videos answering questions like how to get a raise if you find out your coworker is earning more than you.
The  New York Times posted its first TikTok on Jan. 23 and had 11,900 followers on Feb. 12. It posts explainers like "Why are eggs so expensive?" It re-imagines news and feature stories in straightforward, visual posts, such as a clip on the military shooting down a Chinese spy balloon and a guide to spending 36 hours in Rome.
NPR had close to 300,000 followers on Feb. 10. One of its most-watched recent videos shows Correspondent Ruth Sherlock reporting from the scene of a building collapse in Adana, Turkey, after the Feb. 6 earthquake. NPR correspondent Kat Lonsdorf shot a video for TikTok to supplement her reporting from Ukraine in September, showing a mass grave in Izium.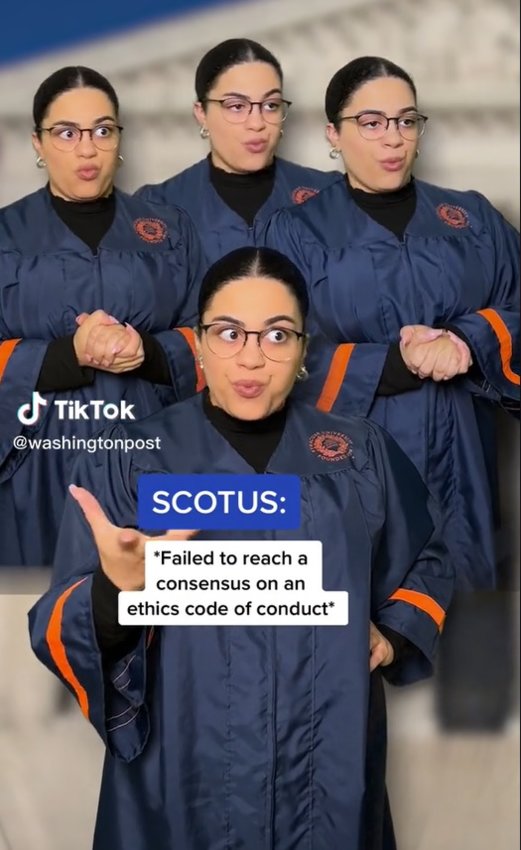 Jorgenson started The Washington Post's TikTok account in May 2019 as a side project after the higher-ups gave him the go-ahead to launch. At that time, "no one really knew what TikTok was," Jorgenson said. In its infancy, TikTok was mainly used for lip-sync videos and dances. Its popularity grew rapidly during the pandemic, and the user demographic became slightly older, with more users in their 20s and 30s. He said he thinks The Washington Post had an advantage as an early adopter.
Jorgenson said he avoids reusing The Post's content on TikTok, aiming for an account that carries the unpolished look of native content — horizontal videos shot with an iPhone.
Once The Washington Post's account hit a million followers, the newspaper started adding more members to the team. It had 1.5 million followers on Feb. 10.
The account often presents important news topics with offbeat humor. For example, it explains issues like the debt ceiling in a 48-second clip.
A 60-second recap of The State of the Union shows some of Biden's key messages, but at high speed to change his voice and condense the clip. The TikTok includes captions like "*somewhat bipartisan applause*."
Creating a successful TikTok news account
Duff said the most critical element of a successful TikTok account is engagement.
"The bottom line is that it doesn't really matter as long as whatever you're showing is engaging and interesting and fun or compelling in some way," he said. "It's not where Oscar-winning cinematographers will have an advantage over a kid in their bedroom. It is a scrappy aesthetic."
He said the TikTok algorithm favors videos that use the native tools on the app. Consistency is vital on TikTok, Duff said, so it is crucial to find a way to incorporate it into workflows in a way that can be maintained.
He said he has seen accounts he follows with hundreds of thousands of views drop to a few thousand after taking a holiday break. He recommended approaching TikTok like setting time aside for a daily 30-minute workout — but if the workout was fun.
"What's ultimately important, I think, is just to enjoy it," he said. "It's a fun space to work in, and it's also a space where you can engage with people that aren't otherwise experiencing your content," he said.
Duff pointed to TikTok creator V Spehar of Under the Desk News as an unaffiliated, successful news TikToker. Spehar, who also hosts a podcast called "V Interesting," offers news updates and commentary on TikTok from underneath a desk. 
The future of TikTok
TikTok announced plans for a $1.5 billion reorganization of U.S. operations in January to mitigate concerns that China could access user data through the app. Beijing-based ByteDance owns the company, and some government officials have insisted that only a forced sale could protect Americans from the risks of Beijing accessing their data or influencing American users through its algorithm. A part of the plan would involve third-party monitoring of TikTok's algorithm.
The announcement came a month after Biden signed a limited TikTok ban on government devices into law. Several states followed suit for its workers. In addition, dozens of colleges, universities and K-12 schools banned the use of the app on their WiFi networks.
U.S. regulators have been negotiating with TikTok for two years over whether the platform can remain in the country.
"Clearly, it's politics," Duff said of the battle over TikTok. "Every social media app uses our data in ways that are a little stomach-turning sometimes. Because it's Chinese, it's become a target," he said. "There will be a lot of grandstanding. There will be a lot of talk about getting it off of government devices. There are real security issues there. But are they as big as they are being touted? I don't think so."
He said he thinks that regardless of what policies are put into place, young people won't stop enjoying the platform.
"Ultimately," he said of the vitriol against TikTok, "I think it will pass."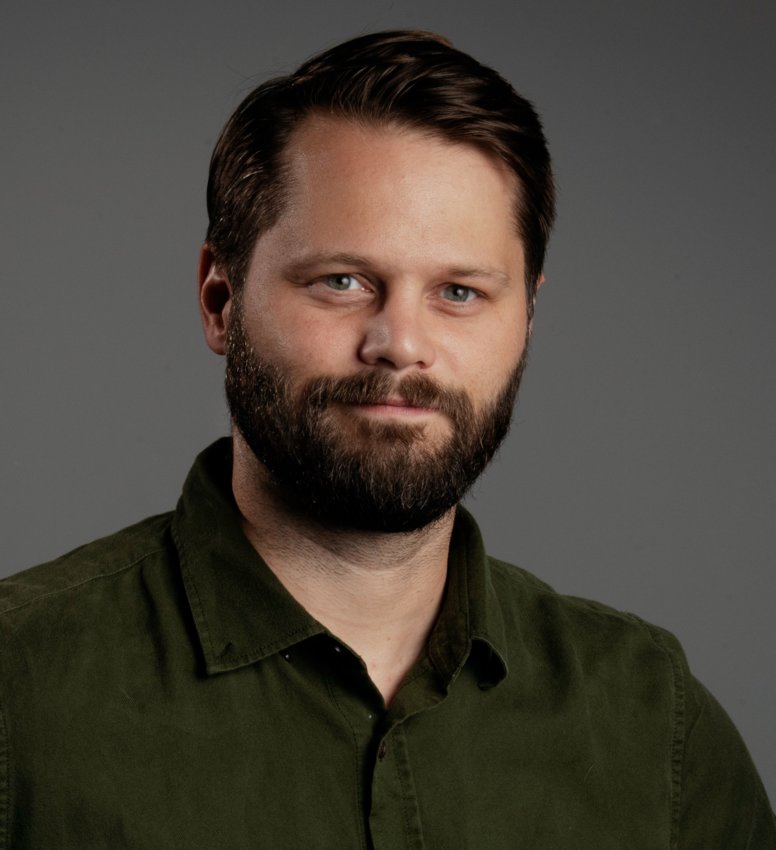 Jorgenson confronted the question with a TikTok. In the video, he calls Washington Post Technology Columnist Geoffrey Fowler to ask him if he should delete TikTok from his phone. Fowler tells Jorgenson that he should assess risks based on his own personal exposure. He asks Jorgenson if he is a government employee or a high-profile dissident. He says the Chinese government probably isn't interested in him or his Wordle text chains with his family. Fowler adds that the Chinese government was collecting data on Americans before TikTok.
"How else would they spy on us?" Jorgenson asks as a weather balloon appears in the window behind him.
Jorgenson said he thinks some news leaders are hesitant to pour resources into TikTok because they are unsure about its future. He said it is unlikely TikTok will be permanently deleted. But even if it is, he thinks the experience created by the platform will continue on in some form.
"The people that are hungry for this type of content are still going to exist. So you're not just investing in TikTok. You're investing in this type of journalism and storytelling in vertical video form," he said.
Duff said news platforms entering the TikTok space are advantageous and crucial.
"It's crucial that we engage. It's challenging to be considered legitimate in the current environment because of the divisiveness and all the rhetoric that is anti-media," Duff said. "But you have an opportunity as a news organization to get in there and play in that sandbox in a way that will help you become native to the platform and then use your tremendous skills of reporting, presenting news and channeling it there. It's crucial that we do that."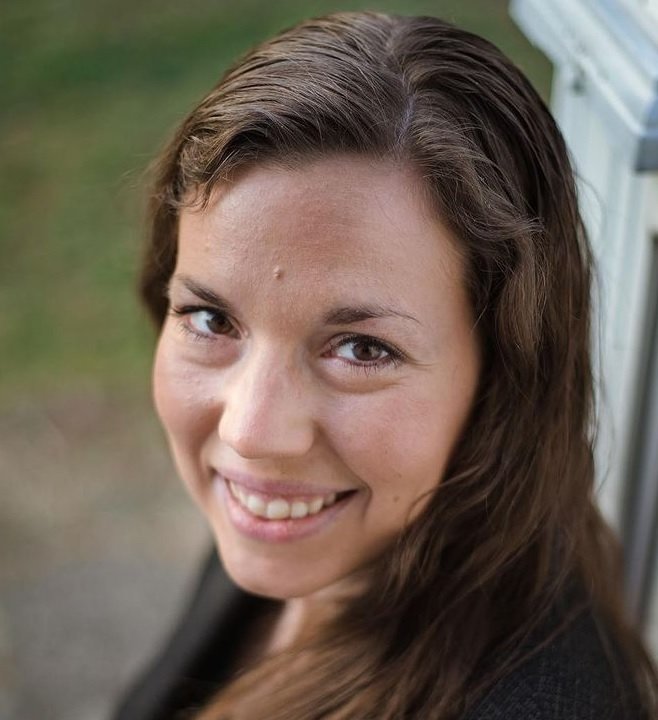 Alyssa Choiniere is an Editor & Publisher contributor. She is a journalist based in southwestern Pennsylvania covering a variety of topics including industry news and criminal justice.