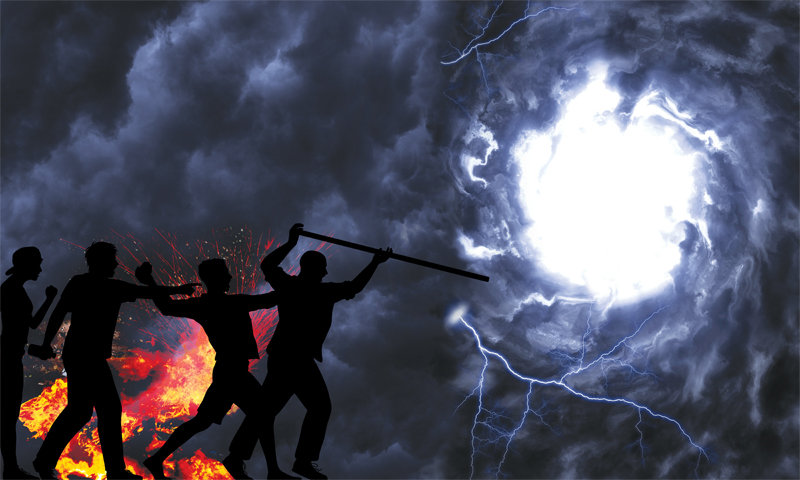 From national disasters to war zones, journalists often risk their own safety and lives in order to report from these locations. But what happens when these traumatic events take place in their own backyard? To better understand how the job of news gathering is further complicated when the assignment is to report from a "city in crisis," E&P spoke to several newspaper staffs that witnessed and reported first-hand from these communities.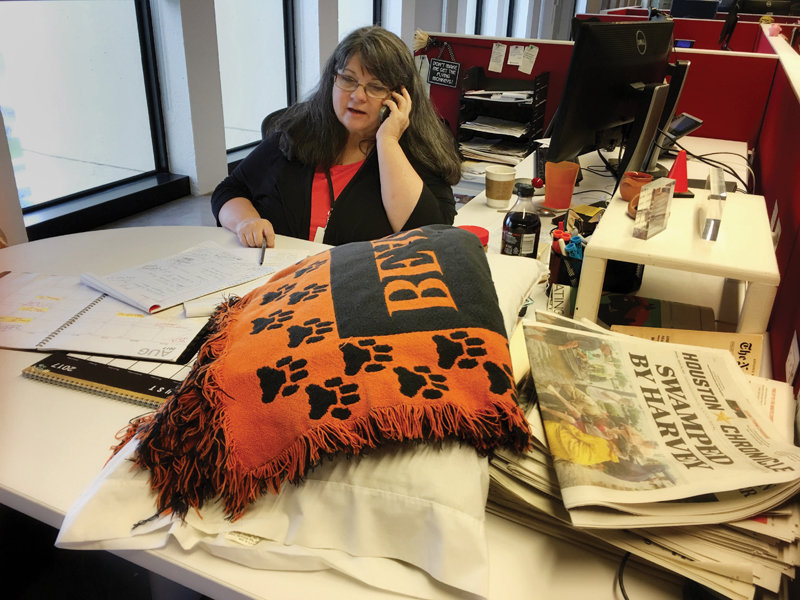 Houston Chronicle metro editor Dianna Hunt talking with a reporter during Hurricane Harvey. Notice her pillow and blanket on her desk. (Photo by Scott Kingsley/Houston Chronicle)
Newsrooms Become Shelters
In mid-August, Hurricane Harvey devastated islands in Caribbean and parts of South and Central America before making its first landfall along Texas' southern coast, and bringing with it a storm surge that flooded the region, sustained winds that reached 130 miles per hour, and a ferocity responsible for 77 deaths in the United States alone.
Cindy George, a health and general assignment reporter with the Houston Chronicle, was on the job before, during and after the storm. Friends who were preparing for their own evacuations helped her to procure the things she might need to ride out the storm so that she didn't have to stop working. The process wasn't foreign to George, who grew up in Florida accustomed to "hurricane season." As a reporter, she'd covered major hurricane events since Katrina.
As the threat of the storm neared and intensified, the newsroom prepared for a situation in which some of the team would hunker down at the office. Fortunately, the office had been newly renovated and offered plenty of open, uncluttered space. Cots were brought in. The employee lunchroom was stocked and restocked with food, beverages and supplies.
George was at her home when the storm made landfall and the waters began to rise. Though her home didn't take on any water, all of the surrounding routes into the neighborhood and out were flooded. For three days, she was immobile but remained on the job.
"There was no way in and no way out," she said. "I had power, so I was working from home, and there wasn't a start or stop time."
She slept when she could, but sleep largely eluded her because there was the perpetual potential for the water rise and invade her home.
Not being able to move about freely didn't prevent George from contributing to the newsroom's coverage. She and other reporters not at the office would frequently check in with their editors and report on their circumstances and mobility.
"My situation was 'at home, trapped, car can't move, too deep to get out,'" she said. "And so the way that I became useful was that I was assigned to desk duty."
One of her assignments was rather morbid in nature: she tracked the number of casualties in real time. She also set out to maintain communication lines with agency and city contacts, and was certain to check in with her network of sources outside of Houston, as well, which afforded her a more comprehensive perspective of the storm's regional impact.
A friend who worked at radio station KCBS in San Francisco recruited her for three on-air spots during that time. "I could provide information for news programs outside of Houston that were looking for people who were available and not walking through water," George said.
Her phone rang frequently—calls from people she knew who wanted to check-in on her or to tell their own stories. She wrote vignettes to commemorate the conversations. Website traffic spiked for both the publisher's free site and its premium site, where the paywall came down in the public's interest.
In many ways, Hurricane Harvey is still ravaging the region. Not only is there the obvious toll on lives, businesses and infrastructure, there's also the need to reflect on what everyone learned from the experience.
"The conversation about water and funding infrastructure is not going to go away," George said. "The conversation about local agencies communicating and acting regionally is not going to go away. I am aware that social service organizations, foundations and agencies have started to have discussions about how there was a lot of relief available, but it could have been better organized."
But what did George specifically learn about reporting during the crisis?
"There's a tendency to believe that the more hours you log equals success. I think that's not true, because there has to be some self care for you to have something to give," she said. "That's a lesson I learned the hard way."
The experience also affirmed something she already knew—that reporters must cultivate a network beyond their own newsrooms. In this case, whether the newspaper's reporters were working from home or bunkered at the office with other newsroom staff, the perspective about what's happening and newsworthy becomes quite narrow. Naturally, having access to social media and the web reveals some of the picture, but there's no substitute for having a deep database of professional contacts.
"Having friends, resources and connections beyond the newsroom enriches your experience in the city, in the region, and enriches your experience as a journalist," George said.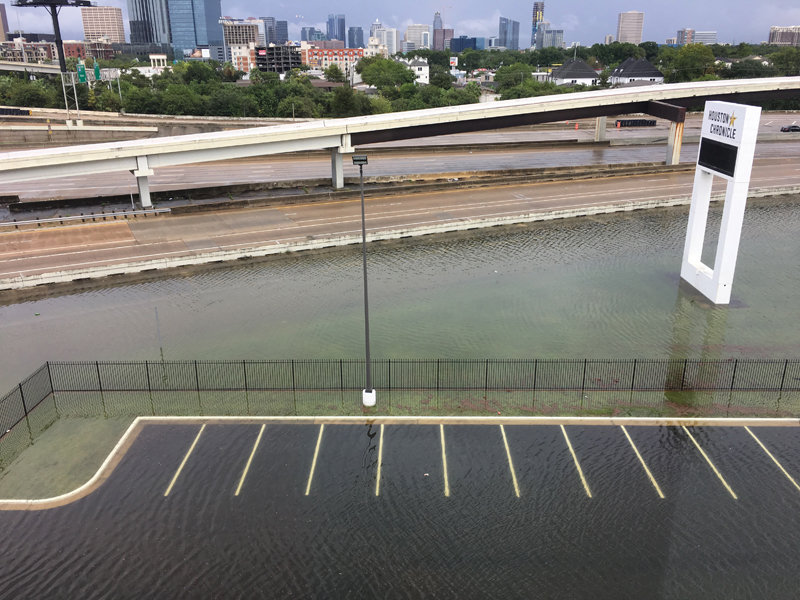 View from Houston Chronicle news conference room during Hurricane Harvey shows almost-empty Southwest Freeway, flooded parking lot and lawn area, Also, there is a two-lane feeder road under water, between the Chronicle sign and the highway. (Photo by Scott Kingsley/Houston Chronicle)
Reporting Becomes About Surviving
Larry Kahn wrote about his experience riding out the storm in the Florida Keys as Hurricane Irma pounded the chain of islands. It was published in the Miami Herald on Sept. 22, 2017, and took readers through his harrowing experience of seeking shelter at Marathon High School and a subsequent hospitalization for dehydration.
Kahn is a New Yorker who relocated to Florida many years ago—first to Ft. Lauderdale, and ultimately settling in the Keys in 1994. He's the editor at a local community newspaper, The Keynoter, one of two titles published by Keynoter Publishing Co.
His publisher had told him it was "his choice" whether to evacuate or stay. Kahn chose to stay, but knew his ground-level residence was not a good choice for shelter.
For days, Kahn rode out the storm at the high school, and though he had hoped to continue working, it became an unattainable goal. Food was sparse and not particularly healthful. Tensions ran high at times, and a fight nearly broke out at one point. A man died—reportedly from natural causes—and the occupants of the shelter were forced to live and sleep with his body, Kahn recalled in his detailed, astute article. He was resolved, lucid and observant, enough to recount the tale after the fact, but in the high anxiety of the storm's height, it became his chief objective just to stay calm and stay safe.
A month after the storm, Kahn spoke with E&P from his home, where more drywall was being removed and industrial-strength blowers were trying to dry out what remains. He'd rented a car in advance of the storm, in hopes of being able to keep his electronic communications devices charged. Naturally, the car took on water from Irma's interminable rain and storm surge, and the rental agency had just called to tell him he owes for the damage.
"I don't know what's worse, my office or my house. I'm just trying to rebuild," he said. He's one journalist who intimately knows the strife of being in a personal crisis while still getting the newspapers out to the people who need them.
Kahn is quick to point out that he doesn't want to victimize himself. There are many on the island, he said, who have it much worse. In some parts of the Keys, people are still living in tents, and though he said that the state and federal response was initially very good, the National Guard has now redeployed, FEMA has been pulled in other directions, and organizations like the Red Cross and a Mormon-led coalition of volunteers are some of the few groups staying to help.
Staying on the job and making sure that the print edition gets out and the website and social media channels are updated has helped Kahn focus his mind on more productive matters than his personal strife and frustrations. His newspaper became the go-to source for all information during and after the storm. Though there is a competitive paper in the market, Kahn noted that the publisher chose not to disable the paywall during the storm, so even loyal readers of the other newspaper came to The Keynoter and companion website (flkeysnews.com) for essential information, resulting in one of their best months in September and October.
Social media channels have proven to be quite effective to communicate, not just during this hurricane. "We use Facebook to get our stories seen, and it pays off a lot," Kahn said.
He especially credits his newsroom colleagues with keeping the publishing machine running during the event. "The rest of the staff was doing it all. They never missed a beat. I couldn't ask for a better team."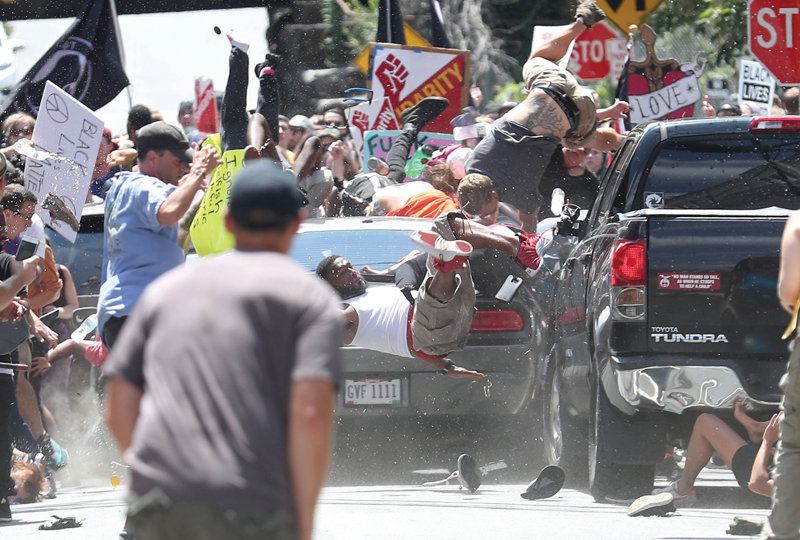 A vehicle plows into a group of protesters marching along 4th Street NE at the Downtown Mall in Charlottesville on the day of the Unite the Right rally. (Photo by Ryan M. Kelly/The Daily Progress)
When Violence Erupts
"The nature of this crisis was a little bit different," Rob Jiranek said. "You could see the clouds on the horizon for more than a month."
Jiranek is the publisher of The Daily Progress, located in Charlottesville, Va. The city became ground zero for racial unrest on Aug. 12, when White Nationalists descended on the town for a rally— many from out of the state—and clashed with counter protesters. National broadcast stations were in place to bring images of the violence to televisions and mobile devices, and were on the scene to show the culminating carnage when a White Nationalist mowed down a group of people with his car, killing a 32-year-old woman. One of the newspaper's photojournalists, Ryan Kelly, had been standing in that very spot moments before, yet somehow he was able to keep his wits and capture some of the most striking images of the day.
Unlike the unpredictability of a natural disaster, there were many things about this fateful day that were known and expected.
"The Aug. 12 rally was coming on the heels of a July KKK rally," Jiranek said. "That kind of set the stage for this larger follow-up, and it allowed the various players involved to deploy. It was unusual for a newsroom to be able to say, 'Okay, this is coming up.' It was almost like a dramatic production. We knew it was coming. We knew it was going to be a spectacle, and we literally threw everything we had at it."
The entire newsroom was deployed to cover the event, round the clock. In advance, the team had discussed the importance of good judgment and personal safety.
"Trust your instincts, and as you're trying to get the story, recognize that there's nothing more important than your safety, so make smart choices with regard to that," Jiranek reminded his reporters.
Leading up to the event and during it, the newsroom worked both municipal contacts and community sources. While the local police provided some insight to the public about pre-planning and logistics, it was critical to work those external sources because the police will "only tell you what they want you to know," Jiranek said.
The reporters were active throughout the day, especially on Twitter.
"The city had basically said to people, 'Stay away.' The conscience of the city that day was to not give these extremists any attention," Jiranek said. "Don't give them any credibility. And some people heeded that word, but because of our reporting they were able to still be 'ringside,' so to speak, because of the digital channels."
That's not to say that print wasn't an important channel.
"The story is progressing continually up to the print deadline. So we were drafting and drafting. We'd refine, and then the print coverage was the last word of the day," Jiranek said. "We recognize that as we're drafting and doing the refining, we're actually bringing in more context. We're distilling the noise in the signal, so that last telling that we're doing in print is the best we aspire to the fullest telling. And, of course, as soon as we print it, it's outdated, right? Because the story doesn't stop."
The newspaper and its companion website became the primary source of in-depth, trusted local coverage of the event, and its coverage continues today, with record traffic and readership. The week E&P spoke with Jiranek, White Nationalists descended on Charlottesville again, marching through part of the town with citronella-fueled backyard tiki torches and chanting hate-speech slogans. They have promised to return again in the future.
"As awful as this story was that day—and you're in the moment and covering it as the most important thing you can do that's professionally possible—our folks were awesome," Jiranek said. "They sustained incredible energy and focus, and it's cool that it has continued. They knew they did a good job. They got recognition for it, and they developed even more confidence in the aftermath of it."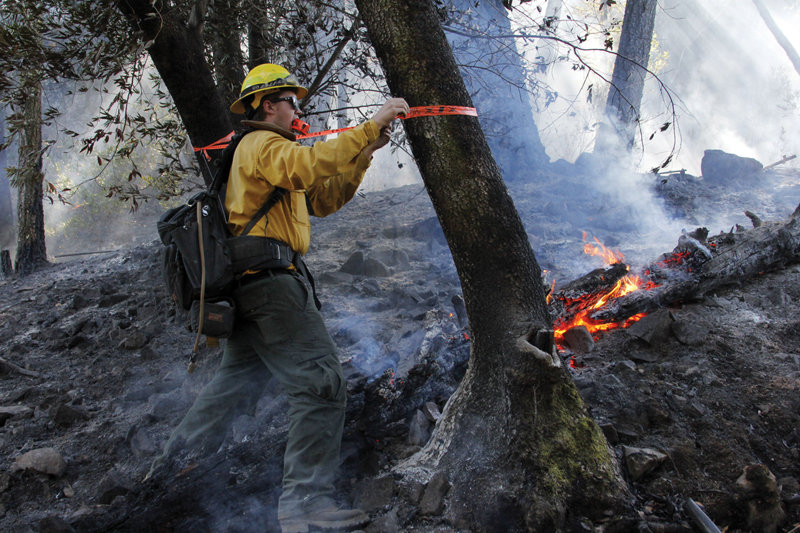 Firefighter Brandon Bain of Arizona tapes off some trees during the Nuns Fire in Northen California on Oct. 14. (Photo by Maria Sestito/Napa Valley Register)
Getting the News Out
Fire is inherently unpredictable, and to a large degree, so too are earthquakes. Sean Scully, the editor of Napa, California-based Napa Valley Register, has led the newsroom through both. Just three years ago, the region was struck by an earthquake, Scully recalled, and this year, it was plagued by the wildfires that incinerated nearby communities and vast swaths of acreage.
The difference between reporting from the newsroom on any given day and reporting during a time of crisis—when the region is literally on fire—is the palpable sense that journalists aren't reporting from outside the story looking in; they're living the story, too.
As the fires crept closer to Napa, Scully's neighborhood was evacuated for five days. Reporters on the team got into the habit of bringing suitcases to work, just in case they couldn't return to their homes at the end of their days.
"One of our editors was evacuated for two weeks and didn't know the fate of her house until just a couple of days ago," Scully told E&P in late October.
One thing that remained consistent was the newsroom's drive and commitment. Reporters showed up and ran on adrenaline. "The first night of the fires, two reporters and our city editor showed up in the newsroom. I didn't have to ask them to do it. They just did it, and stayed up all night and covered it," he said.
As an editor, it's important to remind the team about safety. "Be careful. It's not a game. We don't want anybody killed or injured," Scully said. He recounted a close call for one of the reporters who'd been interviewing firefighters on the fire line. They'd been talking about how one of the greatest threats to firefighters is when the unseen roots of trees have caught fire and take the tree down. The reporter and firefighter were standing near a tree that came down just seconds after they'd cleared the area.
Social media became an essential platform for delivering real-time information about the fire locations, businesses closed, evacuation alerts and more. Scully likened the paper's Facebook feed to a "radio station" by which they could deliver up-to-the-minute information the community needed.
And it wasn't just a one-way communication. Readers got involved, commented, discussed observations and uploaded a lot of photography of their own.
"We got a lot of pictures from utility workers because they were getting back into places where the public was not, and they would send us photos by way of social media or email," Scully said.
While the national news media may have moved on to other coverage, Scully is cognizant that the story of the crisis continues on the ground locally. The tough stories that follow—the tales of lost lives, homes, livelihoods—"becomes a natural part of our coverage," he added.
"In times of crisis, people do realize just how important it is to have local people telling local stories," Scully said.
Gretchen A. Peck is an independent journalist who has reported on publishing and printing for more than two decades. She has contributed to Editor & Publisher since 2010 and can be reached at gretchenapeck@gmail.com.