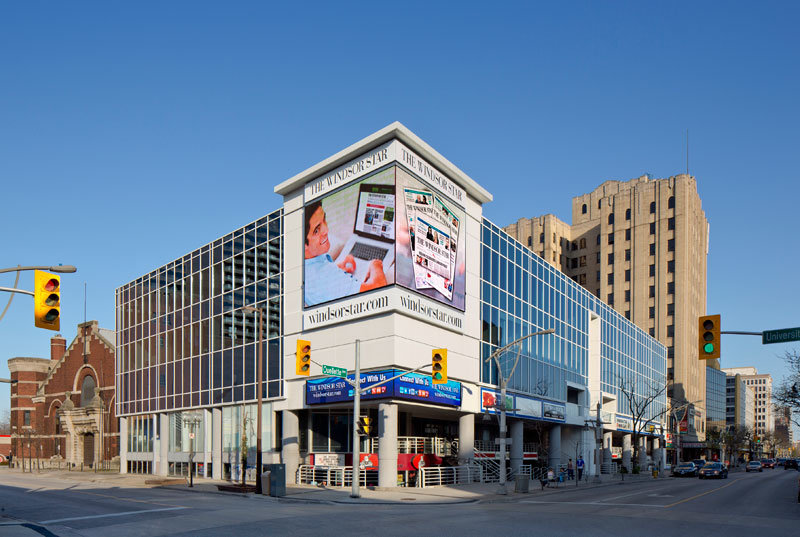 So decrepit was the advertising department that the janitor refused to shampoo the carpet for fear of flying fibers. Orange partitions separated the ad reps, a minor nuisance compared to the two flights of stairs and winding warren of hallways they faced to associate with the ad services team. The artists were … well … somewhere off in a dark distance. We think. Clients visiting one sales manager's office were at constant risk of a plaster avalanche from "the wall that nearly wasn't." Asbestos lurked in rooms long sealed shut. Last rites had years ago been bestowed on the roof. The heating and air conditioning were in perpetual warfare. Even the mice were grumpy. To say that
The Windsor Star's
nearly century-old headquarters in the heart of this Ontario, Canada-U.S. border town had devolved from historic to eccentric to flat-out Dickensian would be an understatement. Capital repairs worth more than $2 million were urgently required. Efforts to unload the property had failed on numerous occasions, mainly because of exterior walls which had so stood the test of time that they qualified for heritage designation. It was against this backdrop that Postmedia Network Inc., the
Star's
new owners now seeking to pay down debt, threw down the gauntlet in the winter of 2011: "Please sell 167 Ferry Street, shrink your footprint (read: 'slash costs') and find a home befitting your transformation to a cutting-edge digital powerhouse." Proof positive that you should never doze off during editorial board meetings, opportunity presented itself mere days later. University of Windsor president Alan Wildeman told the editorial board of his plans to move 1,000 social work and arts students into downtown Windsor as the school's contribution to a city- and province-backed revival effort. Turns out he liked old buildings. Nineteen months later, with a sale to the university consummated and new headquarters locked in at Windsor's State-and-Main intersection, 125
Star
employees were packing their bags for the biggest move in our history. We now call 300 Ouellette Avenue our home, in what can conservatively be described as one of the most unique – and, hopefully, progressive – media enterprises in Canada. Our new home is a former movie theatre that, like downtown cinemas across North America, had lost its battle with suburban multiplexes. Its impending closure would leave Windsor with another gap tooth in an already scarred core. Looking for an anchor tenant to justify what would become a $4-million renovation, the owner, Mady Development Corp., made us an offer we couldn't refuse. In exchange for a long-term lease, Mady would completely gut the building, replacing the '80s-era pink stucco exterior walls with glass. They would level the theatre floors using concrete and 30,000 pounds of steel, creating one large open canvas on which we would script our new home. For our part,
The Star,
inspired by the mayor's affection for Times Square, would install a pair of 22-by-18 foot LED screens on the building's corner, underscored by a pair of rolling ticker-boards. Upwards of two-million lights now flash billboard ads and a variety of editorial content, from breaking news to festival videos and reader-submitted prom photos. Newsroom, advertising, marketing, finance, IT and human resources staff now share a single, 20,000-square-foot, open concept office that is wired for all digital eventualities. Ad reps and their support staff are cheek-to-jowl with marketers in close proximity. Mere steps separate these teams from the journalists whose content they are charged with selling. We find assorted excuses to hold Friday mixers in a break-out area, decorating the 12-foot Christmas tree or sampling a local micro-brew. One floor up, staffers take yoga classes in the former projector room. One floor down is the fledgling Windsor Star News Café, open to the public and operated by the Green Bean, already an institution among university students thanks to its home base in a church basement near campus. The News Café will be the living, breathing manifestation of our link to the community. Already hosting a robust open mic night on Thursdays and a board gamers' summit on Fridays, the café will soon be a crucible of experimentation and interaction with the community. A plug-and-play audio/visual system will breathe digital life into activities ranging from celebrity meet-and-greets to political debates, press conferences and a daily podcast of news headlines. Now we have five platforms on which to channel and, hopefully, monetize content: print, Web, tablet, smart phone and LED billboard. Fast forward to January 1, 2014 when the National Hockey League's annual Winter Classic game between the Toronto Maple Leafs and the Detroit Red Wings will be held at Michigan Stadium. If the stars align, we will be home base to a block party for 10,000 Leafs and Wings fans, gathering, in fine Canadian tradition, around one rather large TV set. There will be hot coffee in the News Café. Bloggers will exchange hostilities. And nary a mouse will be found.
Marty Beneteau is editor in chief of
The Windsor Star
in Ontario, Canada.
By: Marty Beneteau | The Windsor Star