The Washington Post's Robert O'Harrow Jr., Andrew Ba Tran and Derek Hawkins wrote about the rise of domestic extremism in April 2021. Their reporting was informed by data compiled by the Center for Strategic and International Studies.
"Since 2015, right-wing extremists have been involved in 267 plots or attacks and 91 fatalities, the data shows. At the same time, attacks and plots ascribed to far-left view accounted for 66 incidents leading to 19 deaths," the reporters explained. They also cited Federal Bureau of Investigations (FBI) Director Christopher Wrap, who, in the wake of the Jan. 6 attack on the Capitol, told lawmakers that confronting domestic terrorism is a top national security priority of the agency.
In March 2021, the Office of the Director of National Intelligence (ODNI) published a report, "Domestic Violent Extremism Poses Heightened Threat in 2021." It places extremist groups in categories: racially or ethnically motivated violent extremists, animal rights and environmental extremist groups, abortion crusaders, and anti-government groups, including armed militias, anarchists and sovereign citizens.
Their members are more nuanced than these grievance-focused categories might imply. The threat they pose to public safety and national security is formidable, particularly when they join forces — like on Jan. 6, 2021, when a parade of extremist groups gathered to hear a U.S. president give them their marching orders and walked to the U.S. Capitol with a mission to violently seize it, occupy it and effectively overturn a Presidential election that didn't go their way.
Opposing them were police officers who defended the complex and journalists who reported on the day's events — each doing their part to guard democracy. While many Americans first learned the names and faces of the nation's most violent factions on that day, Jan. 6 was not where nor when those stories began, but there are few reporters telling those stories, and not nearly enough reporting on them at the local level, where extremists live and organize.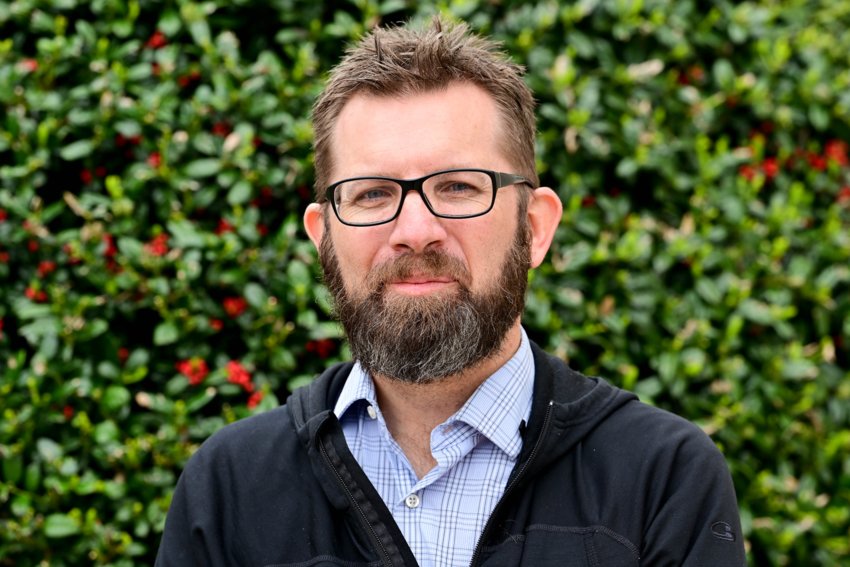 Back to Charlottesville
Raw Story Staff Reporter Jordan Green just wrapped his coverage of the civil trial against the organizers of Unite the Right. The trial concluded just before Thanksgiving, with the jury awarding the plaintiffs $25 million in damages.
Green said it felt surreal being back in Charlottesville. He'd been at Unite the Right rally in August 2017, when the city was charged with incendiary debate about whether to dismantle Confederate statues on public lands. He'd learned about Unite the Right while reporting on a far-left armed militia known as the Redneck Revolt, which planned to "counterprotest" the white nationalists.
"I have to be honest; I thought it would be much more violent than it turned out to be, as horrific as it was," Green said. "I honestly didn't know if I would be killed."
Before he went to Charlottesville, he sought counsel from other journalists who'd reported on violent conflicts. They gave him practical tips, like making sure the car had a full tank in case he needed to make a hasty retreat.
By the time he arrived on the scene in Charlottesville, street fights had broken out, and the violent tone was set. He heard a commotion and screams a few blocks away when James Alex Fields drove his car into the crowd and murdered Heather Heyer.
Safety is a weighty concern for journalists today, and Green recounted several on-the-job incidents when he felt unsafe. For example, at a QAnon rally in 2020 and a protest outside the governor's house in North Carolina, he was targeted and harassed by Proud Boys members.
To understand where and how extremist groups communicate, Green logs time on social media platforms, including Facebook groups. It's a good investment, not just to pick up the chatter, but to understand the symbols and the language they use to communicate — military lingo, pithy memes and cartoon symbols.
Asked about sourcing from within these groups, Green said it's challenging, but it does happen. By way of an anonymous source, he discovered paramilitary training camps in Ukraine, where young men from the United States go for tactical training. The source shared insight into how those training programs recruit and their relationship to criminal and white-nationalist organizations.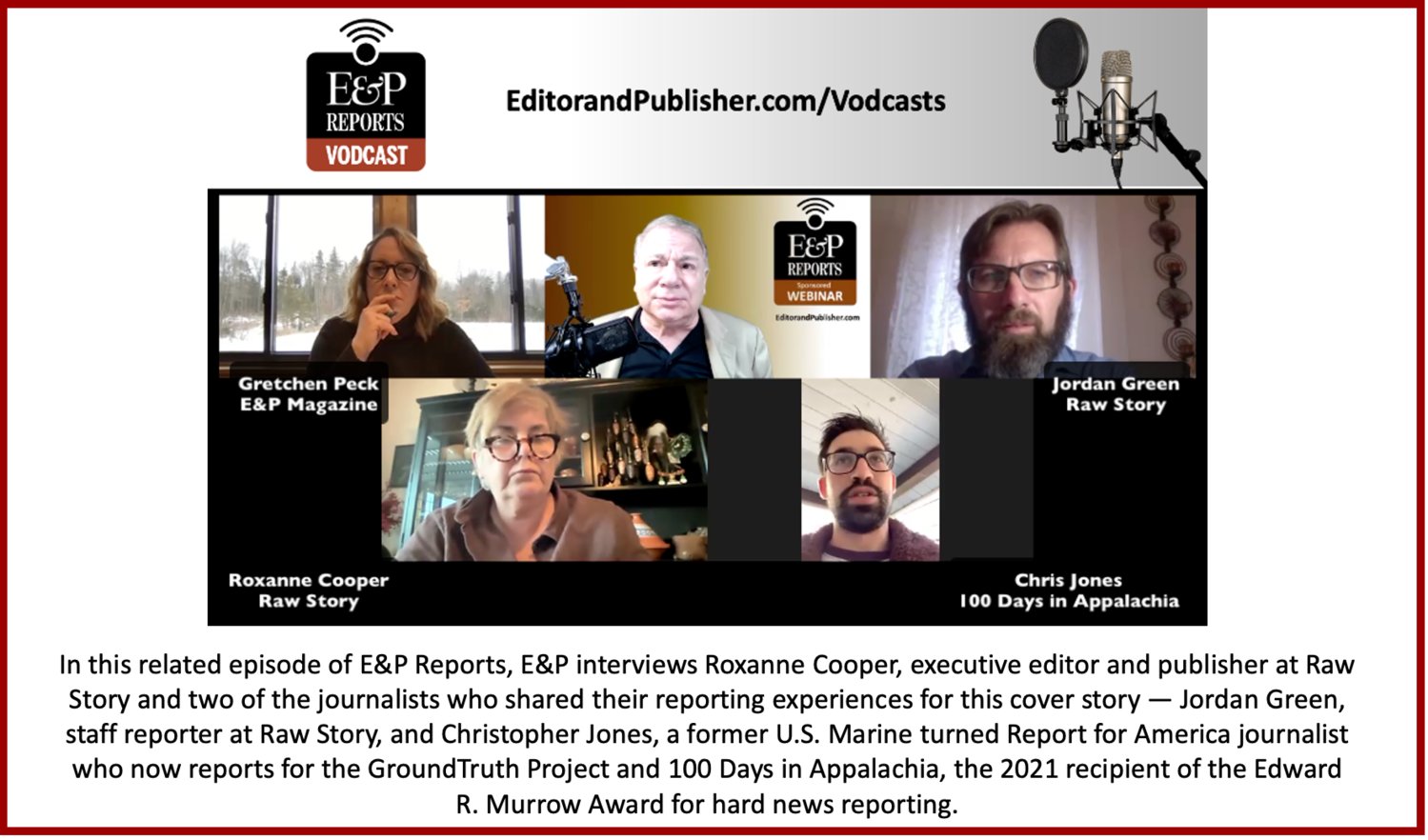 A few days after the Charlottesville verdict came down, E&P asked Green about what it was like to go back there to continue the story. He said he started by walking the street where Heather Heyer was killed, a traumatic exercise, but one that "reoriented" him to the ongoing story. Through the trial's discovery, he gleaned how the Unite the Right event was "precisely and deliberately" executed. Often, these violent clashes are not organic, he warned. Instead, most are carefully, strategically planned. That revelation informs his new work — tracking where January 6th insurrectionists' anger is now directed and how it may manifest again.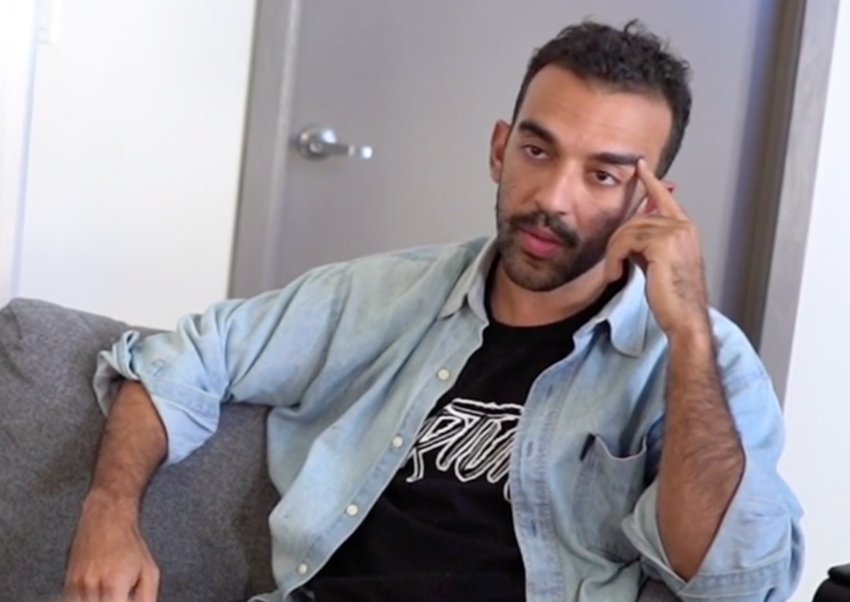 Militants manipulate the media
Ali Breland started as a tech reporter, writing about things like set-top box policy and FCC regulations. "Pretty boring stuff," he said, in hindsight. "It was important but not super relevant to national conversations."
By 2016, he felt "discontent" about how tech was being covered. He marveled at Google's lobbying power over think tanks and Congress. It set him on a path to meaningful stories about Russian disinformation and the intersection of politics and technology.
Today, as a reporter with Mother Jones, Breland is given a "wide berth" to report on stories from cryptocurrency to Alex Jones, from misinformation to militias. For example, he's written about the Oath Keepers and interviewed a "disaffected" member for a podcast.
Extremists have become adept at manipulating the press, Breland explained. "There's a term for it. It's called 'hiding your power level,' and it's a common trope among far-right groups to try and whitewash or sanitize their perspectives so they're not seen as bad.
"Nick Fuentes is an excellent example," he continued. "He is this Gen Z white-nationalist type, but he has done a very smart job of presenting his politics so that it comes off as less fringe, less radical." In other words, racism adorned in fake populism.
As a reporter working on stories related to violent extremists, Breland spends much time online, going to the digital places where violent rhetoric breeds. It's caused him to think carefully about his own social media activities and what he reveals about himself to the world. "Mother Jones invested in some software tools and services that help scrape personal information from the internet," Breland said. "It's ostensibly harder for people to find my physical location."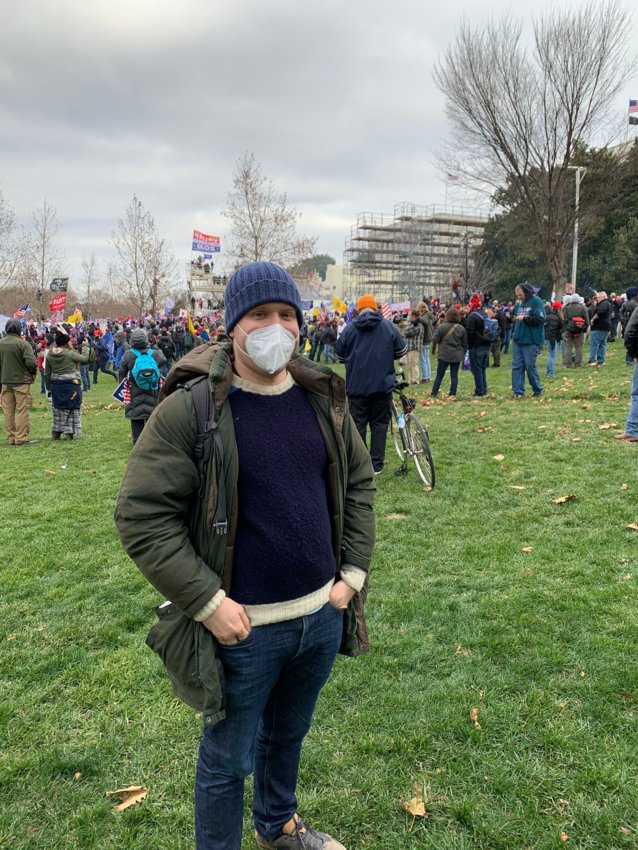 Down the QAnon rabbit hole
Will Sommer grew up in Texas, in a politically conservative family. "I had a lot of experience consuming lots of right-wing media," he said. "I think I had a Bill O'Reilly book for kids." He recalled always being fascinated by "bizarre characters" in conservative circles.
After college, Sommer went to work as a Patch reporter, and by 2016, he'd landed at the Washington City Paper. He felt an awakening around that time when it felt like right-wing extremism was beginning to flourish, and there wasn't much serious reporting about it. In recent years, he's written about QAnon and disinformation for the Daily Beast. He was the first person to report on "Pizzagate," the conspiracy theory that had former First Lady, Secretary of State and Presidential candidate Hillary Clinton running a child trafficking ring out of a (non-existent) basement at a pizza shop.
"One thing to note is that these are just people," Sommer said. "You have a small fringe who are raving lunatics, but for the most part, they seem totally normal in many ways. They want to talk about the weather or what they had for breakfast, but then all of a sudden, they'll say, 'We're going to Comet Ping Pong today because that's where Hillary Clinton stores children.' As a reporter, though, you have to try to connect with them on a human level."
One of the challenges Sommer and other reporters on this "beat" face is trying to figure out how extremist groups organize and communicate. There's a lot of coded language and symbolism to unpack.
"I was at a QAnon convention, and Michael Flynn came out dancing to Twisted Sister's 'We're Not Gonna Take It.' To the average person, it may seem like Michael Flynn likes hair metal, but it's a big deal because 'Q' posted the song before going dark," he explained.
Sommer covered the Seth Rich conspiracy; he's reported on the QAnon group that assembled in Dallas for the resurrection of tragically but definitively dead JFK, Jr. He knows some of these stories seem silly. Still, they have victims and deserve serious attention from the press.
"There are families who have effectively lost loved ones to this thing. It swept into their lives and ruined their families," he said.
There are perils to the job, some merely annoying, but others grave and daunting. For example, Sommer is sometimes recognized, spotted in the crowd and sought out for selfies, which he politely declines. He's been booed, followed, taunted and ousted from venues. QAnon evangelist Michael Flynn once chanted "shame, shame" at Sommer while the reporter was being run out of an event in Dallas.
Still, he remains committed to the work. Besides his narratives for Daily Beast, he also hosts Fever Dreams, a podcast. Podcasting allows him to meet his audience where they are, even when they're multitasking, he said.
He implored journalists to be savvy about social media and to adopt cybersecurity tools: "Use two-factor authentication on all your accounts," he advised.
Avoid "parachute journalism," he added. Dropping in and out of the coverage undermines the seriousness of the subject matter and introduces basic reporting errors.
"We look at stories like what's happening in Dallas this week with the Q crowd and the promise of JFK Jr. coming back, and it's easy to kind of shrug it off as, well, that's just 1,000 crazy people, and that's not unusual in America. But we have seen this play out in recent years, not the least of which was on January 6th, with real, significant repercussions to our nation. … We've seen Q-inspired murders. So how do we, as a society, continue to have a democracy when you have a certain percentage of the population totally divorced from reality?"
"Democracy only works if we all operate at least on the premise of reality; frankly, these people are departing from it, so there's a question about what it means for the American system," he said.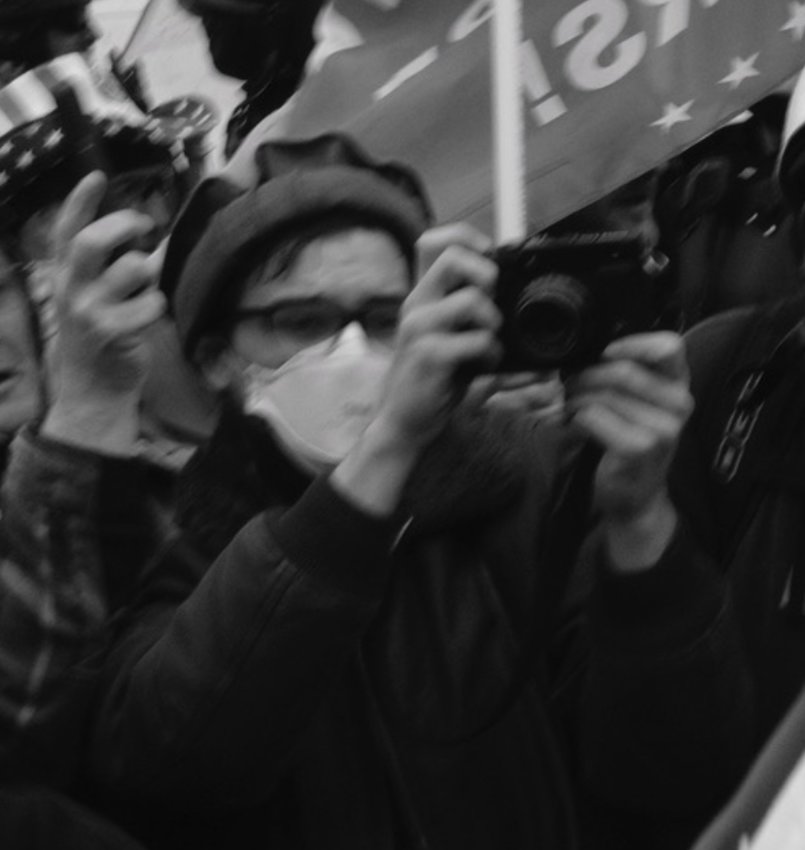 On the front lines in West Virginia
Christopher Jones is a former U.S. Marine turned photojournalist and investigative reporter, whose bylines have appeared in The New York Times, Vox, Pacific Standard magazine, USA Today, The Washington Post and other outlets. In 2020, he accepted a post with Report for America, covering domestic extremism for the "100 Days in Appalachia" project.
In 2021, his work was recognized with the National Edward Murrow Award for Hard News.
Jones' journalism career began while serving in Afghanistan. "2010 was the deadliest year for Americans in Afghanistan and also the year when there was less reporting on Afghanistan than any other year," he recalled. "We had this insane dissonance. We were getting our asses kicked there, and it wasn't as if America had tuned out from the news coverage; there just wasn't news coverage."
When his time in the Corps ended, he enrolled in college at Columbia University and started working as a freelance journalist for local titles, like Gothamist and the Village Voice. During his semester breaks, he'd travel back to Afghanistan and learned from the best journalists in-country.
When Jones moved to Morgantown, West Virginia, he discovered that armed militias abounded. There's a "deeply baked" distrust of the government and for any "outsiders" who have come into the state, exploited the people and the natural resources, cashed in and moved on, he explained. They've been worn thin by Big Coal and by fracking. They see their infrastructure crumble while state reps espouse the virtues of austerity.
"The other thing about West Virginia is that there's lots of access to guns and places to shoot them." So it makes the state ripe for radicalization, and in fact, seven elected officials from West Virginia stormed the Capitol on Jan. 6; only two have faced charges.
The pandemic didn't help matters. West Virginia didn't have the same experience with COVID as other places around the country — opioid deaths are a greater concern — yet their businesses and gathering places were shuttered, he said. "You had these rural populations who were pushed online. Outside of the bar, where do they go to hang out now? They hang out on Facebook."
Earlier this year, Jones penned a column about the press' failure to meaningfully cover extremists. Instead, he's seen national outlets parachute in and out, and TV news broadcast "riot porn." Part of that reluctance to report on these groups and personalities may have to do with fear — of the subjects themselves and political backlash.
"As a newsroom, you have to be comfortable with the reality that there are people who are born and raised in the United States who want to overthrow democracy with violence. You have to be willing to say that there are people in your community who are insurgents. We use the word 'extremism' because we're all scared to use the right word, which is 'insurgency.' … An insurgent is somebody who is going to use terrorism for political pressure, who uses public displays for a political goal. As journalists, you have to accept that you are on the front lines, covering something violent and dangerous," he explained.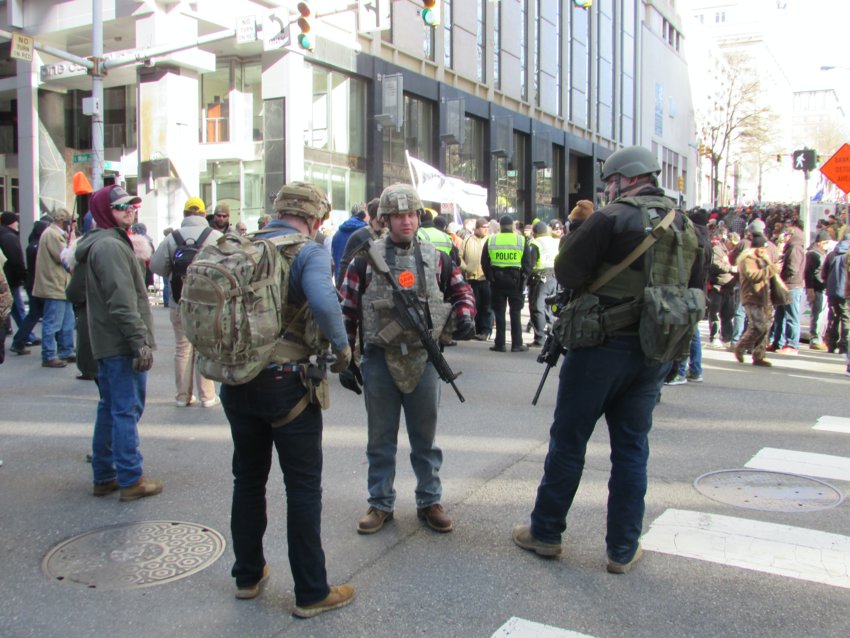 Jones argues that the best way to be objective but effective on this beat is to cover it as a matter of public safety. For example, when armed groups show up for a protest, don't allow the story to drift off into a broader gun control debate. "If you are bringing firearms, advocating for violence against fellow Americans over politics, you are a threat to public safety, and you should be held accountable," he said.
Jones' military background prepared him for the reporting assignment in a couple of ways. "I'm okay with being around angry white dudes with guns pointing at each other. That is like the closest thing I have to a comfort zone," he said.
"To be honest with you, going from dodging IEDs and avoiding ambushes makes looking for Y'all Qaeda types in the woods pretty fucking easy," he added.
Jones has been able to cultivate sources within some of the militias he reports on; it doesn't hurt that he's a tall guy with a beard who did two tours in Afghanistan and that he's not into "journalism cosplay." He doesn't show up to militia meetings in the forest dressed in body armor.
"The only thing that protects me while I'm working is the First Amendment, which protects everybody equally," Jones said.
"Extremist groups will go to great lengths to depict themselves as reflecting the ideals of their community, or describe themselves as simply 'concerned citizens,' but this is a deliberate tactic used to normalize their behavior," Jones explained in his 2021 column.
He pleads with other reporters to avoid "false equivalency."
"This year, 'Antifa' and various far-right groups, like the Proud Boys, the Oath Keepers and others were often described as oppositional forces who violently acted out their political affiliations in the streets across the country," Jones explained in his column. "This helped create a false idea that armed right-wing groups who showed up to protests or other public events were justified in their need to defend themselves and their community from violent far-left activists."
This journalism should be relentless, and it should be local, he suggested.
"They plan and have training events in secret, but then they come out with these very media-oriented public-facing events, and that's what gets covered. So what's being reinforced is that no one pays attention unless they show up on Main Street with a bunch of rifles. That's such a dangerous feedback loop to have with armed insurgents in America," he warned.
"Often, these groups will go out into the woods to have training events. I find out about them because that's my job, and I show up. I'm in their safe spaces where they don't think they're being observed, where they start gravitating toward actual violence. I disrupt that, in a way, showing up to say, 'I'm a journalist. You guys do your thing, but I'm going to listen and write about this.' I'm not confrontational about it, but I make it clear that America is watching."
Gretchen A. Peck is a contributing editor to Editor & Publisher. She's reported for E&P since 2010 and welcomes comments at gretchenapeck@gmail.com.