In the week leading up to the first anniversary of the January 6th Capitol attack, Department of Homeland Security Secretary Alejandro Mayorkas hosted a conference call with reporters, during which he said, "The threat of domestic violent extremists is very grave," according to reporting by USA Today's Bart Jansen.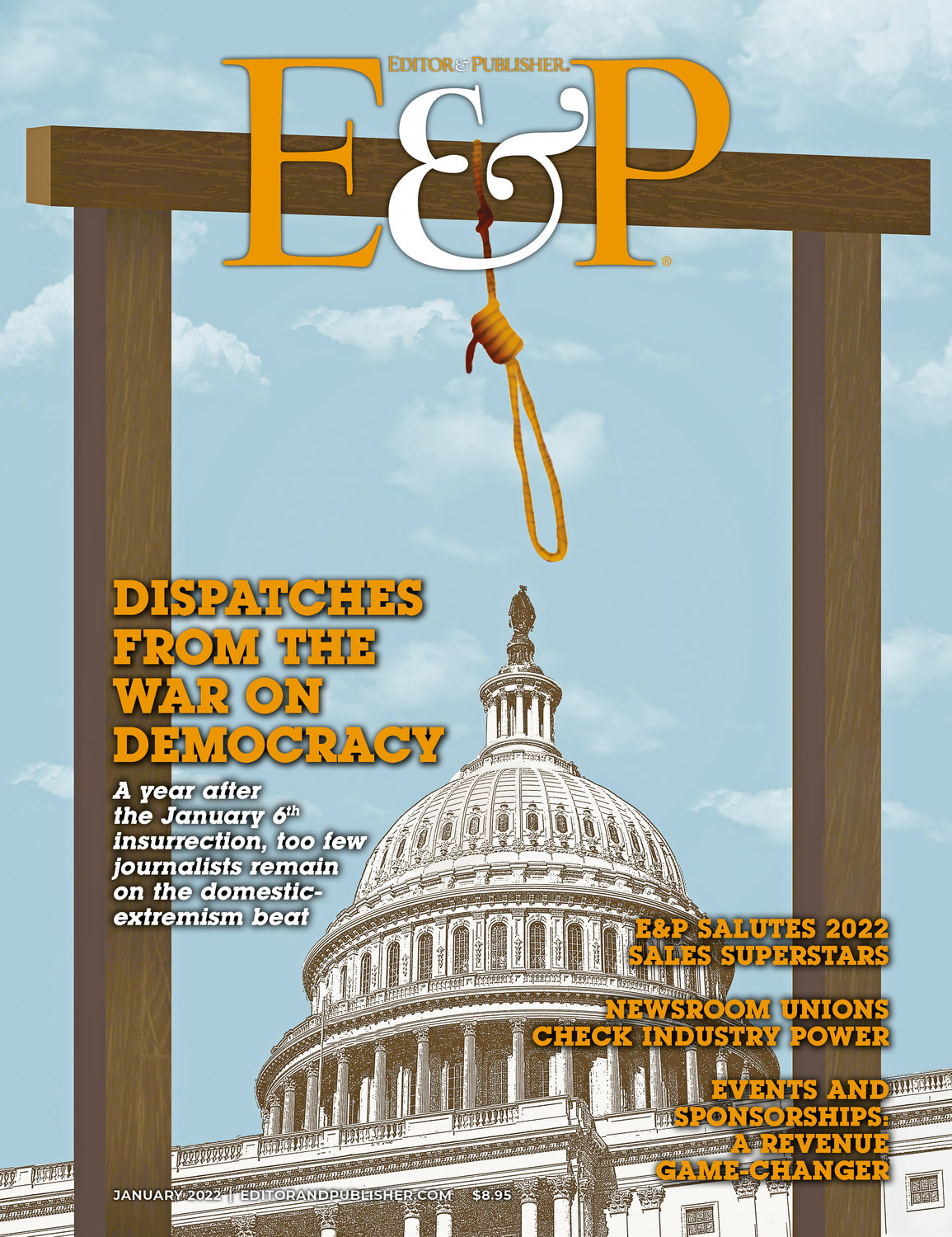 E&P devoted its January 2022 cover story ("At the front lines, on the homefront") to memorializing the January 6th assault on the nation's
Capitol and to inform our readers — news publishers — about what it's like to report on domestic extremism; what the perils are to journalists; how to prepare for potentially violent or dangerous conflicts; and why these stories matter nationally and within our local communities.
As a sidebar to the cover story, Carlos Martinez de la Serna and the Committee to Protect Journalists provided insightful safety tips for journalists covering potentially dangerous conflicts and violent clashes.
In this 118th episode of E&P Reports, E&P Publisher Mike Blinder is joined by Roxanne Cooper, executive editor and publisher at Raw Story and two of the journalists who shared their reporting experiences with E&P contributor Gretchen Peck for the cover story — Jordan Green, staff reporter at Raw Story, and Christopher Jones, a former U.S. Marine turned Report for America journalist who now reports for the GroundTruth Project and 100 Days in Appalachia, the 2021 recipient of the Edward R. Murrow Award for hard news reporting.
Chris Jones was at the Capitol on that fateful day and somehow managed to capture among the most intimate and haunting images you'll see of that day. You can find them here at the GroundTruth Project. Jones is no stranger to violent clashes. He served two tours in Afghanistan, and when Peck interviewed him in late 2021, he acknowledged that being around heavily strapped men was about the closest thing he had to a "comfort zone."
Like so many others who chose the profession, Jones was led to journalism because he saw a wrong that he wanted to help make right. During his service in Afghanistan, Jones saw the violence and toll escalate while the press coverage of the ongoing war diminished. So when he finished his service, he enrolled in school and during his semester breaks, he'd travel back to Afghanistan on his own dime to continue telling the story of what was happening there and to learn from some of the journalists who remained.
He now reports on domestic extremism on the homefront, including armed militias prevalent in his adopted state of West Virginia. He explained to E&P Reports that it's a "complex beat" to cover. On the one hand, the people he encounters can be volatile, potentially violent, angry and not particularly fond of the press. But, on the other hand, they are human beings, Jones explained, who often want to feel seen and heard.
Even with all he's seen and experienced in Afghanistan, as a soldier and reporter, Jones still credits January 6th as "the worst day of my life, and I've had a lot of bad days," he said during the vodcast. He said the number of people who came to the Capitol with firearms was underreported in the press.
Raw Story's Jordan Green saw January 6th insurgents with guns, too. He was on the ground there, as he has been with so many significant events over the course of recent years, including reporting from the deadly and grotesquely violent Unite the Right rally in Charlottesville. He reports on militias and hate groups of all political persuasions. In fact, he was reporting on a "far-left" armed militia when he traveled to Charlottesville for Unite the Right.
"Apologists have said that insurrectionists were not armed," Green said during the vodcast. "Last month — or this past month — the first January 6th defendant, Mark Mazza from Indiana, was indicted who carried a loaded firearm at the Capitol. And it was loaded with hollow-point bullets, designed to explode on impact."
Roxanne Cooper noted that Raw Story's newsroom was well-positioned to report on January 6th because they've been reporting on violent extremists for more than a decade. That scores of militias, hate groups, white supremacists and other violent domestic factions showed up on January 6th came as absolutely no surprise to Cooper and Raw Story's reporters. Though there have been hundreds of arrests and varying degrees of prosecution for January 6th offenders, it's unknown how much of a deterrent that is to other extremists whose anger has not likely dissipated.
Chris Jones urged editors and the reporters they talk to about this beat to read up on U.S. history of domestic extremism, dating back decades. He suggested that context and depth of knowledge will better inform their reporting.
The journalists also discussed the trepidation or reluctance that some newsrooms might feel about covering extremist groups or events at the local level. Instead, they talked about framing coverage as a matter of public safety and keeping the stories' focus on victims — always on the victims.