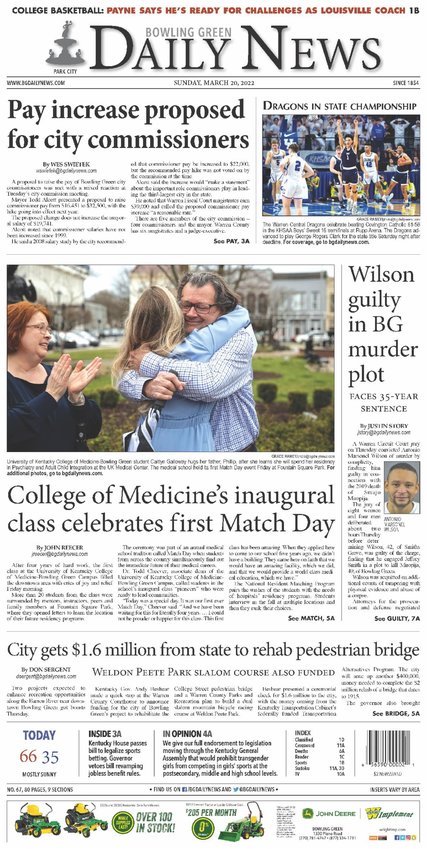 After 140 years of local ownership by the Gaines family of Bowling Green, an agreement has been reached to sell the Bowling Green (Kentucky) Daily News to Carpenter Newsmedia LLC, an affiliate of Boone Newspapers Inc., a family-owned organization based in Tuscaloosa, Alabama, according to Randy Cope, director, Cribb, Cope & Potts, who represents the Gaines family.
The sale is expected to close June 30. The transaction includes the Daily News, along with four other publications — the Country Peddler weekly shopper and three magazines: Bowling Green Home and Lifestyles, South Central Kentucky Homes and Auction Guide.
"It was indeed a difficult decision, and it wasn't one that was made quickly or easily," said Pipes Gaines, publisher emeritus of the Daily News and co-owner of the newspaper along with his sons, Publisher Scott Gaines and Editor Steve Gaines. "For 140 years, it's been an incredible legacy. We look back on it with a lot of pride. "Over the decades we have put out a quality product that has served our advertisers and readers very well. ... We didn't do this by ourselves. The employees who work here now or in the past have had a major part in any success we have had."
Boone Newspapers owns or manages more than 90 newspapers and other publications in 12 states, according to the company's website, including several in Kentucky. BNI's controlling stockholder is Chairman Jim Boone of Tuscaloosa, and his wife and children own all other stock in the company. Todd H. Carpenter, based in Natchez, Mississippi, is the company's president and CEO. Carpenter said BNI does not take lightly the standard set by the Gaines family in its many decades of Daily News ownership.
"We are pleased and proud to be chosen by the Gaines family as their successor in responsibility for the newspaper," Carpenter said in a statement. "We take that responsibility very seriously and will work hard to meet our every obligation to the community and to our team members. ... We look forward to getting started and meeting the staff, rolling up our sleeves and getting to work in support of their efforts to serve readers and advertisers."
Pipes Gaines said Boone Newspapers' track record of solid stewardship of community newspapers was a key factor in the selection of BNI as the next owner of the Daily News.
"Two considerations were very important to us," Gaines said. "We were choosing a buyer that had the same strong commitment to quality and strong community journalism, and we were looking for a buyer that would treat our coworkers the way we would want them to be treated."
Cribb, Cope & Potts is a leading merger and acquisition firm with offices in Arkansas, California and Montana.