Google announced via its blog on Thursday that it will be "removing links to Canadian news from Search, News, and Discover products and will no longer be able to operate Google News Showcase in Canada." Kent Walker, President of Global Affairs, Google & Alphabet, made this announcement.
The move comes in response to Canada enacting a new law entitled Bill C-18 (the Online News Act), requiring Google and Meta to enter into agreements with Canadian news publishers to pay for news content that appears on their sites "if it helps them generate revenue."
In passing the bill, Canadian Heritage Minister Pablo Rodriguez stated, "The law creates a level playing field between online advertising giants and the shrinking news industry." He then promised to push back on what he describes as "threats" from Facebook and Google to remove journalism from their platforms.
In almost an immediate response to the bill's passage, Meta pledged last week to pull news from Facebook and Instagram in Canada, citing in their official statement, "The Online News Act is fundamentally flawed legislation that ignores the realities of how our platforms work, the preferences of the people who use them, and the value we provide news publishers. As the Minister of Canadian Heritage has said, how we choose to comply with the legislation is a business decision we must make, and we have made our choice."
Now it's Google's turn to battle the legislation. In Thursday's announcement, the company stated, "The unprecedented decision to put a price on links (a so-called 'link tax') creates uncertainty for our products and exposes us to uncapped financial liability simply for facilitating Canadians' access to news from Canadian publishers. We have been saying for over a year that this is the wrong approach to supporting journalism in Canada and may result in significant changes to our products."
According to today's press release from News Media Canada, Google has also informed all Canadian news outlets that it will be cancelling all agreements as of July 31st.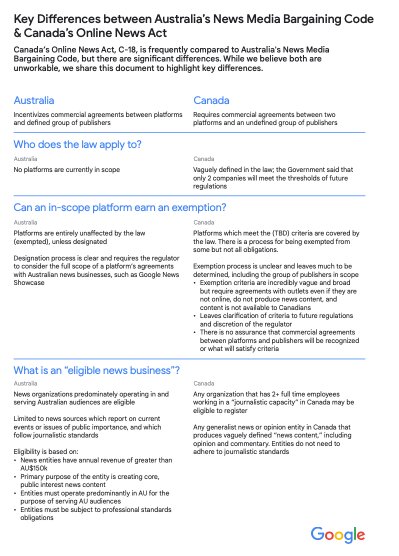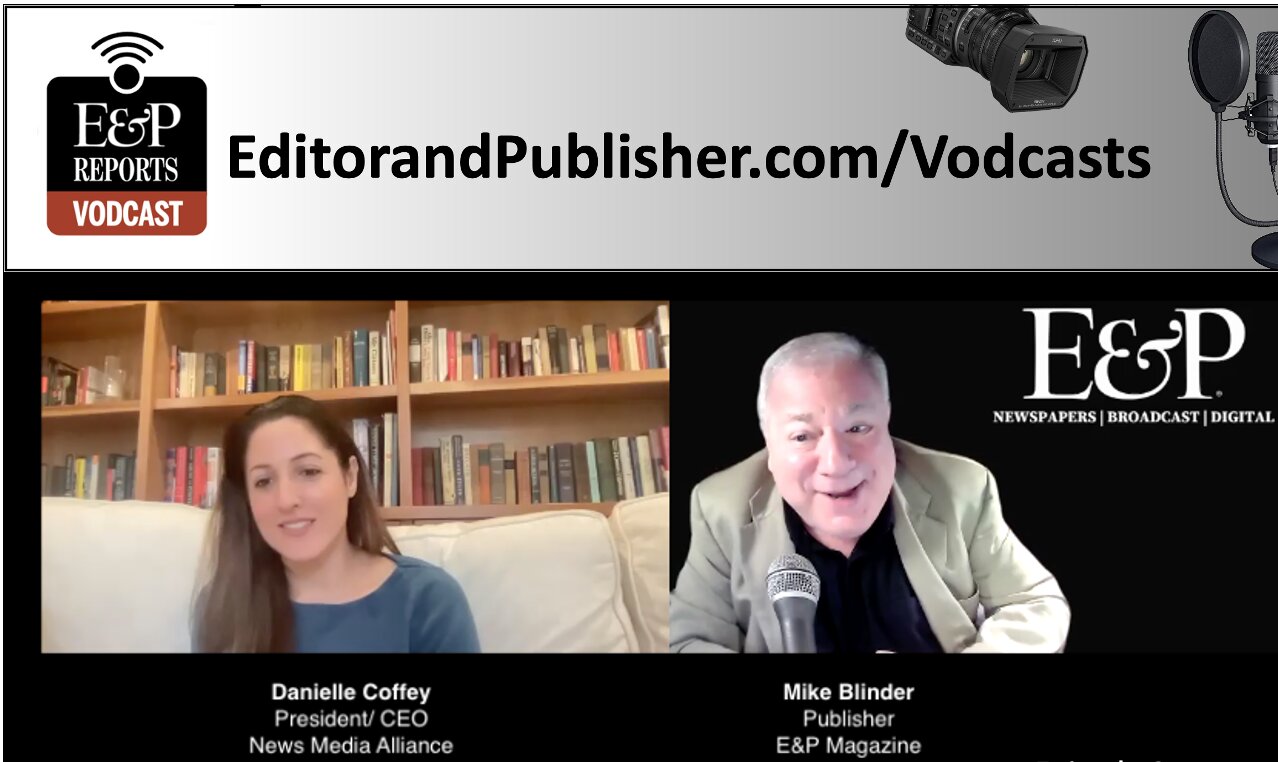 Coffey went on to add: "I think that underscores the problem that we have, which is a bigger issue, the dominance of the platforms in and of itself. The fact that they can make a decision that would impact citizens so greatly should be concerning to us."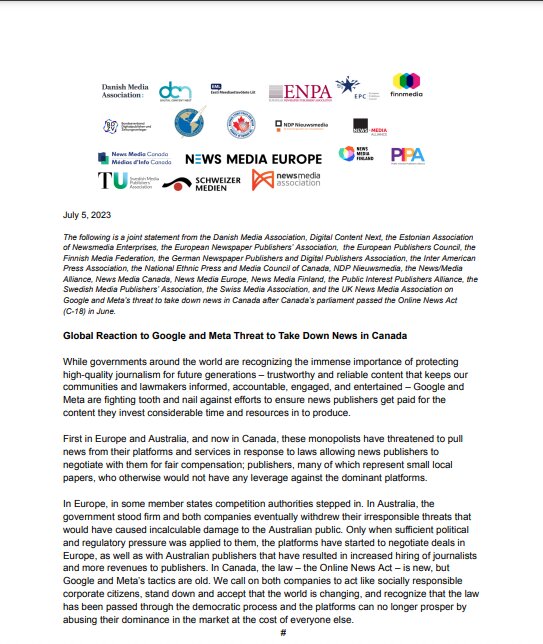 The News/Media Alliance has also put out a "
Joint Statement
" offering the "Global Reaction to Google & Meta's Threat to Take Down News in Canada," stating: "First in Europe and Australia, and now in Canada, these monopolists have threatened to pull news from their platforms and services in response to laws allowing news publishers to negotiate with them for fair compensation; publishers, many of which represent small local papers, who otherwise would not have any leverage against the dominant platforms".
E&P has reached out to a number of industry leaders in order gain their response to Google's recent actions.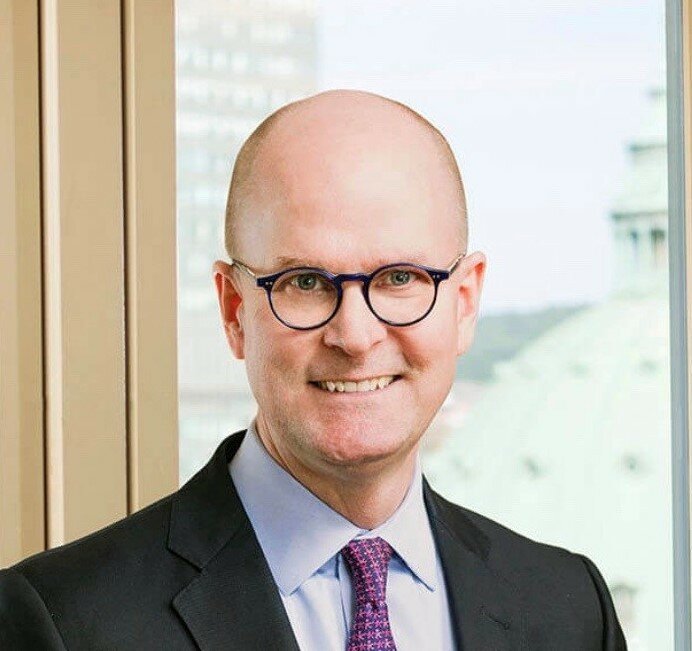 Paul Deegan
, President, and Chief Executive Officer of
News Media Canada
said in his statement to E&P: "Blocking access to fact-based, fact-checked news from authoritative publishers goes squarely against Google's stated mission to organize the world's information and make it universally accessible and useful. It would harm user experience and devalue and degrade their search engine, which would provide an opening for Microsoft in a lucrative G7 market."
Deegan went on to state: "Rather than demonstrating their extraordinary market power by withholding access to timely, accurate news for Canadians, this is a time for all stakeholders to act in good faith, as responsible corporate citizens, and engage actively in the regulatory process to ensure that regulation is balanced, predictable and fair. Google has stated that it plans to participate in the regulatory process, and it hopes that the Government will be able to outline a viable path forward. We believe there is a viable path forward. They have been a good partner to Canadian news publishers, and we look forward to working with them for many years to come.
Rick Edmonds,
Media Business Analyst and Leader of News Transformation for Poynter, stated: "Google has turned to this tactic in Australia and many European countries. They mean it and will follow through. But they also have reached agreements to pay for news in many of those countries. So, they remind me of the big bad wolf, who threatens to huff and puff and blow your house down."
Dean Ridings
CEO of
America's Newspapers
said in his statement to E&P: "Google's decision to join with Meta in removing links to Canadian news articles is damaging to all Canadians. While the free flow of information is important, content producers must be compensated for their work in order to have a sustainable news ecosystem. Google and Facebook are highly profitable, and it is past time for them to pay for the content that they use."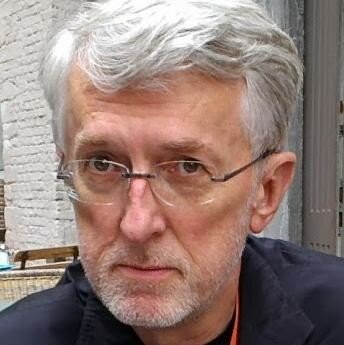 Jeff Jarvis, Director, Tow-Knight Center for Entrepreneurial Journalism at CUNY's Craig Newmark Graduate School of Journalism, pulled no punches stating to E&P: "Canada's politicians and publishers should have been careful of what they wished for. They wanted to force the question of the relative market valuation for links vs content. As it turns out, content loses. News is of not much value to Facebook and not of much more to Google. And as more people actively avoid news, according to the latest Reuters Institute report, it becomes apparent that commodity news holds less value for the public than journalists like to think. As for the platforms' links to news, they are terribly valuable to publishers -- and now they will lose them. Canadians will lose, publishers will lose, even Google and Facebook will lose at the hands of Canada's attempt at protectionism. The cynicism of it became all too apparent when, as soon as C-18 passed, the Toronto Star and PostMedia revealed their merger talks, demonstrating whom the law would benefit: Hedge funds and investors. Legislators considering Californian and US versions of this baksheesh bill in the CJPA and JCPA had best pay attention and beware."
Access more stories on News Media vs. Big Tech compensation and antitrust issues at EditorandPublisher.com/BigTechComp