A great new bill has been introduced in the House of Representatives to strengthen local news — important not just for its substance but its champion. The lead author is Rep. Claudia Tenney, a conservative Republican from upstate New York.
The Community News and Small Business Support Act (HR 4756) attempts to address a horrifying phenomenon: local news is disappearing from thousands of communities across the country. Two newspapers are closing each week, on average. There's been a 57% drop in newsroom employees since 2004. Thousands of towns have no local news source or "ghost newspapers" barely covering the area.
The substance of the bill is smart. Tenney and her co-sponsor (Rep. Suzane DelBene of Washington) basically honed in on two excellent parts of an earlier piece of legislation, the Local Journalism Sustainability Act (LJSA). The LJSA included a tax credit for small businesses that advertise in local news and a payroll tax credit for hiring and retaining local journalists. This one-two punch would dramatically help local news.
But while Democrats in the past have stressed the payroll tax credit (which we love), Tenney has inverted the emphasis. She rewrote some of the bill's language and changed its name to underline that the first tax credit goes to restaurants, grocers and other small businesses supporting their local newsrooms.
As with the original LJSA proposed in the House in previous Congresses (and in the Senate by Senators Maria Cantwell, Charles Schumer, Mark Kelly and Ron Wyden), the bill would provide up to a $5,000 tax credit in the first year and $2,500 in the subsequent four years to a small business that advertises in local news. In effect, it would reimburse 80% of their local ad spend in the first year and 50% after that.
This will directly help the small businesses, many of which had to cut back on their marketing spending because of COVID and then inflation, to get customers in the doors.
It makes sense because saving local news should not be about saving journalism jobs per se. It should be about strengthening communities. Politically, if we are to succeed, we need to expand our group of friends beyond other journalism trade groups. A similar bill proposed by Republicans in Wisconsin drew endorsements from the associations representing restaurants, taverns, convenience stores, banks and dentists.
This is also a critical moment because of who Claudia Tenney is — a serious conservative Republican. She endorsed Donald Trump, and he endorsed her. While Tenney was in the New York legislature, the Conservative Party named her the state's most conservative legislator. The Susan B. Anthony List, a leading anti-abortion group, backed her.
And yet she fervently believes in the need to strengthen the local press.
She also believes that this particular policy approach is Republican-friendly. In the case of the small business credit, the local restaurant — not a board of luminaries in Washington, D.C. — will decide where the ad spending goes.
In the case of the payroll tax credit, the benefit is tied to the presence of a local reporter, creating proper incentives for media companies to invest in editorial coverage of their communities. Like the previous one, the new bill would provide up to a $25,000 benefit to news organizations in the first year and $15,000 annually in years two through five. National news organizations are not eligible.
One could argue that this approach is the spiritual descendent of the Founding Fathers' postal subsidy — a substantial form of support provided broadly in a content-neutral manner.
She and DelBene improved the bill by adding more safeguards against funds going to "pink slime" websites. For instance, news organizations will not be eligible if they are controlled by or get significant funds from political action committees or 501c4 "social welfare" advocacy groups.
Tenney has a unique feel for this because her family owned a local newspaper. But she also has seen in upstate New York how vital community news is to a community's economic health, including the rural areas she represents.
A Rebuild Local News analysis shows that by some measures, the spread of news deserts is actually hurting Republicans disproportionately — in part because the damage is especially severe in rural areas, where Republicans are strongest. According to an analysis by the Rebuild Local News Coalition, of the 205 counties nationwide with no newspapers, 93% were counties with less than 50,000 population, and 79% voted for Donald Trump in 2020.
Tenney's approach is to put aside their grievances with the national press and focus on saving community news.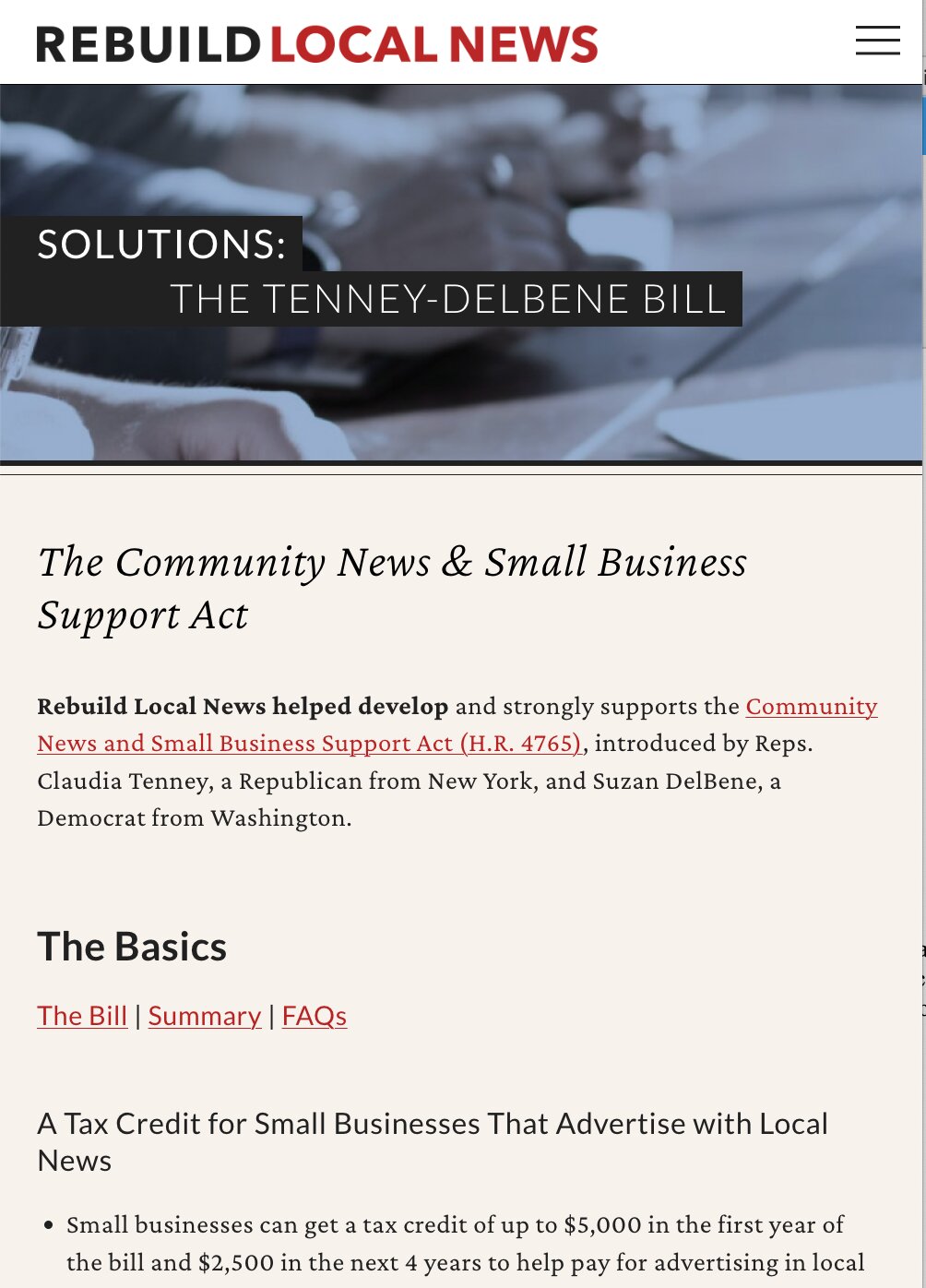 It's telling that the bill has been endorsed by the National Newspaper Association, which represents small weeklies, including many in rural, Republican areas — as well as America's Newspapers and the press associations in Kansas, Texas, Arizona, West Virginia and many other conservative states. It has also been endorsed by the labor unions (NewsGuild and Communications Workers of America). It has strong Democratic support in the Senate from Maria Cantwell, Charles Schumer, Mark Kelly, Ron Wyden and others.
Policy proposals often get watered down to increase their political appeal. But that's not what happened here. The combined impact of these two highly-complementary provisions would be massive — the largest effort to support local news since President Washington signed the postal subsidy in 1792. Moreover, it would significantly benefit both rural areas and urban communities, many of which desperately need more coverage.
We know that passing legislation in this Congress will be a long shot. But this creates the foundation for passage and, in the shorter run, can provide a blueprint for bills in state legislatures.
It's worth noting that Tenney is pushing this bill even though the local press has provided plenty of tough coverage of her. That is gutsy.
This forces those of us advocating public policy to confront this reality: any public policy to help local news has to support a wide variety of local news outlets. If a local small business wants to spend its ad dollars with the local Fox TV affiliate, progressives should accept that. And if they want to spend it on the local news nonprofit, conservatives should also nod along. That makes it First Amendment-friendly and able to solve the problem on a large scale.
This bold new version provides a creative template for Republicans who want to help save local news. Hopefully, it will mark an important pivot toward the issue becoming truly nonpartisan.
We hope publishers will encourage their members of Congress (especially Republicans) to co-sponsor the federal bill and state legislators to consider local versions of this approach.
Steven Waldman is the chair of the Rebuild Local News Coalition, which represents more than 3,000 local newsrooms, and co-founder of Report for America.