The last message from Beto reached my phone Tuesday morning. It's a weather forecast image showing a storm system heading toward Acapulco. It was a tropical storm when he sent it, but the forecast predicted that, when it hit land, it would be a category 1 hurricane. Beto grew up in Acapulco. He's been through storms. A small hurricane? Not a big deal.
The forecast image on my phone screen was followed by a smiling face emoji and one word — "Otis."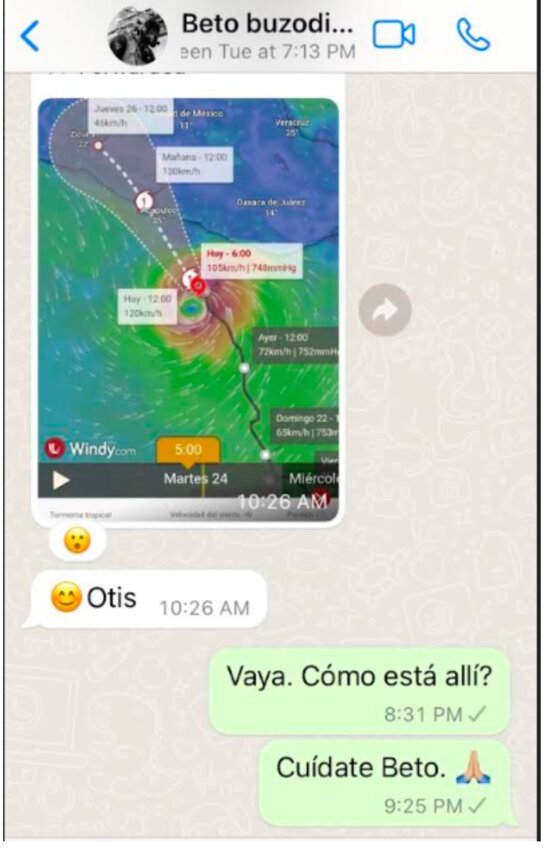 It's a personal joke I instantly understood. Beto's last name is Odis — the result of two errors by the Acapulco municipal clerk who recorded his parents' marriage in 1964. When asked to give his name, Beto's Canadian father said "George Otis Deline." In Mexico, it's  common to use both of your parents' last names — paternal followed by maternal. So, the clerk assumed his paternal last name was Otis, which he then misspelled as "Odis." With this, Beto and his brother would become los hermanos Odis — the Odis brothers.
I didn't see Beto's message sent via Whatsapp until late that night, when I checked my  phone upon hearing that a major hurricane was barreling toward Acapulco. I responded with a worried-face emoji and a question — how's it going there?
It's Friday now. There's been no power or phone service in Acapulco since Tuesday. My message to him is still marked as unread.
Beto and I divorced more than a dozen years ago, but we share two boys together and remain "family." I spent long periods living with him and his mother in Acapulco and traveling to surf towns along Mexico's southern Pacific coast. Acapulco's breathtaking shoreline, where the blue waters spread out endlessly before the dramatic rise of the lush range of the Sierra Madre del Sur, still feels a bit like home.
A pit now sits in my stomach as I see the images emerging from Acapulco. The glitzy highrise hotels and condos stretched out along the sand have been stripped to their frames; the floor-to-ceiling windows that provided thin shelter from the elements are gone. Remnants of balcony railings, roofs, trees and sheet metal litter the ground below. Looking dazed and desperate, the people of Acapulco walk through the muddy water covering "la costera" — the main avenue running along the city's coastal edge — carrying food and goods lifted from the unmanned stores. There are no police on site. The soldiers sent to provide aid make no move to stop the looting.
I scan social media feeds and Mexican news coverage, searching for Beto's face — or that of anyone from his family. Beto and his brother live in a three-story concrete house a few blocks from the costera.
In the 2000s, I watched with a bit of envy as the string of highrise, luxury buildings went up in the Diamond Zone to the south of Acapulco Bay, a low-lying area near the airport, situated along a spit of land between the Pacific and the Laguna de Tres Palos. They rose up one after the other on the narrow stretch, higher and higher each one, it seemed, quickly overshadowing the famed Princess Hotel that long had been the area's chief landmark and was the final home of the then-world's richest man, Howard Hughes. Envious because I wished I could afford to have the view these condo-owners claimed. But, I also remember thinking — there's a reason this had been an undeveloped beachfront for so long: There'd be no protection from a storm.
Hundreds, thousands of people lived or vacationed in these pricey luxury buildings. As I see the images just now starting to reach the outside world, I look at those hollowed out, shattered shells of buildings and wonder — where are the people? What about the people who were in there, sleeping in their beds unaware that Tropical Storm Otis had transformed into a monster — that it roared toward them at an intensity never seen before in Mexico?
On Wednesday morning, as I checked my phone, there was little news from Acapulco. Roads to the city had been cut by roaring rivers and mudslides. The international airport — as well as the nearby military airfield — were shut. Power lines, phone service and internet were down. There was no way to get news out and almost no way to get in.
By Thursday, reporters armed with satellite phones and links were making their way  through Acapulco's flooded streets and social media began to show the devastation.
Now it is Friday and, aside from a few stories making it onto U.S. airwaves or websites, it is still near radio-silence.
Dear U.S. media, why aren't you giving this disaster the attention it deserves? A city of 1 million people in our neighboring country has been hit with a catastrophe unlike any other seen there before. Hundreds of thousands of our neighbors have no water to drink or food. Their homes and belongings have been lost. They are desperate.
Where is the wall-to-wall coverage of this disaster afflicting a major city of our nextdoor neighbor? Where are the TV crews doing live shots? Why isn't our government explaining how it is helping get basic aid to this metropolitan port city of 1 million people? Why isn't anyone noticing this?
Sadly, I know why. Because, by and large, our U.S. media do not think of Mexico as our neighbor. Why? Because our major media outlets are, by and large, led by people from the East Coast, people who only experience Mexico as a tourist destination — or a reason to complain about immigrants and drug cartels. To them, Mexico is a far-off dark spot, it is not "family" as it is to me and millions of others here.
I've spent the last three decades working in newsrooms across the U.S. When I first started, I was usually the only Mexican-American in the room. More than 30 years later, as a veteran journalist who has risen to editorial leadership, I am still usually the only Mexican-American in the room.
For people like me — the people of Mexican descent who make up the largest portion of the largest ethnic group in the United States — Mexico is not some far-off land. Mexico is our second home. It's where our loved ones still live. It's the place that is like our second skin.
Let me repeat what I just said: Mexican-Americans make up the largest portion of the largest ethnic group in the United States. Does that surprise you? If it does, you're  probably not Mexican, or you're probably not from the West.
On the East Coast, researchers and analysts tend to lump us in with the "U.S. Hispanic population," which reached 62.1 million people in 2020 — or nearly 20 percent of all Americans. There are more Hispanic Americans than Black Americans, according to the Census. And, of this significant ethnic group, more than 60% of us are either from Mexico or descended from those who came from Mexico, like my own family.
But Mexicans get little attention from East Coast media. We are not like the Cubans who dominate Florida media, or the Puerto Ricans in New York. We do not have the concentrated influence to demand such coverage. Our people are everywhere, yet not concentrated enough to be visible or to shape the public view.
In California, the country's most populous state, Latinos like me and my children are about 40 percent of the population, and most of that number are Mexican by birth or heritage.
In Texas, the country's second-most populous state, more than 40 percent of people are Hispanic, also mostly Mexican, surpassing the portion of non-Hispanic white Texans.
Long ago, Acapulco was seen as a luxury destination, frequented by Hollywood stars of the Golden Age. Over the years, as it grew, the city began to sprawl out, the hotels along the main bay began to show their age. Coastal towns elsewhere in Mexico emerged, and their newer, more modern resorts drew high-spending tourists away.
But Acapulco remained a popular destination for Canadian and American retirees, as well as a vacation spot for Mexico's emerging middle class. It may have lost the exotic appeal it enjoyed in the '50s and '60s, but Acapulco still matters.
For those of us Americans who care about Mexico, not only because it is our neighor and the United States' second-largest trading partner after Canada, it is sad that this disaster receives little of our national attention. It saddens me that only a handful of outlets have sent news reporters in to witness and record the disaster unfolding there.
Mexico matters. It must matter. Mexico is our neighbor, our brother or sister, ourselves. It is wrong to not look at what is happening there. It is wrong not to give it our attention.
As I sit here, scanning the images looking for Beto's face, checking my social feeds for word from his family, I ask my colleagues in journalism to do more. I ask them to care.
I sit here with the pit in my stomach. I check my phone again. My last message to Beto — with an emoji of hands in prayer — is still marked as unread.
Michelle Morgante is a longtime journalist who spent more than 20 years with The Associated Press, where her many titles included U.S. bureau chief for the upper Midwest and foreign correspondent in Latin America. She also was deputy managing editor for National Public Radio, managing editor of the Merced Sun-Star, member network director for the Institute for Nonprofit News and founding editor-in-chief of the Central Valley Journalism Collaborative. A native of California, Morgante lives with her three sons in the San Joaquin Valley.