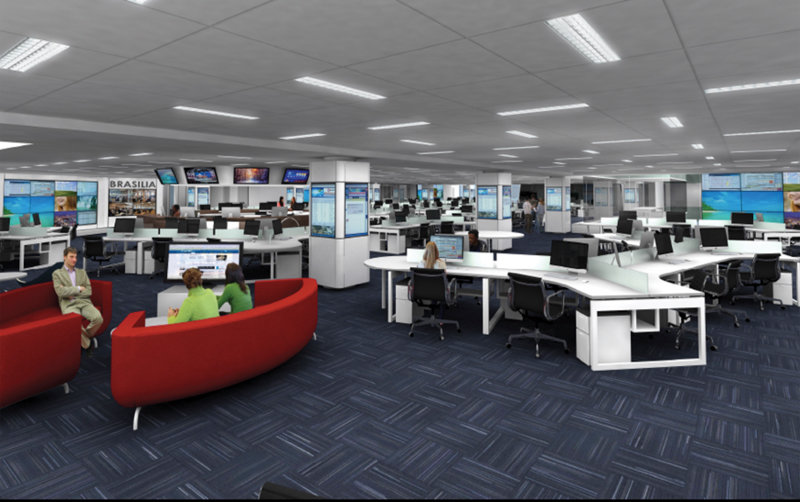 Pictured is a rendering of a proposed O Globo newsroom remodel developed by Innovation Media.
For 35 years, the media consultant group, Innovation Media, has helped newspapers and magazines across the world pave a path into the future under the mantra: "Good journalism is good business," said Juan Señor, a London-based partner for the company.
For Innovation Media, good journalism and business means helping newspapers transition to digital by rethinking everything about the operation, from the newsroom and production department to design and distribution model. Its mission is a complete transformation across all platforms, but the most important concept in the transition is to migrate the client's business model from ad revenue to reader revenue, said Señor.
"If in 2018 you're not asking readers to pay with their data or with their wallet, you should not be in the publishing business," he said. "This idea that you can build or rebuild a legacy brand through ad revenue is dead."
Señor said the mistake many newspapers have done is make cuts to the newsroom but the only way to make it in the digital age is to identify what your audience wants and deliver that.
"The key is to be an inch wide and a mile deep," he said.
Take for example, the largest newspaper in Rio De Janeiro, Brazil, O Globo, an operation that had been mainly in print for 90 years until Innovation Media came into the picture. They scrapped the business model based on ad revenue and a workflow centered on delivering a paper edition at the end of the day, and shifted the paper's mission to digital. To compete with the web, they pushed the editorial team to publish online during five primetime slots (8 a.m., 11 a.m., 2 p.m., 5 p.m., and 9 p.m.). They also noticed that their subscription rate was low after readers hit the site's paywall so they started publishing short, fast analytical pieces with breaking news in order to increase subscriptions. They also developed new digital products such as a newsletter, video programs, podcasts, and a mobile website.
Most importantly, there was a cultural shift at the newspaper that no longer focused entirely on the print edition, but focused on delivering quality journalism around the clock on digital platforms.
O Globo's story is a prime example of what Juan Antonio Giner, the company's founder and president, said he envisioned Innovation Media's work will look like in the future: to "help media companies to become 'multimedia information engines' serving readers, advertisers and audiences in communities with high quality journalism content on both on and off-line platforms."
For more information, visit innovation.media.