Covering Ian. The stories behind the stories
I am always inspired by our dedicated journalists around the state and throughout our nation who work so hard to bring needed information to citizens in their local areas. This is never more so than when a catastrophic event strikes, and we see our reporters rise to the occasion with extraordinary and timely stories that keep people up to date and informed.
And that was certainly the case over the last several days as we saw journalists in Southwest Florida rally in a way to cover Hurricane Ian as the massive storm approached and left its destruction in the very communities they call home. It was the same with our industry's market leads, GMs, publishers and the production folks who were also instrumental, whether publishing in print or online, in making sure local readers were given the tools they needed to lessen the storm's impact.
Florida newspapers and their dedicated staffs were there for their communities before, during, and after the hurricanes. Part of the hurricane protocol for our Florida newspapers is to do an employee and carrier check-in as soon as the storm passes. Checking in to ensure everyone is okay is often difficult because people are in homes with no power, internet, or cell service. Neighborhoods may be too flooded to get in or out. Sometimes tracking down those who could not check in involves someone from that newspaper getting in a car, dodging downed trees and powerlines, and sometimes that involves going on foot.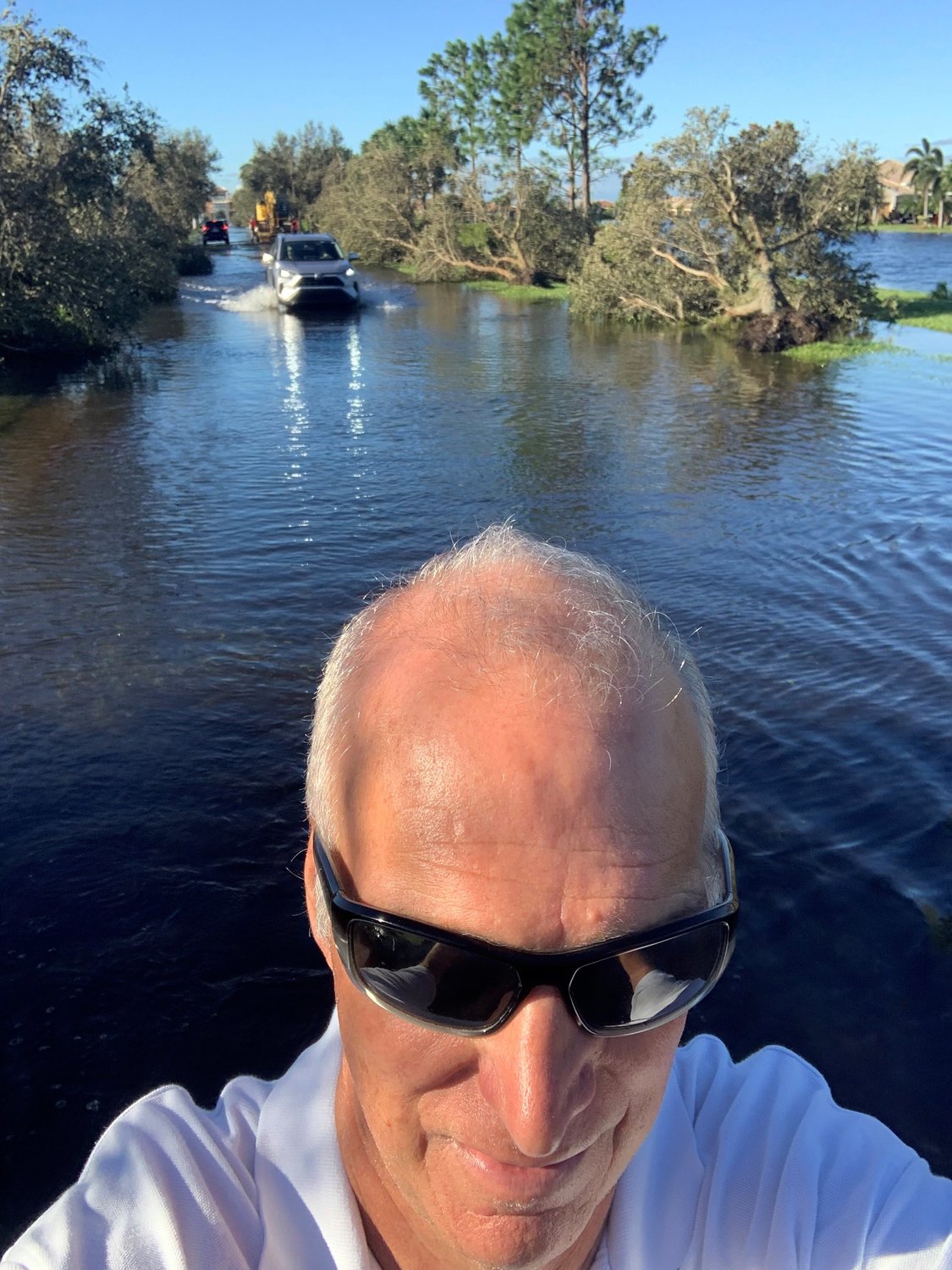 When the last "missing" employee at D-R Media was not able to check in, David Dunn-Rankin drove to the employee's subdivision, and because of flooding, David hiked to the employee's home in ankle to mid-calf deep water about 1.75 miles. The good news, the employee and their family were safe and sound. The terrifying 140 mph winds had buffeted their home, and flood waters had reached close to their door but not into their home. David would tell you that the family who went through the trauma of Ian and came out the other side had a challenging time. He was just a 64-year-old acting like a seven-year-old — getting to splash around in the puddles on a long, interesting walk.
This kind of outreach after a hurricane for our newspaper team members and from our newspaper team members to our communities is part of what makes it so special to be in the newspaper business in Florida. We took a terrible blow, and our first thoughts are for others. How can we help? Our hearts go out to all those newspaper team members who were impacted and individuals in the communities they serve who suffered so much. We are united in hoping and praying for recovery and rebuilding for those people and places confronting such an enormous and challenging path forward.
As for FPA's response, we moved quickly to create an FPA Hurricane Ian Support & Resources Hotline (321-283-5345) as a resource for our members. We will aggregate information for those who need it. One way we can assist is by helping our members find printers. Our Foundation and Association Director, Karen Tower, was integral in setting up the hotline. Karen notes, "Our members are the lifeline to our organization, and we'll do anything in our power to support them."
Karen is also setting up our local Community News Fund through our foundation and tech partner, Column, this week, allowing FPA newspaper members to solicit donations from their readers.
We will also send out an informal survey to see what supplies our members need and how the storm impacted you. Also, be on the lookout for an FPA virtual round table discussion we will be hosting soon on best practices on emergency plans, checklists and how to prepare in advance for these types of natural disasters in the future.
On the agency side, our VP, Carolyn Nolte, and the entire Intersect Media team are focused on retaining as much ad revenue as possible as we have seen softening in our insert business due to the storm. Our objective is to target new advertising business for our member partners to help us through this time of financial challenge.
We're in this together and our IM (Intersect Media) and FPA (Florida Press Association) family is ready to help our members in any way we can. We hope our help for our members, and by extension their communities will move us all forward to rebuild and flourish again.
Jim Fogler is president and CEO, Florida Press Association (FPA)
Reach him at: jfogler@flpress.com