On Monday, November 22nd, fewer than five months since the ink dried on their acquisition of the Tribune titles, Alden Global Capital made a formal play for Lee Enterprises. The initial offer was for $24/share. The news sent Lee Enterprises stock upward just before the Thanksgiving holiday. Adding it to its MediaNews/Digital First/Tribune holdings, the play would bring Alden's final holdings close to the size of Gannett.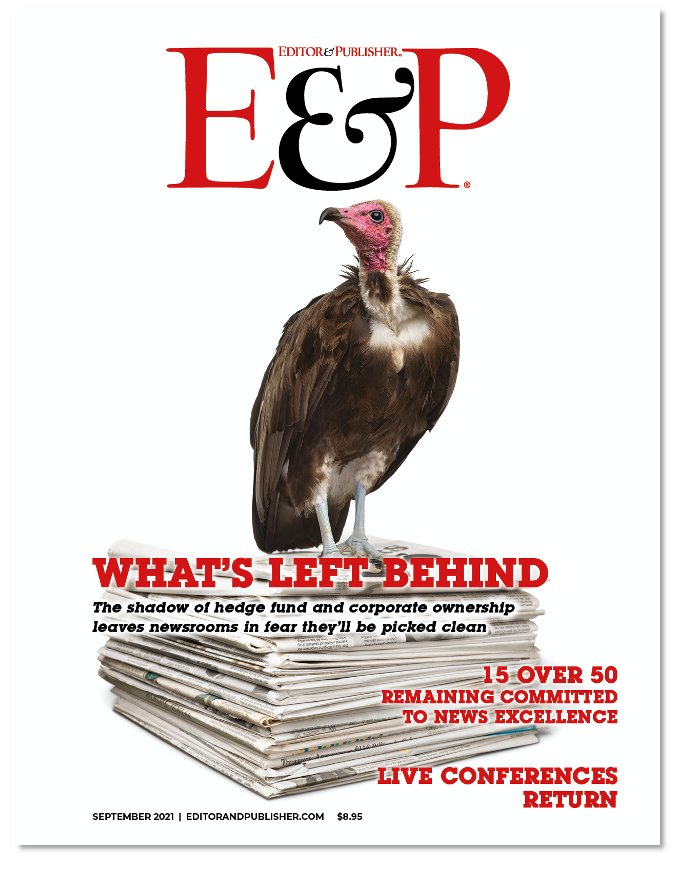 As reported in the September 2021 cover story of Editor & Publisher Magazine, "What's Left Behind, The shadow of hedge fund and corporate ownership leaves newsrooms in fear they'll be picked clean," Alden Global Capital has a track record of cutting staff and resources to gain profits at the expense of essential local journalism. Research shows that when local newspapers disappear or are dramatically gutted, communities tend to see lower voter turnout, increased polarization, a general erosion of civic engagement, and an environment in which misinformation and conspiracy theories can spread more easily. This was reported in Editor & Publisher's November issue, "Exploiting the local news desert: Are political and foreign interests profiting from the locals' loss?"
On Wednesday afternoon, November 24, 2021, Lee Enterprises, Incorporated (NASDAQ: LEE) announced in a press release that " its Board of Directors has unanimously adopted a limited-duration shareholder rights plan (Rights Plan)." The Rights Plan is effective immediately. In addition, the press releases stated, "Consistent with its fiduciary duties, Lee's Board has taken this action to ensure our shareholders receive fair treatment, full transparency and protection in connection with Alden's unsolicited proposal to acquire Lee," said Lee Chairman Mary Junck. "This Rights Plan will provide Lee's Board and our shareholders with the time needed to properly assess the acquisition proposal without undue pressure while also safeguarding shareholders' opportunity to realize the long-term value of their investment in Lee."
According to the statement, "The Rights Plan is intended to enable the Company's shareholders to realize the long-term value of their investment, ensure that all shareholders receive fair and equal treatment in the event of any proposed takeover of the Company, and to guard against tactics to gain control of the Company without paying all shareholders an appropriate premium for that control. The Rights Plan applies equally to all current and future shareholders and is not intended to deter offers or preclude the Lee Board from considering offers that are fair and otherwise in the best interest of the Company's shareholders."
Lee Enterprises is the fifth-largest newspaper company in the United States with daily newspapers and over 350 publications serving 77 markets in 26 states. Lee's markets include St. Louis, MO; Buffalo, NY; Omaha, NE; Richmond, VA; Lincoln, NE; Madison, WI; Davenport, IA; and Tucson, AZ.
Explore this week's "E&P Reports" Vodcast
Alden Global Capital's bid for Lee Enterprises, What the heck does it mean?
Host Mike Blinder speaks with Gordon Borrell, founder and principal of Borrell Associates; Rick Edmonds, media business analyst for Poynter Institute; Steven Waldman, president and co-founder of Report for America; and Gretchen A. Peck, contributing editor at E&P, about Alden Global Capital's offer to buy Lee Enterprises. They talk about the offer, the timing, the oncoming culture clash if the deal goes through, the possibility of pleading an anti-trust case, and so much more.