The News/Media Alliance, a nonprofit trade association representing approximately 2,000 print and digital news and magazine media companies in the United States and Canada, today announced it has selected Danielle Coffey as its new president and chief executive officer. Coffey, who currently serves as the Alliance's executive vice president and general counsel, will begin in her new role on June 1.
Since joining the Alliance in 2015, Coffey has led the organization's advocacy and strategy initiatives with a focus on the digital future for news, including spearheading the introduction of key legislation and advocating for a more favorable regulatory environment. Namely, she has led the effort on advancing legislation that would require Big Tech platforms to fairly compensate news publishers for use of their content.
Prior to her role at the News/Media Alliance, Coffey was vice president and general counsel for the Telecommunications Industry Association (TIA), where she led advocacy efforts on issues that affected the internet ecosystem, broadband deployment, content regulation and international trade. She was responsible for informing and educating government representatives about member companies' technologies and advocated for policies that facilitate innovation. 
Coffey said, "It will be an honor to lead this organization and this industry towards a strong and thriving future. I see tremendous opportunity for our expanded membership that now includes news publishers, magazines and digital publications. Our contributions to enriching society and democracy are limitless. I am deeply grateful to the Board of Directors for entrusting me to take on this role, and look forward to working with them, the Alliance team, and our affiliate organization the American Press Institute (API), to achieve many great things together."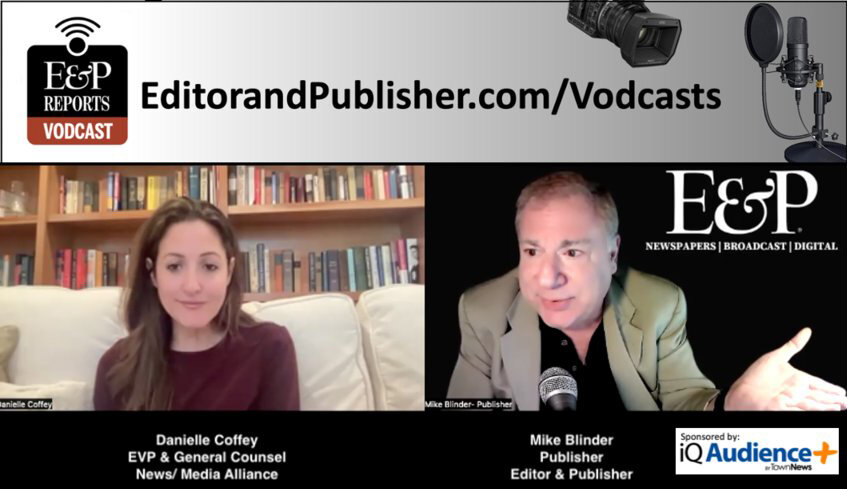 "Danielle's passion for the news industry, and for local journalism in particular, coupled with her policy expertise have proven an enormous advantage for the News/Media Alliance's advocacy efforts on behalf of our member organizations," said Maribel Perez Wadsworth, News/Media Alliance board chair. "Additionally, Danielle's deep knowledge of our members and industry will provide strong momentum around critical priorities, including a laser focus on passage of the Journalism Competition & Preservation Act."
Coffey is a graduate of San Diego State University. She earned her JD from the Catholic University Law School, with a specialization in Communications Law. She serves on the board of directors of the National Press Club Journalism Institute (NPCJI).
Over the last several years, the News/Media Alliance has led critical advocacy efforts, research, communications and events on behalf of publishers of high-quality journalism, which is critical to a strong and informed society in which government officials are held to account. In addition to the Journalism Competition & Preservation Act (JCPA), the Alliance produces integral industry and audience research that helps news and magazine publishers identify and implement novel approaches to help grow revenue and subscriptions, including the recently released Magazine Media Factbook (previously a product of MPA — the Association of Magazine Publishers, which merged with the News Media Alliance last July) and research on news consumption preferences of Gen Z. In addition, the Alliance has developed multimedia resources for news and magazine publishers, including its News Take podcast, and works with various industry partners to provide tools and resources to help publishers navigate important public policy issues, including postal rates and First Amendment/journalist protection, copyright, privacy and ad tech, among other issues.