After a pandemic-caused hiatus, America's Newspapers' Mega-Conference is back in 2022 — held at the JW Marriott Bonnet Creek Resort in Orlando, Florida. On the conference agenda are mission-critical topics: boosting subscriptions and engagement, building sustainable business models, and delivering a product and audience that advertisers desire.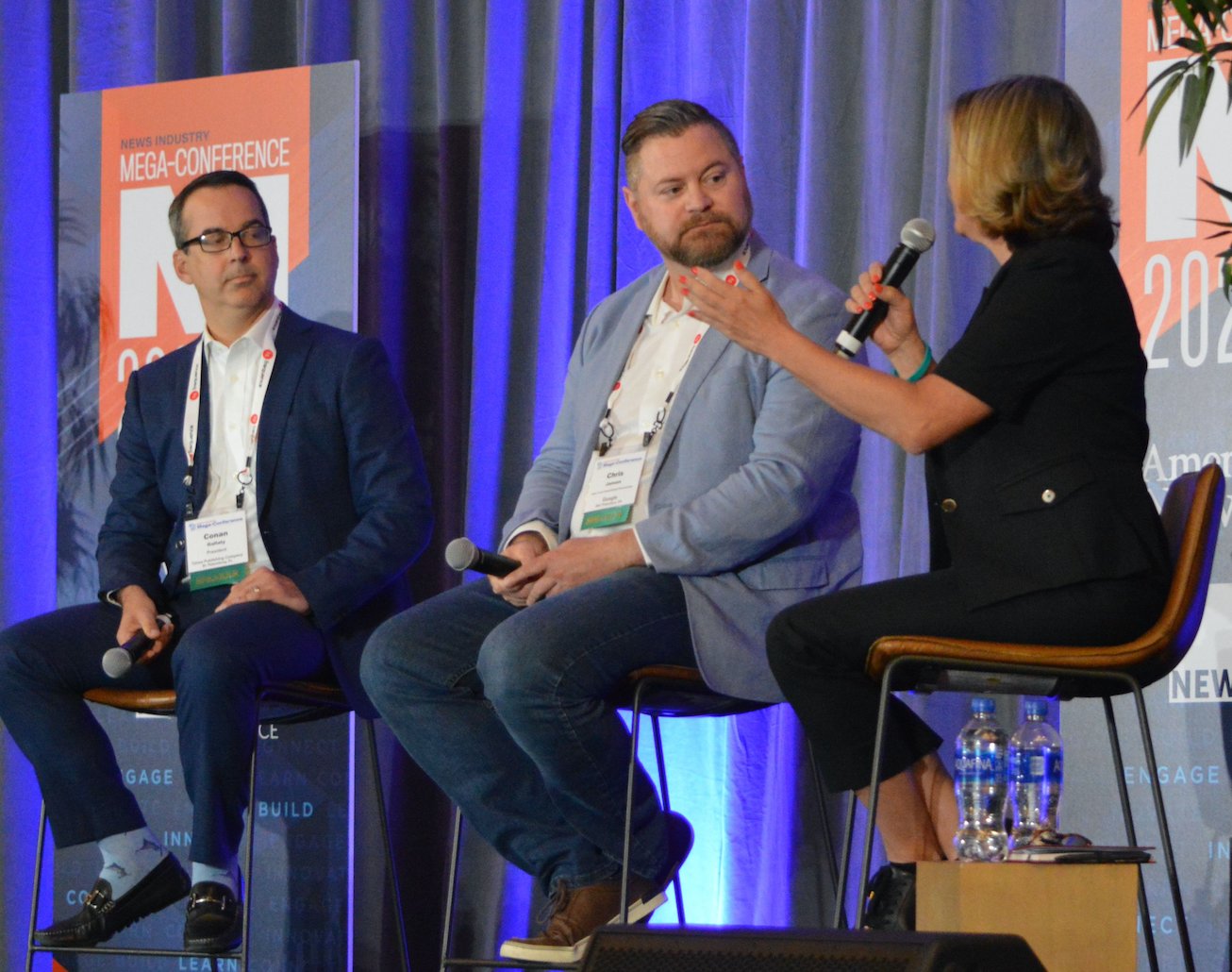 The conference kicked off on Monday, April 11, with the first of two sessions that prominently featured representatives from Google. America's Newspapers' CEO Dean Ridings moderated the keynote session, featuring P.J. Browning, president and publisher of The Post and Courier; Conan Gallaty, CEO and president of the Tampa Bay Times, and Chris Jansen, head of local news, global partnerships, for Google.
Chris Jansen heads a Google team that fosters relationships with media companies. "Now, more than ever, societies need journalism — to understand their world and to contemplate one's role as a citizen," he said. "And we are committed to identifying fact-based quality journalism and making it accessible for all."
Jansen spoke to attendees about GNI, which launched in 2018, and about the "three Es" that guide their work.
"It's elevating quality journalism. It's evolving business models toward sustainability for the ecosystem. And it's empowering newsrooms with technology, and so that's one question: How do we provide technology that will enable the news organizations to better serve their community?"
Jansen said it's "a myth" that "Google's success is at the expense of publishers when it comes to digital advertising. … We've done research that shows that it's more complicated than that."
P.J. Browning encouraged attendees to participate in a GNI "cohort group," by which news publishers can try and test and share their experiences and results with each other.
"This is a sea change in our industry," she said. "We've got to walk away with a new sustainable business model. … What Google did was bring to the table account managers, and those managers helped keep us on track."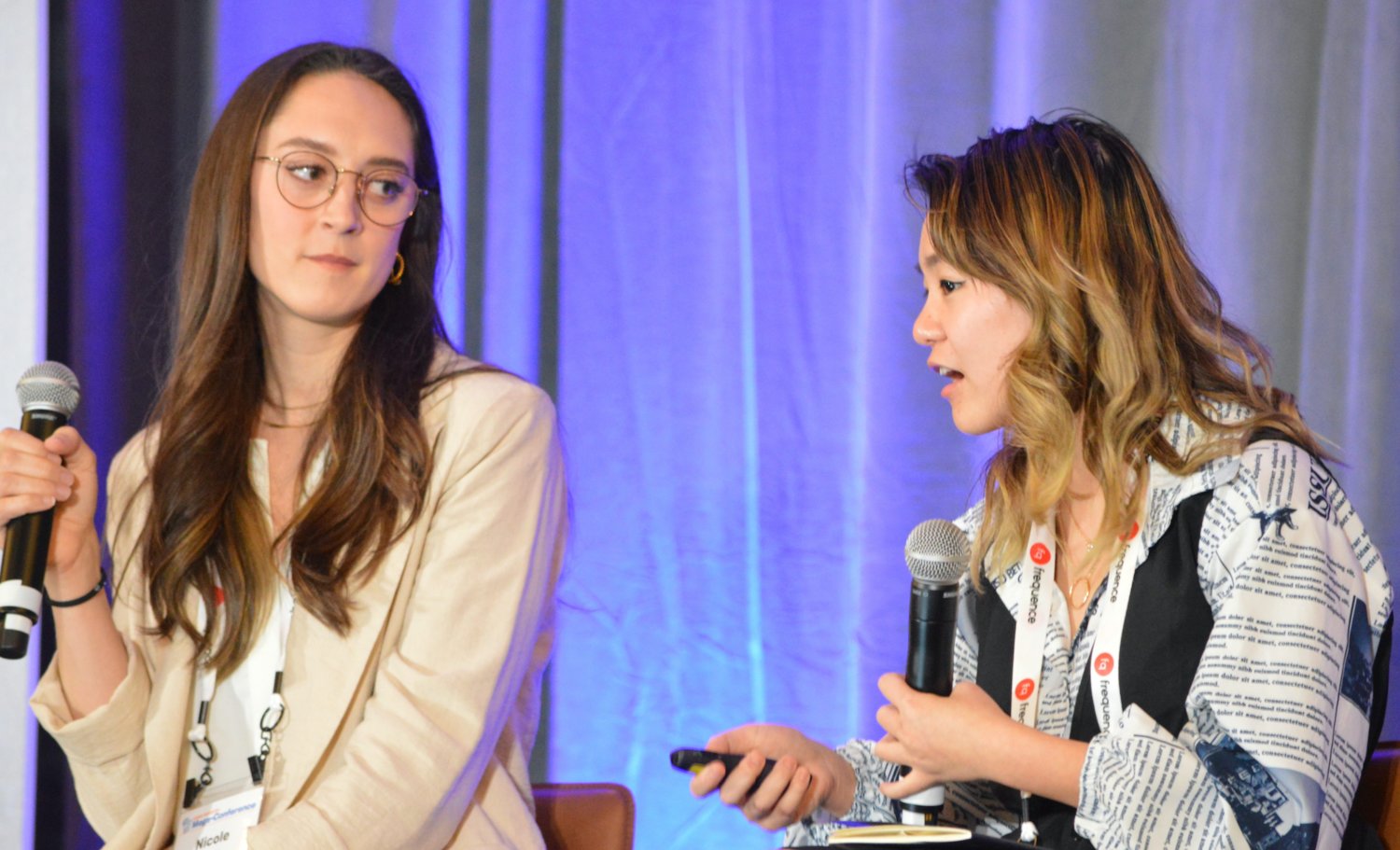 Later in the day, two of Jansen's Google colleagues — Nicole Rocchio, news consumer insights lead, and Tina Xiao, digital growth program manager — presented some helpful tips for driving subscriptions and engagement at a session devoted to the GNI. This included simple tricks that deliver instant results, like choosing a stand-out color for the "subscribe" prompt, keeping the subscription pitch simple, and making site navigation "super-sticky."
At the "Actions to Secure a Sustainable Future" session, attendees heard from executives from McClatchy, Hearst Newspapers, The Atlanta-Journal Constitution and Southern Newspapers Inc., who answered questions from moderator David Chavern, News Media Alliance's president and CEO, including questions about the importance of company culture.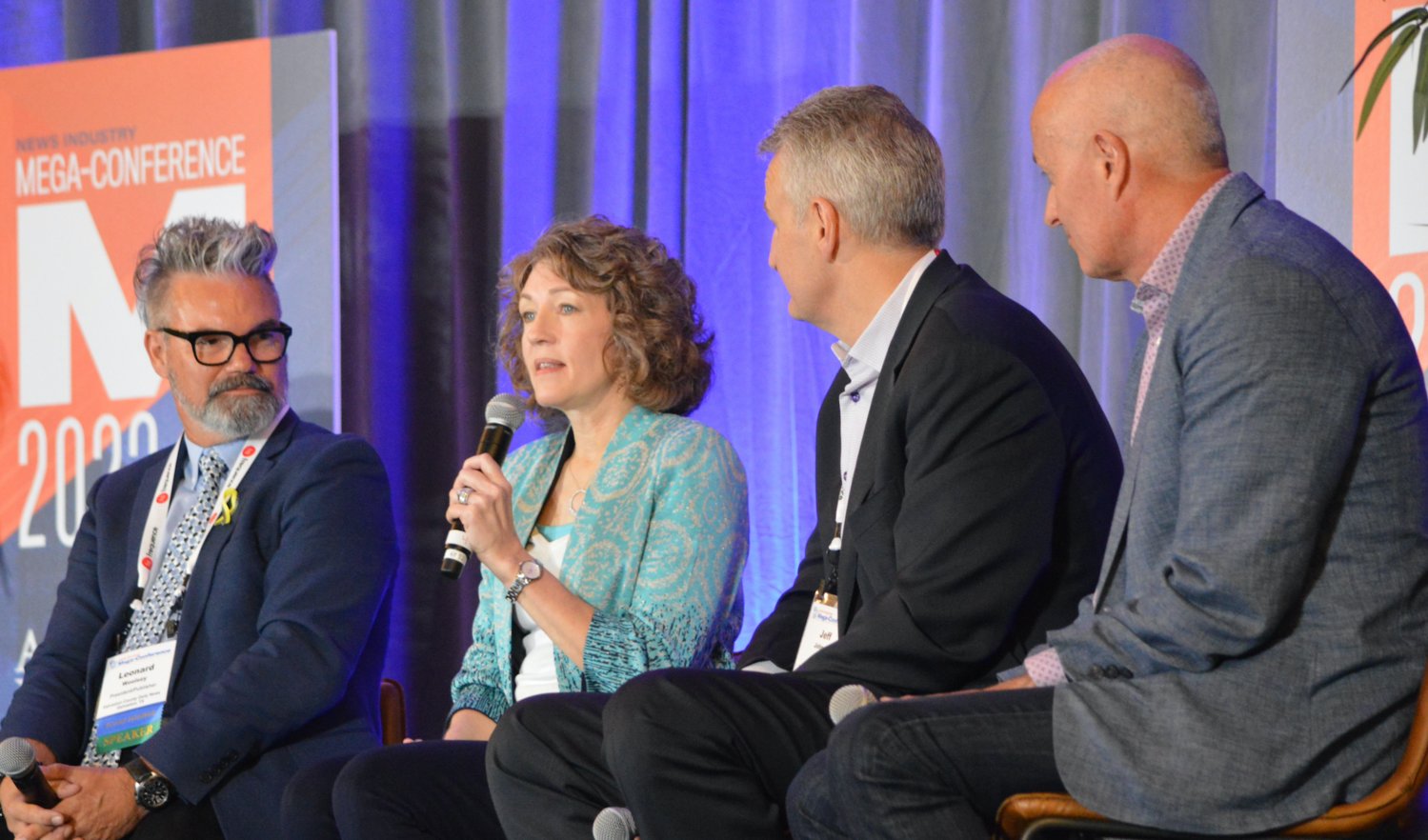 (l to r) Leonard Woolsey, president, Southern Newspapers, Inc. and president and publisher, The Daily News, Galveston, Texas; Jeff Johnson, president, Hearst Newspapers; and Tony Hunter, chairman and CEO, McClatchy —for the panel "Eyes on 2025: Actions to Secure a Sustainable Future." The session was moderated by David Chavern, president and CEO of the News Media Alliance.
"At McClatchy, when we started as a new company, we put culture at the foundation of our turnaround," Tony Hunter, chairman and CEO, explained, citing the company's 2021 financial performance as being on par with 2019, pre-pandemic.
Donna Hall, publisher of The Atlanta Journal-Constitution, spoke about innovation and changing culture and how an impediment to that is having an organization that is siloed, where departments don't communicate nor collaborate. "It's really hard to innovate and come up with new products when our news teams don't talk to product, or product doesn't talk to sales; when sales doesn't talk to customer service, and distribution doesn't talk to the plant. That's what will keep us from innovating — when people don't talk to each other." She suggested that the same principle applies to the industry as a whole — that conversation, shared ideas and reports on which strategies glean results will keep the industry moving forward.
The Mega-Conference is providing the forum to do just that.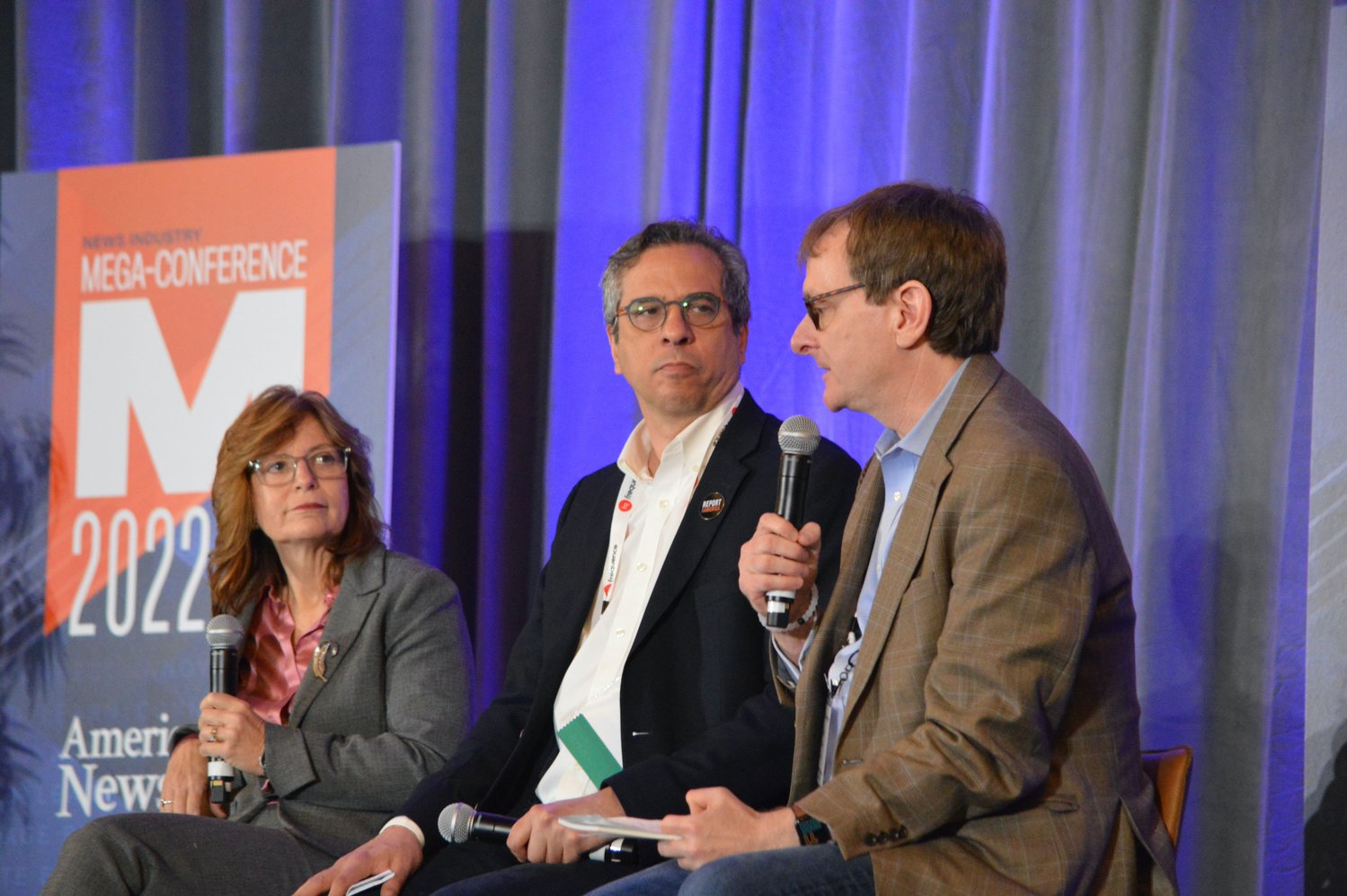 Rob Curley (far right), editor of The Spokesman-Review, joined Julie Anderson, executive editor of the Orlando Sentinel and Sun Sentinel, and Steve Waldman, president and co-founder of Report for America, to talk about newsrooms of the future, including journalism supported by philanthropic donations, grants and endowments. (Photo: G.A. Peck)