Gannett Co., Inc. filed a federal lawsuit in the U.S. District Court for the Southern District of New York against Google for "monopolization of advertising technology markets and deceptive commercial practices." According to Gannett's press release, "The lawsuit seeks to restore competition in the digital advertising marketplace and end Google's monopoly, which will encourage investment in newsrooms and news content throughout the country."
Others have filed similar lawsuits. A bipartisan group of 17 State Attorneys Generals filed a similar lawsuit against Google for ad-tech monopolization in December 2020. Then, the U.S. Department of Justice, joined by a bipartisan group of 17 additional states, filed an ad-tech lawsuit against Google earlier this year. Both lawsuits are ongoing.
Last week, the European Union's competition authority filed an ad-tech lawsuit against Google, citing similar circumstances. Both the DOJ and EU suits are seeking monetary damages and fines, as well as the breakup of Google's ad-tech business. Gannett, as the largest publisher in the U.S. — with USA TODAY and more than 200 local news publications — has now thrown its hat in the ring with today's filing.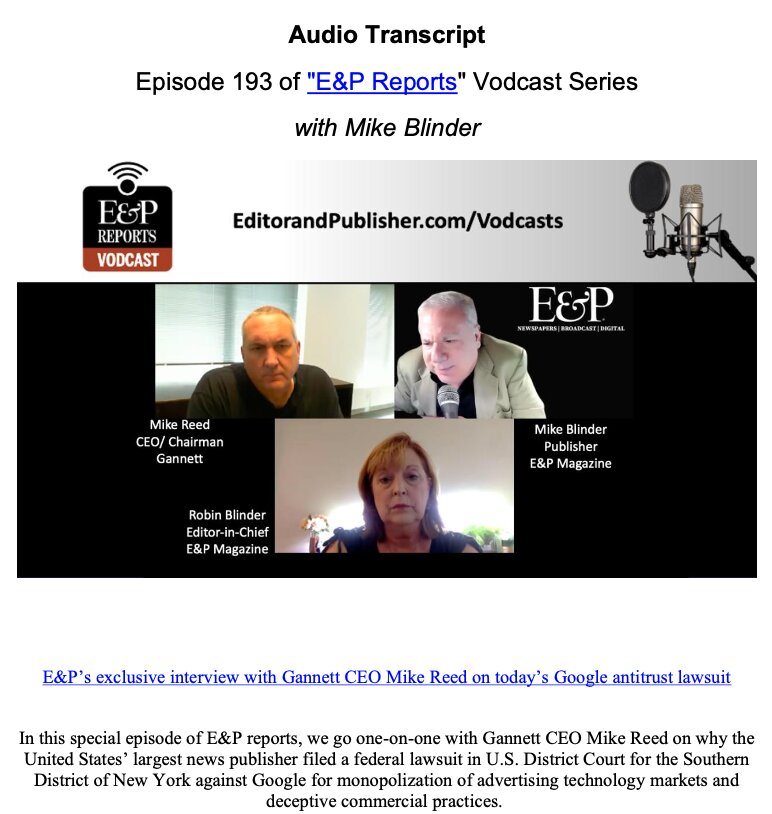 Mike Reed, Gannett's chairman and chief executive officer, spoke with E&P this morning in an exclusive interview about the lawsuit and his thoughts about the future possibilities of news media and journalism.
When asked why Gannett filed a standalone suit, Reed said, "The actions that Google has operated under have been monopolistic business practices. They have impacted us for a long period of time, and you could argue that maybe the lawsuit should have been filed sooner. There does seem to be some good momentum right now behind this action, given the DOJ's federal lawsuit against Google for the same infractions around their digital ad technology… This action that we've taken at Gannett is really driven by Google's business practices and their impact on our company and on journalism at the end of the day."
Reed defended Gannett's timing and the standalone filing: "You know, as far as us going by ourselves, we just felt like we had the right size, we had the right legal counsel, and we felt like we didn't want to wait. We're ready to go."
Although the lawsuit does not name an amount for damages sought, Reed is hopeful that the outcome helps all news publications. He stated, "You know, consumers want content. They want local news, national news and content producers like ourselves, which have produced that news for a couple hundred years and have built a business model around advertising. In the digital arena, now that 90% of consumers read their news on the digital platform, you would think digital advertising, which has exploded to a $200 billion industry, would have benefited publishers who produce the content, given consumers are coming to them to digest and engage with the content. Google has inserted themselves in the middle, and they control every aspect of the digital advertising marketplace, from ad placement to the ad exchanges to pricing.
"It's odd for the middleman in this equation to make all the money," Reed continued. "Our hope is that we get the right outcome for the entire industry and that journalism can survive for the next hundred years because we get a level playing field around the digital advertising marketplace."
Google's VP of Google Ads, Dan Taylor, responded to the lawsuit, "These claims are simply wrong. Publishers have many options to choose from when it comes to using advertising technology to monetize — in fact, Gannett uses dozens of competing ad services, including Google Ad Manager. And when publishers choose to use Google tools, they keep the vast majority of revenue. We'll show the court how our advertising products benefit publishers and help them fund their content online."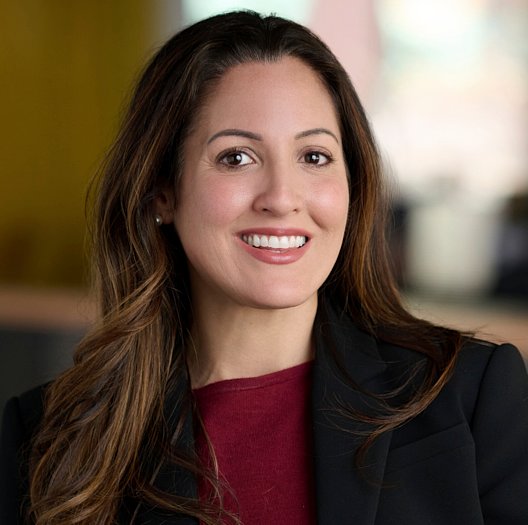 Many in the industry are applauding Gannett's action. Danielle Coffey, president and CEO of the News/Media Alliance, said, "Gannett's filing in the ad tech case against Google makes a statement that news publishers have a voice and recourse thanks to the DOJ's solid investigation, and the resulting federal and AG lawsuits. We will continue to actively support this case. Google is not above the law."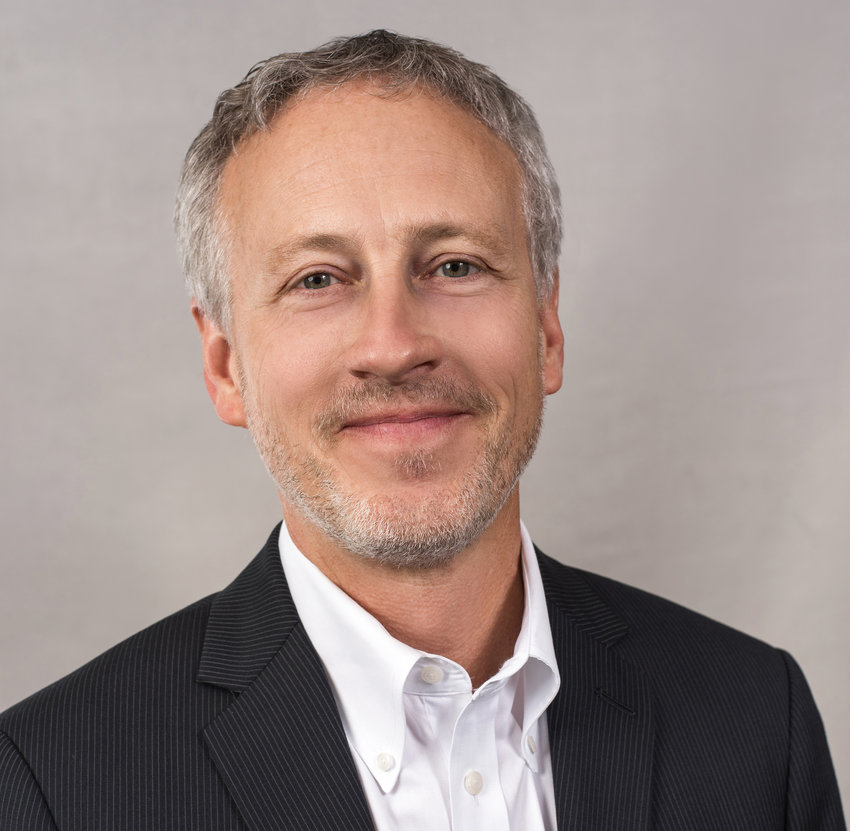 Dean Ridings, CEO of America's Newspapers, remarked: "Gannett's legal pursuit of addressing the imbalance in the digital marketplace is a good move. The monopolistic actions in the digital marketplace have stifled the news industry for years, and it is past time to address this issue that has decimated local ad revenue."
Gordon Borrell, CEO of Borrell Associates, said, "Glad to see Gannett adding its weight to the effort to break up the monopoly. One company controls 93% of the ad-exchange market, let alone have a tremendous amount of control and influence over content. Since 2000, the market share for the content-rich newspaper industry has completely flipped to tech companies who make scant investments in content and merely aggregate everyone else's. With the pile-on of other lawsuits and government intervention abroad, we could see some relief that leads to a more equitable environment for local media."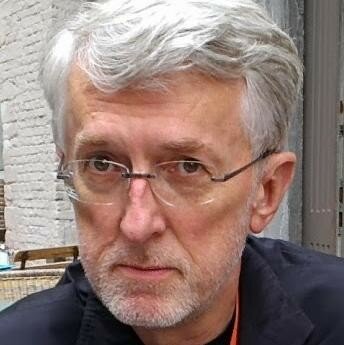 Not everyone is bullish on Gannett's approach. Jeff Jarvis, director of the Tow-Knight Center for Entrepreneurial Journalism at the City University of New York Graduate School of Journalism, had this to say, "It is tragic that once-great Gannett is resorting to protectionism and retribution against its competitors rather than have a strategy for innovation and growth in a changed marketplace. There are legitimate questions to be addressed regarding Google's power in both sides of the advertising market and authorities in both Europe and the U.S. are investigating them. But for Gannett to blame Google's alleged monopoly for its present troubles is just sad. It is also ironic, for in New Jersey, where I live, Gannett is a would-be monopoly, buying up nine newspaper brands and promptly cutting back newsrooms, reducing the coverage and quality of journalism serving this state."
Mike Reed still believes that the news business and journalism have a bright future. "I see a robust future for journalism, for local news, regional news, national news. Consumers still engage with news every single day. We have 150 million 'uniques' to our news platform here in the U.S. every month. So, there's engagement. Consumers want news. We spend all the money creating the news, and Google makes all the money on the advertising side on the back of our news. That's what needs to change. … Others make money off our news on their platform and don't pay us fair use for it. We do need to get these things corrected through fair playing fields and fair compensation, and I think we will. And when we do, I think local, regional and national news will thrive, and you'll see the number of journalists in this country going up versus going down."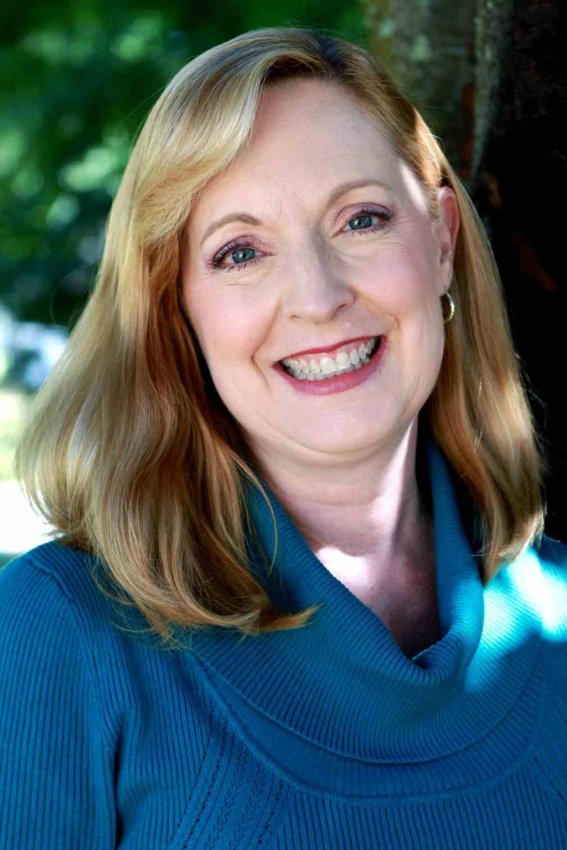 Robin Blinder is E&P's editor-in-chief. She has been with E&P for three years. She can be reached at robin@editorandpublisher.com.
Access more stories on News Media vs. Big Tech compensation and antitrust issues at EditorandPublisher.com/BigTechComp


Related links:
Gannett's press release announcing lawsuit: Gannett files federal lawsuit against Google
Access full text of the complaint: Case 1:23-cv-05177 US District Court, Southern District of NY
Gannett v. Google — Frequently Asked Questions
Read Mike Reed's OpEd: Gannett CEO: Here's why we are suing Google for deceptive business practices
Gannett sues Google, Alphabet claiming they have a monopoly on digital advertising (The Associated Press)