The point of naming and quantifying generations — Boomers, Gen X, Millennials and now Gen Z — is to better understand them, to wrap context around their collective experiences in the world. For news publishers, understanding generational nuances is essential to effective marketing and growing audience. An evergreen challenge they face is how best to appeal to younger readers, listeners and viewers. The ideal, of course, is to endear young audiences, to keep them engaged and informed, proving the news publisher's value proposition, day in and day out. The goal is to earn trust so that the relationship between news source and subscriber is galvanized and lifelong.
The Pew Research Center defines Generation Z as people who were born in 1997 and after, citing 1996 as "a meaningful cutoff between Millennials and Gen Z for a number of reasons, including key political, economic and social factors that define the Millennial generation's formative years." This is a generation that is "always on," according to Pew, referring to Gen Z's relationship with technology and social media.
Gen Z is also a generation that was born into adversity. Though they seemed destined to inherit a strong economy and opportunity, the COVID-19 pandemic toppled those notions, Pew Research Center's Kim Park and Ruth Igielnick reported in their 2020 reporting, "On the cusp of Adulthood and Facing an Uncertain Future: What We Know about Gen Z So Far." A March 2020 Pew Research Center survey had shockingly reported that half — 50% — of Gen Zers (ages 18 to 23) said they or someone in their household had either lost a job or taken a pay cut as a result of the pandemic.
But this generation — notably more diverse than the previous ones — still aspires. Pew Research reports, "They are less likely to drop out of high school and more likely to be enrolled in college. Among 18- to 21-year-olds no longer in high school in 2018, 57% were enrolled in a two-year or four-year college. This compares with 52% among Millennials in 2003 and 43% among members of Gen X in 1987."
Gen Z also has a different perspective on the world's problems and the role of government in solving them. "Fully seven-in-10 Gen Zers say the government should do more to solve problems, while 29% say government is doing too many things better left to businesses and individuals," Park and Igielnick reported.
Gen Z is connected, digitally savvy and concerned about social and policy issues, but what does this generation desire or demand from a news provider? What steers them to a news source? What inspires them to pay for news content? What does it take to earn their trust?
News for the Next Gen
Much of what we learned about Gen Z from Pew Research's findings proved out in a recent study by the News Media Alliance (NMA): "The Key to Gen Z: Insights and Ideas to Build Lasting Relationships." NMA commissioned Springboard Market Research to study 424 U.S. adults, ages 18-29, to better understand the relationships "twenty-somethings" have to news.
"About half of Gen Z consumers (51 percent) report reading news daily," NMA staff reported in a summary of the results. "The majority (60 percent) say they would likely to use local news products, while one-third (33 percent) say they would be likely to pay for local news. Not surprisingly, twenty-somethings prefer to get news online via social media apps and web searches rather than in print. They want to 'snack' on news that has been customized to their preferences throughout the day. Motivators to subscribe to local news outlets include free trials and special content targeted to them."
Newsletters are one way news publishers can create a curated, personalized news experience for Gen Z subscribers. In recent years, publishers like The Economist, The New Yorker and The Washington Post launched newsletters related to climate change and the environment.
Social media plays an exceedingly important role in how Gen Z seeks out or is exposed to news. The NMA study revealed some patterns in which platforms they turn to and at what points throughout the day. For example, 42% of Gen Z respondents reported that they use Facebook in the morning and shift to other social platforms later in the day.
This generation also has a preference for "striking visuals, video and an easy-to-navigate app and site," they told the surveyors.
The study also revealed how important it is for Gen Z news consumers to see themselves represented in news coverage and coverage of the issues that matter to them most: social justice, civil rights, racial discrimination, the environment/climate change, finance, and health and wellness.
Informing the Gen Z audience depends on meeting them where they are, NMA surmised. Podcasts are a good example. News publishers have capitalized on audio as a new means to tell stories to audiences on-the-go. Some have created podcasts around the topics of importance to Gen Z listeners — climate, social justice and practical, fact-based reporting, like CNN's Coronavirus Fact vs. Fiction podcast.
"For local news, they are interested in weather, events/arts and entertainment, and other news about their town," NMA's staff explained.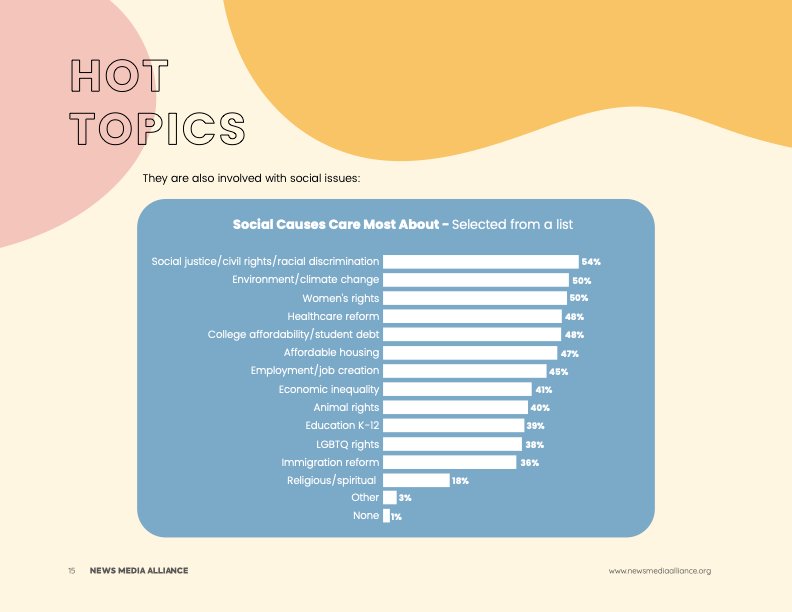 This knowledge — about how Gen Z wants to discover news and the topics most important to them — allows news publishers to invest smartly in reaching them.
"The findings from the study are exciting in terms of the opportunities they present for news outlets," Rebecca Frank, NMA's vice president, research and insights, explained in the summary. "Gen Z places an emphasis on credible, accurate and fact-checked news, which is exactly what our members provide. News outlets that apply the insights in this report will have a distinct advantage over other content providers because the quality of their content already meets Gen Z's expectations."
The complete study is available to NMA's more than 2,000 news organization members.
Gretchen A. Peck is a contributing editor to Editor & Publisher. She's reported for E&P since 2010 and welcomes comments at gretchenapeck@gmail.com.