In "The Expanding News Desert," UNC's Hussman School of Journalism and Media's Knight Chair in Journalism and Digital Media Economics, Penelope Muse Abernathy, maps two paths that lead to a "ghost newspaper." The first, she proposed, diminishes a news brand through acquisition by a larger enterprise, which then changes the nature of the publication, perhaps reducing it in frequency or turning it into a free lifestyle supplement.
"Between 2004 and 2018, almost 600 once-stand-alone newspapers — or one-third of the 1,800 papers that the country lost — became advertising supplements, free-distribution shoppers or lifestyle specialty publications," Abernathy explained.
The second path sees staff cut until it becomes impossible to "adequately cover their communities," Abernathy suggested. "Although the exact number is hard to pin down, we estimate, based on news accounts and industry data, at least 1,000 of the 7,200 newspapers still published in this country — and perhaps as many as 1,500 — have lost significantly more than half of their newsroom staff since 2004. As a result, they have become ghosts, with drastically curtailed reach and journalistic missions," Abernathy concluded.
Evidence of this is playing out across the country: newsrooms with just a few reporters, reporters and editors wearing more hats and newspapers without editors or publishers.
In some cases, entire "beats" have disappeared — in small communities and across entire states.
Reporting for The Washington Post in March, Elahe Izadi wrote about Washington Correspondent Jonathan Salant, an award-winning journalist who'd been laid off from the Star-Ledger in Newark, New Jersey, a NJ Advance title. His dismissal represented not just a loss for the people of Newark — a city of 307,000 — but for the entire state, Izadi explained. Salant was "the last remaining reporter for a Garden State publication in Washington — until this week when he was laid off." Salant is now the assistant managing politics editor at the Pittsburgh Post-Gazette. On June 13, 2023, he'll be inducted into the Society of Professional Journalists' Washington, D.C., chapter's Hall of Fame.
Just before this issue went to press, the Montana Free Press' Mike Dennison reported that Lee Enterprise had laid off more than a dozen journalists at its four Montana dailies and asked others to submit to a two-week furlough.
What happens to journalists who suddenly find themselves alone or with just a few others in the newsroom? What does the public think? And what might it mean for news competitors?
Reporting from Pottstown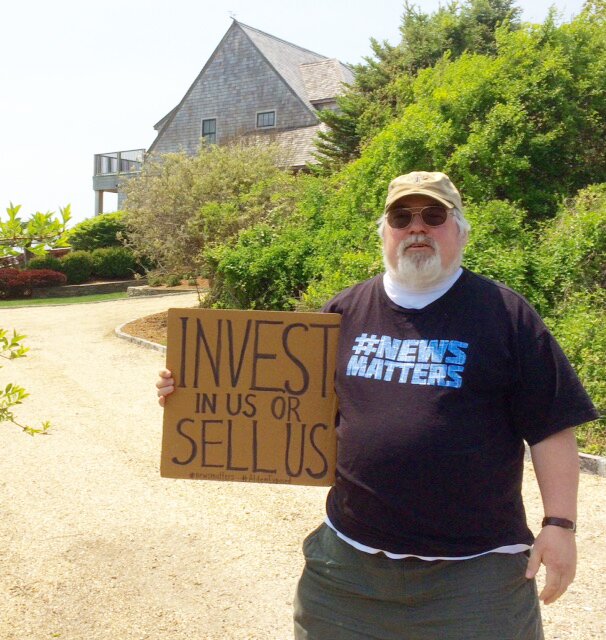 Evan Brandt credits Lou Grant and his stepmother for inspiring his career.
"My stepmother was a journalist. She was one of the women who broke the glass ceiling," he told E&P. "She worked for magazines but started at a newspaper in Albany — the now-defunct Knickerbocker News. They hired her to do the usual things at that time, the social pages and whatnot. But she just started running toward fires, writing stories and turning them in. And they were like, 'Well, I guess we need this story, and it's pretty good, so you can keep doing it.'
"When I was in high school, I watched a show called 'Lou Grant,' and I said to her, 'This seems like a pretty fun job — that you do something different every day. You're not sitting at a desk, adding up a column of numbers. One day, you're doing this, and another, you're doing something totally different,'" Brandt recalled.
"And she said, 'Yeah, that's exactly what it is.' I've always been a bit of a troublemaker, so I asked her, 'So, I get paid to poke my finger in the eye of people who think they can't be touched?' And she said, 'Yeah, pretty much.' And I said, 'I'm in.'"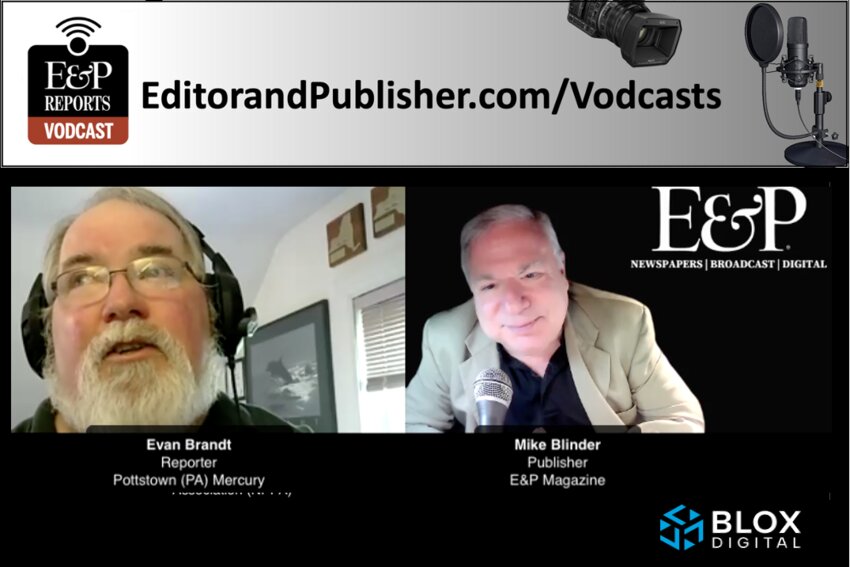 Since 1997, he's been a reporter for The Mercury in Pottstown, a suburban Philadelphia community of 23,000. In 2011, Alden Global Capital acquired the Journal Register Company, which owned The Mercury at the time. It became part of Alden-owned MediaNews Group's "cluster" of now seven titles in the Philadelphia region.
When Brandt started at the paper in the mid-1990s, circulation was around 50,000; today, it's less than 5,000, he estimated. E&P reached out to MediaNews Group to fact-check this figure and to seek comment on the story but received no reply by deadline.
Brandt said there were once 10 reporters in the newsroom. There is no newsroom today. The building was sold off, and he works from home now.
"When I told the publisher that I was going to do a story about our building closing — he's from advertising — he asked why. And I said, 'Well, it has been an institution in town for 40-some-odd years, and it's very visible, at a major corner, and people are not going to be able just to walk in anymore and pay their bills or submit something, or just to talk to a reporter," Brandt said. "And he asked me, 'Would you do a story like that if Starbucks was closing,' and I said, 'No, but every Starbucks is the same; every paper is different. We are unique in this community, and I'd like to think we're a little bit more important than a cup of coffee.'"
The sale captured the attention of The Philadelphia Inquirer, The Philadelphia Business Journal and The Washington Post. And CBS' "60 Minutes" came calling. Brandt appeared in a Feb. 27, 2022, episode.
E&P asked Brandt what's happened since the episode aired.
"Nothing's really changed, which I think is kind of the point. We still put a paper up every day. I'm still the only one doing municipal reporting in the area. I guess the only thing that actually has changed is that we've lost a few more people in the cluster."
Asked about the public's sentiment in the aftermath of the "60 Minutes" segment, he said there have been signs of shifting support. When people complain that something hasn't been covered on social media, commenters have come to his defense.
He's not surprised by what's happened to The Mercury.
"I don't blame a shark for being a shark," he said. "It's a hedge fund; this is what they do. You're not going to reform a hedge fund. They're never going to change. They're about money, not journalism, so the answer is to get a new ownership model."
Asked what the future may hold for Pottstown and its local paper, Brandt painted a grim picture.
"This area is right on the cusp of what so many others are already living with — news deserts and ghost papers," he warned.
When E&P spoke with Brandt in March, he was in the thick of writing about Upper Pottsgrove Township, which sold its sewer system and allocated proceeds to building a municipal complex on a formerly protected open space site. Brandt said town officials had taken advantage of the pandemic to hold closed meetings and circumvented the community's say on the proposal.
"I went back and looked through the record, and there was no public mention of it anywhere," Brandt said. "It just came out of nowhere. So, I wrote about it, and since then, residents have sued. Every meeting is packed with people with signs — yelling at the board, which is very stubbornly moving forward. There have been TV reports on it from the local station. The Philadelphia Inquirer has done a story on it. … It's turned into something, and it's just because I went to a meeting."
Reporting from St. Cloud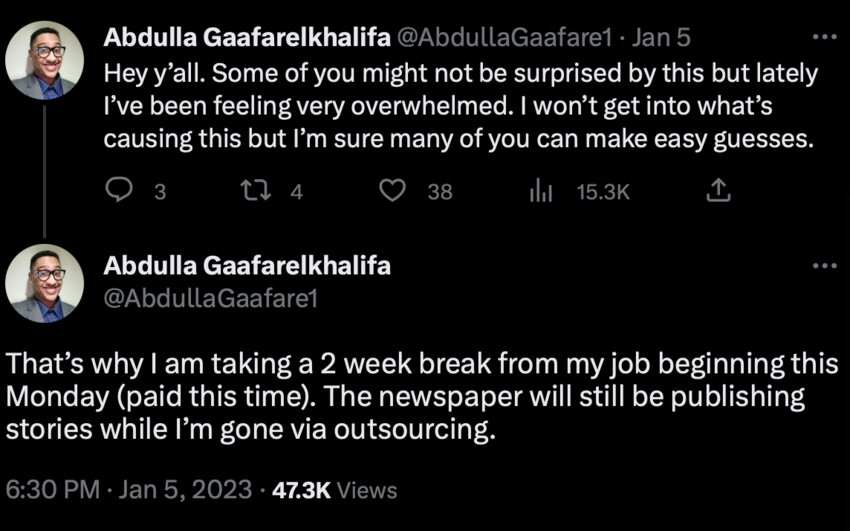 Abdulla Gaafarelkhalifa is a journalist who became "the story" when he famously became the last remaining journalist at the St. Cloud Times, a Gannett-owned news brand.
Gaafarelkhalifa recalled being hired by the paper as an education reporter: "That was really exciting to me to be part of the USA TODAY Network. That was a pretty big deal. … It was almost euphoric for me to do the work I love to do. But things took a pretty dark turn in late summer [2022] when we began getting monthly emails from corporate announcing they were planning layoffs. I was pretty scared at that point because, as the saying goes, 'Last one hired, first one fired.' I hate using the word lucky, but there's really no other word. I was not one of those layoffs, thankfully. … But I did have a sense of survivor's guilt."
"To be fair, it gave me a lot of experience covering news on other beats. I was the 'education reporter' until I left, but I wasn't covering that much education later on," he added. The staff dwindled to two when the other reporter announced that she was leaving at the end of the year.
"It was heavy. This may be toxic masculinity speaking, but I thought I could handle it," he said.
On Jan. 5, 2023, Gaafarelkhalifa tweeted that he was taking a break, citing his health. During the break, he resolved to find a new job and later accepted a role with a new site that hadn't yet been named.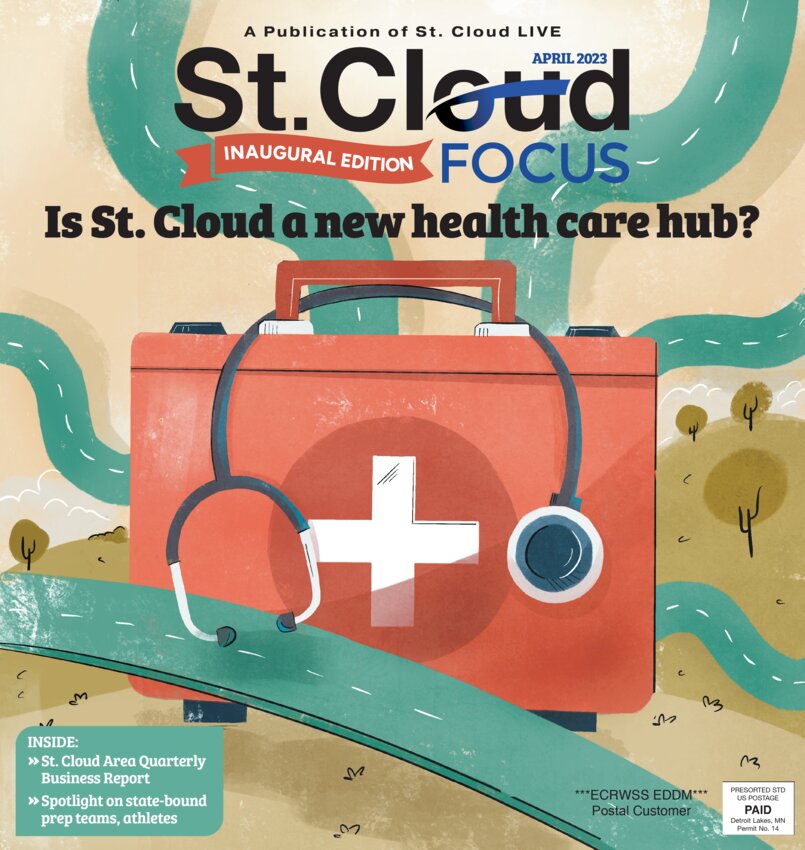 St. Cloud LIVE launched in February; it's published by Forum Communications. There's a website, a newsletter and a monthly print edition — St. Cloud Focus.
"This idea of serving local communities has been our thing for a while," Mary Jo Hotzler, Forum Communication's chief content officer, told E&P. "Last year, we started looking at some of these communities that were already within our regional footprint, where we felt we'd have something to offer — communities we thought were underserved by the newspaper that was there or perhaps didn't have a newspaper at all."
Two locations, in particular, stoked Forum's interest: Sioux Falls (South Dakota) and St. Cloud (Minnesota). Sioux Falls LIVE launched in December. They partnered with Report for America to fund one of the reporters.
"We started to feel more of an urgency this past fall as we saw what was going on with the St. Cloud Times. … We had the infrastructure in Minnesota. We have three newspapers within roughly an hour's radius of St. Cloud right now," Hotzler said.
She spent some time in St. Cloud, talking to residents and community and business leaders.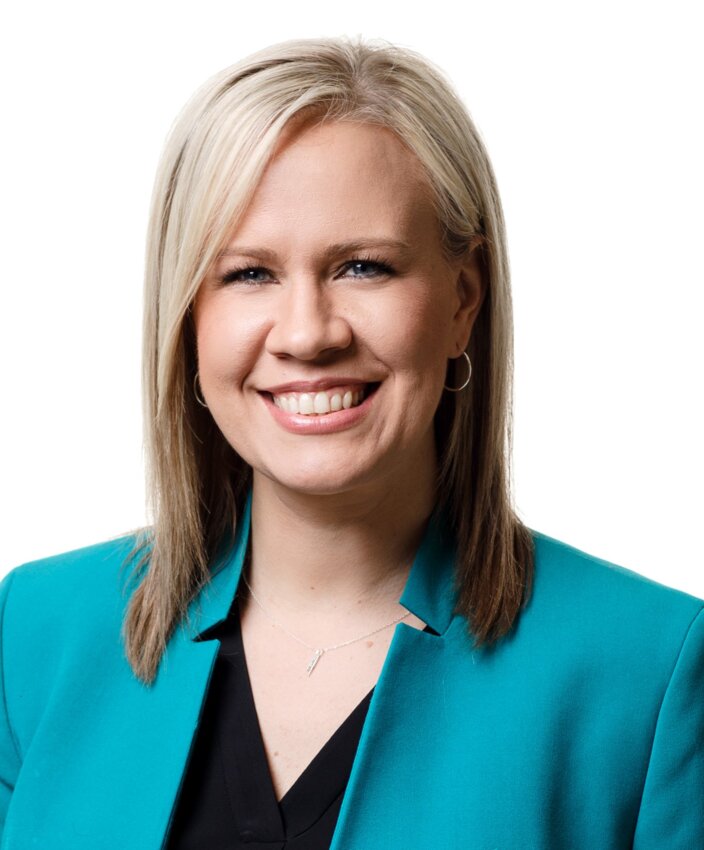 "It was loud and clear to me that they wanted a local news organization. They wanted local headlines. It was not lost on them that those were gone. People were not indifferent about local news in this community," she said.
E&P reached out to Gannett to inquire about plans for the St. Cloud Times, and a spokesperson confirmed that they have one local reporter at the Times and that they are "actively recruiting for other newsroom positions for the St. Cloud Times."
In the statement, the spokesperson also said, "The St. Cloud Times has deep roots in central Minnesota, and we remain committed to providing resources to our newsroom by actively recruiting for editorial positions and relying on our USA TODAY Network to ensure continued coverage."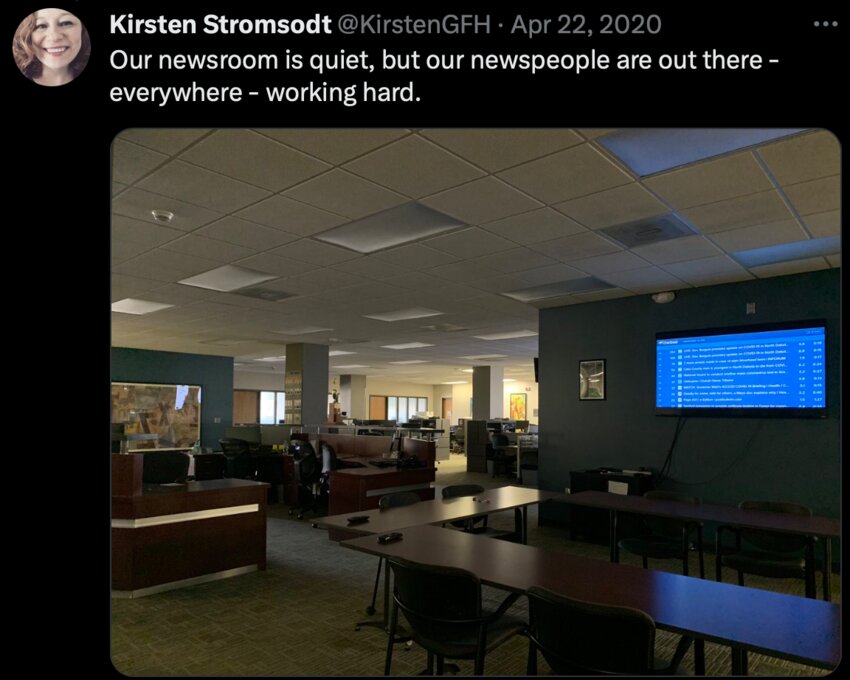 Gaafarelkhalifa and Stephanie Dickrell (also a former Times reporter) were LIVE's first hires. The goal is to add two or three more reporters in the coming months, possibly a sports reporter and a visual journalist; plus, they'll add a full-time ad salesperson and an intern from St. Cloud State University to the team.
Though she wouldn't disclose current subscriber numbers, she said they've had "fairly rapid growth." They currently print 3,500 copies of St. Cloud Focus each month but hope to grow circulation to 10,000. The title will primarily be advertising-supported — both traditional display ads and sponsorship programs.
"I've worked in this business for over 20 years, and I don't know that I've ever been so energized and excited as I am now. With St. Cloud, it's hard to explain unless you go to this town and you talk to the people, and you experience it," Hotzler suggested. "They're so grateful to have local coverage, and we're just getting started. There are a lot of sad stories to be told about journalism, but there are some happy ones, too."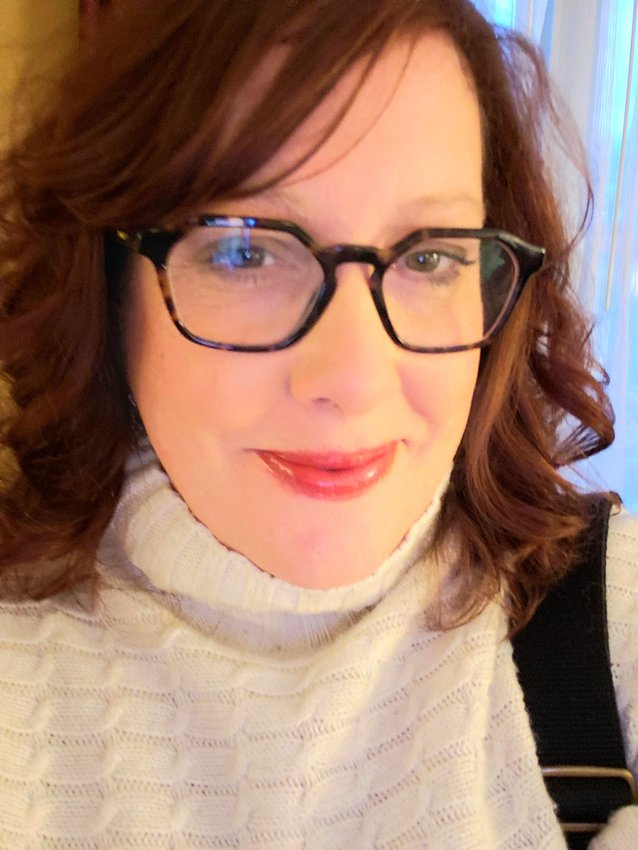 Gretchen A. Peck is a contributing editor to Editor & Publisher. She's reported for E&P since 2010 and welcomes comments at gretchenapeck@gmail.com.