Newspapers save lives. Many newspapers are recognized as vital local institutions in their communities, but how many can literally say they have saved a life? The Somers Record is one of six local newspapers owned by Halston Media, serving communities in Westchester and surrounding counties east of the Hudson River.
Corinne Stanton, an advertising account executive for Halston Media, is one of those people who seemingly knows everyone in Somers.
"I hired Corinne several years ago because she knows everyone in the community, and everyone likes her. She cares about her clients and the community, and although her job is ad sales, she also cares about the content of our newspapers," Brett Freeman, CEO and publisher of Halston Media, said.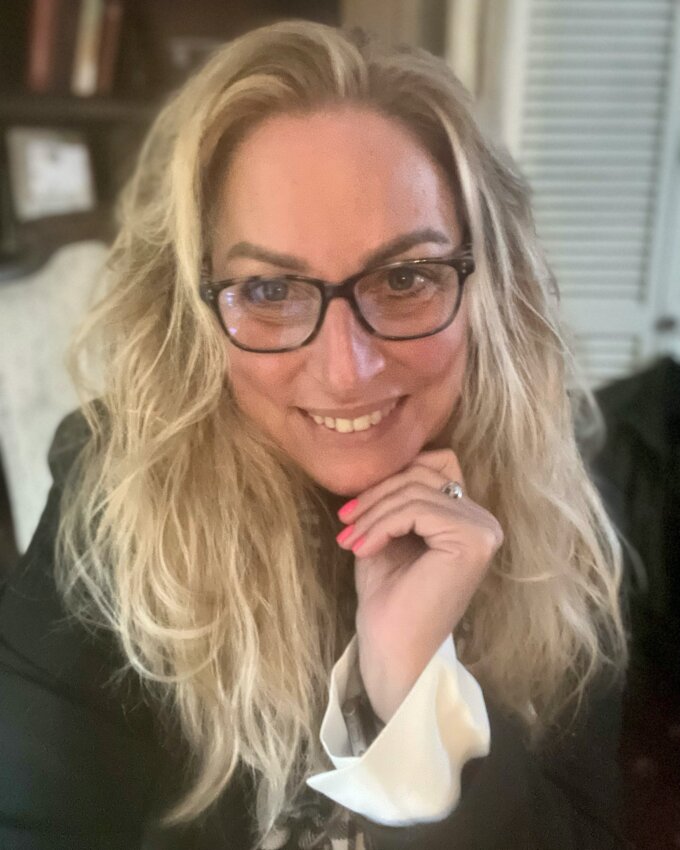 Being so well known resulted in Stanton receiving a forwarded email in March 2023 from Rose Fiscella, a friend of Stanton's mother. The email was from Heide Fiscella, wife of John Fiscella, Rose's son and a popular guitar teacher. It was a plea from Heide to find her husband a kidney donor. John was a diabetic with end-stage renal failure — and desperately needed a new kidney.
"I immediately forwarded Heide Fiscella's email to our editor Tom Walogorsky and asked him what he thought of reporting this story to spread the word about the Fiscella family's search for a kidney donor," Stanton said.
The Fiscella family faced a similar health crisis in 2018 when Matt, John's brother, also needed a kidney donor. Matt posted a similar plea on Facebook and successfully found a donor.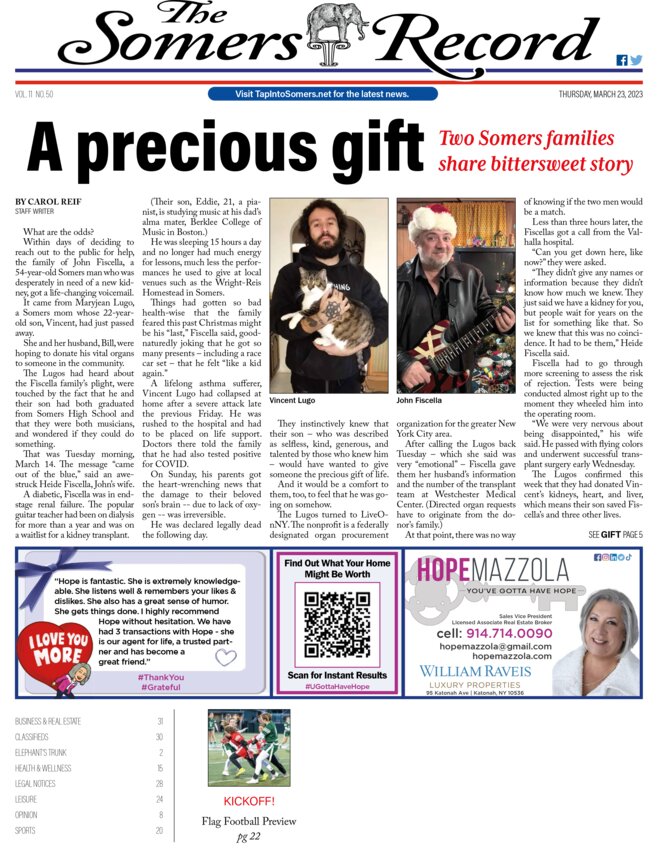 Another tragic situation was also occurring in the community. Vincent Lugo, a 22-year-old lifelong asthma sufferer, had a severe attack on Friday, March 10, and was rushed to the hospital. The damage to his brain was so severe that he died on March 13. Bill and Maryjean Lugo, Vincent's parents, knew he would want to donate his organs if they would save lives.
As a library aide at Somers Intermediate School, Maryjean Lugo asked Linda Belger, the school's acting principal, to use her community contacts to find someone needing a transplant. Belger explained the situation to Amanda Bergen, the school district's spokesperson, who contacted Walogorsky.
Being contacted by two independent sources about the Fiscella's and Lugo's stories, Walogorsky realized the seriousness of the situation. He knew The Somers Record had a responsibility to help.
"A need like this can't be put on the back burner because it's so time sensitive. I have always believed in the importance of using the reach and influence of the local paper to help those within the community," Walogorsky said.
This string of communications prompted Belger to approach Maryjean Lugo. She called the Fiscellas, and John received Vincent's kidney within a few days.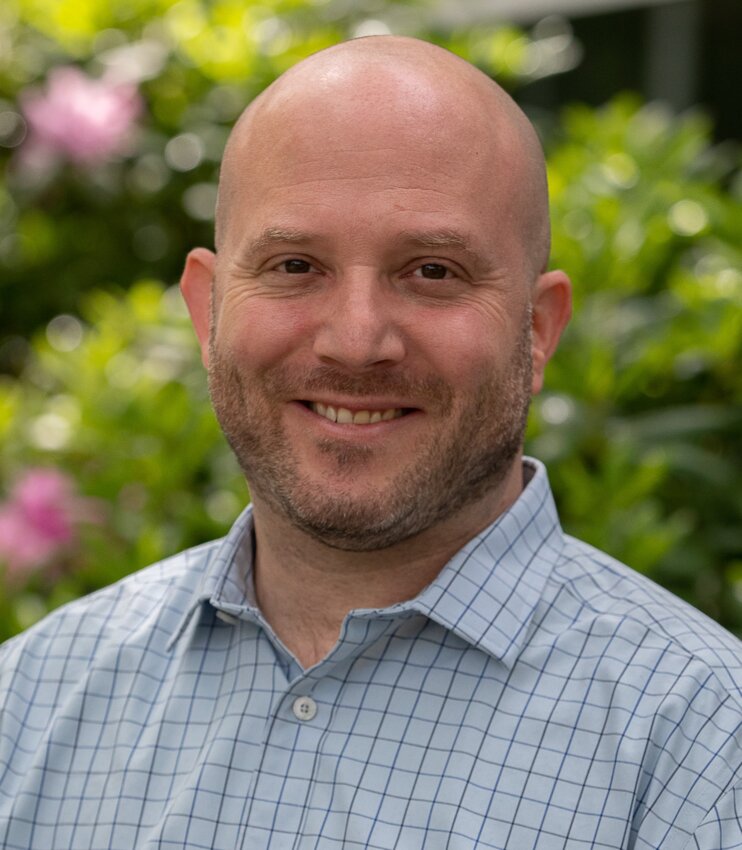 Freeman praised Stanton as a sales rep and Walogorsky as the editor for collaborating directly without regard for the walled relationship that often exists between advertising and editorial at other newspapers.
"I think the story and how the Record contributed to bringing these two families together is a testament to how much Corrine cares about the community and our editorial content and the work Tom does and his connections in the community," Freeman said.
"As this story unfolded, I emailed our entire staff, vendors and partners. I know they appreciated being informed because they want to know their participation in the newspaper industry has meaning behind it. I think it makes everyone feel good to know they're part of a mission in the community," Freeman added.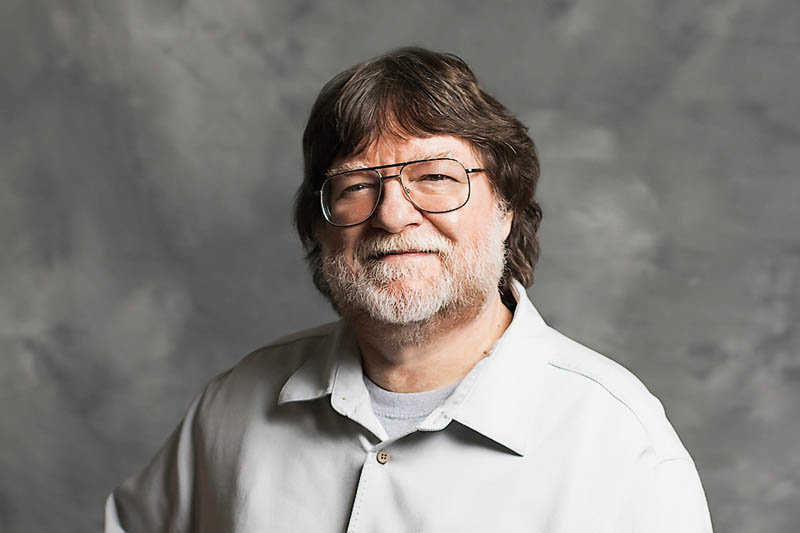 Bob Sillick has held many senior positions and served a myriad of clients during his 47 years in marketing and advertising. He has been a freelance/contract content researcher, writer, editor and manager since 2010. He can be reached at bobsillick@gmail.com.