Ginger Meggs is an institution in Australia, where the beloved comic strip — about a "red-haired larrikin" living in the suburbs — has run in newspapers nationwide for over 100 years.
But that relationship between generations of Australians and the newspapers that have long published the comic strip was instantly severed when the two major chains down under — Rupert Murdoch's News Corp Australia and Nine Entertainment — decided to eliminate all comic strips.
News Corp. was first to the party, ending the funny pages in over 100 Australian newspapers in September 2022 to focus on games and puzzles, citing "changing readership habits of our audiences." Nine Entertainment, whose chain of 100 newspapers includes the country's most-read broadsheet, the Sydney Morning Herald, did the same thing in August.
It wasn't just "Ginger Meggs" that was impacted. Other long-running Australian comic strips —"Swamp" by Gary Clark, "Snake" by Sols (real name Allan Salisbury), "Insanity Streak" by Tony Lopes, and "Beyond the Black Stump " by Sean Leahy — all came suddenly face-to-face with a future where not a single newspaper in the entire country published comics.
"We all in one day got laid off, along with the entire comic strip industry," said Jason Chatfield, who has been writing and drawing "Ginger Meggs" since 2007. Even Australian Prime Minister Anthony Albanese weighed in, calling it "just another step in the decline of modern media."
Apart from it being a short-sighted decision to cut costs, Chatfield said the most frustrating aspect of the ordeal was the refusal of editors over the years to bring "Ginger Meggs" and other Australian comic strips onto the web along with other content from the newspapers, as readers transition from print to digital.

"We begged from day one that News Corp and Nine Entertainment bring the strips online with the Sudoku, the horoscopes, and the crosswords and puzzles they had ported to the app," Chatfield said. "They just didn't. There was this stubborn reluctance that absolutely wasn't grounded in any logic whatsoever. … I was just summarily ignored."
Cartoonists and syndication companies in the United States are keenly aware of what happened in Australia and what it could portend for comic strips here. While no major newspaper chains in the U.S. have pulled the plug entirely on comics sections, publishers have been willing to make wholesale moves involving comics and puzzles they wouldn't have dreamt of doing in previous years for fear of alienating more of their declining print subscribers.
In March 2021, McClatchy Group consolidated their comics and puzzles into one standardized page that appears across all their properties.
Lee Enterprises followed suit in September 2022, unifying their comics and puzzle offerings across their 77 daily newspapers and reducing the number of comics in their dailies. The Omaha World-Hearld reported that "a number of comic strips that we've been providing readers for years are no longer published in the paper."
There were winners and losers. One of the most-impacted strips was "Dilbert," with creator Scott Adams telling Fox News he was once published in nearly every Lee newspaper but lost them all. Later, "Dilbert" was dropped entirely by Andrews McMeel Universal after Adams made racist remarks on a video streamed on his website.
Gannett, the country's largest chain with more than 250 daily newspapers, announced a move towards a unified comics package in September. But unlike McClatchy and Lee, Gannett said comics may still vary from market to market.
'Newspapers gave up on us'
The history of modern newspapers and comics have been intertwined since the late 19th century, when Richard Outcault's "Hogan's Alley" — widely regarded as the first newspaper comic strip — appeared in Joseph Pulitzer's New York World in 1895.
Outcault was hired away to draw a strip called "Yellow Kid," featuring a character from "Hogan's Alley," for Hearst's New York Journal. Soon, newspapers had dueling comics intended to win over new readers and serve as an introduction to children. Thanks to the popularity of the "Yellow Kid," journalists referred to the brutal battle between newspapers as "yellow journalism."
"Comic strips were created — by editors and publishers — for a very good business reason: to attract and hold readership to beat out the competition," Wiley Miller, the creator of the syndicated strip "Non Sequitur," told The Washington Post. "Diversity of the comic features — and building the best comics for exclusivity by individual newspapers — created a great competitive market that was largely responsible for building the powerful newspaper industry of yore."
But Miller and other cartoonists fear those days are long gone. As these companies focus on retaining as many readers as possible on digital platforms, comics and other newspaper features are often afterthoughts despite their popularity.
The sentiment was best captured by Keith Knight, a prolific cartoonist turned TV show creator who has created several comic strips, including "The K Chronicles," "(Th)ink," and "The Knight Life." During an interview at the 2022 CXC Festival, Knight told a room full of cartoonists they should abandon any hope in a career drawing cartoons for newspapers.
"You've got to give up on newspapers because newspapers gave up on us," Knight said. "Every survey, people say they go to the comics first, and yet the comics are the first thing that gets shrunk, that gets dropped. They don't respect us; we shouldn't respect them."
Syndicates attempt to adapt.
The consolidation of comics sections has been a mixed bag for Andrews McMeel, the home of ubiquitous newspaper features like "Peanuts" and "Garfield." Brent Bartram, the syndicate's general manager, said "Crabgrass" by Tauhid Bondia was among the comic strips Lee selected for its unified pages, benefiting the newly-released strip in a market that otherwise would've been tough to get a foothold.

Andrews McMeel was also the beneficiary of a similar move by Postmedia in Canada, publisher of the Toronto Sun and the Calgary Herald. Postmedia unified its comics offerings in October 2022.
But there were some losses. Bartram said Lee went with Tribune Content Agency for all their games, puzzles and advice columns, so features like "Wonderword" and "Dear Abby" were really impacted by the consolidation.
"It's just been one challenge after another," Bartram lamented. "Each group is different and approaches everything differently, and there's just no real consistency in their thought process of what they're trying to do."
One thing Andrews McMeel is doing is pivoting away from syndication to alternative forms of revenue. Bartram said a big focus of the past year has been overhauling The Puzzle Society, their neglected subscription website for online games and puzzles. They plan to grow it into a standalone business along the lines of the New York Times' Games app.
Another area where Andrews McMeel found success is in the publishing world, where collections of beloved comic strips like Bill Watterson's "Calvin and Hobbes" and Gary Larsons' "The Far Side" continue to be popular with readers. Bartram said two Andrews McMeel features — "Big Nate" by Lincoln Peirce and "Phoebe and Her Unicorn" by Dana Simpson — are more popular in bookstores than their newspaper counterparts.
Despite the attempts at diversification, newspaper syndication continues to be a "good percentage" of Andrews McMeel's annual revenue, as well as the cartoonists they represent. "There's that risk" of newspapers here in the U.S. mimicking their Australian counterparts, Bartram said.
Over at King Features Syndicate, President CJ Kettler doesn't see comic strips going away anytime soon. In fact, Kettle said the company launched several new comics features this year, including "Break of Day" by Nate Fakes and "Never Been Deader" by Tommy Devoid.

"We think standardization isn't good for the readers, the cartoonists or the industry at large. We see first-hand how every individual newspaper market has their unique set of favorite comics," Kettler said. "Newspaper readers are avid comic fans, and in a world where the industry is transitioning its readership and subscriber base to print and digital, we believe in serving the readers first and foremost and continuing to support all cartoonists in their efforts."
Like Andrews McMeel, King is also working to diversify its online offerings, including an effort to update and modernize its online comics portal, Comics Kingdom. Details are slim at the moment, but it's expected to launch in 2024.
Jack Newcombe, the CEO of Creators Syndicate, declined to say if or how their comic strips — which include long-running features like "B.C." and "Wizard of Id" — were impacted by consolidation over the last year. However, he said Lee Enterprises signed a deal with Creators to provide editorial cartoons across all their newspapers.
Newcombe is bullish about his syndicate's political content entering an election year, noting the addition of new columns from the American Civil Liberties Union, the American Conservative's Daniel McCarthy, and Harvard's Keith Raffel. Newcombe also said the syndicate has shifted its focus more broadly outside of newspapers.
"I would replace the word 'syndication' with 'distribution.' And if your platform has the word 'paper' in it, you will face special challenges," Newcombe said. "We see tremendous growth for our talent via new platforms, especially digital publishing."
Tribune Content Agency did not respond in time for publication.
Newspaper chains are also coming for editorial cartoons.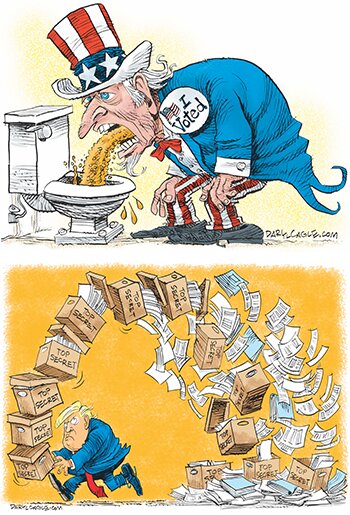 Newspaper chains in the U.S. have come for their newspaper's opinion sections, too.
Gannett decided in June 2022 to pare back opinion sections. Some newspapers have cut opinion pages to just one or two days a week. At nearly all papers, syndicated columns and editorial cartoons have been eliminated.
Newspapers also continue to shed editorial cartoonists on staff. In July, McClatchy laid off its three remaining staff cartoonists, all Pulitzer Prize winners — Kevin Siers at the Charlotte Observer, Joel Pett of the Lexington Herald-Leader, and Jack Ohman at the Sacramento Bee.
The Herb Block Foundation, founded by former Washington Post cartoonist Herb Block, did a study in 2012 that determined there were about 2,000 full-time editorial cartoonists employed by newspapers in the U.S. at the start of the 20th century. As recently as 2000, there were upwards of 250. Today, by my count, there are fewer than 20, nearly all of whom are employed by locally-owned news organizations.
The Cagle Cartoons syndicate, run by veteran political cartoonist Daryl Cagle, distributes a package of U.S. and foreign cartoonists and columnists to hundreds of subscribing newspapers (Note: I have helped edit columns and cartoons for PoliticalCartoons.com, owned by Cagle). Cagle said his company lost dozens of newspaper clients when Gannett dropped their syndicate content, calling it "a big blow to our profession."
"National issues and opinion content is an important part of what defines the traditional newspaper experience. Some readers aren't interested in commentary. I'm personally not interested in sports or puzzles; I throw those sections out without looking at them," Cagle said. "When I look at papers that are reducing features that I am accustomed to reading, these newspapers are less interesting to me, and I move to the internet to read what I want. Different changes lose different readers."
Gannett claimed editorials and opinion content were "among our least read content" and a "frequent" reason readers gave for canceling their subscriptions. Cagle said it's a mistake for the company to make editorial decisions based on reader complaints about commentary, which, by definition, presents an opinion intended to challenge the assumptions of some readers.
"It is the nature of commentary that it draws complaints from those who disagree, and the internet has trained readers to make lots of angry comments," Cagle said. "People who agree are typically silent. Angry comments should measure the success of the columns or cartoons."
Longtime comics editor Amy Lago retired from The Washington Post in 2022. She has since resettled over at Counterpoint, the editorial cartoon newsletter turned syndicate run by former Houston Chronicle cartoonist Nick Anderson. In addition to distributing a handful of editorial cartoonists, Counterpoint syndicates the comic strip "Barney and Clyde" and a weekly Medicare column. Lago said changes across the industry have made business tough, noting that Gannett canceled all their contracts before Counterpoint could even launch their syndication business.
"I won't beat around the bush. It's extremely difficult. Every new sale I have, I am extremely thankful," Lago said before lamenting the recent purchase of the family-owned Times-Shamrock newspapers in Pennsylvania by MediaNews Group, which is owned by Alden Global Capital.
"I'm expecting some problems," Lago said.
Rob Tornoe is a cartoonist and columnist for Editor and Publisher, where he writes about trends in digital media. He is also a digital editor and writer for The Philadelphia Inquirer. Reach him at robtornoe@gmail.com.