"From 1962 to 2005, newspaper industry advertising revenues increased for 40 to 44 years, from roughly $3 billion to roughly $49.8 billion. Last year, according to the Pew Research Center, revenues fell to $8.83 billion. That's an 82% drop in just 16 years. That's a stunning drop, and if the trends hold, we'd be projected to hit zero in five years," Lee Wolverton said, sounding an alarm to news publishers.
Lee Wolverton is the vice president of news and executive editor at West Virginia-based HD Media, the news publisher that ran point on a federal antitrust case filed at the beginning of the year, with Google and Meta (the platform formerly known as Facebook) named as defendants
"It shows that we are in a state of crisis, and we need to respond, and we need more than tax credits. We need to attack the problem, and that is that we've been choked off in digital advertising revenues by two companies operating a monopoly."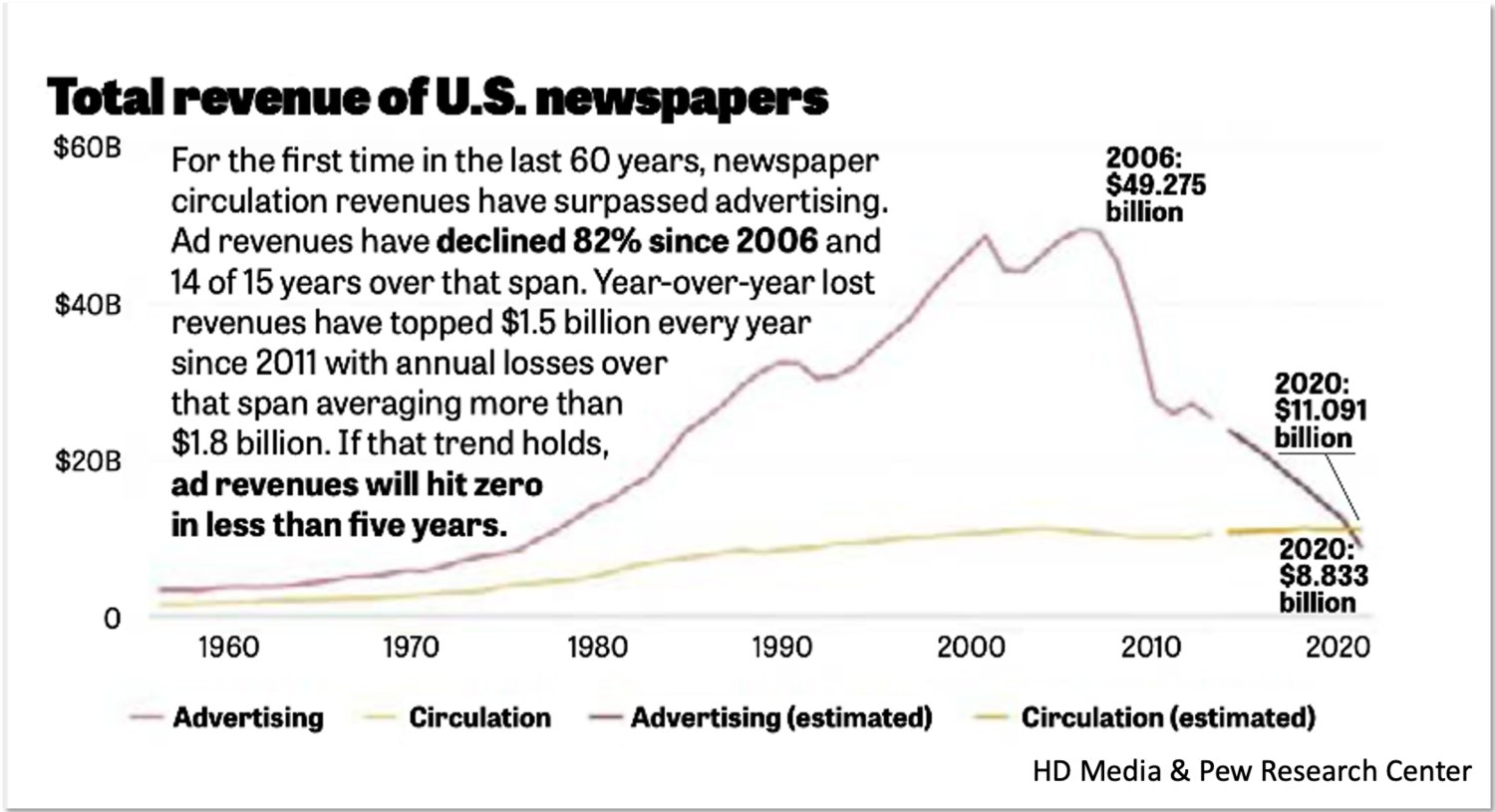 Wolverton joined David Chavern, president and CEO of News Media Alliance; Editor & Publisher's publisher, Mike Blinder, and E&P reporter Gretchen Peck on episode 115 of E&P Reports to talk about the case, how antitrust cases are playing out in other countries, and why there is dire urgency for industry leadership and a check on Big Tech.
Chavern spoke about how Google and Meta have come under fire in Australia for competition antitrust practices, while France's lobby focused on copyright violations. The Australian case was not unlike the David vs. Goliath scenario playing out here in the U.S., with local news publishers spearheading the charge. In Australia, credit goes to a collective of 81 community news publishers (representing 160 newspaper titles) known as Country Press Australia, who stood up and said, enough.
News Media Alliance has been lobbying Congress to pass the Journalism
Competition and Preservation Act (JCPA), which would allow publishers to collectively negotiate with the platforms, akin to how it played out in Australia. This proposed legislation has bipartisan support and is championed by members of Congress, including Senator Amy Klobuchar (D-MN), Senator John Kennedy (R-LA), Congressman David Cicilline (D-RI) and Congressman Ken Buck (R-NY).
Just last week, as the first full week of December was coming to a close, Senator Maria Cantwell (D-WA) sent a letter to Federal Trade Commission Chair Lina Khan, imploring the agency to investigate evidence of Facebook (the platform) misleading advertising customers about audience, reach and brand safety.
Meanwhile, the Meta Journalism Project and Google News Initiative have flooded the industry with cash — a comparative pittance to annual profits for either company, but transformative and even newsroom-sustaining during times of crisis, as E&P reported in December.
Both Chavern and Wolverton are skeptical of the platforms' motivations, likening the monies to thinly veiled bribery to keep news publishers from rallying and heading to court.
The antitrust case spearheaded by HD Media here in the U.S. now has approximately 30 co-plaintiffs, representing more than 200 newspaper titles across North America. It was the first case in which a news publisher dared to go toe-to-toe against the platforms and their deep pockets.
Wolverton spoke to the strange pact that news publishers, journalism programs, and many industry associations have with the platforms, gladly accepting money in the form of grants. "This codependent relationship amuses me," Wolverton said, "because here's how the relationship works, and this is borrowing from someone else, but the codependent relationship works in that we provide the blood. They're the vampires, and they keep the blood warm, and they suck it up. And they keep us alive so they have the blood."
Chavern said that the platforms' continued efforts to dodge the cost of licensing agreements are "short-sighted." "If you got a fake-news problem, guess what? We're in the real news business. We are the one antidote to your problem," he said.
News publishers, in particular, have gotten the short end of the big-tech bargain, Chavern explained. "By the way, they pay for a lot of content. They both license music content … and somehow, their world hasn't stopped revolving, right? They license lots of sports content. They license celebrity heights and weights, right?"
Still, many news publishers are reluctant to take on Big Tech, who have appreciated the support provided by the Meta Journalism Project and Google News Initiative, and others who simply like the platform, the reach, and the tools that Facebook, especially, provides. They may not be naïve about how these companies have adversely impacted news organizations or even about their role in destabilizing democracy. Still, they're not quite ready for a full-throated proclamation against them.
Wolverton recounted a conversation with a publisher he'd known for years: "And he said, 'I just don't want to poke the bear.' And I said, 'You realize the bear is eating you up? It's eating all of us.' So, like, you don't want to poke it, but it's eating us all right now!"
Wolverton recommended that everyone in the news industry read the News Media Alliance White Paper, "How Google Abuses Its Position as a Market Dominant Platform to Strong-Arm News Publishers and Hurt Journalism."
The HD Media-led case was consolidated with several other antitrust suits against the defendants, at the request of Google, with jurisdiction now in the Southern District of New York. According to the plaintiff's counsel, the next legal action is not likely to come until springtime. News publishers who may be considering whether to join the action or interested in speaking with counsel are invited to contact attorney Clayton Fitzsimmons at Fitzsimmons Law Firm, Wolverton suggested.
At News Media Alliance, Chavern said that members are "very supportive" of this case and the association's lobbying efforts: "I'm trying to be responsive to what my members need, and what they really need and want, by the way, are productive relationships with these platforms that are sustainable and allow them to keep doing business into the future."