The Medford, Oregon Mail Tribune can trace its roots back to 1909 when the morning Medford Mail and afternoon Tribune merged under the Putnam family, creating what the paper claimed to be "The largest printing and publishing establishment in Southern Oregon."
It was decades later that this venerable brand would begin a journey of "swap and sale," moving from Down Jones/ Ottaway ownership to Rupert Murdoch's News Corp., to Newcastle Investment Corp. (an affiliate of Fortress Investment Group) and later merging into the growing Gatehouse Media Group.

Gatehouse sold the Mail Tribune in 2017 to media businessman Steven Saslow and its sister paper, the Ashland Daily Tidings, for $15 million. Saslow then reportedly secured financing from the right-wing-centered Sinclair broadcast group that same week, according to public records obtained by Jefferson Public Radio. Shortly after the purchase, the paper began working under the ownership name of Rosebud Media in conjunction with the Sinclair-owned TV station in Medford, KTVL. In a very short time, many of the newspaper's newsroom employees were let go, replacing most of the website content with video programming. In 2018, Mail Tribune online viewers were first greeted with a "Rosebud Update" video, which included national and local headlines from a studio in Florida and a right-wing oriented video op-ed section entitled Rosewood Commentary.
In August 2021, the Mail Tribune went from printing the newspaper seven days a week to four days per week. Then, on September 30, 2023, Saslow announced that the Mail Tribune would cease publication of a printed edition, stating that "printing and delivery costs for the newspaper were threatening the business." And finally, on Wednesday, January 11, 2023, Saslow made the unexpected announcement that he was shutting down the online operations altogether and letting the entire team go — thus ending the over 100 years of publishing.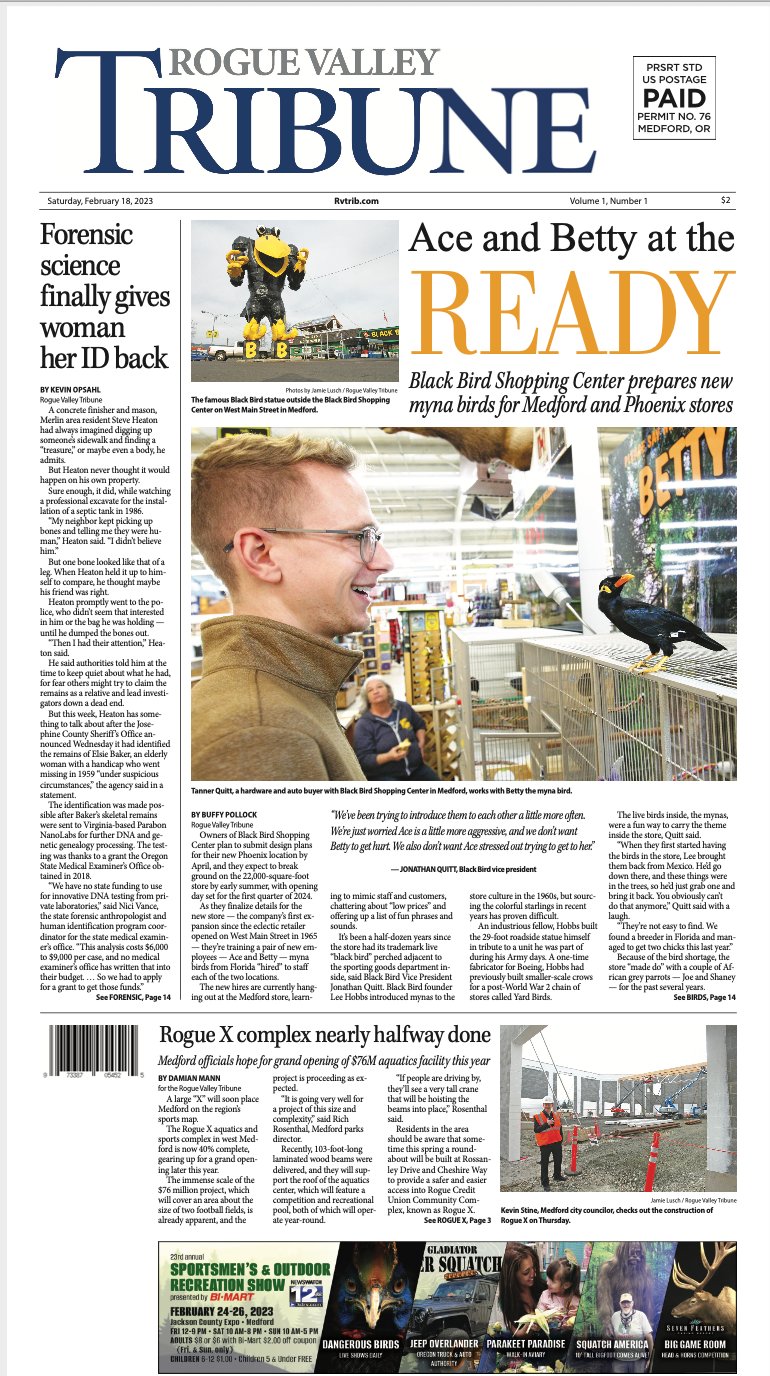 While the industry was grappling with the idea of Oregon's fourth largest MDA with a population of over 200,000, losing its newspaper of record, news soon broke that EO Media Group, a fourth-generation family-owned company based in Oregon that publishes 18 titles, was going to launch a new newspaper to serve the Medford area, The Rogue Valley Tribune, with a debut print edition "hitting the streets" today, February 18, 2023.
EO Media Group stated that they will place an editorial staff of 14 in the newsroom. The editorial team will work for long-time Mail Tribune journalist and former editor David Smigelski, who EO Media COO Heidi Wright recently hired. Wright also wokred with Smigelski, existing EO Media Group staff and management along with newly appointed EO Media Group's Director of Audience Development Susan Forester Rana, on quiklcy crafting, printing and mailing to 90,000+ Medford residents a 12-page "Preview Piece" that introudced the marlet to the new publication, and its mission to fill the void from the Mail Tribune's decision to cease publishing.
Smigelski reminisced about his 16-plus years at Mail Tribune in his first editorial for the new Rogue Valley Tribune, stating, "We became pawns in a multinational media chess game." He then said, "The Mail Tribune was abruptly closed on January 13, with just two days' notice to employees. Ten days later, I was standing inside the JC Penney building in Medford with Bulletin publisher Heidi Wright, figuring out where to put desks and phones. As we planned, she used words I could understand. "We know newspapers aren't a cash cow, but we're not here to get rich," she said. "We want to do this because it's important." I wanted to hug her, but I thought it might be unprofessional. Crying was probably poor form, as well, but I couldn't stop a little mist from building up. After 16 years, I feel like I'm back home. With newspaper people — family people."
In this 175th episode of "E&P Reports," we explore how EO Media Group is replacing the now shut-down Medford, Oregon Mail Tribune with its new start-up publication: "The Rogue Valley Tribune." We speak with EO Media Group's COO Heidi Wright and EO Media Group Board Member and Director of Audience Development Susan Forester Rana about why and how the company is committing to launch a new print publication during such tumultuous times. Also joining in the dialogue is David Smigelski, former editor of the Mail Tribune, now in his first week of print publishing as editor of the new The Rogue Valley Tribune.