In early June of 2023, The Opinions and "Next Gen" teams of The Washington Post announced that Renee Yaseen would be their newest Op-Ed columnist. But unlike some venerable, Pulitzer Prize-winning journalists who publish their prose under the iconic one hundred fifty-year-old Post masthead, Yaseen is not listed as a company employee but instead uses the title in her byline: Post Grad Intern.

Her twice-weekly column, Post Grad, is published as a free newsletter inviting readers to gain "tips and advice from a recent graduate who will help navigate job hunting, moving, budgeting, relationships and more."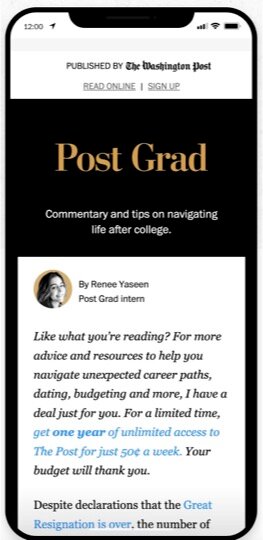 Yaseen did graduate from the University of Notre Dame with a BA in economics and minors in theology and PPE (Philosophy, Politics & Economics). While attending classes remotely during COVID, she founded a tech startup called FriendOver, a company designed to help young children stay active and social during the pandemic. FriendOver helped thousands and won major Notre Dame awards that included the McCloskey New Venture Competition, the Lookup Startup Competition and others.
In this episode of "E&P Reports," we chat with the newest addition to The Washington Post's Op-Ed team, Renee Yaseem, a GenZ intern who pens a twice-weekly newsletter called Post Grad. Although just a few weeks in, Yaseen has a vast following that reads her advice and perspective on the many challenges that face today's young adults. We ask Yaseem what it is like to publish to such a large audience under the auspices of The Post masthead and how she feels about the responsibility of having so much "influence" at such a young age.