Chad Carpenter always danced to the beat of his own drum.
The 54-year-old cartoonist is the creator of the popular comic strip "Tundra," which is unique in the land of the funnies. Unlike most comic strips that appear in the funny pages, "Tundra" isn't sold and distributed by a larger syndicate; it's just Carpenter and his sales partner, Bill Kellogg, who on their own have grown it from its humble origins in Alaska to appearing in more than 500 newspapers across the country.
It's always been tough to convince editors to try a new comic strip, especially when it means killing a feature some segment of the audience has grown to love. That tension has only gotten worse in recent years, as cost-cutting deepened the risk-averse approach most newspapers take with their comics section.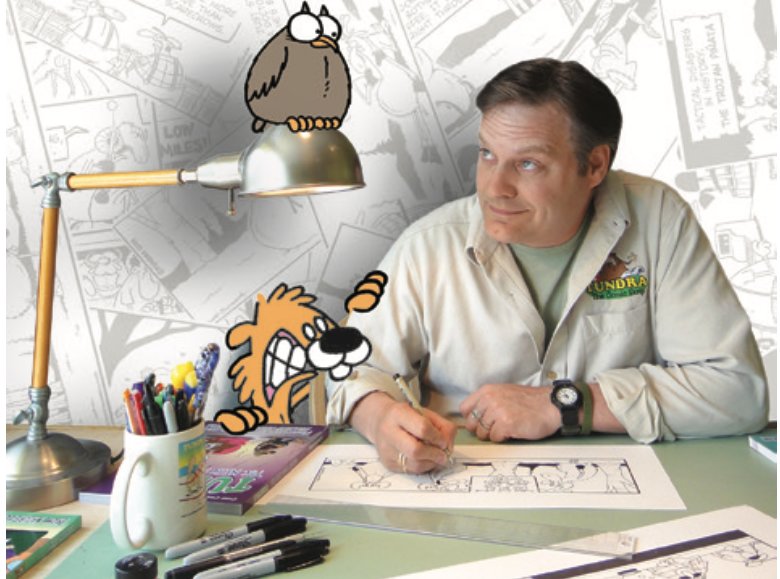 But Carpenter has navigated the decline of newspapers and the impact of COVID-19 and says "Tundra" remains in enough comics sections to keep the lights on and the ink bottles full in his studio in Wasilla.
"I am wonderfully content that we didn't go down the tubes," Carpenter said. "I have no other skills. This is all I know how to do."
While "Tundra" has lost some papers that were forced to cut back or shutter during the pandemic, he did benefit from McClatchy's decision last year to standardize their daily comics pages across all their newspapers, which includes big metros like the Miami Herald and the Kansas City Star.
"We picked up 52 newspapers, which was really kind of an unexpected surprise right during COVID," Carpenter said. "So, that was nice, and that made up for a lot of anything we lost."
Comic strips like "Tundra" occupy a special place in the history of newspapers. According to most historians, the first newspaper comic strip was "Hogan's Alley," drawn by Richard F. Outcault in Joseph Pulitzer's New York World in 1895. The strip featured a popular character known as the Yellow Kid, and eventually, Outcault was hired away to draw "Yellow Kid" for William Randolph Hearst's New York Journal.
It didn't take long for comic strips to become a serious business for newspapers. They used them to gain the upper hand in cross-town circulation battles that led to hyped-up headlines and wildly overstated stories. Thanks to the popularity of the "Yellow Kid," journalists referred to the brutal battle between newspapers as "yellow journalism."
Hearst began syndicating comics and other features that were popular among readers, and in 1914 launched the new business under one banner — King Features — which continues to syndicate popular comic strips like "Zits" and "Hagar the Horrible" to newspapers across the country.
Unfortunately, like the newspapers they serve, syndicates like King Features feel the impact of journalism's digital transformation from printed pages to pixels on a screen.
In February, The Washington Post began informing newspapers it would be sunsetting its cartoon syndication business, which has distributed dozens of comic strips and editorial cartoons since the early 1970s. The decision came about primarily because, after a review of the business, the Post didn't view the service as an area for growth and decided to focus on other opportunities in the industry.
Some of the comic strips have already landed at other syndicates, such as "Loose Parts" and "Baby Blues," which were picked up by Andrews McMeel. Others will continue to be distributed by The Washington Post until their current contracts run out.
But The Washington Post will continue to syndicate its popular stable of columnists, and it's not getting rid of its own comics pages.
"The Post will continue to publish across platforms the comics and cartoons that our readers expect and enjoy and plans for a seamless transition from being a syndicate to a customer of other syndicates," the newspaper said in a statement.
Washington Post cartoonists launch their own syndicate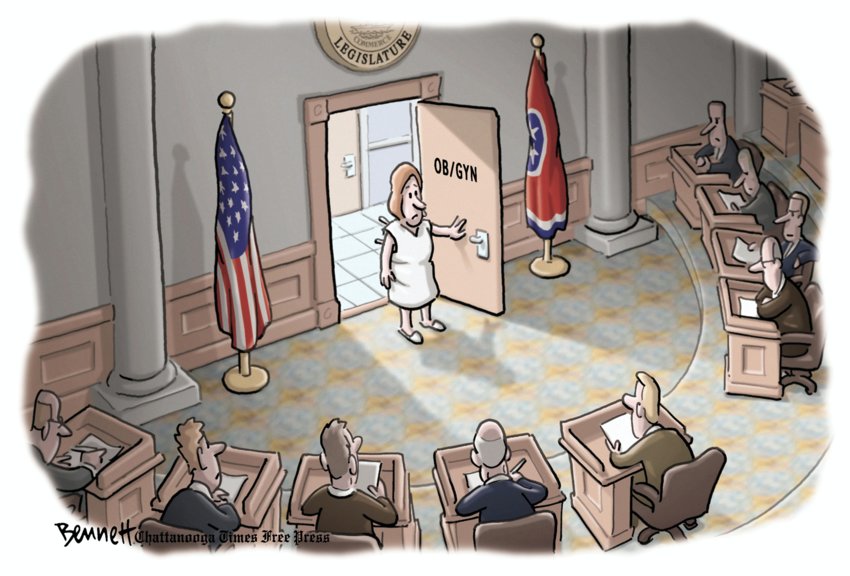 While many of The Washington Post's comic strips have found new homes, a group of the editorial cartoons they represented decided to gather together and form their own syndicate service launched by Counterpoint Media, a popular newsletter run by two-time Pulitzer Prize-winner Nick Anderson.
The syndicate, launching in June, will feature the work of six editorial cartoonists to start — Clay Bennett, Lisa Benson, Tim Campbell, Jeff Danziger, Jack Ohman and Pedro X. Molina. Anderson, whose own work is syndicated by Tribune Content Agency, said that as of mid-May, they hadn't had a single cancelation from any clients as a result of moving from The Washington Post to their own service.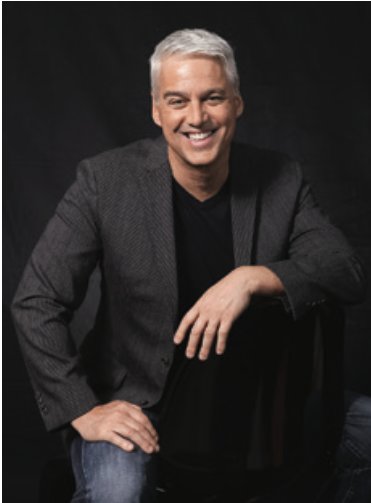 "Basically, we just said no change in pricing, no change in distribution, the bills will go to a different place, and that's really it for now," Anderson said. "This has worked out really well for the cartoonists because they may come out of this unscathed. That's what we're hoping for, but we'll have to wait and see."
Anderson said if all goes well, some of the remaining comic strips at The Washington Post could come under the Counterpoint umbrella, and they might even add a columnist or two. He could also envision syndicating some of the cartoonists that appear in its popular newsletter. But many, like Anderson, already have existing contracts with other syndicates that need to be honored.
The Andrews McMeel syndicate
Andrews McMeel, the home of popular newspaper features "Peanuts" and "Garfield," has been among the beneficiaries of The Washington Post's decision to wind down its cartoon syndication business. Almost overnight, the syndicate was able to sign several features that brought hundreds of clients with them, including Brian Crane's popular "Pickles" comic strip, which appears in upwards of 1,000 newspapers.
"That was unexpected," said Brent Bartram, who took over as the general manager of features at Andrews McMeel in January. "You don't have a lot of features where contracts come up roughly the same times, and they're really looking to move. … We were definitely able to benefit from that."
As a result of the influx of new strips, Andrews McMeel has pushed back the launch of a new strip called "Crabgrass," by Tauhid Bondia, which is currently featured on its GoComics website. Bartram said they were initially going to launch it in the spring but have pushed that back a couple of months so his sales team can really focus on its debut.
These days, launching a new comic strip is big news. The last comic Andrews McMeel launched was "Dark Side of the Horse" in 2020 by Finnish cartoonist Samuli Lintula, who goes by the pen name Samson. Bartram said the strip is currently in about 30 newspapers, which he called a "decent number," given how difficult the marketplace is at the moment.
"Gone are the days where launching a strip into syndication was the ultimate end," Bartram said. "Now, not only do we want to work on getting it into the syndication world, we want to look at book publishing; we want to look at animation, live-action and other entertainment possibilities."
Outside of comic strips, Bartram said demand remains high for puzzles. The desire for more online offerings has grown over the years as news organizations try and get readers to stick around on their site a little longer and play a couple of games. Andrews McMeel has responded with a host of HTML5 puzzles and games that news organizations can monetize on both desktop and mobile, including the daily "Universal Crossword" created by puzzle editor David Steinberg. Bartram said their most popular puzzle product is currently their "Universal Sudoko" offering.
"We have a very vested interest in seeing newspapers succeed," Bartram said. "Over the past few years, we're really all trying to adjust our business model and our content offerings to ensure newspapers succeed, not just for our benefit, but for the benefit of people getting good local news."
The Creators syndicate
Jack Newcombe, who has served as the CEO of Creators since 2011, said the market for syndicated content had shifted dramatically over the last few years due to consolidation across the industry.
"Previously, an editor would buy a feature for their publication," Newcombe said. "Now, hedge funds and private equity firms, most notably Alden [Global] Capital, have purchased large groups of newspapers and are primarily focused on cutting costs."
As a result, Creator's sales team doesn't really hit the road much to meet with editors. The pandemic hasn't helped in that regard. Instead, the process is more like a corporate negotiation, with large chains like Gannett and Alden looking for the best rates possible.
But it's not all bad news.
"This shift has been good for us in that we have been able to forge strategic partnerships with these groups," Newcombe said. "That said, I am sure our sales team misses the days of shooting the breeze over coffee and comics. It is not good or bad. It just is. We adapt."
Though the pace has slowed, the challenging market for content hasn't stopped Creators from adding new features. Among the new offerings are a humor column written by Tampa Bay Times columnist Stephanie Hayes and a feature column written by former Chicago Tribune writer and editor Georgia Garvey.
They also added a new comic strip called "Shrimp and Grits," drawn by Pensacola News Journal editorial cartoonist Andy Marlette, which launched in the middle of the pandemic. The strip features a fishing-obsessed little girl living in a fictional Florida town alongside her reluctantly adopted pet, a Facebook-addicted alligator named Grits.
Like every other syndicate, Creators touted the popularity of its games and puzzles, including a daily crossword created by longtime USA Today puzzle editor Charles Preston.
"There's always a demand for puzzles," said Margo Sugrue, the vice president of sales at Creators.
King Features
Despite the difficult conditions in the marketplace, King Features has launched several new comic strips over the past few years, including the Argentinean strip "Macanudo" by Ricardo Siri (who goes by the pen name Liniers) and "Rae the Doe" by Olive Brinker.
But King's most interesting move is a foray into comics journalism with "Legalization Nation," which covers the growth of the increasingly mainstream cannabis industry. The weekly comic began in syndication in April and is written and drawn by Philadelphia cartoonist Brian "Box" Brown, the author of the nonfiction graphic novel "Cannabis: The Illegalization of Weed in America."
The timing couldn't be better for King Features. Insider won a Pulitzer Prize for "How I escaped a Chinese internment camp," a comics journalism piece that told the story of a mother detained in an Uyghur internment camp in the Xinjiang autonomous region in China before eventually fleeing to the United States. Many cartoonists hope Pulitzer's new "Illustrated Reporting and Commentary" category will encourage newspapers and online news organizations to give comics journalism a chance.
"We have worked hard to provide a diversity of voices in our comics," said CJ Kettler, the president of King Features.
Like other syndicates, Kettler touted the interest in puzzles and games. Recently, King Features launched a line of bite-sized puzzles, including sudoku, word search and a "Micro Crossword" that can be embedded on clients' websites.
"There is an enormous opportunity to serve our clients as they transform their business to focus on digital subscription, retention, customer acquisition, as well as optimized advertising revenue," Kettler said.
Cagle Cartoons
For 21 years, longtime editorial cartoonist Daryl Cagle has managed to navigate turbulent waters by focusing on a single niche — the editorial page. (Author's note: I have helped edit columns and contributed cartoons to PoliticalCartoons.com, which Cagle owns).
Cagle says over 800 clients purchase his syndicate's content bundle, which offers unlimited use of 26 American cartoonists and 30 international cartoonists for one price. Packed in his service are a number of Pulitzer Prize-winners, including Adam Zyglis of the Buffalo News and Kevin Siers of the Charlotte Observer. Unfortunately, another Pulitzer Prize winner — Steve Sack of the Minneapolis Star Tribune — announced in May that he was retiring from cartooning after 42 years.
In the face of so much cost-cutting and consolidation, Cagle has always focused on keeping the cost of his service low, including the refusal to charge a delivery fee, noting that digital content delivery replaced the cost of mailing features years ago.
Cagle hasn't been afraid to add new cartoonists to his service in recent years, including conservative cartoonist Dick Wright and longtime New Yorker contributor Peter Kuper. Kuper might be best known for MAD Magazine's Spy vs. Spy, which he's written and drawn since 1997.
Rob Tornoe is a cartoonist and columnist for Editor and Publisher, where he writes about trends in digital media. He is also a digital editor and writer for The Philadelphia Inquirer. Reach him at robtornoe@gmail.com.