In the ever-evolving world of today's newspaper industry, community newspapers have two primary strategies for viability and growth: Be hyper-local and maximize the monetization of content — especially obituaries.
Letitia Lister, publisher of the Black Hills Pioneer in Spearfish, South Dakota, and Alicia Strnad Hoalcraft, integrated media and ops manager at Forum Communications Co. in Fargo, North Dakota, shared their experiences utilizing a digital platform to implement these strategies during a January 2022 E&P Reports Webinar, hosted by Mike Blinder, publisher of Editor & Publisher.
Like many community newspapers, the Pioneer managed obituaries with a decades-old process. As Lister put it, the Pioneer staff was working harder, not smarter, on obituaries. Lister then discovered Modulist, a digital portal that makes the obituary process much easier for everyone.
"We were losing too many obituaries and the revenues they could have generated," said Lister. "What I first liked about Modulist is all the people there come from a newspaper background. They understand the inefficiencies of processing obituaries.
"With Modulist, families and funeral homes can upload obituary text and photos themselves. Modulist's staff verifies, edits and prepares the obituaries for us. We started using Modulist during June 2021, and our obituary revenue increased 48% from 2020, itself a year of above-average obituaries because families couldn't have in-person funerals."
According to Devlyn Brooks, founder and president of Modulist, the company was initially an internal unit of Forum Communications. The publishing group asked Modulist to develop an online portal for obituaries. At the time, all 24 newspapers were managing the process differently. Modulist then became a separate company and now offers its technology to all newspapers and publications.
"It became very apparent to us that community newspapers were not only publishing fewer obituaries, but also few personal and business announcements. This is often the content of greatest interest to the community and an opportunity for newspapers to monetize it for maximum revenues," said Brooks.
Hoalcraft and the Forum Communications papers were experiencing the same inefficiencies to manage and process obituaries as Lister at the Pioneer and many other newspapers. With Modulist's seamless production interface, she and her staff could easily add obituary content from the platform.
"We just press a button in In-Design using a script, and all the content Modulist has gathered and prepared automatically populates the pages with ready-to-print PDFs that have been toned to our press standards," said Hoalcraft. "Using Modulist has reduced the time to manage the obituary process by 85% compared to our old system."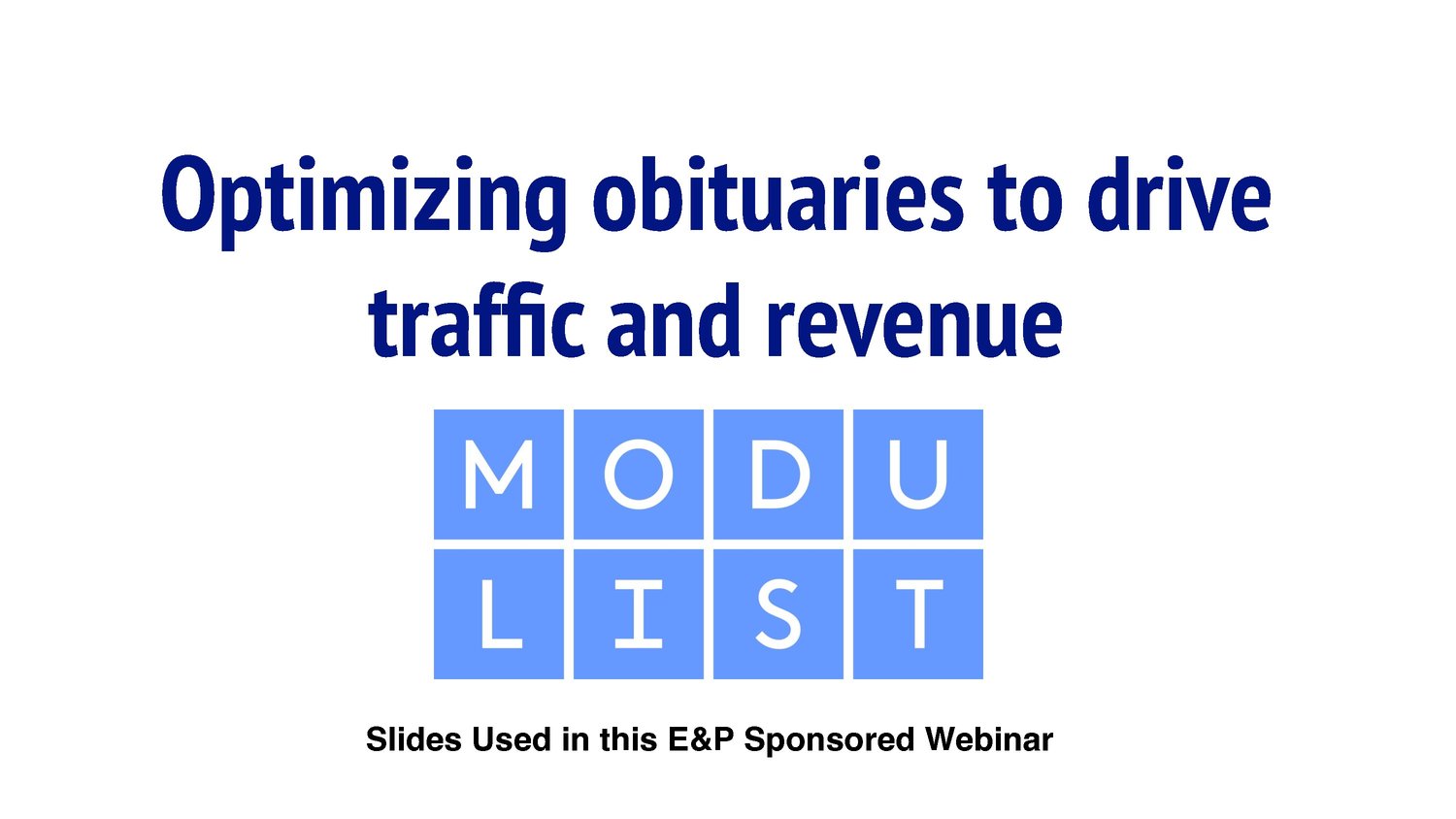 Hoalcraft and Lister both addressed the often-heard concern from staff members that using technologies like Modulist could result in them losing their jobs. Lister said she assigned staff previously processing obituaries to develop other user-generated content ideas.
"Our staff and editors weren't so much concerned with the effect on their employment as switching the obituary process to an outside company," said Hoalcraft. "They quickly recognized the many benefits of Modulist after just a few uses. Today, if I told the staff we decided to stop using Modulist, I would have a riot on my hands."
April Knutson, marketing strategist at Modulist, explained that many of today's consumers won't take the time to complete an online form and then talk with someone at the paper to complete the obituary process.
"Modulist is available any day and time. Users have the freedom to access the platform when it's convenient for them, just as they do with their banking, shopping and other online activities," said Knutson. "People expect their announcements to be published the next day, which only adds pressure and costs to newspapers' production. With a much simpler system, those announcements are online the next day."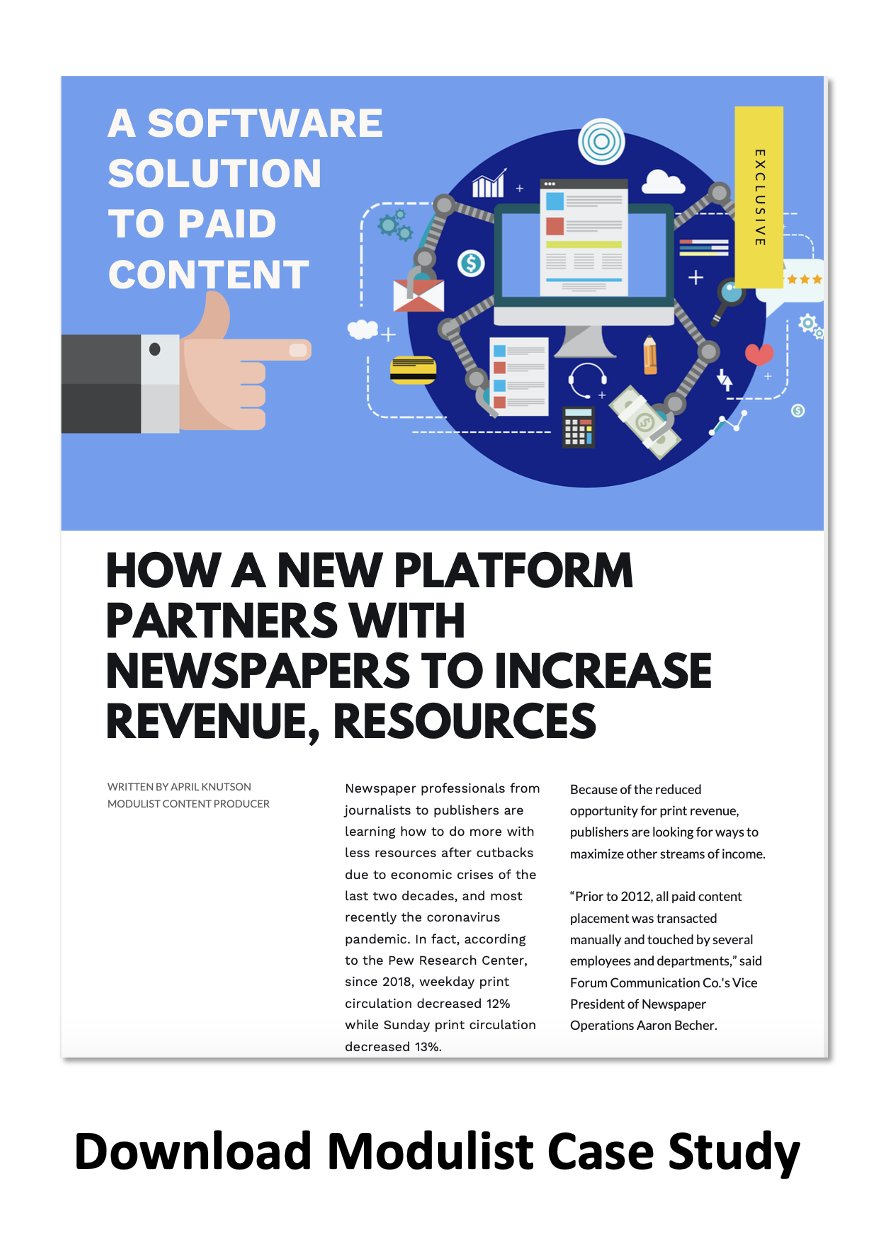 Hoalcraft said the Forum Communications papers have started Milestones sections using the
Modulist portal. The local community can post personal announcements, such as weddings, birthdays, new births and graduations, as well as business announcements: new-business launches, new locations, new hires, promotions, retirements and community involvement.
"People want to know about their friends, neighbors and work colleagues' milestones. Our readers want to see faces they know, and it's easy for users to post them on the Modulist portal," added Hoalcraft. "It's another content-monetizing opportunity for us. Plus, the local community recognizes the paper as the source of this information, an excellent example of being hyper-local in action."
Panelists included:
Letitia Lister,
Publisher of The Black Hills Pioneer

Alicia Strnad Hoalcraft
Integrated Media and Operations Production Manager at Forum Communications Co

Devlyn Brooks
Modulist's founder and president
devlyn@modulist.news | (701) 245-5545

April Knutson
Modulist's marketing strategist
april@modulist.news | 701-241-5518
Modulist specializes in the processing of user-generated paid content, helping media "Publish Life's Stories" about people in their community.