This year, wildfires threatened land, homes, businesses — lives and livelihoods — worldwide. Greece, Chile, Italy, Mexico, Spain, the UK, the Canary Islands, Kazakhstan and Turkey experienced wildfires in 2023.
Wildfires in western Canada ravaged over a million acres and displaced tens of thousands of residents. In early summer, Quebec calculated more than 160 active forest fires. Fires raging in Nova Scotia and Quebec sent a blanket of smoke across Canada and the United States, as far south as the Carolinas.
According to the National Interagency Fire Center, from Jan. 1, 2023, to Sept. 8, 2023, 40,683 recorded wildfires in the United States have impacted more than 2.1 million acres. At press deadline, there were 67 active fires. In the past year, at least 14 U.S. states have contended with wildfires: Oregon, Idaho, Montana, Washington, Texas, Louisiana, Colorado, New Mexico, Arizona, California, Florida, Oklahoma, Nevada and Hawaii.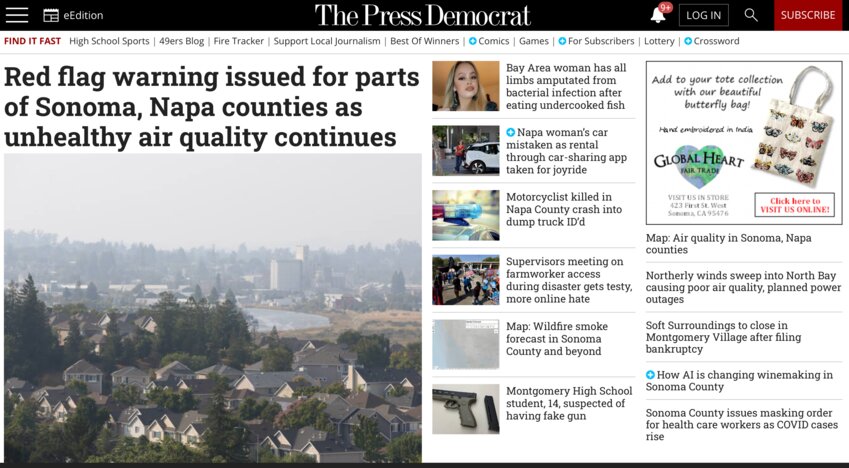 The team at CalMatters — a nonpartisan, nonprofit news agency — created a comprehensive guide to California wildfires, with real-time and comparative data on active and past fires and maps showing the impact to acreage and communities.
Kent Porter knows a lot about how fire behaves and how its behavior can be unpredictable.
"When a fire gets really rolling, it will collapse in on itself," he said. "It's like if you had a puddle of water on a table, and you put your hand down on it, palm-side down. All the water squirts out in every direction. That's how it is when a fire column collapses; it spreads fire in every direction, with embers shooting up thousands of feet in the air."
For the past 37 years, Porter has been a staff photographer for The Press Democrat in Santa Rosa, California. Photographing fires wasn't meant to be his beat, but he is now an expert. He first photographed a wildfire in 1987.
Porter will tell you that it's hard to keep track of the fires he's photographed: the so-called Witch fire, the Cedar fire, the Tubbs fire, Kincade, Valley, Dixie and on and on.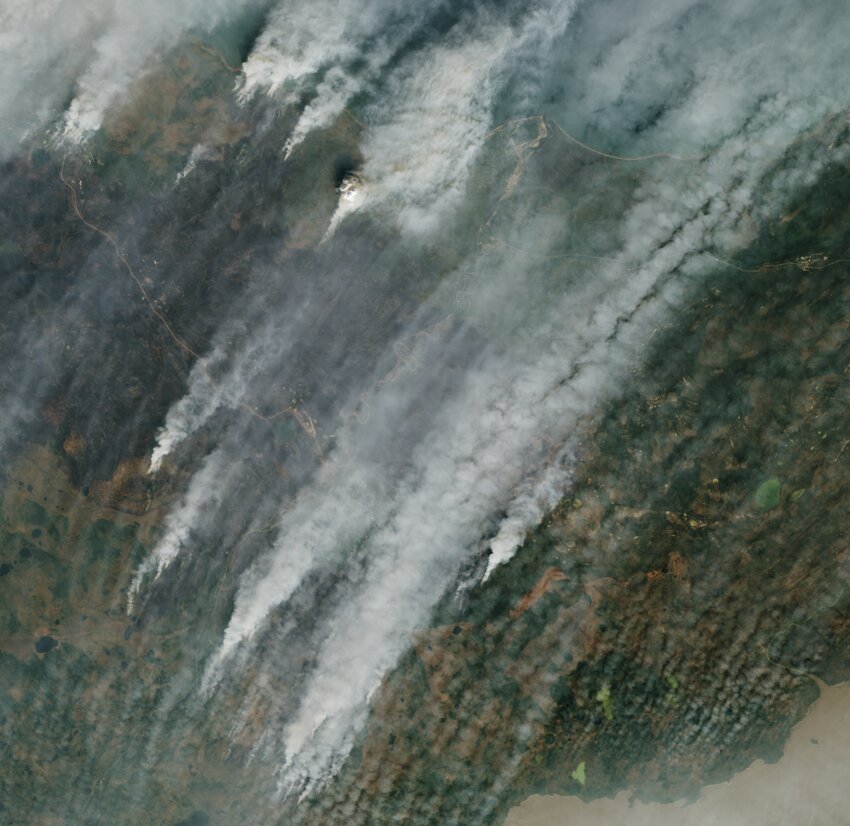 Still, he's able to recount each one in great detail — where he was when word of the fire came, how he traveled around, the challenges each fire presented, the people and pets, forest and homes endangered.
He recounted to E&P how he's seen whipping winds, leaping flames, falling branches from burning trees, and the horrors of communities charred and disintegrated. He's had the unique experience of having his truck catch on fire while driving near hot spots. He's seen lush forest reduced to "a bunch of sticks."
Asked how he typically begins photographing a wildfire, he said, "There is really no one place that you start. When you hear the call on the scanner or see smoke, you just go towards it."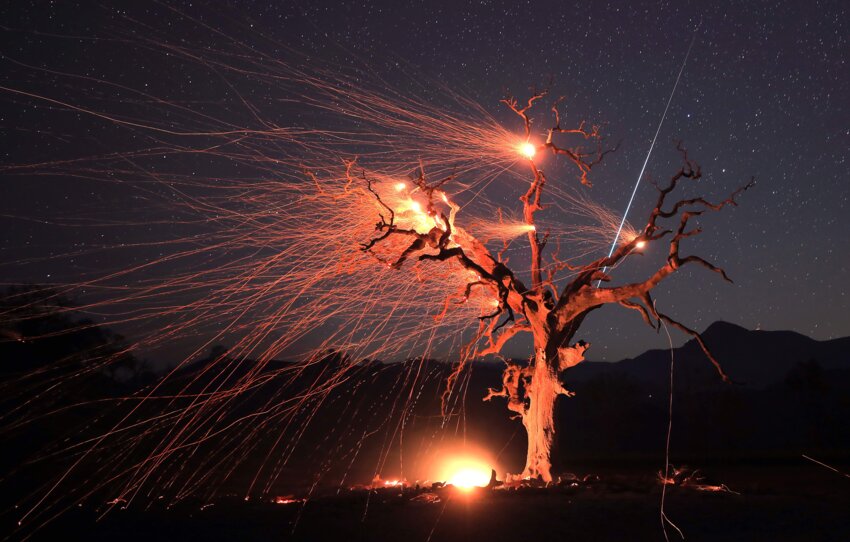 Porter explained how his greatest asset is knowing the area. He's familiar with the roads, the terrain and escape routes. He carries with him his photography equipment and mobile phone, as well as some potentially life-saving gear: heavy rope, a shovel, chainsaw, blankets, a sleeping bag, a fire shelter, water, food, changes of clothes, toiletries and a fire extinguisher.
In the mid-1990s, Porter advocated that the publisher outfit all the photographers with basic firefighter suits, helmets, equipment and boots. They also keep a cache of fire safety gear for the newsroom.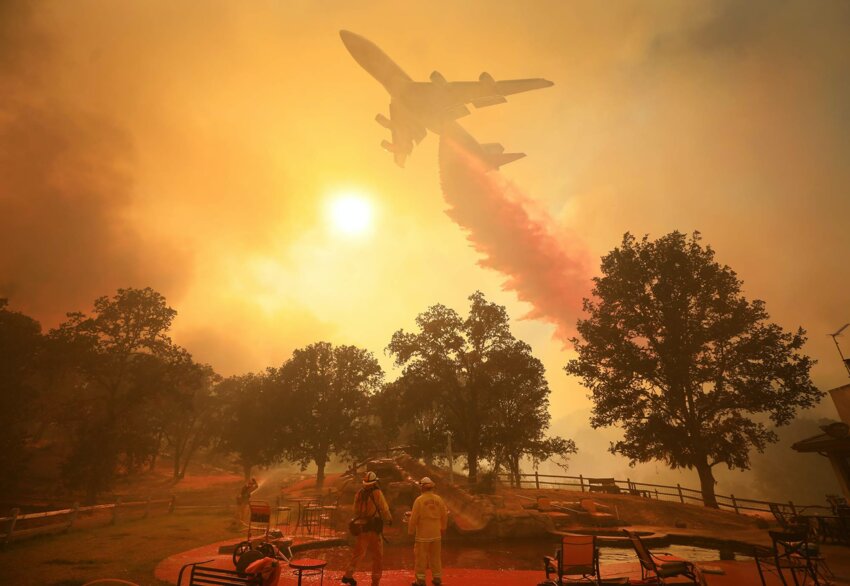 "I started taking pet food with me because of the number of pets I'd see who were stranded and their owners couldn't get to them," he said. "I always have a 50-lb. bag of dog food with me and cat food."
In 2020, the Committee to Protect Journalists produced a comprehensive safety guide for reporting on wildfires. It has tips on preparation, risks and hazards, equipment and clothing, self-care, and navigation or driving in smoky conditions or near active flames.
When Porter is photographing a fire, he stays in touch with the newsroom and the public. "Twitter is being ruined," he said. "A lot of people used to get their news on Twitter. It was a great breaking news platform and a big part of our coverage during the 2017 Tubbs Fire."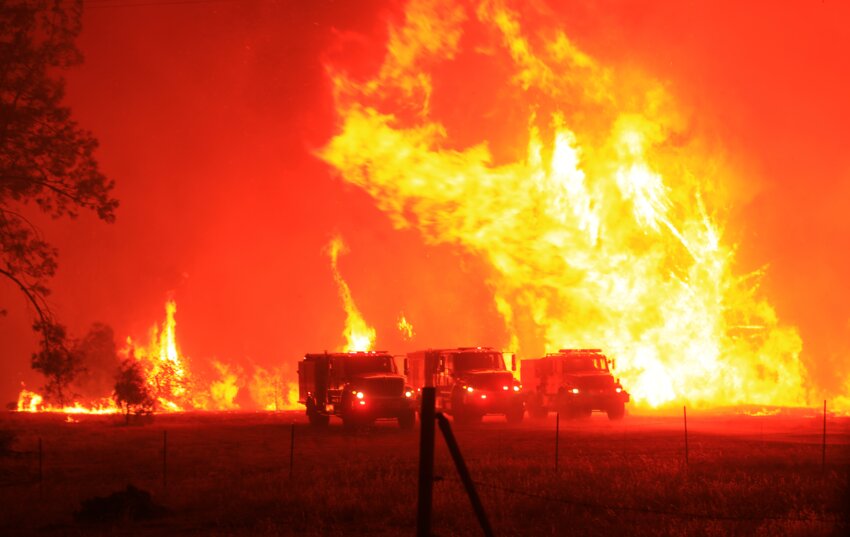 In one of the more harrowing moments photographing that fire, Porter saw flames leap across the road in front of him, incinerate a vineyard and race up the hillside in a matter of minutes. Further down the road, he encountered a firefighter whose words stuck with him: "Be careful out there. This is the kind of fire that kills people."
He stopped to photograph another group of firefighters nearing a house starting to burn, the artificial turf grass around the swimming pool igniting and melting. "I've got these really eerie-looking pictures of the artificial turf burning, which was just the oddest thing I'd ever seen," he said.
Around 11 p.m. that night, he called the paper's managing editor and reported that it was time to inform the public about the grave danger. "I told him, 'This fire's gonna go to Santa Rosa, and it's going to burn a lot of homes.' There was a long pause on the phone, and he said, 'You're sure?' I said, 'I'm dead serious.'"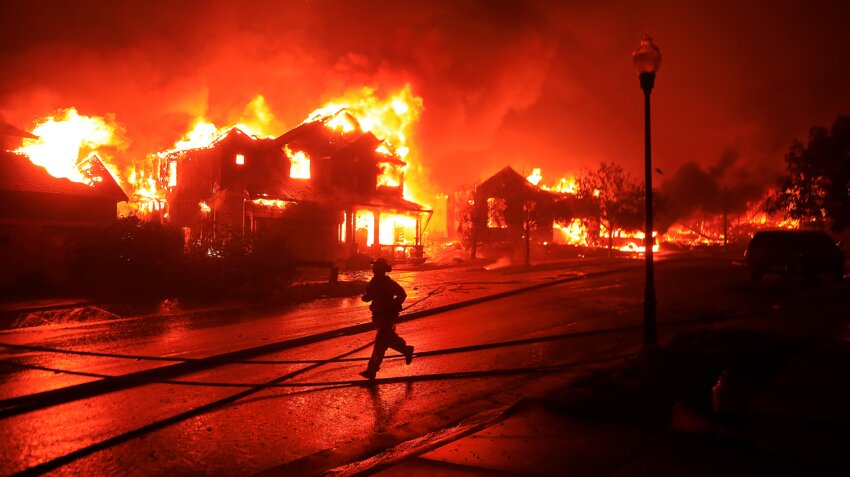 The Press Democrat was awarded the Pulitzer Prize in Breaking News Reporting for its 2017 coverage of the Tubbs Fire. The devasting wildfire killed 23 people and destroyed nearly 7,000 homes, outbuildings and businesses.
It challenged him professionally. He recalled coming upon a woman digging through the remains of her burned home. "I'm thinking to myself, what a great photo this is, but I had to put that in the backseat. Instead, I got out of my car and gave her a hug. I've since learned that she was able to rebuild. She's remarried, and her kids are in college now and doing great. Life goes on, but something like the Tubbs Fire — that's forever etched in the community's memory," he said.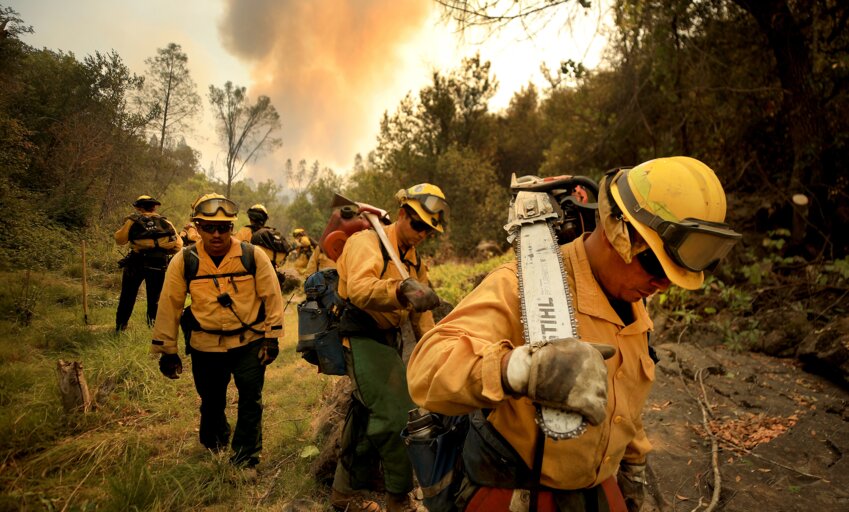 In the field, Porter seeks out fire chiefs and strike teams. They can be a source of information and (when it's relatively safe) an escort toward the active fire. In turn, he can also be a good source for them, reporting on what he's seen in his travels, where the fire may be heading, and who may need urgent help.
Porter is a self-described weather buff. He carries gauges for measuring temperature and wind. He's in awe of fire's power. One of the photos he's most proud of shows a group of fire engines in front of a log home on fire, flames shooting 100 feet in the air, dwarfing the vehicles. "It's just a stupendous photo," he said.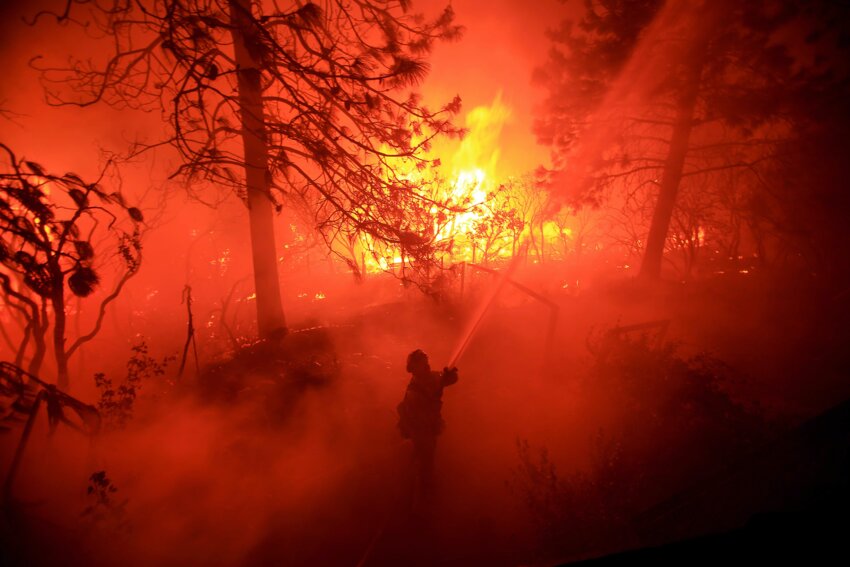 While reporting on the 2015 Valley fire, Porter had an epiphany. He penned an editorial for the paper, saying, "For me, the summer and fall of 2015 ushered in a more troubling tipping point. Lake County, where I grew up, came under siege from three wildfires, the worst being the Valley fire, which raced through the bug-killed and parched forest atop Cobb Mountain before storming into Middletown, destroying more than 1,300 homes in all and killing four people. … Ever since, I've felt a sense of responsibility to show how that threat is escalating amid the onslaught of climate change."
In fact, the Dart Center for Journalism & Trauma's "Covering Wildfires" guide suggests journalists are responsible for speaking about the links between wildfires and climate change. "The more we cover wildfires as isolated events with clear boundaries, the more we abstract climate change," the guide reads. "Storytelling needs to depict what it's like to live with climate change as a continually developing crisis and reveal the ways in which lives are permanently altered."
Porter said, "Life never really gets fully back to normal. To tell you the truth, when the wind blows here, people feel paranoid. You can see it on people's faces. Even with the normal onshore flow we get here in the afternoon, that brings fog and wind, people sit up and take notice."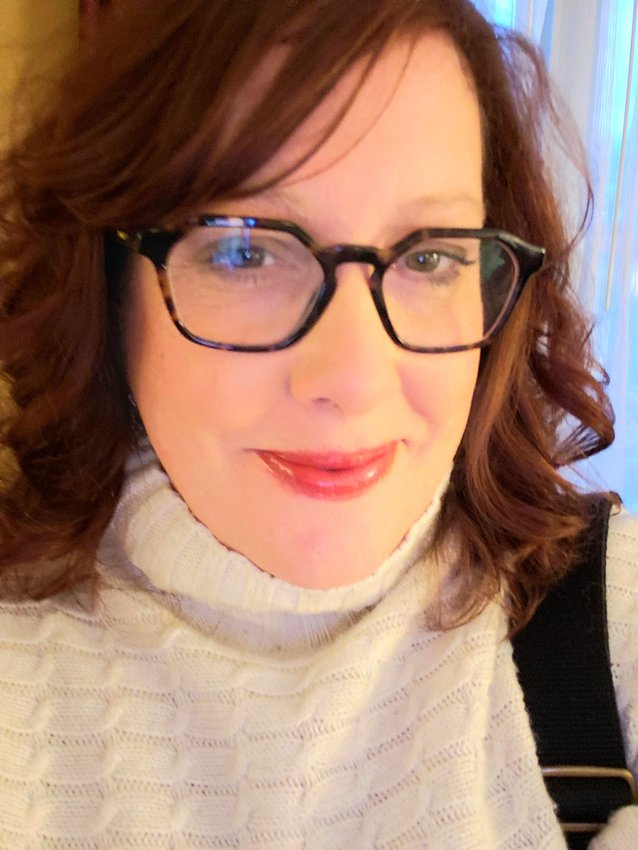 Gretchen A. Peck is a contributing editor to Editor & Publisher. She's reported for E&P since 2010 and welcomes comments at gretchenapeck@gmail.com.