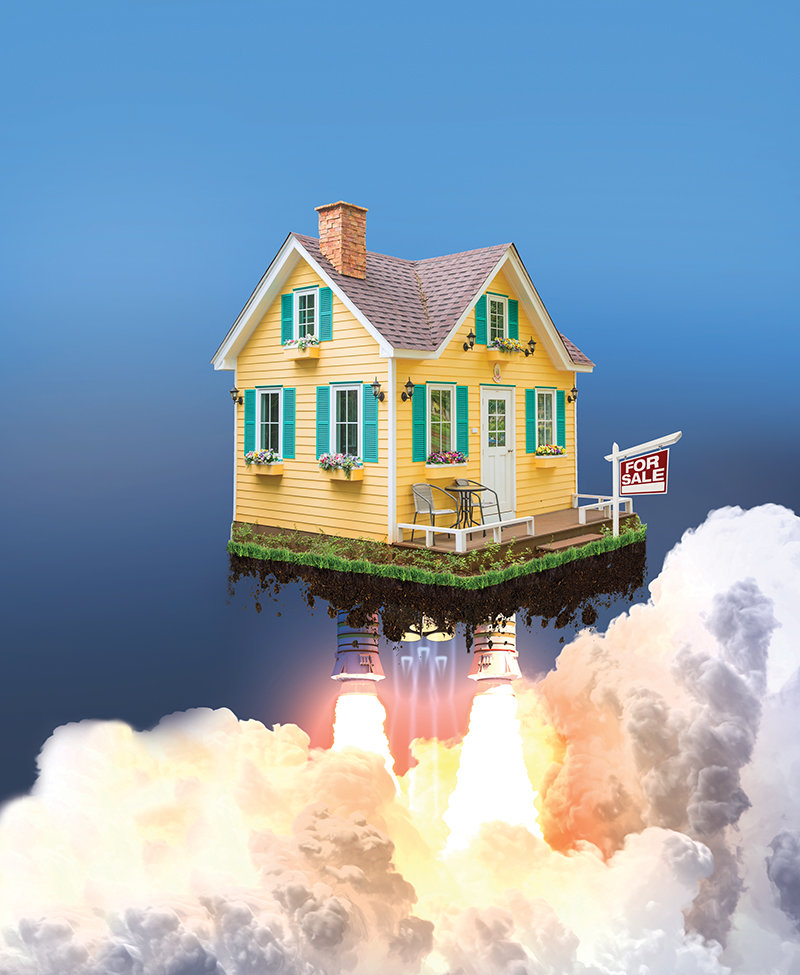 Does it still pay to advertise real estate in your local paper? Maybe not in the print edition. According to a National Association of Realtors (NAR) report, in 1981, 22 percent of home buyers read newspaper ads to find a home. In 2016, 44 percent looked for properties online first.
In today's increasingly digital world, real estate advertising has moved online with digital ads now being tailored to meet client needs and track ad clicks and impressions. In addition, newspapers have to compete with sites like Zillow, Redfin, and Craigslist that cut out the middleman.
And when buyers can simply ask "Alexa, search for three-bedroom homes in Santa Fe," thanks to new voice technology like Voiceter Pro, newspapers need to learn how to keep up with the latest digital advances.
Some of them already are taking those first steps.
E&P talked to media companies and real estate agents about how they're leveraging social media, creating their own custom solutions, crafting key partnerships and finding valuable new uses for real estate data.
Moving Beyond Print
Less than 1 percent of buyers found their homes through a print and 51 percent started their home search online, according to the NAR.
Real estate agent Melissa Farley of Long and Foster in Washington D.C. said, "I've only been in real estate for about three years, and as part of the newer generation, newspapers aren't something that we really use. It seems like only older agents use it for listings and open houses."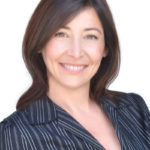 Star Jasper
Los Angeles-based Keller Williams realtor Star Jasper agrees that newspaper listings are considered old hat. "Newspaper listings can be effective depending on your demographic. For instance, in senior living communities, most of the homeowners read the newspaper everyday, and it would be well worth the investment for a realtor to advertise in the local papers."
But print ads do still serve a purpose, according to Rodolfo Schwanz, former digital and print classified advertising director at the Napa Valley Register in Napa, Calif. Schwanz now serves as digital sales director for Amplified Digital.
He pointed out that print ads help build a brand and adds name recognition for real estate firms and agents.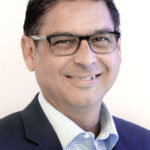 Rodolfo Schwanz
"The brokers still use the traditional print media more as a branding tool," he explained. "Most still feel the need to see their listings in print. The sellers always have the pressure on the agents and brokers to have their listings in print."
The upside to brand-building, even if it doesn't lead directly to home sales? Most people still want to work with an agent. According to another NAR report, 87 percent of buyers used a real estate agent or broker in 2017, as did 89 percent of sellers.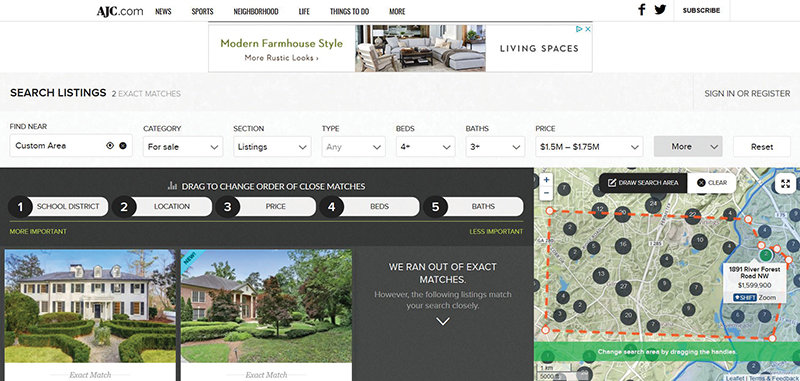 The Enclosure app featured on the Atlanta Journal-Constitution website.
Beneficial Partnerships
In 2015, 91 percent of realtors were using social media, but only 9 percent of realtors used social media to market their listings or even themselves, according to a Contactually study.
"My main source advertising is social media," Jasper said. "Facebook has been a great way to keep me 'front of mind' to friends and clients who have real estate needs."
Farley primarily promotes herself through Instagram and Facebook ads. "I don't spend a lot on ads. I'm somewhat strategic and frequent with my content. I keep it light and fun with a 'day in the life of a realtor' vibe. The goal is to get a glimpse of what it's like to work with me by looking at my page. And we try to post frequently enough so people remember us when real estate needs comes up in their lives."
GateHouse Media has achieved "premium level access status" with Google, Facebook and other leading digital providers by partnering with ThriveHive, a digital marketing agency.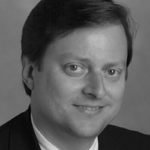 Bob Birkentall
Bob Birkentall, director of online verticals at GateHouse Media, said of the partnership: "This enables us to exceed the expectations of our clients with effective marketing solutions that extend beyond traditional print advertising. For print and digital, we've expanded our self-serve platforms to better service the transactional advertising needs of realtors."
He explains one of their newest innovations is Facebook Real Estate ads. "Very simply put, this is a solution that is optimized for 'lead generation.' To accomplish this, we bid for audience traffic differently and more selectively to favor qualified buyer and seller leads versus raw impressions. Since most markets are experiencing a listing shortage, most brokers and agents are looking for a lead solution. Clients can make individual or transactional purchases through our e-commerce platform for only $99 per three-day campaign."
Real estate isn't just about selling homes: It's about the whole neighborhood, an angle used by GateHouse Media in a recent successful partnership with Coldwell Banker Schmidt at the Holland (Mich.) Sentinel.
In a "Salute to Amazing Teachers," the Sentinel asked readers to nominate a teacher who made a difference in their child's life.
"One of the more powerful drivers for moving into a new home is to live in a better school district for your family," Birkentall said. "What better way for a real estate company to associate themselves with this powerful motivator than by sponsoring a local salute to the area's best teachers? Coldwell Banker Schmidt purchased the sponsorship and generated significant engagement from the community."
Creating Your Own Campaign
There are a variety of online tools available to track ad impressions and clicks, including Google tools and URL tagging. Now the Napa Valley Register has also adopted the brand new real estate ad platform Enclosure. Other newspapers using Enclosure include the San Francisco Chronicle, the Atlanta Journal-Constitution and the Buffalo News in New York.
One of Enclosure's strengths is its patented "fuzzy search" technology, according to Enclosure vice president of sales Connie Chen.
She demonstrated the same four-bedroom, four-bath search on Enclosure versus Zillow to show its unique searching ability, which will always give "near miss" results to any search. With Zillow, she said, a too-specific search can result in zero hits.
Other advantages over Zillow, according to Chen: a "reset" button for searches, the ability to search by school district, and a dropdown list that shows the number of hits your search yielded before you started scrolling.
At the Chronicle, Chen said the project was completed in less than two weeks and has doubled traffic in the two months since its launch.
So far, agents love the "fuzzy search," and its ability to help them find more homes for customers, Chen said. And audience engagement is good: with eight to 15 page views/user views and "almost double that" on mobile apps. She added they're seeing "increasingly high usage on mobile devices of all kinds, with most implementations at over 50 percent usage."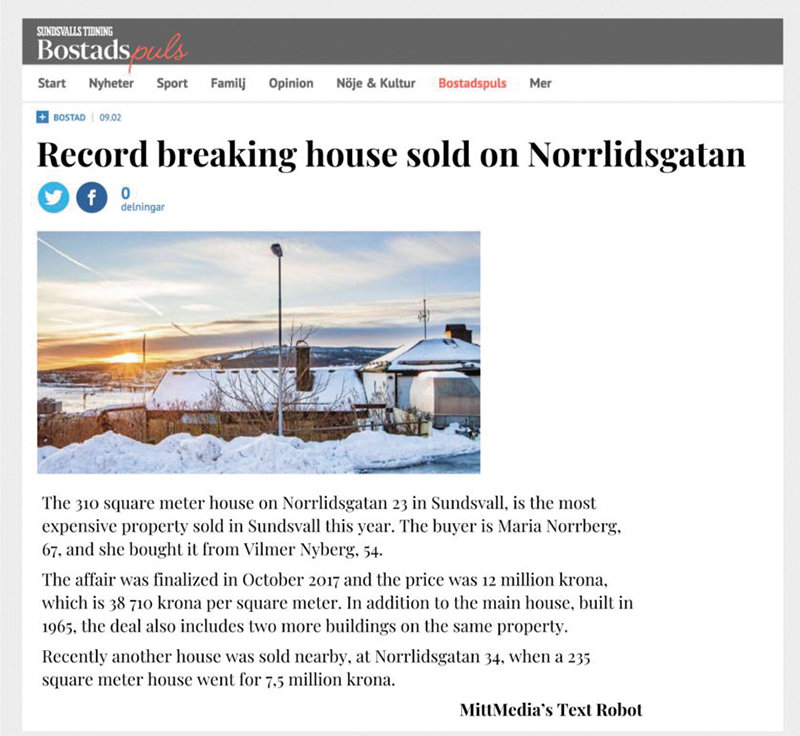 Pictured is an article written by the Homeowners Bot. The article is translated from Swedish to English.
Data Leads to Automated or Custom Content
For decades, Sweden's leading local media company, Mittmedia, published details and listings about home sales in its newspapers, but now that the property data provided by Sweden's Land Registration Authority is in digital form, it was a smart leap to start using that data to generate automated articles.
As a result, the Homeowners Bot was created. Mittmedia partnered with United Robots to develop a simple text automation platform. For the articles, the bot finds a particular angle, such as a record-setting sale price, writes a headline, and tracks down the best image from Google Street View via custom algorithms. Voila—custom content.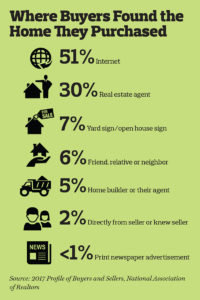 Subscriptions are up, and so are ad sales, according to Mittmedia's chief digital officer, Robin Govik. "We have seen a dramatic increase (more than 28 percent) in overall ad revenue the first half of 2018 compared to the same period 2017. There are many reasons for this, of course. But our ad strategy is pretty clear: Our business is built on loyalty. So by making content that is relevant for our loyal readers, like our Homeowners Bot, we strengthen the ad business."
And the bot goes beyond articles. "We have also started specific real estate websites for some of our brands," said Govik. "The Homeowners Bot makes it easy to start a website and fill it with content and sell ads."
But there are a few downsides of the bot. "There have been some data errors that made the bot write articles with wrong information. We get the data directly from Sweden's Land Registration Authority so when they are wrong, we are wrong," said Govik. He added that they've received only a "handful" of complaints from people who weren't comfortable with having the sale of their house published.
Govik said reactions have been overwhelmingly positive though. "The readers enjoy the service and the advertisers likes that we set focus on house sales in our different geographical areas." And according to a user survey, 68 percent of readers didn't realize they had just read an article written by a bot.
Enclosures's Chen also stressed the value of making real estate listings work twice as hard. "This extremely hyperlocal data can be used in the traditional way, such as to search homes or feature homes. But it can also be used to create content—evergreen content on specific areas that the paper covers, or newsletter content that can give insight into who would opt-in for that content."
Crafting Custom Ads
AdWriter has been around for more than 30 years, but it has evolved to keep up with the latest needs of publishers as well as from brokers, according to Doug Hitchcock, vice president of business development.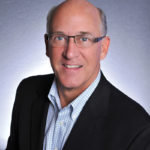 Doug Hitchcock
"In some markets, the news media publisher is the direct customer of AdWriter and provides this as a service to their real estate advertisers," Hitchcock said of the system, which is used by more than 40 nationwide and regional real estate brokerages and news media publishers.
Larry West, real estate advertising manager at the Tampa Bay Times, has been using AdWriter for about 10 years. "AdWriter provides a seamless production solution with great accuracy, excellent turnaround, and a very pleasant and helpful staff that are all so easy to work with," he said. "We feel we get great service and value for the services they provide for both our weekly newspaper features and our monthly real estate publications."
The AdVantage system lets a broker select which properties they want advertised in each publication, whether it's the latest listings, a particular neighborhood or its highest-producing agent. Recent improvements include the ability to generate listing ads that can be posted on social media sites.
"All of our pre-press PDF documents are now electronically-linked so that a publisher can use the same document on their own website with live links to the property listing and the agent's phone number for mobile device browsing," said Hitchcock.
He described it as a "one-stop curb-to-contract" solution for real estate advertising that allows the publisher and advertisers to have the listing data, print-ready photographs, agent headshot and phone numbers all in one place.
Making a Comeback
From bots to digital data, the heyday of splashy print real estate ads may be coming to an end, but GateHouse's Birkentall is confident real estate advertising will live on digitally.
"Around 2013-2014, we started to see a shift or return of our customers back to our local online solutions," he said. "We will never be the only game in town again as we were in print up to the early 2000s. But as we expand our online offerings and achieve premium partner status, we are better positioned to compete with the many talented digital marketing agencies."
Bonus: 5 Tips on How Newspapers Can Stay on the Cutting Edge of Real Estate Advertising By Ebony Reed
Sales, product and news teams should regularly brainstorm and work together to develop ideas around various platforms for real estate information and news to improve current products and generate new ideas.

Survey audiences (and non-customers) to learn how they consume real estate news and information. What kind of real estate information do they want from their local news organization?

Contact the local real estate board and explore what partnerships might be possible, even if it's just around one product or a seasonal one.

Don't give up and just cede this space to competition. Sometimes there is an opportunity to craft a limited partnership with a competitor around one product. Partnering with competitors is not always a death wish.

Get comfortable with technology and don't be afraid to test it out.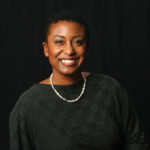 Ebony Reed is the director of innovation and Futures Lab at Reynolds Journalism Institute and an associate professor at Missouri School of Journalism. In her role, Reed collaborates with RJI staff and the Missouri School of Journalism to research and test new platforms for journalism.