To say journalism and the news industry are experiencing major changes would be an understatement. Social and cultural issues are influencing more newsrooms to focus their reporting on under-represented communities and shed old business models that can't sustain the news industry.
The current transition of journalism and the business of news was just the kind of challenge that attracted Charles Sennott and Steven Waldman. With their dual perspectives as veteran journalists and social entrepreneurs, they founded Report for America, an initiative of The GroundTruth Project.
They recognized that major metropolitan newspapers were cutting their staffs to the bone. Many community, weekly and rural newspapers and those serving communities of color were closing, creating news deserts.
They treated the situation as "a call to service" and an opportunity to create a program to save journalism. That call to service is the foundational mission of Report for America (RFA).
At its core, RFA matches emerging journalists looking for their next professional opportunity (with an emphasis on journalists of color) with news organizations that need to augment their news team and increase their coverage of communities and issues, which receive almost no reporting.
"Diversity strengthens newsrooms, so we've gone to great lengths to attract and build a diverse reporting and photography corps," said Kim Kleman, senior vice president at Report for America. "Almost half of our corps members are journalists of color, and two-thirds are women. We've also brought in military veterans and are looking to attract more bilingual reporters to reach more communities."
Today, some 300 RFA corps member journalists are working in more than 200 newsrooms (newspapers, radio, digital-only and TV) across the United States, Puerto Rico and Guam. Just more than half are nonprofit newsrooms.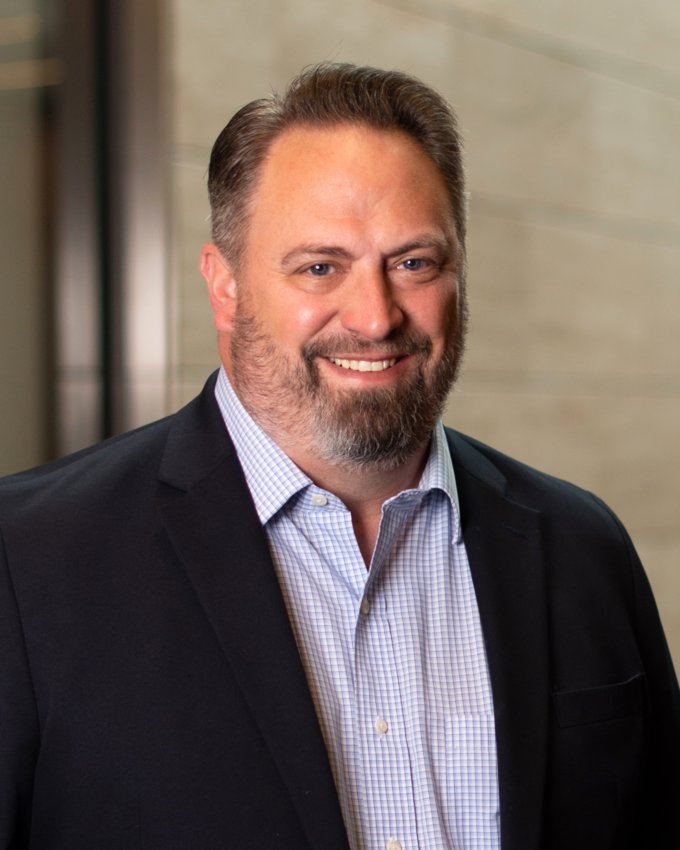 "Newsrooms are closing at an alarming rate, and many more are reducing their coverage. Our goal is to field 1,000 journalists within the next few years to reverse this trend," Sam Kille, interim vice president of communications at Report for America, said. "Our regular surveys reveal the program is greatly appreciated by our corps members, and the news organizations that hire them are satisfied with their work."
According to Kille, newsrooms responding to the surveys said they had lost many experienced reporters and editors, which prompted RFA to launch an experienced journalists corps. Journalists who lost their jobs or changed careers but want to return to journalism can apply for positions.
A director of admissions for a growing program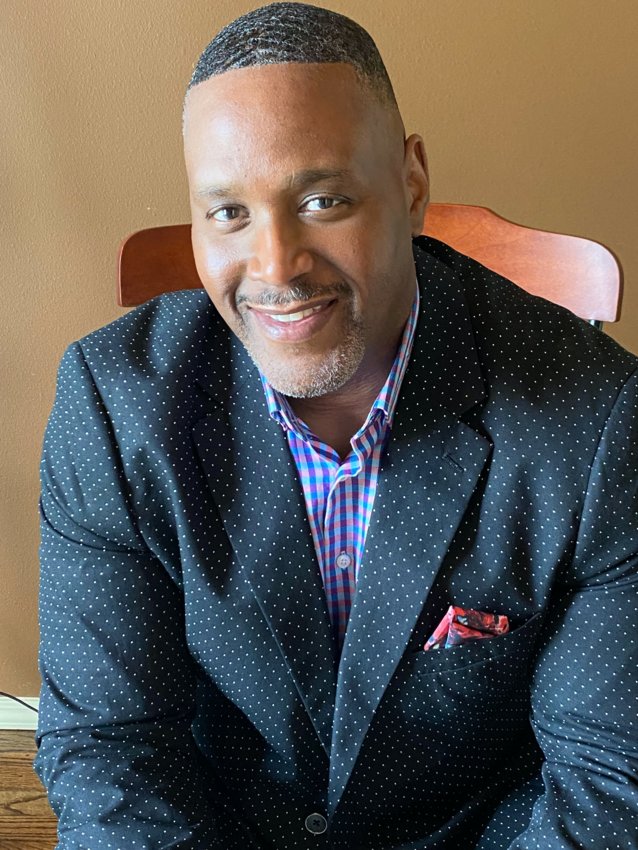 As the interest in the RFA program among journalists and news organizations has increased, RFA has had to expand its staff, most notably a director of admissions. Earl Johnson was hired in 2021 for that role, bringing his many years of experience in enrollment management, student services and admissions at The University of Tulsa.
Johnson is overseeing a multi-level recruitment and placement process at RFA. News organizations looking to fill opportunity news gaps with a new reporter submit an application listing beats requiring coverage in their communities — many of which are under-reported. RFA emphasizes "accountability journalism" and first looks for beats reporting on diversity and other inclusivity issues in rural communities and communities of color.
"Our program is one of few where interested journalists can view and select from the host newsrooms' lists of beats and consider the geographic location for their work and other criteria," Johnson said. "We encourage journalists to apply according to their skill sets and their passion for serving local news, which improves the application review and placement. For our next cohort, we plan to contact several hundred newsrooms as well as our existing partners and invite them to apply during mid-July 2022."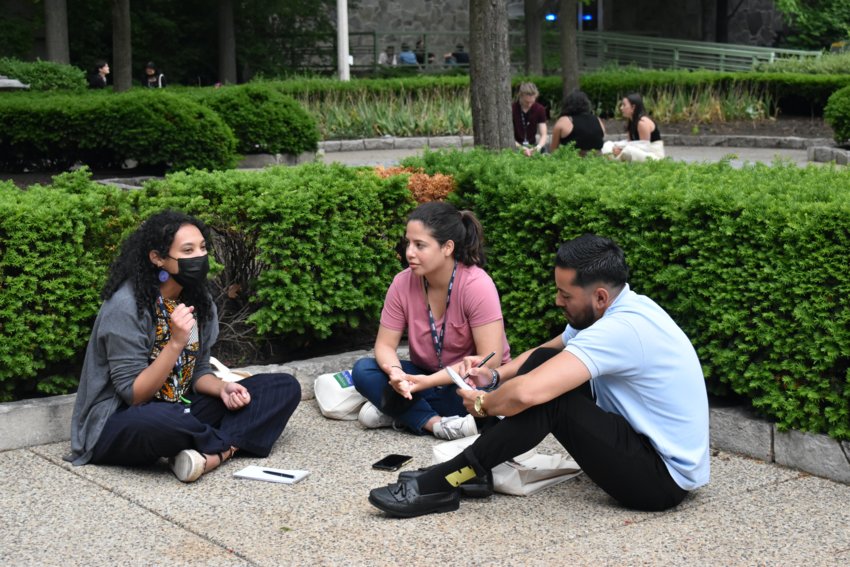 RFA corps members receive a salary during their two years with a newsroom like any other journalists; however, the program splits the cost, with RFA paying 50%, the news organizations 25% and local donors 25%.
Johnson added that all participating newsrooms have been able to provide their share of corps members' salaries. If they need support with fundraising, the RFA local sustainability team works with newsrooms to provide valuable advice and resources.
RFA, however, is much more than a place to find a job and a place to find journalists. Newly accepted journalists attend an initial training and orientation program each June, and third-year corps members can develop their leadership skills to add value beyond reporting for their newsrooms. Corps members also have access to leading journalists and mentors who have covered major stories or who have deep experience in a particular beat to help corps members improve their skills in those areas.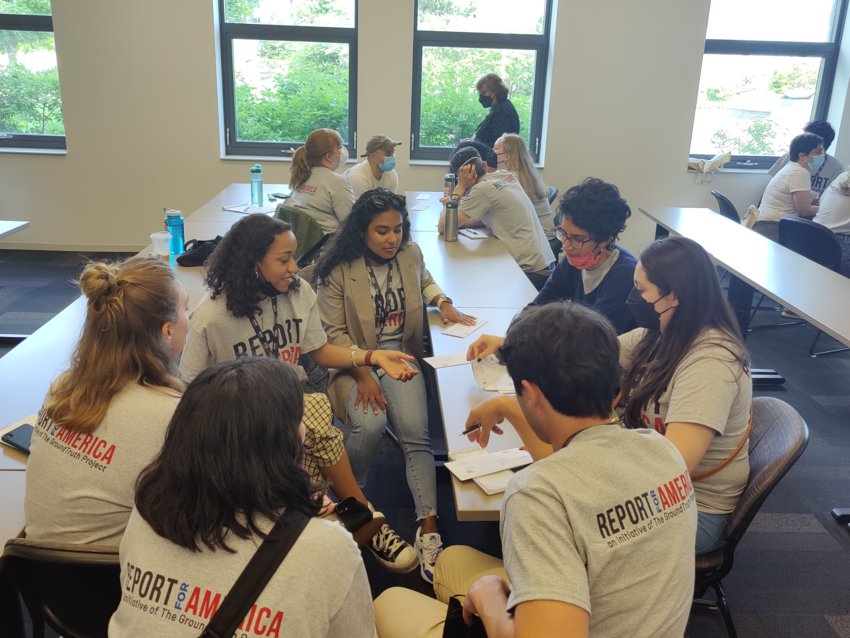 RFA also encourages the input of corps members. Each class selects three members to serve on the Advisory Corps Council, which provides RFA leadership with insights about the corps experience, how it can be improved and what works and doesn't work.
"Although the RFA program is relatively young, our reputation is growing, and we know we're making a difference. Our first career fair attracted many newsrooms to network with corps members because they know the quality of our reporters and training," Johnson said.
Johnson wants to expand the experienced journalism corps. Many may be looking for new opportunities after the downsizing of many newspapers. They are also attracted to RFA's mission and want to use their skills and experience to cover important community issues instead of general news reporting. They also recognize the value of RFA's training and mentorship programs to help them advance their careers and skill sets.
The essential support of philanthropy and donors
In the May 2022 Editor & Publisher article, "Philanthropy and News Media: a 21st Century Revenue Collaboration," Todd Franko, director of local sustainability and development at Report for America, said the pandemic helped increase awareness among philanthropic organizations and individual donors of the importance of supporting local journalism. During the past three years, Report for America has increased local newsroom support from $861,000 to $4.8 million to $7.4 million by 2021.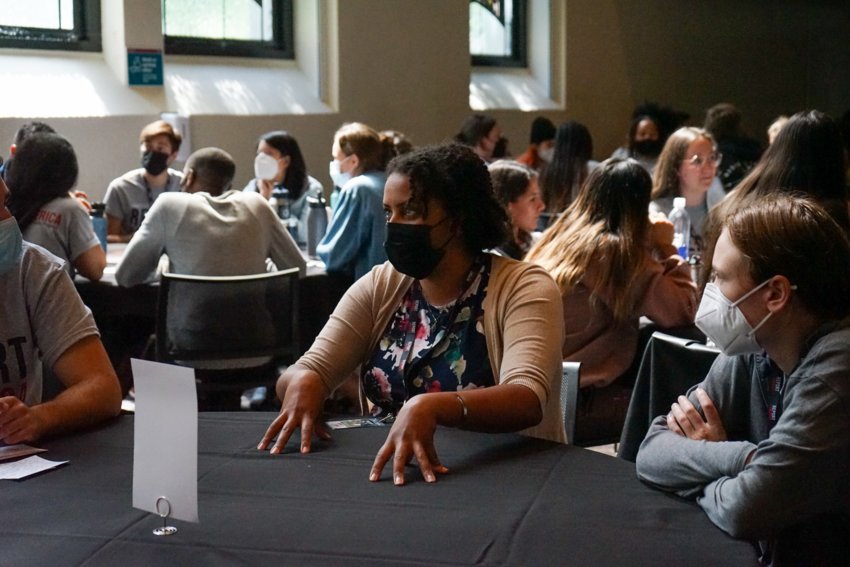 Being proactive and expansive in its thinking, RFA then launched its Community News Funds program, which seeks to create direct partnerships between local foundations and news outlets to create a single, permanent fund for long-term support.
The story of the Traverse City (Michigan) Record-Eagle is an excellent example of how well — and surprisingly — local philanthropies respond to local newspapers' requests for funds. When the executive editor and publisher of the Record-Eagle approached the Grand Traverse Regional Community Foundation, its director said they weren't asking for enough money! Collectively, their efforts have raised thousands of dollars and proven that once community leaders and foundations understand the value of strong local newspapers, they are eager to help.
"To date, all RFA newsrooms can find local donors for that 25% share of corps members' salaries. Particularly encouraging are the stories of local citizens and readers of these newspapers sending their newspapers $10 and other small donations," Kim Kleman said.
On the beat with RFA corps members
Every Report for America corps member's story is different but also reveals that the path to becoming a corps member and a journalist is often quite circuitous, with stops and starts and diversions.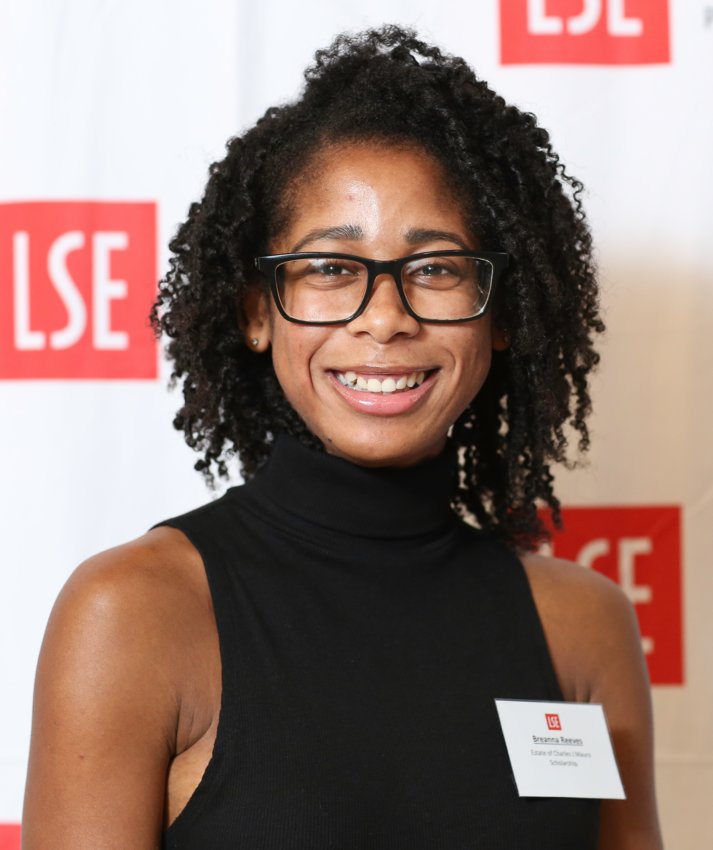 Breanna Reeves is a second-year corps member and reports on the disparities in healthcare for Black Voice News, a digital and weekly newspaper in Riverside, California. After earning a master's degree in politics and communication from the London School of Economics and Political Science, she couldn't find a journalism position. She was an intern in San Francisco reporting on homelessness, social activism and inequality at San Francisco State University's student-run newspaper.
"I was looking for my first career opportunity and wanted to return to Los Angeles, my hometown, to cover the same issues as a freelancer. A professor at the university introduced me to Report for America," Reeves said. "I appreciate the program is open to early-career journalists. The application process paired me with Black Voice News, and I liked its operation and enjoyed the rapport of the newsroom."
Becoming a corps member and joining the staff at Black Voice News were excellent career choices for Reeves. She received RFA's 2022 Service Project of the Year Award, a first-place award from the California News Publishers Association and was selected for the University of Southern California's 2022 Center for Health Journalism California Fellowship.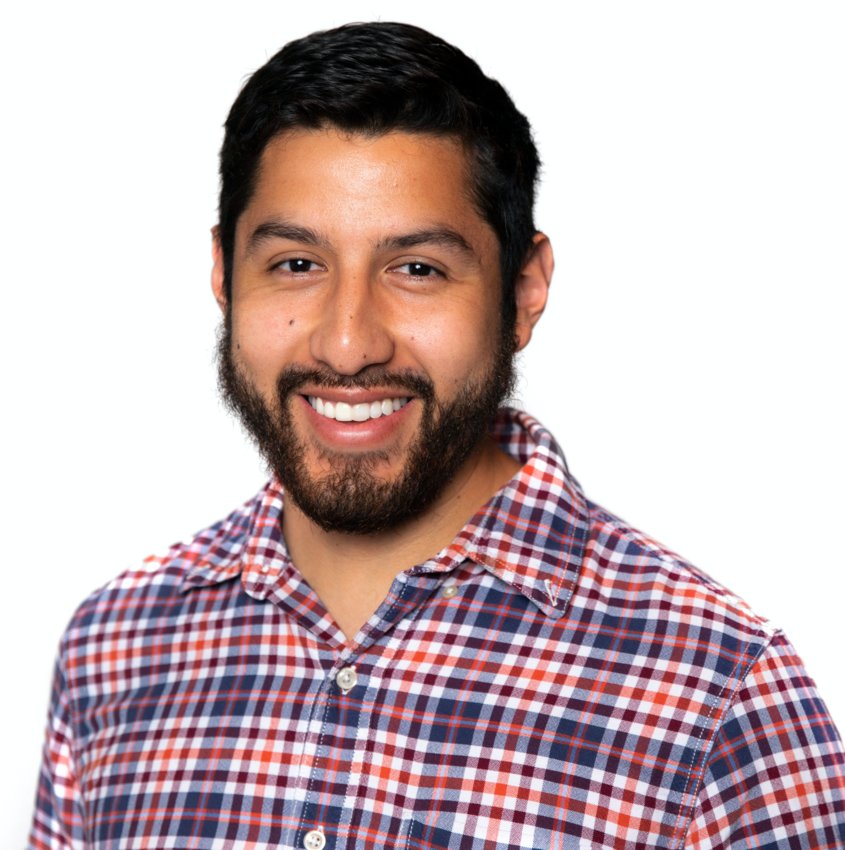 Anthony Vasquez never expected to become a photojournalist and work for the Chicago Sun-Times as a third-year RFA corps member when he graduated from a two-year community college. He joined the U.S. Marine Corps, and that experience, interestingly, helped him recognize the need for storytelling.
"Following my time in the Marines, I enrolled at the University of Iowa and took a photography class. Danny Wilcox Frazier, the photo coach for the college newspaper, convinced me to become a photographer for the Daily Iowan," Vasquez said. "He encouraged me to pursue a career in documentary photography, despite the difficulties of finding a job."
With a degree from the University of Iowa, Vazquez relocated to Mexico City to freelance for The Associated Press, covering several stories for a U.S. audience. After two and a half years, he wanted a new challenge and started researching graduate schools. Entirely by chance, one of his search results included Report for America. He applied to its program as well as three graduate programs.
"The process was competitive. There were 60 applicants for six photojournalist positions. The Chicago Sun-Times was one of my three choices, and I was selected. I thought I would prefer working at a small-town newspaper in Iowa, which is my home state, but the RFA photography advisor explained there would be many more storytelling opportunities in Chicago," Vazquez said.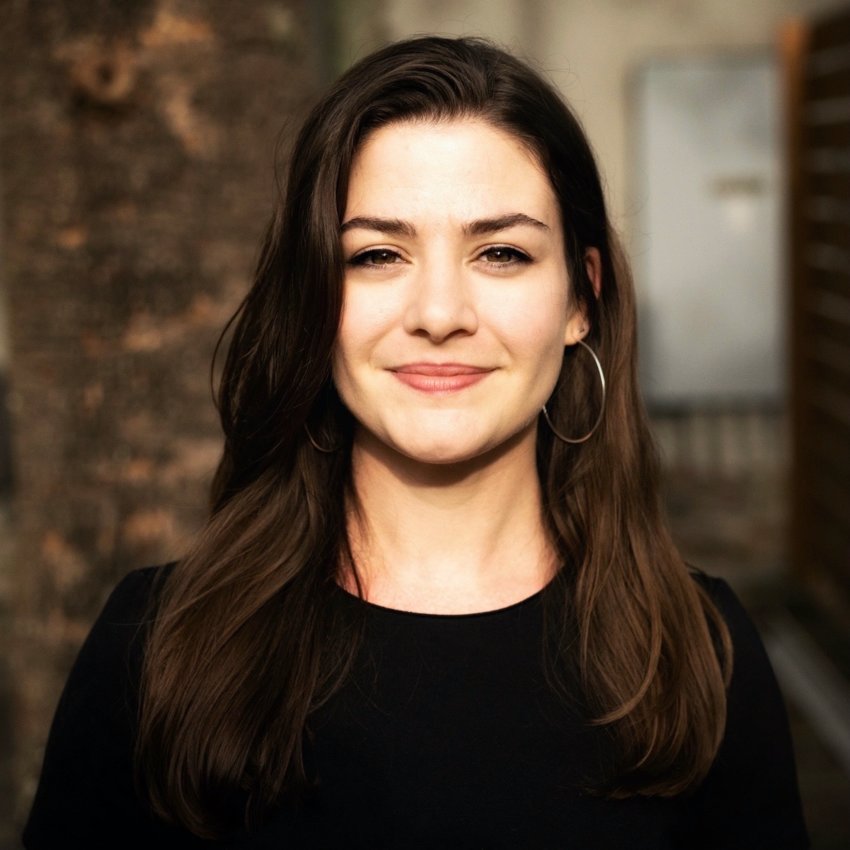 Katie Hyson is a corps member at WUFT News, the public media station at the University of Florida, but her route to journalism was also very indirect. After graduating from the University of Florida, she worked in the nonprofit sector and was exposed to the stories of the individuals and communities those nonprofits supported.
"I returned to school to learn the skills to tell those stories," Hyson said. "Gary Green, the deputy news director at WUFT, said I was describing journalism. I told him news was boring, but he convinced me to try working for him as a supervising editor. I took a narrative journalism class and learned there was room for creative, artfully told stories in journalism, and I fell in love with the profession."
Green introduced her to the RFA corps program as WUFT had recently joined as a newsroom participant. Being a current part-time employee at the station helped her during the interview and selection process. The station wanted to expand its coverage of racial and rural inequalities in East Gainesville and north-central rural Florida communities, and Hyson had already contributed similar stories.
Hyson's work was recognized when she received The GroundTruth Award for 2022 based on her reporting in Gainesville, as well as first place in the feature-writing category in RFA's 2022 Local News Awards.
Reeves, Vazquez and Hyson praised RFA's training and mentoring programs as essential to improving their journalism skills. They are particularly grateful for the working journalists and photojournalists who volunteer as mentors despite their busy schedules.
RFA corps members are required to participate in the communities in which they report as opportunities to become trusted journalists and better able to find the stories that are meaningful to those communities.
Reeves spent two hours a week at the Ignite Leadership Academy focusing on STEM education. She integrated a journalism curriculum into an existing program on geographic information systems for girls of color. Vazquez volunteers at a food pantry, speaks at high schools about photojournalism and guides students on photo trips to learn how to cover urban areas. Hyson started a journalism club at a local alternative education center for girls.
With storytelling so crucial to these corps members and hundreds of others in newsrooms across the country, Report for America is firmly established as the place for emerging and experienced journalists to find career opportunities and for newsrooms to find talented, inspired journalists to tell the crucial stories in their communities.
Interested in becoming a Report for America host newsroom?
Report for America applications are now open for news organizations interested in partnering to host emerging and experienced journalists in their newsrooms for up to three years. If chosen, host newsrooms will receive:
Service-minded reporters, photographers and videographers
Diverse hand-picked candidates from a pool of emerging and experienced journalists
Subsidized salary support, up to half for the first year
Local fundraising coaching and resources
Extra training and mentoring for journalists
The application deadline is October 3, 2022, and chosen newsrooms will be publicly announced in December. https://www.reportforamerica.org/news-rooms/https://www.reportforamerica.org/news-rooms/
While all local news organizations are eligible to apply, Report for America is increasing its focus on supporting Black-owned and Latino-owned newsrooms and expanding its reach into rural areas where news holes can be huge. Prospective newsrooms must identify specific gaps in coverage in their community, drawing attention to under-covered communities or issues.
Additionally, newsrooms must demonstrate:
Need — Explain why the beat you're proposing is vital to your audience and the community. Report for America is particularly interested in important beats that no other newsroom in your area is covering or covering well. Also, why do you need help to support this position?
Support — Report for America looks for newsrooms where corps members will receive good editing and mentoring, so they can do their best work.
A Commitment to Diversity, Equity and Inclusion — Newsrooms that demonstrate a commitment to inclusion and supporting a diverse staff are important in the selection process.
A Commitment to Fundraising — Report for America asks its host newsrooms, where applicable, to try to raise money from local funders to pay for part of their corps member's salary. Their development team can help you do this. Report for America believes local philanthropy is key to strong local newsrooms and wants to work with partners that believe this, too.
Beats to consider can include, but are not limited to: healthcare, education, communities of color, immigration, economic development, local government, religion, obituaries, military and veterans affairs, or even sports reporting. Newsrooms are also encouraged to consider hosting multiple journalists.
Report for America plans to hold online information sessions with newsrooms and partner organizations throughout the application period. To begin the application process or learn more information, news organizations can visit www.reportforamerica.org or email recruitment@reportforamerica.org.
Interested in becoming a Report for America corps member?
Applications for Report for America corps members will open in December 2022 and close in January 2023 for the Report for America year that begins in June 2023. If chosen, corps members will receive:
Unparalleled mentorship and training through Report for America and their partner newsrooms, helping you develop into experienced reporters.
Experience covering a variety of beats, including healthcare, energy, statehouse, climate, education, city hall, local business, communities of color, photography and more.
The opportunity to attend more than 70 training sessions per year given by rockstar journalists and other experts to help you sharpen your skills.
Ability to work with a national mentor at the top of their game.
A robust peer network of fellow corps members who are covering similar beats and living in nearby towns, as well as Report for America regional managers — deeply experienced, award-winning journalists — who are assigned to support every corps member.
The opportunity to be hired by your newsroom upon graduation or by another regional, national or international outlet. Corps members win dozens of state, regional and national awards.
Report for America will be holding information sessions throughout September. To attend a session, learn more information or apply, visit www.reportforamerica.org/reporters/ to fill out an interest form or email recruitment@reportforamerica.org.
Bob Sillick has held many senior positions and served a myriad of clients during his 47 years in marketing and advertising. He has been a freelance/contract content researcher, writer, editor and manager since 2010. He can be reached at bobsillick@gmail.com.