Abortion is not just a charged political issue. It is also a deeply personal issue, said an International Center for Journalists editor who offered tips for journalists on how to approach the topic.
"I think it's important for journalists to realize this is a political issue, and it's important to report on it politically, but it's also a deeply, deeply personal issue," said ICFJ Managing Editor Devin Windelspecht.
Windelspecht compiled a list of resources and tips for journalists with Jamaija Rhoades, associate editor for International Journalists' Network (IJNet), ICFJ's website.
His biggest advice to journalists covering the issue of abortion and reproductive health is to remember that it is a multifaceted and complex issue affecting real people. Marginalized communities are the most affected by a host of political issues, from reproductive health to climate change, he said.
"I would always keep that in mind when reporting on all of these issues," he said.
Studies and recent votes have indicated that a person's beliefs on abortion do not always follow political, religious or gender lines. Inclusivity and accuracy in reporting mean considering multifaceted issues and how they affect real people, Windelspecht said.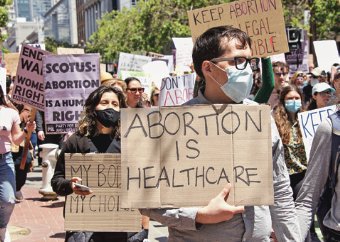 Tips and Resources for Journalists Reporting on Abortion Rights
Protecting sources
Journalists who are interviewing sources about abortion should be made aware of potential public backlash, Poynter reported. If a source had an abortion, journalists should discuss with their editor how much identifying information to include. Discussing potential ramifications with sources and considering identifying details is especially important if a source is underage or if the source is a survivor of sexual assault.
Poynter noted that many journalists covering the topic might have personal experiences with abortion. The institute reminded journalists covering abortion to "uphold the humanity of our sources — regardless of their views."
Representing diverse viewpoints
Poynter also reminded journalists to represent diverse viewpoints in their coverage of abortion, noting it is a complex topic with laws that vary by state and that religion and other personal beliefs are often a part of discussions.
People from all genders should be represented, Poynter reported. Sources should include people seeking an abortion, people opposed to abortion procedures and people affected by pregnancy. This can include partners, parents, grandparents and other potential caregivers.
Healthcare workers should come from a variety of neighborhoods and work in a range of practices, including private practices and clinics, Poynter reported.
Journal-isms noted that men should also be a part of the conversation, as abortions and abortion laws also impact partners. One in five men has been affected by abortion, meaning their partners had the procedure, according to 2015-2017 data from the National Survey of Family Growth.
Race and socioeconomics should also be considered when gathering sources, Poynter wrote in its tip sheet. Additional context should be provided in reporting, such as detailing what support systems are lacking for people of various backgrounds.
"Access to healthcare is not equal," Poynter reported. "People of color are disproportionately affected by lack of access to sex education and birth control. Some cannot afford to travel to states where abortion is legal."
The Guttmacher Institute noted that federal protections for abortion access did not mean anyone could access an abortion. Many states have restrictive laws that make abortions difficult to access and impossible for some people. Oklahoma had no abortion clinics open before Roe V. Wade was overturned, and six states: Mississippi, Missouri, North Dakota, South Dakota, West Virginia and Wyoming, had only one clinic.
Other factors also made it difficult for those seeking abortions, especially if they had few resources. The Guttmacher Institute highlighted a lack of insurance coverage in some cases, forced waiting periods in some states, and difficulty paying for abortions caused by the Hyde Amendment, which bars the use of federal funds for abortion except in cases of rape, incest or to save the life of a woman.
The Pew Research Center reported that Democrats who oppose legal abortion are less likely to be white. The center compiled a survey of U.S. adults from March 17 to 22. It found that 56% of Democrats who favor legal abortion are white, while 37% of Democrats say abortion should be "mostly or entirely illegal."
"About half of Democrats who say abortion should be mostly or entirely illegal are either Black (23%) or Hispanic (30%)," the Pew Research Center reported. "(It is worth noting, however, that most Democrats in all racial/ethnic categories say abortion should be legal in all or most cases, including 86% of White Democrats, 75% of Black Democrats, 70% of Hispanic Democrats and 81% of Asian Democrats.)"
The data suggested that religion is likely a factor.
"Black and Hispanic Democrats tend to be more religious than white Democrats, and indeed, Democrats who oppose legal abortion are much more likely than those who support it to be highly religious and to identify as Christian (both Catholic and Protestant)," Pew Research Center reported. "Meanwhile, 43% of Democrats who favor legal abortion are religiously unaffiliated."
Be mindful of language.
While sources may use emotionally charged language, Poynter noted it is essential to avoid using terms that can reflect and reinforce unconscious bias.
"Emotions are high. Some people equate what's happening in the U.S. with religious fundamentalism," Poynter reported. "For journalists to further such language can reinforce unconscious bias in our audience, which is irresponsible."
The American College of Obstetricians and Gynecologists (ACOG) compiled a glossary of terms to avoid when reporting on abortions, along with context on those terms and why they should be avoided. The list includes words that often appear in political discussions on abortion rights, such as "late-term abortion," "heartbeat bill" and "fetal heartbeat."
"The language we use when discussing reproductive health has a profound impact on what people hear and learn," the ACOG wrote. "Much of the language that is colloquially used to describe abortion or discuss health policies that impact abortion has a basis in anti-choice rhetoric and is inherently biased and inaccurate — and at the very least, is not medically appropriate."
Cobalt Advocates also compiled a glossary of terms in its 2021 Reproductive Rights Glossary, which includes definitions of terms and some to avoid.
Be inclusive and do not exploit marginalized communities.
Laurie Bertram Roberts, co-founder of the Mississippi Reproductive Freedom Fund and executive director of the Yellowhammer Fund, said in a Twitter Space talk hosted by Scalawag in May that journalists often contact her seeking a specific type of person who is trying to access abortion.
"You know, could you just find us someone who's in the process of seeking their abortion? It'd be even better … you know, the more intersections of barriers that you could find,'" she said, paraphrasing conversations she has had with journalists seeking interviews. "And they don't want to say Black, they don't want to say poor, but they usually get around to it: 'If they happen to be like low-income, or what are the normal barriers you guys see? Something like that, like the most oppression you guys usually see.'"
She said she does not return those calls.
Inclusivity also means remembering that not everyone seeking an abortion identifies as a woman, ICFJ noted in its tip sheet. Using gender-inclusive language is important, Guttmacher stated. Guttmacher's 2017 study indicated that between 462 and 530 transgender and nonbinary people had abortions that year. The institute noted that the number is likely higher because of how patients are documented.
Transgender and nonbinary people are likely to face additional barriers when seeking abortions, Guttmacher reported. They often face discrimination in the healthcare system and other areas of life.
Abortion doula and organizer Ash Williams said in Scalawag's Twitter Space talk that more coverage should be dedicated to transgender and nonbinary people seeking abortions.
"Another thing that I want to say is that I must see more written about, talking about transgender people having abortions," Williams said. "Not only do people have to talk about trans people having abortions, y'all need to do it the right way. We're here, and we have abortions."
Poynter noted that "pregnant people" is the wording used by the Centers for Disease Control and Prevention, among other health organizations, and is more inclusive than "pregnant women."
It is also important to ask sources how they identify, Poynter reported.
"If reporting on an individual, ask the source what gender identity to use," Poynter reported. "The gender might not be relevant to your story. If it is, respect how your source self-identifies."
Report on abortion rights when it is not the main topic in political discourse.
Bertram Roberts said in Scalawag's May Twitter Space talk that journalists only contact her during what she called "feeding season." She said she frequently asks for media coverage when abortion rights are not in the news because of laws threatening rights.
"…I'm constantly yelling into the void to try to get media to cover us when it's not a crisis. And then suddenly it's a crisis, and everybody descends upon us like vultures onto a dead carcass to pick apart our traumas and feast upon, especially Black and Brown trauma," she said. "And not just them, but also national organizations who want to cast our traumas, stories and life for fundraising. One of the things I'll say that media does wrong is that it stems from not just journalists but from editors, and who decides to green light longer form stories, when the deadlines are, and how they craft stories and pick them apart after they are written. Because we've definitely seen a lot of that."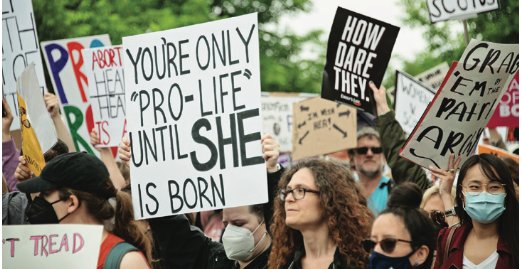 Abortion is not a Republican vs. Democrat issue.
Windelspecht said that the issue of abortion is more complex than even he realized when he was compiling his tips and resources sheet for journalists.
He said the Aug. 2 vote in Kansas, in which voters overwhelmingly rejected a proposal to ban abortion in the state, showed that political dividing lines do not necessarily apply to beliefs on abortion.
"Right now, reproductive health is very politically charged. We saw that yesterday with the Kansas primaries," he said.
He said journalists covering abortion should remember that beliefs on reproductive health do not necessarily fall along party lines.
"It's not just a red vs. blue issue. Abortion is an incredibly complex issue. Reproductive health is an incredibly complex issue," he said. "Some Republican men and women who voted 'no' on that issue would otherwise have voted for Trump. It's something for journalists to keep in mind."
He said he and other ICFJ editors decided to compile a list of resources for reporters on the ground covering reproductive health after the release of a U.S. Supreme Court draft decision in May. The draft opinion suggested it would repeal the 1973 Roe V. Wade decision establishing a constitutional right to abortion. The Supreme Court released its final opinion in Dobbs v. Jackson Women's Health Organization on June 24, overturning Roe V. Wade.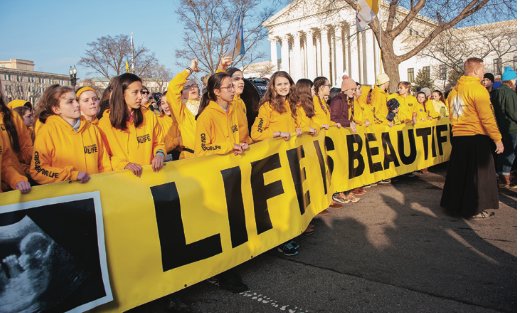 Covering the effect on people in marginalized communities is key to accurate coverage.
Windelspecht said that one of the most important aspects of covering abortion rights is conveying the effects on members of marginalized communities.
"I think the biggest one is the tip on covering marginalized communities, how important it is to make sure we cover the effects on people who are marginalized, and I think that can get lost in the story all the time," he said.
When covering abortion rights, he said the effects on Black women and other marginalized community members should be at the heart of stories and on the minds of journalists when planning coverage.
Windelspecht said ICFJ often compiles tips and resources for journalists. Recent topics included information on covering the death of George Floyd and police brutality, COVID-19 and the Russian invasion of Ukraine.
"When we have these topics come up, we say, 'OK, we need somewhere for them to immediately go,'" he said.
He said he has noticed that recent coverage of abortion has become more inclusive regarding gender identities.
"I think this is a good thing. There is a little bit more of an emphasis in acknowledging different gender identities, and that it doesn't just affect women," he said.
He said the key to accurate, sensitive and inclusive coverage is remembering the affected people.
"Know the history. Know it affects people who aren't just women. Know that this is something that will actually affect real people," he said. "Yes, it's political. Yes, it's a big story, especially in national news coverage. But it's also something that affects the lives and health and feelings of so many people. Be sure that doesn't get lost in the coverage."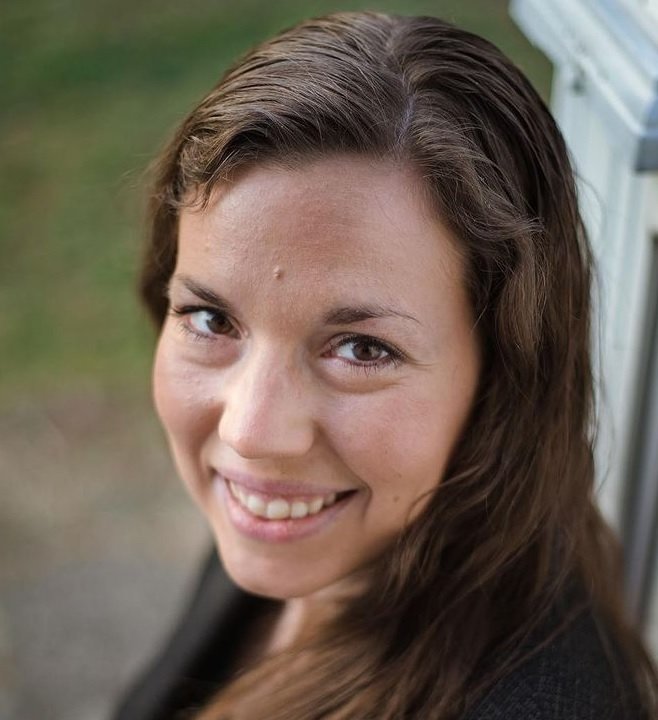 Alyssa Choiniere is an Editor & Publisher contributor. She is a journalist based in southwestern Pennsylvania covering a variety of topics including industry news and criminal justice.