Becky Pringle told members of Congress that she felt frustrated, heartbroken and angry. Pringle, the president of the National Education Association, was one of the witnesses who spoke at a June 8, 2022, House of Representatives hearing on gun violence, held in the wake of the mass shooting at Robb Elementary School in Uvalde, Texas.
"I'm angry that this is where we are 23 years after Columbine," she testified. "On April 20, 1999, I had been a middle-school science teacher in Pennsylvania for 23 years. No experience or training had prepared me for the questions my middle-level learners asked me as I joined my fellow teachers in shock and disbelief at the carnage that ended the lives of 12 students and one teacher. The only thing that comforted us was the belief that this society would never let it happen again. But the list continued to grow."
She listed the names of schools inextricably linked with the mass shootings that occurred in their halls and on their campuses: Columbine, Virginia Tech, Sandy Hook, Marjory Stoneman Douglas. Now, Robb Elementary.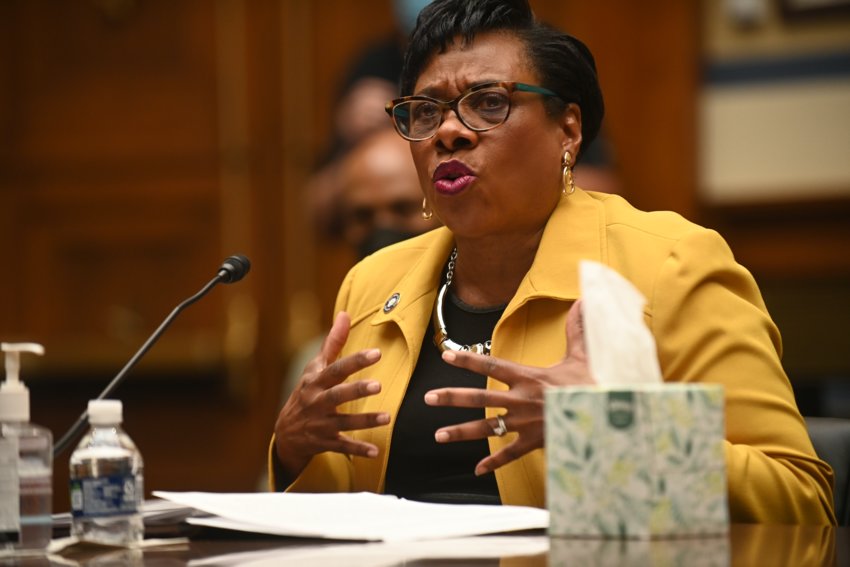 "These massacres occurring in suburban, urban and rural schools are not isolated incidents," she told the Congressional panel. "Tallying up the number of killed or wounded children does not begin to tell the full, horrific story. … Their trauma will likely endure for the rest of their lives. Students across our country are writing goodbye notes and wills, just in case. Unfortunately, their fear is perfectly rational."
Education Week, a national trade title read by more than 1.6 million educators, began tracking school shootings in 2018. By the second week of June 2022, there had already been 27 such incidents this year, including Robb Elementary, where the gunman murdered 19 children and two educators.
In Chicago, a seven-year-old student was accidentally struck by a bullet from a gun in another student's backpack. In Erie, Pennsylvania, a 16-year-old student was shot on school grounds; in Greenville, South Carolina, a 12-year-old middle-schooler was gunned down at her middle school. In Des Moines, Iowa, three students were injured in a shooting and survived. Several shootings occurred this year in school parking lots; others unfolded on crowded school buses and after sporting events. Across the nation — a nation where gun culture is pervasive and gun access is Constitutionally protected and relatively unfettered — gun violence has impacted grade schools to universities, in urban centers,  rural communities, and the suburbs in between.
What else do we know about school shootings? They're most often acts committed by young men. The Washington Post tapped databases, school reports, medical notes and interview transcripts related to school shootings and found "a disturbing confluence between angry young men, easy access to weapons and reinforcement of violence by social media," reporters Ariana Eunjung Cha, Meghan Hoyer and Tim Meko explained in their June 3, 2022, article, "Young men, guns and the prefrontal cortex."
The majority of school-shooting incidents end with few casualties. However, they are no less traumatic for the victims' families, their fellow students or the broader community, which has to contend with violence against their children.
Incidents of gun violence on school grounds may not always get widespread national press attention, but they are, increasingly, the types of crimes that local newsrooms reluctantly find themselves covering. Thrust into these grave moments of community crisis, journalists have to make quick decisions about how to fulfill their duty to inform the public while demonstrating exceptional restraint and caution in how they acquire information, approach sources and communicate with their audiences.
The first few hours
Leigh Waldman is a reporter with KSAT-TV and KSAT.com in San Antonio. She was likely one of the first reporters to learn about a possible shooter at Robb Elementary in Uvalde, Texas. She'd gone on a ride-along with the local police department a couple of weeks prior, and she'd built a rapport with the sergeant she shadowed that night. He texted her that morning about an active-shooter notice that had gone out to parents. His child is a student at Robb Elementary.
Waldman messaged the station immediately, and the news team started making calls. She wasn't due to be at work for a few hours, but she went in early, fearing the news would be bad. She heard from a source that the local blood bank was transporting units to the scene for in-field transfusions, and officials confirmed that the school was an active crime scene a short time later. She recalled feeling a rush of adrenaline but made a concerted effort to remain calm.
The station sent a crew to Robb Elementary. Waldman and photographer/cameraman Gavin Nesbitt headed for the local civic center, where they learned that family members were gathering in hopes of reuniting with their children, who were to be bussed over from the elementary school.
The site was chaotic, coursing with various law enforcement units — Border Patrol, the local Sheriff's department, the Federal Bureau of Alcohol, Tobacco and Firearms (ATF). Family members of the students and faculty began to arrive, as well.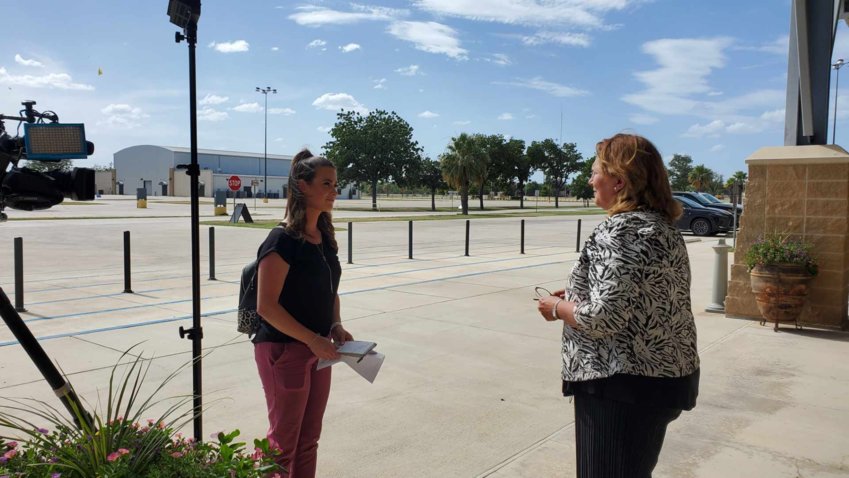 Waldman and the team set up on a sidewalk some distance from the building's entrance. Someone asked them to move because they were expecting busloads of kids to arrive and be reunited with their families. They moved their gear without objection.
Another person approached, a local official they recognized, who confided in them that no bus was coming. "There are a lot of kids not leaving that school," he told Waldman.
During her time in journalism, Waldman has reported on some horrifically traumatic events — a catastrophic hurricane and four mass shootings. She disclosed she's still a few years shy of her 30th birthday.
E&P asked her if her approach to the job is different or nuanced in the case of school shootings when children are involved.
"Absolutely. I think it's irresponsible if you don't," she said.
From their vantage point at the civic center, the KSAT team could see through a window into the building. They could see the families inside.
"The longer we were there, the more apparent it became that their kids weren't coming," she recalled. "We wanted to give them the respect and the space while they were perhaps getting the worst news of their lives, or when their minds were reeling from what's happened, wondering, 'Is my child injured? Is my child alive?' We were just seeing families panic."
They decided not to share that perspective with their viewing audience and announced on air several times that they were making an editorial decision not to show what they were witnessing.
"This was so traumatic, so hard, because even if their child was alive, their same child wasn't coming back to them at the end of the day after going through this," Waldman said.
In the days following, KSAT heard from viewers that they appreciated the station's discretion.
"I'm a reporter. Obviously, I want to go get the story," she said. "So, if it's not a sensitive story, I go knock on doors and talk to people, but in this situation, I think you need to throw that out the window and remember that you're a human being and these are human beings. When families would walk by us, we'd only tell them that they were in our prayers."
The Texas governor took to the airwaves, confirming there were students and faculty among the dead at Robb Elementary School.
"I looked over my shoulder, and I could see in the window, and a mom collapsed. She was screaming in agony, and her face still sticks with me. This is not a time to stick a camera in their faces and try to talk to them. This is the worst day of their lives," Waldman said.
"I won't lie to you. I cried on air after seeing that mom. It broke my heart, and I couldn't help but to start crying because we're all people at the end of the day," she reflected.
In the days that followed, they were able to speak with some of the families — or mostly, they just listened.
"I think when you're experiencing trauma and when you're experiencing unimaginable gut-wrenching loss, having someone just listening to you can help you with the healing process," she suggested. "I've given my number to so many people, telling them that even if they didn't want to do a story with us, I'm here to listen. I think that may help us heal as journalists, as well. We aren't immune to the stories we cover."
Coverage considerations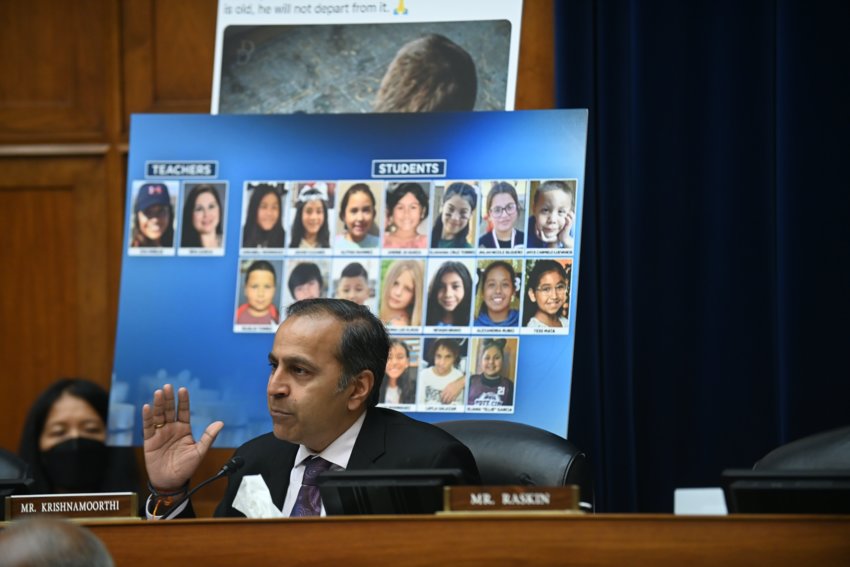 A challenge for newsrooms is how to share information with the public without in any way seeming to "glorify" the gunman or the crime. That need is out of an abundance of sensitivity to the victims and survivors, but it's also a measure to diminish the likelihood that there will be "copycat" crimes, which are a genuine, troubling concern.
Following the murders in Uvalde, the U.S. Department of Homeland Security put out an alarming statement: "Individuals in online forums that routinely promulgate domestic violent extremist and conspiracy theory-related content have praised the May 2022 mass shooting at an elementary school in Uvalde, Texas and encouraged copycat attacks."
Mere days after the murders at Robb Elementary, an 18-year-old man was arrested in Florida for a social media post in which he threatened "the nearest school."
Since the murders at Columbine High School, there's been plenty of public outcry regarding how the press conducts itself while covering school shootings, and that criticism continues today.
Matt DiRienzo, the editor-in-chief for the Center for Public Integrity — and former E&P columnist — was an executive at Hearst Newspapers in Connecticut when 26 people, most of them children, were murdered at Sandy Hook Elementary School. Following the shootings in Uvalde, DiRienzo tweeted: "Sandy Hook was the same way and the damage national media outlets caused during their relatively short invasion was immense."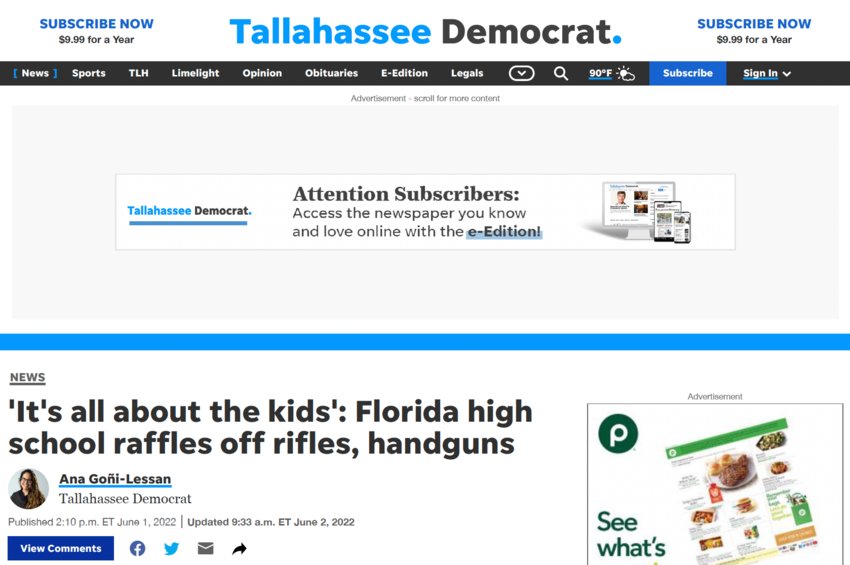 In "Media Nation," Northeastern University journalism professor Dan Kennedy wrote about the perils of relying on official sources and early accounts — exemplified in Uvalde, where the police crafted a narrative about the crime and their response, but it was quickly debunked.
"There's no doubt that journalists rely too heavily on police sources who may or may not be telling the truth," Professor Kennedy wrote. "Sources lie, especially when the truth would make them look bad. I have no reason to think that police officers are more likely to lie than anyone else. But they're not less likely to lie, either. … But I don't think the Uvalde shootings are an example of journalistic malfeasance. In the immediate aftermath of a terrible breaking-news situation, official sources are often the only ones available. You pass along what they have to say, and you keep reporting. That's what happened in Uvalde. Yes, we learned that the original police account was wrong and that officials may have been flat-out lying. And it was the press from whom we learned about those falsehoods."
While newsrooms adhere to long-standing ethical rules about content — about what is fair and newsworthy to publish and what is simply beyond the pale — those lines are increasingly blurred. Take, for example, coverage of Russia's war on Ukraine and the graphic images from that conflict published by broadcast, print and digital news outlets.
This is the truth about war, these images attest.
Former broadcast journalist Brooke Baldwin, who was with CNN for 13 years, penned an editorial for The Atlantic, "Don't Let the Cameras Turn Away," in which she lamented ratings-driven coverage and the propensity for cable news to quickly move on, even when a community is still in the throes of grief.
Writing in the wake of the Robb Elementary murders, she suggested that the pox of gun violence on our nation, and especially in schools, may warrant a different approach.
"Some of the children at Robb Elementary needed to be identified by DNA because their bodies had been ripped apart by assault-style weapons. I remember standing in silence as I watched one tiny white casket wheeled out of a funeral home when I was covering Sandy Hook in 2012," Baldwin wrote. "I had the thought then: Would minds change about guns in America if we got permission to show what was left of the children before they were placed in those caskets? Would a grieving parent ever agree to do this? I figured this would never happen. But perhaps now is finally the time to ask."
The stories no local journalist wants to tell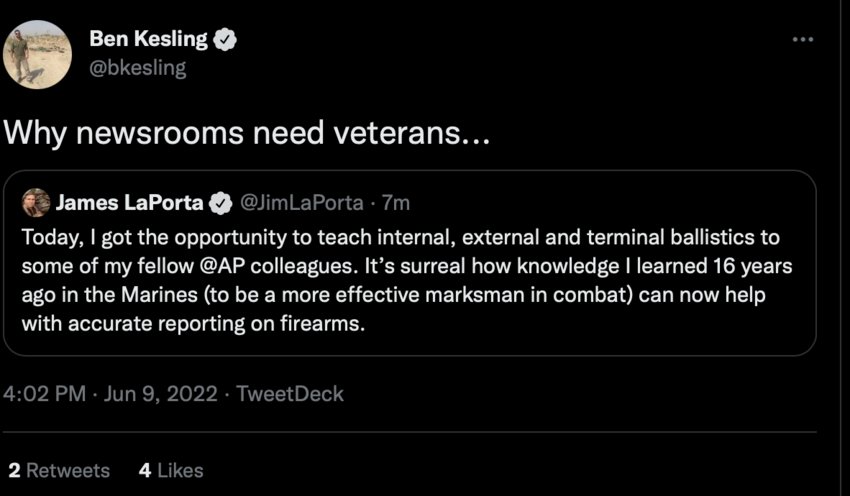 "Hundreds of journalists have crowded Uvalde; they outnumber (by order of magnitude) the number of Texas journalists on the ground. The @TexasTribune is not going to let up on this story — we will keep reporting after the camera crews have left," tweeted Editor-in-Chief Sewell Chan on May 27, 2022.
At KSAT, Leigh Waldman and her colleagues are equally committed to telling this story from a local perspective.
When several family members traveled to Washington, D.C. to testify to Congress about gun violence, Waldman and the crew also made the trip.
"I feel like it's our duty as their local station to be with them and hold their hand throughout every step of this," she explained. "While the national news is going to move on — and that's just the way things go — we're hometown people." The team chronicled testimonies from Dr. Roy Guerrero, M.D., the Uvalde pediatrician who treated the victims; Miah Cerrillo, the 11-year-old survivor who spoke via pre-recorded video about what she witnessed that day; and Kimberly and Felix Rubio, the parents of Alexandria Aniyah "Lexi" Rubio.
Lexi was a tender 10 years old when she was murdered in her elementary school. Her mother, a reporter with the Uvalde Leader-News, addressed Congress via live video. Lexi's parents had attended two awards ceremonies at Robb Elementary that morning — one for their son and one for Lexi, who'd received the Good Citizen Award and was also recognized for earning straight-As.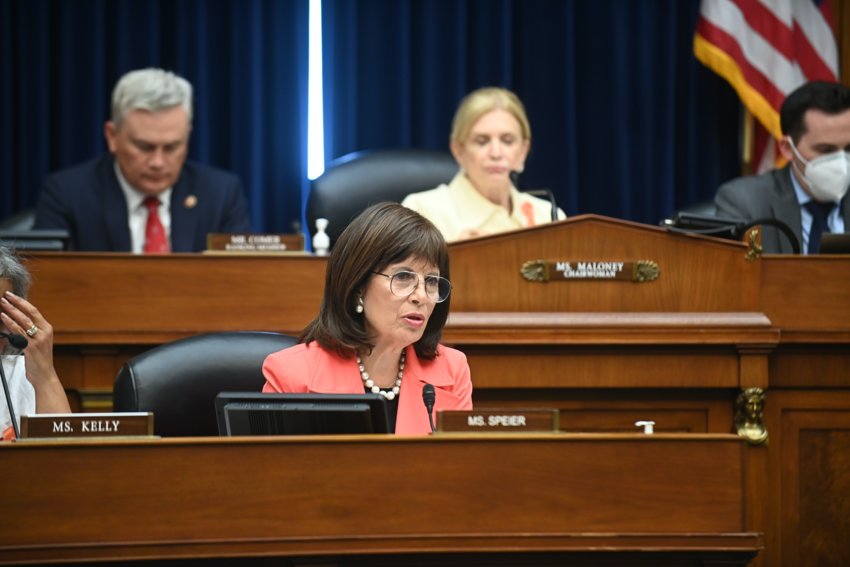 Through untold anguish, Mrs. Rubio shared how they'd taken family photos and had Lexi pose with her teacher for one. "That photo — her last photo ever — was taken at approximately 10:54 a.m.," she recalled. "To celebrate, we promised to get her ice cream. We told her we loved her and would pick her up after school. I can still see her walking with us toward the exit. In the reel that keeps scrolling across my memories, she turns her head and smiles back at us to acknowledge my promise, and then we left."
Rubio explained how she'd gone to work then and was at her desk at the newspaper when the newsroom got the first police-scanner alert.
Lexi's mother — who most of us have never met yet consider a member of our extended news family — implored Congress to take meaningful actions to spare other parents their forever grief. And she wanted them to know that her child was so much more than a statistic they'll debate. "She was intelligent, compassionate and athletic. She was quiet — shy unless she had a point to make, which means she was right, as she so often was."
"Lexi would have made a positive change in this world. She wanted to attend St. Mary's University in San Antonio, Texas, on a softball scholarship. She wanted to major in math and go on to attend law school. That opportunity was taken from her. She was taken from us," her mother said during the hearing. "I'm a reporter, a student, a mom, a runner. I've read to my children since they were in my womb. My husband is a law enforcement officer, an Iraq war veteran. He loves fishing and our babies. Somewhere out there, there is a mom listening to our testimony, thinking, 'I can't even imagine their pain,' not knowing that our reality will one day be hers."
"It was another heartbreaking day," KSAT reporter Leigh Waldman described that day in the nation's capital.  
"We saw a Congresswoman run out of the room, crying, and she said to us, 'My daughter is in fourth grade.' … But it was also a meaningful day for the people who testified to have their voices heard and have it be unedited, unfiltered, raw and real in that moment. I know they appreciated that."
Newsrooms with experience covering school shootings know how the stories carry on for months, years, or even decades to come. In the immediate aftermath, there's a focus on the details and timeline of the crime — the telling of the victims' stories. Reporters are tasked with the investigations and covering the law-enforcement response. There's the public policy angle and what legislators are or are not doing to prevent future crimes of this kind. Naturally, there's the political conversation to be had and an important one about slick access to weapons powerful enough to decapitate a child.  
Perhaps most important are the local reporters who remain on the case, following up on all the subsequent news, providing information and context, and telling the stories of resilience as the community tries to heal.
Reflections on reporting on trauma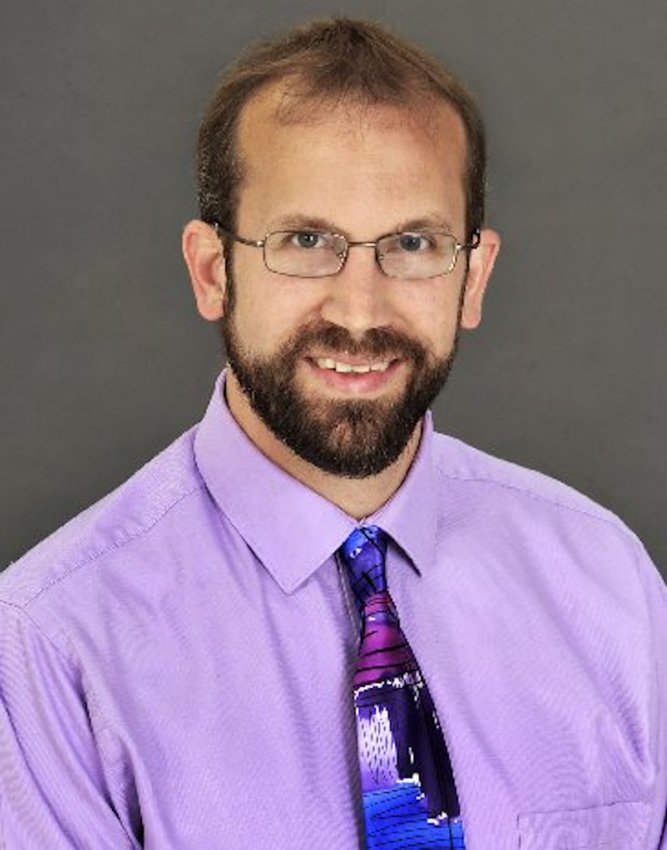 Dirk Perrefort is a former journalist who reported for Hearst Newspapers in Connecticut before taking a buyout offer in 2018 and moving on to a new career in marketing and communications for nonprofits. When he was part of the local newsroom at the News-Times in Danbury, Perrefort covered everything from the mundane to traumatic events, including 9/11 and the shootings at Sandy Hook Elementary in Newtown, just up the road.
On the morning of December 14, 2012, he was in the newsroom when Bob Miller, an environmental reporter, called Perrefort over because he'd just heard a call go out across the police scanner about a shooting at the elementary school. Their initial response was tempered. They figured it might be an isolated crime, with few or no casualties — the kind of shootings they were used to dealing with as a newsroom.
He put in a call to a source at the mayor's office to see what he could confirm.
"And he just said, 'It's bad. It's worse than you can imagine." Another reporter had a family member who worked in the local hospital emergency room. That call gleaned the first mention of 26 dead, which they confirmed a short time later.
"Then, all hell broke loose," he recalled. "We were focused on trying to find out what happened, who was killed, who the shooter was — all of the things you do at that point."
His wife, a teacher, had previously taught at Sandy Hook.
"I called her and said, 'I heard that the shooter went in the front door, and I heard that he walked to the left, and that's all I know at this point.' And she said, 'Oh my God, that's the first-grade classroom.' That was just … I mean … I get emotional about it now," he choked up.
When he heard the news about Uvalde, he had a visceral reaction — mindful of the similarities to Sandy Hook in both the brutality of the crime and the challenges of reporting on it.
He heard from a reporter on the scene in Uvalde, who described the entire community as being in a state of shock. He said Newtown had been like that, too — people with zombie-like expressions, going through the motions of daily life, everyone wounded, everyone scarred.
"I was watching an anchor talk about Uvalde, who just briefly stumbled over the number 21 when he was trying to report on the victims," he said. "I heard him stumble, and I knew what he was feeling inside. He pushed through and kept going. That was yet another moment when I started to cry because I've been in those shoes, and I know what he's experiencing."
Hearst brought in crisis counselors the very next day, and they remained on hand for a few months, Perrefort said. He credited his colleagues with banding together and supporting one another through that traumatic time, but he also disclosed that he began to self-medicate and developed a drinking problem when the rigors and stressors of the job became difficult to process.  
After he accepted the buyout offer from Hearst in 2018, Perrefort worked for the Sandy Hook Promise, a nonprofit that seeks to protect children from gun and school violence. Today, he works for Ability Beyond, an organization that supports disabled adults with job placement and residential services. Though he admits he misses his work as a reporter, working on behalf of these organizations fulfills his desire to continue "making a difference." He's been sober for six years.
At KSAT, Leigh Waldman is very much in the midst of reporting on the tragedy at Robb Elementary. She credited her station's management with their swift action in bringing in crisis counselors, as well. She also expressed gratitude for her co-workers who have bonded and support and uplift each other. She said she's felt a sense of "you're not going through this alone." In a way, that's how she sees her role as a journalist at this moment — to keep telling the story, deeply and meaningfully but with compassion, so that the victims and the community feel heard, seen and uplifted in their time of grief.
Gretchen A. Peck is a contributing editor to Editor & Publisher. She's reported for E&P since 2010 and welcomes comments at gretchenapeck@gmail.com.