The pull of tradition and the push of innovation are a contradiction all businesses and organizations, even governments, must face. They don't want to forget or become disconnected from the deep roots of the tradition on which their current enterprise was built. Conversely, they want enough freedom from their traditions to innovate, experiment and remain a leader.
In today's media world, newspapers have struggled with this paradox: How do you sustain a long history as a community institution with a reputation for integrity and journalistic excellence but also innovate without losing or damaging what has been built?
Despite negative press about more news deserts and the continued loss of jobs for journalists, editors and photojournalists, many long-serving newspapers are thinking more like entrepreneurs. They are looking forward and investing in new channels and platforms to gather and deliver the news.
The Richmond (Virginia) Times-Dispatch has discovered how to balance its tradition as the city's newspaper for 172 years and innovate for new audiences and opportunities. An innovation that has already proven its value to the newsroom, readers and advertisers is a full-service video studio installed in 2020 — and in the middle of the fourth-floor offices.
Although the studio began operations before Kelly Till was named the first female publisher of the Richmond Times-Dispatch in July 2022, it is one of the many forward-leaning innovations she has developed and headed during her 26-year career in the advertising industry. She was previously the vice president of sales for The Times-Dispatch and all of Lee Enterprises' Virginia newspapers.
According to The Times-Dispatch article announcing her new position, "Till is credited with pioneering several new programs, including the launch of a full-service video studio, the continued expansion of the Amplified Digital advertising program across the region and the creation of En Forme, a statewide lifestyle magazine and podcast."
"The video studio is a growth opportunity for us, in terms of audience and revenue, and we wanted to be sure we had the talent in-house, the technology and the tools to continue that growth. How much we've advanced during less than three years with audience and revenue has shown we should have a presence in video content," Till said.
Till added that just one of the video news programs, the "A1 Minute," generated 1.6 million views during the last quarter. The video initiative has collectively exceeded all of The Times-Dispatch's goals.
"We want to attract a younger, more diverse and broader audience with our video content and to tell local news through a fresh lens because there is so much good news in Richmond. We've also been able to expose local businesses to a growing base of people who are more likely to view news and information in a video format," Till said.
Lights! Camera! Action!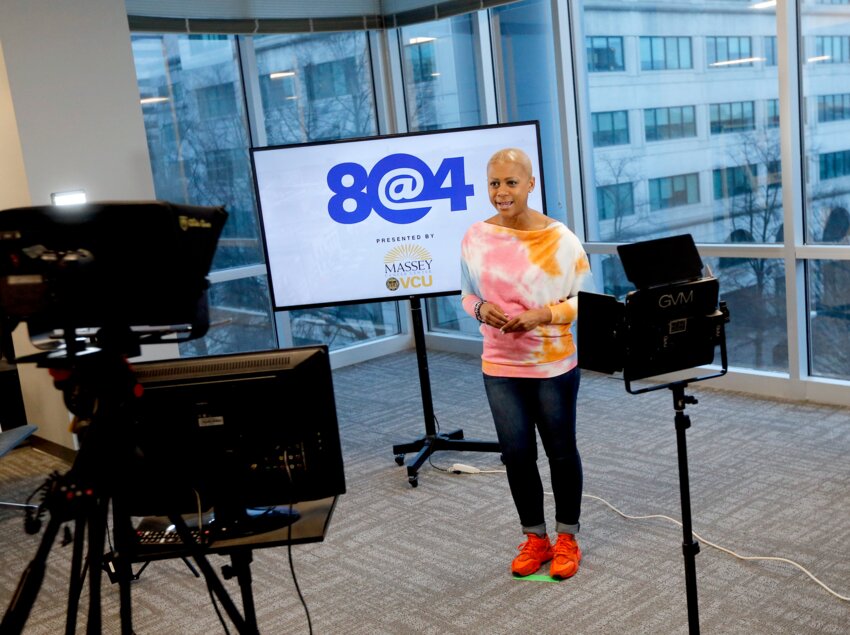 Kelli Lemon has a long career in the Richmond region as a sports reporter, an on-air personality with Radio One Richmond, a podcast host and a "self-proclaimed serial entrepreneur." She was approached in 2021 to head an initiative described to her as "a different digital programming platform." It became the Virginia Video Network, with mostly free content to engage with Virginia residents who may be more video-oriented and then entice them to read more of the story in print and become paying subscribers.
Lemon was hired in July 2021 and not only manages the Virginia Video Network and The Times-Dispatch's video studio but also is the announcer/host of many of the regular video-based news reports.
"We are a small group of three people, me, Bill Barksdale, technical director, and Matt Pochily, creative director, videographer, editor and occasional on-camera announcer. We currently produce many different shows or videocasts, hours of local sports content and podcasts," Lemon said.
"A1 Minute" features important daily news stories.
"A1 Extra" showcases one reporter's work and why they wrote it every week.
"8@4" is eight video vignettes produced and posted weekly at 4 p.m.
"A1 Weather Minute" is a morning and evening forecast and breaking weather reports.
The "After the Monuments" podcast analyzes current events about race through a historical context.
Chris Coates joined the Richmond Times-Dispatch in March 2022 as executive editor after four years as the Central Illinois editor for Lee Enterprises. Coates, who previously worked for Lee in the St. Louis and Sioux City, Iowa, markets, was aware of other papers, such as the St. Louis Post-Dispatch, having installed a video news studio, so he wasn't totally surprised when he arrived at the Times-Dispatch and found its studio in the middle of the fourth-floor office.
"The studio has become the centerpiece of the whole building. The studio's glass walls make the activities there very visible. It sends a signal that we're more than a newspaper. Adding the video production team and all the digital content and multimedia pieces they're creating expands our storytelling toolkit," Coates said.
"The goal is to create highly shareable content, to expose people to the great journalism we're doing and ultimately propel them down the subscription funnel. My editorial policy has always been to use whatever platforms will allow us to publish good stories."
Despite competition from local TV stations with much longer histories of being the source for video content, Coates said The Times-Dispatch's rapid success with video only proves people are hungry for that type of content. The newspaper further boldly blurred the line between print and TV media by hiring a full-time metrologist. Sean Sublette hosts "A1 Weather Minute" and writes articles and columns about climate change and other weather-related topics.
According to Lemon, the Times-Dispatch's video studio also has live-streaming capabilities, which are utilized to collaborate with many of the specialty editors on the paper's staff. To test those capabilities and have fun doing it, local musicians and bands are invited to perform live in the fourth-floor newsroom one day a week as a break for the staff during the lunch hour.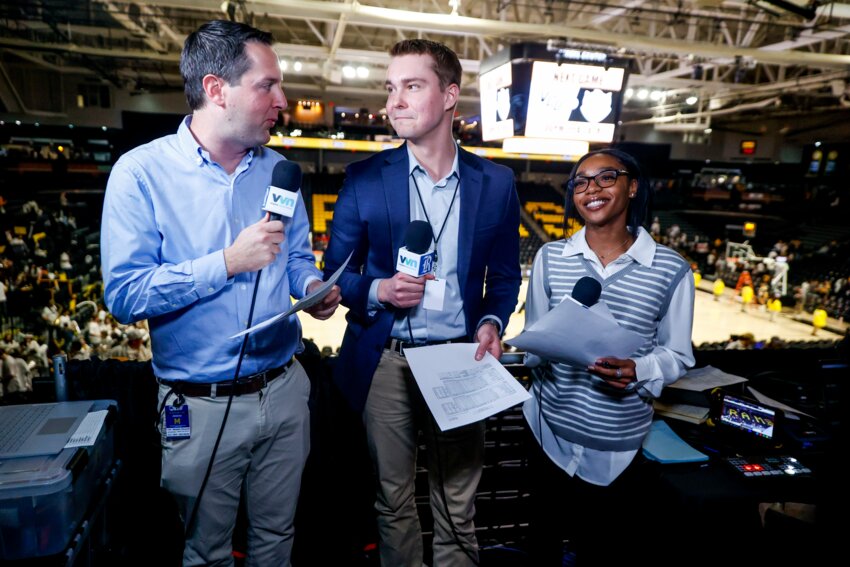 "The concerts are a partnership with the paper's lifestyle editor. The musicians love it because of the exposure. Plus, we'll connect their recent performance in our newsroom with a possible upcoming billing at a local music venue or, more importantly, during the summer at Friday Cheers, which is Richmond's longest-running concert series," Lemon said.
The video team has a similar partnership with the sports editor. As expected, a sports writer and photographer are assigned to a Virginia university basketball game, for example. Barksdale and Pochily are also assigned to the game to livestream a pre-game and post-game show for Richmond.com.
Another video collaboration is with the paper's political reporters. A live broadcast is produced on election night and Fridays with those reporters who provide real-time analysis of the stories they're reporting locally or at the Virginia General Assembly while in session.
Integrating traditional journalism with video content
Those collaborations with The Times-Dispatch reporters and editors have been critical to breaking barriers between traditional journalism and video production. Lemon said when she started as the head of the video facility, she proactively explained the new opportunity to the reporters to retell their stories in video.
"Initially, some journalists were a bit wary, but their attitude changed quite quickly when they saw how much more energy their print stories were receiving. They became more interested in appearing on camera, and my team and I guided them through the process until they were comfortable," Lemon said.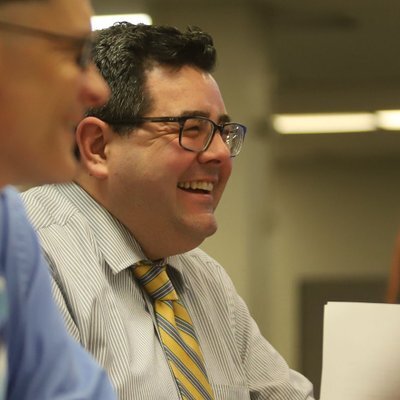 Coates added that Dean Hoffmeyer, the senior video manager for all Lee Enterprises' media studios, provided video training and refresher courses.
"I want everyone in the newsroom to be comfortable with video, but I don't expect every reporter to be on camera. I do expect them to recognize news when they see it, use their phones to capture the event and know how to upload it," Coates said.
Coates also said The Times-Dispatch is considering a mobile newsroom to have a greater presence in communities throughout Richmond. Another goal is to build trust in those communities by showing the human face of the people reporting the news — to showcase the reporters and their expertise.
As an African American woman, Lemon is very conscious of the value of taking the studio's cameras into Richmond's communities of color to provide more coverage in these under-represented communities where most of the news is about negative crime stories.
"I took this job because I can identify with 'the streets,' so I hear much feedback from these communities. I'm often asked why we didn't report this story or reveal more in-depth information. I explain journalists have their jobs while mine is to reframe their reports, so the complete story is told and with a positive ending," Lemon said.
Another Times-Dispatch initiative is asking its audience to submit video content, both to highlight more of the important, often overlooked stories in their communities and neighborhoods and collaborate with local social media influencers with valuable tips and insights to share.
Promoting opportunities for the next generation of video journalists
The Times-Dispatch also has a tradition of welcoming interns into its newsroom, and now that includes giving them opportunities to create and produce video content. According to Coates, five interns will be at the paper during the summer of 2023 and will definitely be involved in video reporting.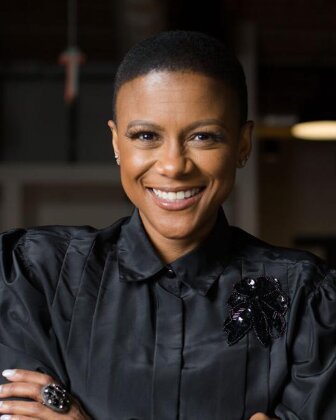 "We had two (news reporting) interns during the summer of 2022, and they were very interested in seeing more than just their articles in print. I asked Chris if we could hire them because they were ready to go. My team and I will be working with four interns this coming summer, and I am very excited to see how eager they are to create video content and host shows," Lemon said.
Lemon added that high schools have inquired about tours at The Times-Dispatch because of its video studio. The visiting students are most interested in digital and video production, but they're also introduced to the newspaper.
"Half of these high school students have very little knowledge of the newspaper industry, but they start to understand it better when I explain that print content is an integral part of our entire multimedia effort. I ask them to show me what apps they have on their phones. When I see they have YouTube, TikTok or other apps, I tell them they can find our news videos there," Lemon said.
Till, the newsroom staff and the video production team haven't stopped innovating. Planning has already started to expand the video initiative into other Lee Enterprises newspapers in Virginia and produce new video series, such as B2B marketing and sales and travel and tourism.
"We incubate many innovations at The Times-Dispatch, and when it works in Richmond, the hub of Virginia, we then expand those innovations into the other 13 Lee Enterprises markets in the state. We like to fail forward. If the idea is not working, then it's okay. We want to be nimble enough to try new ideas, and that's what we've been doing," Till said.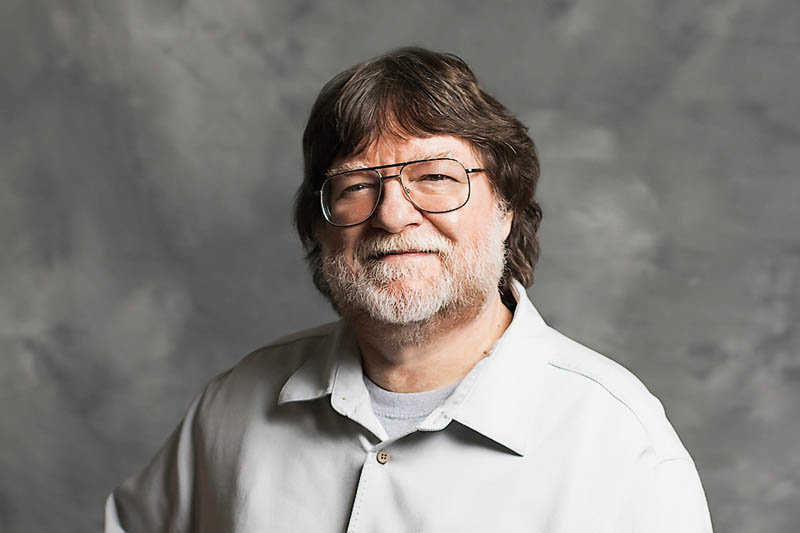 Bob Sillick has held many senior positions and served a myriad of clients during his 47 years in marketing and advertising. He has been a freelance/contract content researcher, writer, editor and manager since 2010. He can be reached at bobsillick@gmail.com.