The daily Portland Press Herald and its statewide sister publication Maine Sunday Telegram were, for over a century, the leading news and information providers to residents of Maine. Based in the state's largest city of Portland, these two major newspapers were the cornerstones of Guy Gannett Communications. This Maine-based family-owned business also owned a handful of television stations.In 1998, Guy Gannett decided to sell the entire company, with the newspaper holdings eventually purchased by the owners of The Seattle Times, the fourth generation of the Blethen family. Ten years later, during the 2008 recession, these titles began a journey of cutbacks and downsizing like so many other media companies. And, citing economic concerns, the Blethens announced they were putting the Press Herald and its other Maine newspaper properties up for sale.
The next seven years, the newspapers went through two controversial ownership changes — eventually finding themselves in 2015 in the hands of Maine-based publisher Reade Brower, who consolidated the holdings, brought in new senior management and, by all accounts, "righted the ship." Brower kept these iconic news media brands alive until recently when he announced his intention to sell the company — now under the corporate name of "Masthead Maine."
And that is where today's story begins, where a handful of Maine-based, retired news media execs have come together in hopes of keeping their home as it is today — the only state in the U.S. that does not have one newspaper owned by an out-of-state, corporate media empire.

One of those retirees is a locally well-known, longtime columnist for the Press Herald, Bill Nemitz, who leads a group that includes the recently retired president and CEO of Graham Media Group, Emily Barr. Together they serve on the board of directors for the new Maine Journalism Foundation (MaineJF). This nonprofit organization's mission is to "Preserve and nurture Maine's reputation as a bastion for independent local news."
MaineJF seems to be moving now in over-drive, working quickly to assemble a group of local and national donors to acquire $15 million in hopes of purchasing Masthead Maine from Reade Brower and turning it into a nonprofit, statewide news operation, similar to others E&P has reported on such as The Baltimore Banner and The Salt Lake City Tribune.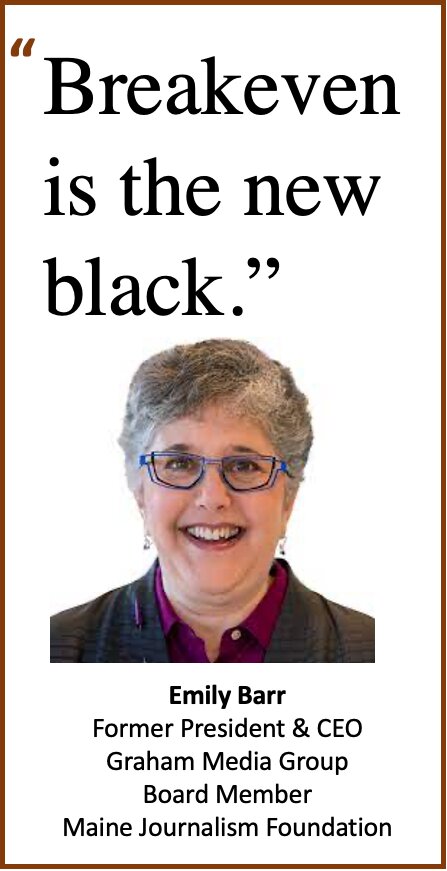 Nemitz recently penned an editorial for the Portland Press Herald, outlining the two major reasons why the MaineJF is working to take over these titles and save them from outside ownership. He wrote, "First, we've all seen what happens when venture capital firms — the predominant for-profit buyers of local newspapers these days — swoop into a market seeking only instant payback on their investment. Real estate and other hard assets get liquidated. Newsrooms get decimated. News — from the workings of local government to the drama of high school sports — goes unreported. And just like that, readers like you are left in the dark. In the timeless words of Joni Mitchell, 'Don't it always seem to go that you don't know what you've got till it's gone.'"
Nemitz then goes on to argue that MaineJF's goal is to turn the media company into a nonprofit entity, stating, "(As) a nonprofit, we exist solely to enhance the journalism, to enlighten our communities, to enrich the public square with real facts, with informed analysis and, most fundamentally in this age of 'fake news' and disinformation, with the truth."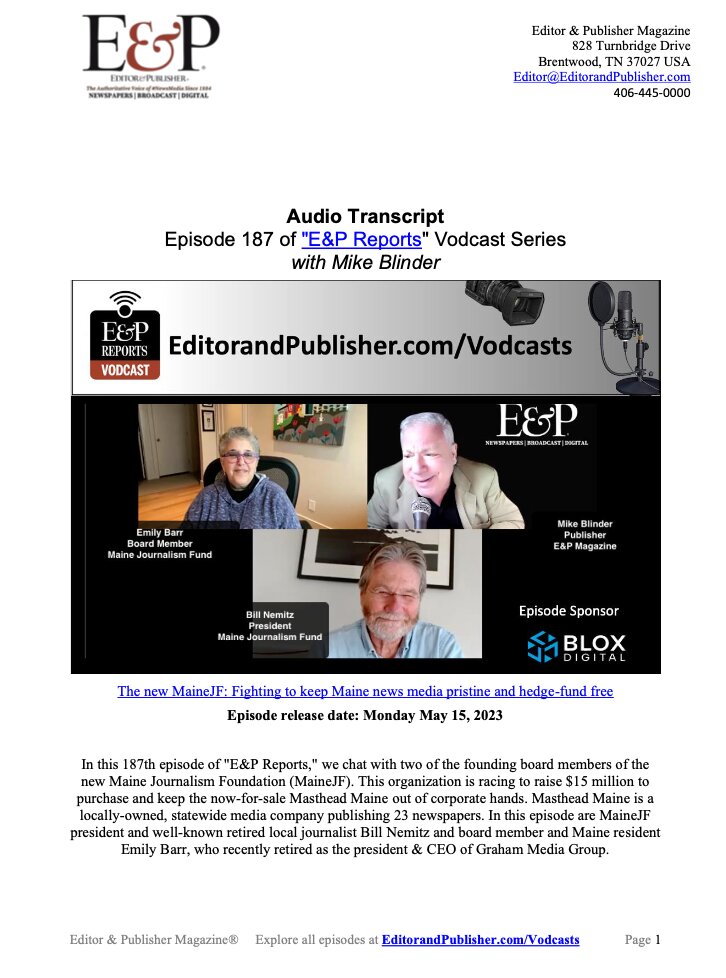 In this 187th episode of "E&P Reports," we chat with two of the founding board members of the new Maine Journalism Foundation (MaineJF an organization racing to raise $15 million to purchase and keep the now-for-sale Masthead Maine out of corporate hands. Masthead Maine is a locally-owned, statewide media company publishing 23 newspapers. In this episode are MaineJF president and well-known retired local journalist Bill Nemitz and board member and Maine resident Emily Barr, who recently retired as the president & CEO of Graham Media Group.